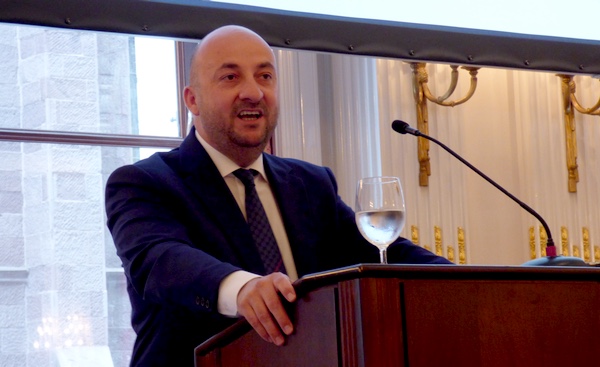 Étienne Schneider, deputy prime minister of Luxembourg, discusses his country's space resources initiative at a meeting in New York June 5. (credit: J. Foust)
A small country's big vision about small objects
by Jeff Foust

Monday, June 26, 2017
This Friday is Asteroid Day, when the world celebrates asteroids, and in particular near Earth objects. Well, "celebrate" may not be the right word: the event, which takes place on the anniversary of the Tunguska impact in Siberia in 1908, is meant to serve as a reminder of the threat near Earth objects pose to the Earth, and the importance of continued surveys to discover and track such bodies. Not exactly the stuff of parties.
For this event, those who want to save the Earth from killer asteroids have found common ground with those who want to make a killing from asteroids.
Asteroid Day will feature events around the world, but the flagship event will be a 24-hour live broadcast starting at 1 am GMT June 30, and based out of Luxembourg. Billed as the "first global conversation about asteroids," it will be hosted by pop-star-turned-physicist Brian Cox and feature a mix of scientists, former astronauts, and the deputy prime minister of Luxembourg, Étienne Schneider.
Luxembourg's interest in asteroids is more than just about saving the planet. The government started a new initiative last year, SpaceResources.lu, devoted to promoting the development of a space resources—aka asteroid mining—industry. For this event, those who want to save the Earth from killer asteroids have found common ground with those who want to make a killing from asteroids.
"They've been big supporters of Asteroid Day because of that connection," said Ed Lu, a former NASA astronaut and co-founder of the B612 Foundation, a non-profit devoted to studying the asteroid impact threat, said of the Luxembourg government in an interview last week. He noted that Asteroid Day's headquarters also moved to Luxembourg thanks to the support of the government there.
Groups like B612, which have supported various ground- and space-based asteroid survey efforts, have a shared interest with asteroid mining interests in that regard. "Our particular interest is protecting the Earth from impacts," Lu said. "But, as everyone in the field knows, the first step in any of this is getting a good survey of where the asteroids are."
But Asteroid Day, and protecting the Earth from potentially hazardous objects, is only a small part of Luxembourg's interest in asteroids. The government has committed an initial tranche of €200 million (US$225 million) in SpaceResources.lu for investments in companies, as well as work on regulatory issues.
The government has not been shy to talk about its interest in supporting asteroid mining. Schneider and other government officials toured companies in Seattle and the Bay Area earlier this year, and held an event in New York earlier this month to discuss the initiative. Schneider is also scheduled to speak later this week at the NewSpace 2017 commercial space conference in San Francisco.
But why is a small European country getting involved in something as speculative, and long-term, as asteroid mining? At the New York event, Schneider noted that Luxembourg moved to diversify its economy after the country's steel industry went into decline in the 1970s. "We had to reinvent our economy. We had to find new ways in order to develop our economy," he said.
"At the time, I listened to him and wondered what this guy might have smoked," Schneider said of his first asteroid mining conversation with Worden. "It sounded like complete science fiction to me."
That included the satellite industry. In the 1980s, Luxembourg supported the creation of a new commercial satellite operator, Société Européenne des Satellites, or SES. That company, still headquartered in Luxembourg today, is one of the largest operators of commercial communications satellites in the world. The space industry, Schneider said, accounts for 1.8 percent of the country's gross domestic product, a larger share than any other European nation.
"What we want to do now is to boost this space sector," he said. Shortly after becoming a minister in the government in 2012, responsible for the economy, he went on a trip to Silicon Valley. Among the people he met was Pete Worden, at the time the director of NASA's Ames Research Center.
"He was talking to me about space mining and other possible commercial activities in space, which he was sure would develop," Schneider recalled. "At the time, I listened to him and wondered what this guy might have smoked. It sounded like complete science fiction to me."
However, after additional discussions with Worden—now, in his post-NASA career, an advisor to the SpaceResources.lu effort—and others, Schneider said he became convinced there was something to asteroid mining, leading to the development of the initiative and the commitment of funding to support it.
That effort goes beyond funding. The Luxembourg government is developing a national space law that will provide companies that extract asteroid resources rights to them, similar to protections provided to US companies under the Commercial Space Launch Competitiveness Act of 2015.
A difference, Schneider said at the New York event, is that companies will not have to be US based to take advantage of those protections. "We don't really care where the money comes from," he said. That legislation is set to pass the country's parliament by July.
Luxembourg, a member of ESA, is also establishing a national space agency, but one distinctly different from other national space agencies in Europe and elsewhere. "This space agency will not be a copy of NASA or ESA, but it will be a space agency whose only focus on the commercial use of space resources," he said.
Mario Grotz, director general for the research, intellectual property and new technologies directorate of the Luxembourg Ministry of Finance, said that the country was studying different models for how that space agency should operate. It will work as a public-private partnership, he said, but how government funds are combined with commercial funds to support both early and later stage investments remains under study.
Luxembourg is already supporting several space resources and related companies. They include two American companies with asteroid mining aspirations, Deep Space Industries (DSI) and Planetary Resources. Luxembourg has also partnered with a Japanese company, ispace, that is backing the Team Hakuto entry in the Google Lunar X PRIZE, as well as Blue Horizon, a spinoff of German space company OHB working on life support technologies.
The Luxembourg backing appears, at first glance, to have invigorated the two US asteroid mining companies. Planetary Resources rolled out the company and its plans more than five years ago (see "Planetary Resources believes asteroid mining has come of age", The Space Review, April 30, 2012), while DSI entered the fray nine months later (see "Asteroid mining boom or bubble?", The Space Review, January 28, 2013). Both announced grand visions of prospecting asteroids and then extracting resources from them—water and other ices initially, with precious metals to follow—but in recent years appeared to be making little visible progress towards those goals.
At the New York event, representatives of both DSI and Planetary Resources talked about plans to launch their first prospecting spacecraft by 2020. "We've got a race going on," said Peter Marquez, vice president of global engagement at Planetary Resources, during a panel discussion.
"We're kind of paradoxically a space resources company operating predominantly off of earnings," said DSI's Bonin.
Planetary Resources' work has been bolstered by a $34 million funding round the company closed last year, including investment from Luxembourg. The company has two Arkyd-6 smallsat technology demonstrators in the final phases of assembly and testing, which will be launched later this year. "Real people doing real things in a real market, with really cool things happening right now," Marquez said.
Grant Bonin, chief technology officer of DSI, said the company had been trying to bootstrap its efforts by working on technologies it needs for asteroid prospecting with other applications, and other customers. "That's really been our commercial strategy," he said. "We're kind of paradoxically a space resources company operating predominantly off of earnings."
That work has included development of a spacecraft thruster that uses water as propellant, as well as spacecraft development: it is the prime contractor for HawkEye 360, a company planning a constellation of small satellites to perform a commercial version of signals intelligence work. For NASA, DSI has also developed asteroid simulant materials.
During a June 13 presentation at a meeting of NASA's Small Bodies Assessment Group (SBAG) at the Goddard Space Flight Center, David Gump of DSI confirmed plans for its Prospector-1 mission, a small satellite that will launch as a secondary payload. "We intend to use some of the abundant launches to LEO and then use pretty substantial propulsion to go from LEO to our targets," he said.
Prospector-1 will fly to a near Earth asteroid and rendezvous with it, studying it in detail to categorize its resources. Gump added that the spacecraft could attempt a landing on the asteroid at the end of the mission.
Chris Lewicki, president and CEO of Planetary Resources, also reiterated plans for a mission to an asteroid, with a planned "launch readiness" date of the second half of 2020. "This is an ambitious schedule," he acknowledged in a talk immediately after Gump at the SBAG meeting, "but one that we think is available to us."
As part of that work, Planetary Resources has halted efforts to develop an Earth imaging system. The company announced in May 2016 a proposed constellation called Ceres with hyperspectral and mid-wave infrared instruments that, the company argued at the time, would fill a gap among the various other Earth imaging systems under development.
Ceres, though, disappeared from Planetary Resources' website earlier this year, and Lewicki confirmed that the company is no longer actively working on it. "That continues to be something that we're capable of doing," he said of Ceres, but added that delays with the Arkyd-6 satellites, which will carry a mid-wave infrared instrument, meant that the company wasn't able to demonstrate those capabilities to would-be customers of Ceres.
In any event, Planetary Resources appears more interested in asteroid prospecting for now. "We've got a lot of focus on our asteroid prospecting today," he said, citing the support from the Luxembourg government as a key reason for that.
It will still be many years before either DSI or Planetary Resources will get a payout from their efforts to make use of asteroid resources, which means that investors, like Luxembourg, need to be patient. The country's leaders, following their experience with SES in the 1980s, appear willing to wait.
"At the beginning, we took a lot of risk, but I think this risk really paid off," Grotz said in New York, recalling the early investment in SES. "Today, we are in quite a similar situation with the space resources initiative. We really think that the commercialization of space resources will have great potential, and we are fully committed to leverage this."
---