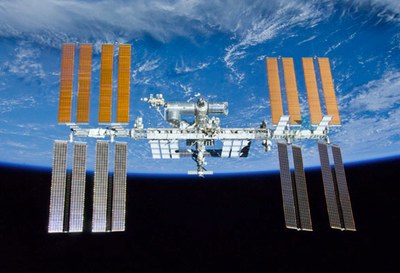 The decision by the the White House, and endorsed by Congress, to extend the ISS through at least 2020 will give international partners more time to realize a return on their investment in the project. (credit: NASA)
International partners and NASA's new direction
by Jeff Foust

Monday, October 18, 2010
A key element of the National Space Policy released by the White House in late June is its focus on international cooperation. Cooperating with, and leveraging the capabilities of, other countries is "woven throughout the entire policy", in the words of one administration official (see "Parsing the policy", The Space Review, August 2, 2010). Yet, in the nearly four months since the policy's release discussion on space issues in the US has been almost entirely domestically focused, in particular the debate about the NASA authorization bill and its policy provisions.
That policy, and the completion of the NASA authorization bill (signed into law last Monday by President Obama) have provided other spacefaring nations with plenty to consider as they weigh current and future cooperation with the US on space ventures. At a panel last Friday organized by the Center for Strategic and International Studies in Washington, representatives of several European and Japanese agencies expressed an interest in working with NASA on both continued use of the International Space Station and future exploration programs, but potentially under a different relationship than today.
ISS extension and utilization
The biggest international space project, of course, is the ISS, and NASA's decision to seek to continue station operations through at least 2020 (versus potentially deorbiting the station as soon as 2016) has been welcomed by partner nations who invested heavily in the station and are only now starting to make use of the station as a research facility. Norimitsu Kamimori, director of the Washington office of the Japanese space agency JAXA, said that the Japanese government formally endorsed the plan to extend the station this summer "because of the importance of the ISS" to the country's space plans.
"The space station now has to prove its efficiency," said de Lipkowski. "If we prove it, we can go further. If we don't, it will be a white elephant."
However, with that extension comes challenges in how to maximize the utilization of the station and get a return on that investment. "We very much appreciate that the United States decided to extend the operational lifetime of the space station," said Andreas Diekmann, head of the Washington office of ESA. "We think that we now have to improve the cost-benefit of this endeavor" by finding ways to lower the station's operational costs and new uses of the station.
"The space station now has to prove its efficiency," said Emmanuel de Lipkowski, space attaché and representative of the space agency CNES at the French Embassy in Washington. "If we prove it, we can go further. If we don't, it will be a white elephant."
As use of the space station evolves, so will access to the station, with the retirement of the Space Shuttle and plans by NASA to support the development of commercial crew transportation systems. Panelists at the CSIS event expressed few concerns about flying their nations' astronauts on such vehicles, provided they were safe. "As long as the transportation services are safe, I wouldn't exclude European astronauts from using them," said Diekmann. He added that he also wouldn't rule out ESA buying additional flight services from commercial providers to support ISS utilization if warranted.
Juergen Drescher, head of the Washington office of the German space agency DLR, warned that such additional missions to the station, for commercial or other purposes, could put a strain on the outpost. "If you bring an additional spacecraft and additional people to the station, you have to agree with the owners of the station, with the team there, what does it mean" in terms of resource requirements. However, he indicated that he wasn't opposed to greater commercial use of the station, noting that DLR was the only European space agency with commercial ISS utilization plans.
Role in future exploration
One of the greatest achievements of the ISS in the eyes of many has been not the technical accomplishments of assembling and operating the station but the international framework that has supported the effort. That cooperative structure is seen as a model for future international human space exploration efforts, but some panelists cautioned that changes to the ISS approach might be needed.
"The weak point of the space station model is that it was a Cold War model," de Lipkowski said. "I think the next cooperation will not be the same." He wasn't specific about how that new approach should be developed, but indicated it would be one where Europe had a bigger role than in the ISS. "We will have to have a better partition of the shares of who is doing what, so that means more money for Europe."
However, de Lipkowski indicated that he still expected the United States to take on the leading role any future human space exploration program. "None of us would question the need for American leadership on space," he said. "If we don't have any American leadership on space… we go nowhere."
"Having the European Union playing a more significant role means that we in Europe now have a situation where space is discussed on a much higher political level than before," Diekmann said.
One potential area of enhanced future cooperation in space exploration is in the area of space transportation. "In any future human space exploration scenario, the cornerstone will be the transportation infrastructure," Diekmann said. That doesn't necessarily mean joint development of launch vehicles, he said, but can start with defining common interfaces between spacecraft and launch systems "that allows us to have a more intelligent combination of our capabilities."
Diekmann also said that there is a need for more discussion at the political level, as opposed to at the technical level, for cooperation in space exploration. Europe has already started discussions for a "European vision for space exploration" with two conferences, one in Prague last year and a second later this month in Brussels, organized by the European Union and ESA. "It might even become the nucleus of an initiative that might be a political forum on a global level to discuss priorities and roles for space exploration."
Policy in Europe, Japan, and elsewhere
Those conferences underscore changes in space policy at the European level as well. While ESA and national space agencies have existed for many years, the European Union is now playing a larger role in space activities, as the Lisbon Treaty gives the EU an official mandate to participate in space activities. The EU is already playing a role in some major European space initiatives, including the Global Monitoring for Environment and Security (GMES) program and the Galileo satellite navigation system.
"Having the European Union playing a more significant role means that we in Europe now have a situation where space is discussed on a much higher political level than before," Diekmann said. "It gives us much more political weight."
A greater role for the EU, panelists said, will hopefully translate into additional funding for European space activities overall. The EU, said de Lipkowski, will give "more money and more political weight" for space activities. "We need this weight, especially if we have long-term ambitions for exploration" whose costs exceed what is currently available for space.
To an outsider, though, the greater role of the EU adds an additional level of complication to European space efforts on top of national and ESA work, but officials said the benefits of the EU's participation outweigh the complications. "The fact that we have more political weight and potentially additional budget outweighs all potential complications," Diekmann said. "The bottom line is that without the European Union we would never have the political weight behind space and we would also not have an additional source of funding, specifically for exploration."
Such cooperation, de Lipkowski said, while potentially inefficient, is essential for Europe to have a greater role in space exploration. "I don't see France allocating $10 billion on a space exploration program," he said. "The system is not perfect," he added, "but it's the best we have, and we have to deal with it."
"Space is a beautiful vision," de Lipkowski concluded, "and we shall advocate for it together."
Budget difficulties in some European nations in recent years have made it difficult for individual nations to carry out even modest programs, further building the case for cooperation. Drescher described how DLR proposed developing its own lunar orbiter several years ago but couldn't secure the estimated €350 million (US$485 million) needed for the mission from the German government. "So we are focusing on participation in Moon missions with other countries," he said, particularly in instruments and robotic technologies.
Funding and budget priorities have also been an issue for JAXA, Kamimori said. The success of the Hayabusa asteroid mission "changed everything", winning support for a long-delayed follow-on mission from the prime minister. However, that support has come at the expense of Kaguya-2, a lunar lander mission, which Kamimori said will remain in the conceptual stage to permit development of the Hayabusa-2 mission within the agency's limited budget.
One "x-factor" in this development of international cooperation structures is what role China, a rising space power, should play. "It's not a question anymore whether China should participate" in international space ventures, Drescher said. "It's only a question of how should we work together to avoid conflicts." He added that NASA administrator Charles Bolden's current trip to China—one that has generated some controversy in Congress—is "an important cornerstone" to future cooperation.
However, de Lipkowski expressed the need for some caution, arguing for more emphasis on "transatlantic" cooperation, which he said extended to Japan as well. "How are we going to bring them into the international arena" while handling issues such as technology transfer and fair market practices, factors he said also extended to cooperation with India. "If we are able to build strong transatlantic cooperation, from the frontier of Europe to Japan, we will be able to speak strongly and efficiently in front of the Chinese as well as in front of the Indians."
Regardless of the partners involved, the panelists at the CSIS event argued that such cooperation is essential to the long-term future of humans in space. "Space is a beautiful vision," de Lipkowski concluded, "and we shall advocate for it together."
---