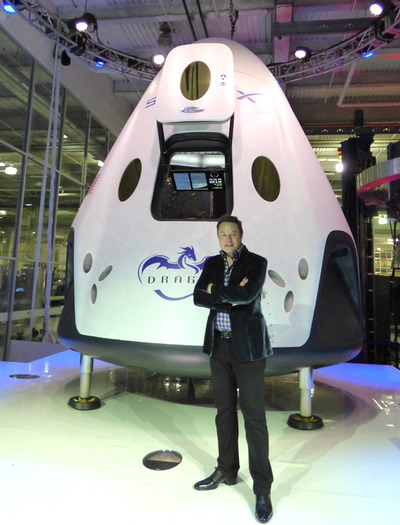 SpaceX CEO Elon Musk poses with the Dragon V2 spacecraft the company unveiled at an event at the company's California headquarters on May 29. (credit: J. Foust)
Decision time for commercial crew
by Jeff Foust

Monday, June 2, 2014
Late last week, it was hard to escape the news that SpaceX had unveiled a new version of its Dragon spacecraft that can carry people. That coverage was largely positive and sometimes even a little hyperbolic, with headlines like "This Is What the Future of Manned Space Flight Looks Like" and "Video and pictures of SpaceX's new spaceship. It looks like the future."
The new version of Dragon may look like the future, but there is no guarantee that it is the future. SpaceX is just one of three competitors for the next phase of NASA's commercial crew program, with a decision in the form of contracts to be made late this summer. With funding available for no more than two contracts, and perhaps only one, both NASA and the companies involved in the program will be faced with some hard decisions in the coming months.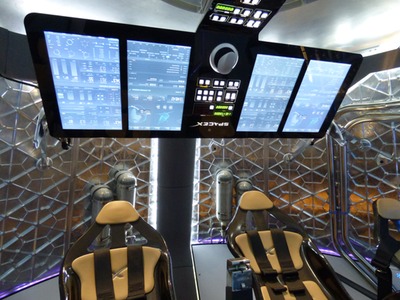 A view of the interior of the Dragon V2 shows some of its seats and control displays, which fold down into position for access by the crews sitting there. (credit: J. Foust)
Unveiling a "21st century spaceship"
It had been no secret, of course, that SpaceX was developing a crewed version of Dragon. Even one of the key attributes of this version of Dragon, its ability to land under rocket power, versus splashing down in the ocean as the current cargo version of Dragon does, was something the company had indicated for some time it was pursuing. In that respect, there was very little news to come out of the media event SpaceX held last Thursday evening at its Hawthorne, California, headquarters.
"We wanted to create something that was a step change in spacecraft technology," Musk said of Dragon V2, which will land under rocket power. "That is how a 21st century spaceship should land."
However, what SpaceX had previously shown was primarily animations and illustrations of its crewed version of Dragon. Thursday night, before a standing room only audience of media, invited guests, and cheering company employees, SpaceX raised the curtain (actually, they dropped it, after a countdown) on the Dragon itself.
This version of Dragon, which SpaceX calls "V2" as in version 2, appears somewhat longer and more tapered than the cargo version (a flight model of which, flown on a December 2010 test flight, hung from the ceiling above the audience at the event.) Recesses in the base of the capsule accommodate the SuperDraco thrusters used as both the spacecraft's launch escape system and for landing, while four stubby legs protrude from the bottom.
The inside of the capsule was, at least for the event, relatively spare. The capsule has seven seats, arranged in two rows, featuring leather-like upholstery branded with the SpaceX logo. The controls, a combination of large touchscreens and manual buttons, swing down into position above one row of seats. The interior looks relatively roomy, although once completely outfitted and filled with a full complement of seven people, it might seem a little cramped.
Besides the seats, controls, and life support systems that can accommodate a seven-person crew for several days, the biggest difference between the crewed Dragon and the cargo version is the landing system. Dragon V2 carries four pairs of SuperDraco thrusters, each thruster capable of producing 71,000 newtons (16,000 pounds-force) of thrust. Those thrusters would allow the spacecraft, in a normal mission scenario, to land without the need of parachutes, airbags, or other aids, and with redundancy should one or more of the thrusters fail.
"We wanted to create something that was a step change in spacecraft technology," SpaceX CEO Elon Musk said during the relatively brief unveiling event. "Some of the characteristics of that are the ability to land anywhere on land propulsively… You'll be able to land anywhere on Earth with the accuracy of a helicopter, which is something that I think a modern spaceship should be able to do."
Those thrusters would also serve as the Dragon's launch escape system should there be a problem with its Falcon 9 launch vehicle. In that case, or in situations where multiple thrusters fail, the spacecraft will have parachutes to allow for a safe, if unpowered, landing.
At the event, Musk showed a video illustrating a typical mission, which also highlighted some other differences of the Dragon V2 from its cargo variant. The trunk below the base of the capsule, used to store unpressurized cargo, appears longer and is equipped with fins. That trunk is also covered with solar cells, rather than using deployable solar panels as the current Dragon does for on-orbit power. Dragon V2 will also be able to dock directly with the International Space Station without the need for the station's robotic arm to grapple and berth the spacecraft, as it does today.
However, the key enabling technology for Dragon V2, by SpaceX's account, is the SuperDraco thrusters that allow it to make a powered landing. "That is how a 21st century spaceship should land," Musk said after the end of the video, which showed the Dragon making a powered landing on a circular pad at Cape Canaveral.
Developing that thruster, Musk indicated in the presentation and a Q&A session with media that followed, was not an easy task. "It's an engine that has to produce a tremendous amount of thrust and yet be very light," he said. It also had to be very throttable, and react quickly. "It was a very tricky thing to develop."
"It's an engine that has to produce a tremendous amount of thrust and yet be very light," Musk said of the 3-D printed SuperDraco. It also had to be very throttable, and react quickly. "It was a very tricky thing to develop."
Building such an engine was enough of a challenge that SpaceX discarded conventional production techniques for a new approach called direct metal laser sintering, a form of 3-D printing. "It's a very complex engine, and it was very difficult to form all the cooling channels, the injector head, and the throttling mechanism," he said. "Being able to print very high strength advanced alloys, I think, was crucial to being able to create the SuperDraco engine as it is."
Earlier in the week, SpaceX announced that the SuperDraco engine had completed qualification tests at the company's test site in McGregor, Texas. SpaceX is now gearing up for a pad abort test, where a SuperDraco-equipped Dragon will fly off the pad at SpaceX's Florida launch site, later this summer. That will be followed by an in-flight abort test, where a Dragon escapes from a Falcon 9 in flight. Both of those tests are milestones in the company's current Commercial Crew Integrated Capability (CCiCap) award from NASA.
Musk said that if those tests go well, an orbital test of an uncrewed Dragon V2 could take place as soon as late 2015. A crewed test flight in mid-2016 "is very achievable," he said.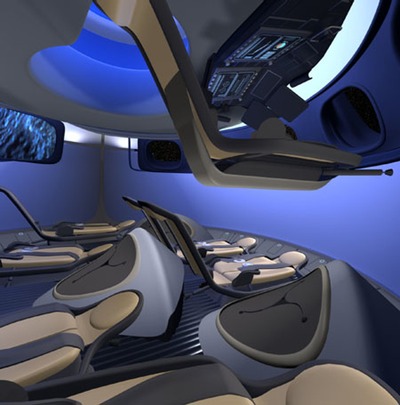 A Boeing concept for the interior of the CST-100 that would be used for future commercial missions. (credit: Boeing)
Boeing and Sierra Nevada keep up
From much of the media coverage of last week's event, you might think that SpaceX is alone in developing a crewed spacecraft. It is, of course, one of three companies that have funded CCiCap awards from NASA, and one of three competing for a NASA contract due to be awarded in late summer to fund actual development of that spacecraft and initial flights of it.
One of those other two, Boeing, is planning to wrap up the work on its CCiCap award this summer. "We're moving towards our critical design review that happens in July," said John Elbon, vice president and general manager for space exploration at Boeing, in a media roundtable at the 30th Space Symposium in Colorado Springs, Colorado, on May 21. "It's a significant milestone."
Elbon suggested Boeing's design approach for its CST-100 capsule is more rigorous than that of SpaceX and the third competitor, Sierra Nevada Corporation (SNC). "More than the other players in the game, we go through a disciplined design process," he said. "Others have a philosophy of 'build it, test it, see what's wrong, fix it, test it, see what's wrong, fix it.' That can work when the risk is not as significant as it is for flying crew. I don't think we can afford to learn lessons about the problems in our design when we're flying humans."
While Boeing officials have repeatedly said that their business case for commercial crew closes solely on serving NASA, they have been actively courting additional commercial business. In late April, the company held a media event at the headquarters of Bigelow Aerospace in Las Vegas to unveil a new interior design of the CST-100. That design, developed in conjunction with Boeing Commercial Airplanes, would not be used for NASA missions but for future commercial missions, and could accommodate as many as nine people plus a pilot.
"This is like taking a C-17 military cargo airplane and seeing how you can turn it into a luxurious passenger aircraft," Ferguson said of new commercial interiors for the CST-100.
"We started to realize the potential to develop for commercial customers a premium spacecraft interior architecture," said Rachelle Ornan, regional director of sales and marketing for Boeing Commercial Airplanes, at the Las Vegas event. "It's leaps and bounds different from interiors of the past. It's less government-issue looking, it's a lot cleaner, simpler, and more cheerful."
The sleek design is a far cry from the more utilitarian interior previously shown for the CST-100 for NASA missions, or the interiors of many other spacecraft. "This is like taking a C-17 military cargo airplane and seeing how you can turn it into a luxurious passenger aircraft," said Chris Ferguson, director of crew and mission operations for Boeing's commercial crew program and a former astronaut.
The location of the event and Boeing's existing partnership with Bigelow Aerospace made it clear that Boeing sees Bigelow's plans for commercial space stations as a potentially lucrative market. But Bigelow is also hedging its bets: one of the guests at last week's SpaceX Dragon V2 unveiling was Robert Bigelow, who toured the interior of the capsule with SpaceX president Gwynne Shotwell as Musk answered questions from the media.
The third CCiCap company, Sierra Nevada, is continuing work on maturing the design of its Dream Chaser spaceplane under its CCiCap award. Last month the company announced it completed another milestone in that award, wind tunnel tests of the Dream Chaser design, netting the company $20 million.
"This was a pretty important milestone," said Mark Sirangelo, corporate vice president and head of SNC's Space Systems, in an interview at the Space Symposium on May 22. "The entire Dream Chaser vehicle and connection to the Atlas and the whole launch stack all met or exceeded the NASA criteria." NASA also considered it a major milestone, hence the size of the award, he added. "This is really one of the final validations before you go to orbit with it."
Sirangelo said SNC has completed more than 80% of the milestones on its CCiCap award, with another milestone slated to be completed this month. The company is also preparing to return its Engineering Test Article (ETA), a full-scale prototype of Dream Chaser, to flight later this year. The ETA performed a glide test in October at Edwards Air Force Base, which the company and NASA judged to be a success although a landing gear failed to deploy upon landing, causing the vehicle to skid off the runway.
Upcoming tests of the ETA will incorporate an upgrade of the flight software that is the same version of that planned for the orbital vehicle. Those flight tests, scheduled to begin later this year, will initially in automated mode, but later flights in the test program, which could last 6–12 months, will have a pilot on board.
Sirangelo said that while SNC works on getting the ETA ready for upcoming test flights, it is also working on the orbital flight model in cooperation with Lockheed Martin at its Michoud Assembly Facility in New Orleans. The composite structure for that vehicle will be done in a "number of months," he said, at which point work with shift to another Lockheed Martin facility in Fort Worth, Texas, that also produces the F-35. The first vehicle is on track for a first orbital test flight in November 2016.
That test flight will be on a United Launch Alliance (ULA) Atlas V, under a previously-announced contract. However, that, plus Boeing's use of the Atlas V for CST-100, have come under scrutiny in recent weeks given Russian threats to restrict or even block the exports of RD-180 engines that power the rocket's first stage (see "Replacing the RD-180", The Space Review, May 12, 2014).
"This was a pretty important milestone," said Sirangelo of the Dream Chaser wind tunnel tests. "This is really one of the final validations before you go to orbit with it."
However, executives of both Boeing and SNC have indicated they remain confident that they Atlas V will be there when their vehicles are ready to fly. "We're confident that by the time ULA needs to procure additional engines to support the Atlas V, the political differences will be resolved," Boeing's Ferguson said in a panel session at the International Space Development Conference in Los Angeles on May 18.
"For what we need to do to get certified by NASA, it's not going to have an impact," Sirangelo said in his Space Symposium interview. He added that even the news of the ban by Russian deputy prime minister Dmitry Rogozin only restricted the use of the RD-180 for launching military payloads, and thus, even if it did go into effect, would still allow the use of the engine for launching vehicles like the Dream Chaser.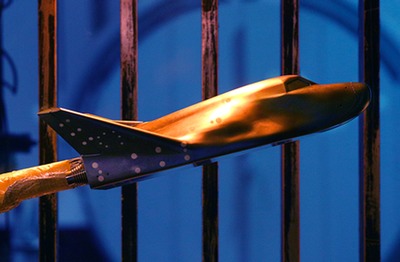 A scale model of SNC's Dream Chaser is put through wind tunnel tests at NASA's Langley Research Center. (credit: NASA/David C. Bowman)
Funding and futures
NASA is currently evaluating the proposals by Boeing, SNC, and SpaceX for the next phase of the commercial crew program, called Commercial Crew Transportation Capability (CCtCap) that were submitted in January. (Other companies may have submitted proposals, but would be at a severe disadvantage given that they did not participate in the CCiCap program.) Sirangelo said last month this has company has been busy responding to NASA questions to its proposal, including from a two-day oral presentation to NASA officials earlier in the month.
A final decision on who will win the CCtCap contracts—unlike previous rounds of the competition, NASA will used contracts and not Space Act Agreements—is expected in August or September. What isn't clear, though, is how many contracts will be awarded. While NASA is unlikely to give all three companies CCtCap contracts, it's still open whether one or two companies will get contracts, and, if there is a second contract, if it will be a full-sized award or a smaller amount.
The House has weighed in on that issue in its version of the Commerce, Justice, and Science (CJS) appropriations bill that the full House passed late Thursday night. The bill provided the program with $785 million, $63 million below the administration's request but higher than the program has been funded in previous years. Language in the report accompanying the bill, though, directed NASA to fund only one company in the CCtCap phase of the program. "The Committee believes that this recommendation strikes the appropriate balance between support for the program's underlying goal and caution against management approaches that many in the Congress do not endorse," the report stated.
"We'll do our best to continue the development and still make it happen," Musk said last week when asked about the prospects of losing the CCtCap competition.
The White House, in a Statement of Administration Policy (SAP) issued last week as debate on the CJS appropriations bill began, objected to both the funding level and the report language. "The lower funding level for the program jeopardizes the goal of sending astronauts to the International Space Station on American spacecraft by 2017 and will likely extend the period of time NASA needs to rely on Russia for transport to and from the Station," the SAP stated. "The Administration also encourages the Congress to support competition in the program, which is important to lowering risk and reducing prices in the long term."
The Senate is expected to take up its version of the CJS appropriations bill this week in the Senate Appropriations Committee. With both the House and Senate working unusually rapidly on their appropriations bill, a final version that will come out of a House-Senate conference may be ready for the President before the current fiscal year ends on September 30.
Even in the most optimistic funding scenario, though, it's likely one, and perhaps two, commercial crew companies will come out of the CCtCap competition without a NASA contract to funding continued development of their vehicles. Does that mean the end of the line for the CST-100, Dragon V2, or Dream Chaser?
For someone with long-term ambitions of retiring on Mars, it's not surprising that SpaceX's Musk believes that there's a future for Dragon should SpaceX miss out on a contract. "We'll do our best to continue the development and still make it happen," he said last week when asked about the prospects of losing the CCtCap competition.
Sirangelo said that SNC has been planning for Dream Chaser's future development should it not win a NASA contract. "For the last year, we have been quietly standing up a commercial and international outreach effort to look at other missions for Dream Chaser," he said. That's included partnerships announced earlier this year with ESA and the German space agency DLR, with more in the works. "We've always seen Dream Chaser as having more than ISS applicability."
Boeing, by far the largest of the three companies competing for CCtCap, is also perhaps the most conservative. Asked about CST-100's future without NASA at the Las Vegas event, Ferguson hedged. "Boeing has not made a decision yet on what will happen if we're not a part of the commercial crew program," he said. "It will clearly be a very dynamic time, and there will be a lot of factors to consider."
That sentiment—about this being a dynamic time for commercial crew—is likely true for all the players involved.
---