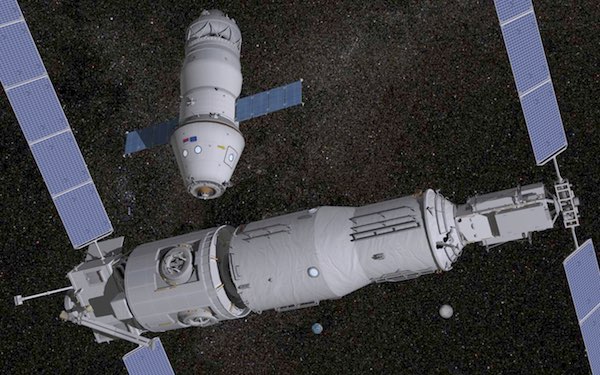 A Russian next-generation piloted vehicle approaching a cislunar station with a Russian-built Science Power Module , from Boeing/RKK Energia concept in 2012. (credit: Boeing/RKK Energia)
The status of Russia's human spaceflight program (part 3)
by Bart Hendrickx

Monday, March 6, 2017
An international cislunar outpost
Unbothered by the political turmoil, international industry and space agency teams have been quietly working behind the scenes on what may be the most logical and realistic next step in the human spaceflight program, namely the establishment of an international crew-tended outpost in cislunar space. Planning for such a project has been underway for a number of years on several levels.
Industry initiatives
Much of the groundwork was laid by an informal team of international industrial partners that began meeting on a regular basis in 2009 to discuss future uses of ISS technology. According to RKK Energia's former general director Vitali Lopota, the stimulus for the establishment of the team was an ambitious human exploration strategy that RKK Energia and Roscosmos presented to the administration of President Dmitri Medvedev in early 2009 and which called for sending people to Mars as early as the 2020s. The team originally comprised representatives of RKK Energia, Lockheed Martin, Astrium (now part of Airbus Defence and Space), and Mitsubishi Heavy Industries; they were later joined by Boeing, Thales Alenia Space, and the Canadian company MacDonald, Dettwiler and Associates (MDA). RKK Energia publications refer to it as ICM, which apparently stands for "International Cooperation Mission." In addition to that, RKK Energia has been studying cislunar space stations with Boeing and Lockheed on a bilateral basis.
Called the ISS Exploration Platform (ISS-EP), the outpost would be assembled from residual assets of the ISS and Space Shuttle programs.
The industrial partners first came out into the open with their ideas for a cislunar habitat at the Global Exploration Conference in Washington in May 2012 and at the International Astronautical Congress in Naples in October 2012. They called for setting up the outpost at the Earth-Moon Lagrange Point 2 (EM-L2), a spot approximately 65,000 kilometers beyond the Moon where the combined gravities of Earth and the Moon cancel each other out, making it possible for an outpost to hover around the spot with minimal use of propellant. EM-L2 was seen by the team as the best early destination beyond LEO, serving as a gateway for any deep space destination that international partner agencies might want to select and making it possible to mitigate much of the risk associated with those missions in an orderly and incremental fashion. First of all, the outpost would allow astronauts to do significant research on the biological effects of the deep space environment for periods of at least 90 days, significantly longer than the 21-day autonomous mission capability offered by the Orion spacecraft. Other than that, it could serve as a servicing facility for telescopes like the James Webb Space Telescope (to be stationed at the Earth-Sun L2 point), as a base for a reusable lunar lander, a departure point for missions to near Earth asteroids, and, ultimately, an assembly site for Mars missions.
Called the ISS Exploration Platform (ISS-EP), the outpost would be assembled from residual assets of the ISS and Space Shuttle programs. The first element of the outpost would be a Russian Science Power Module almost identical to the one being developed for the ISS Russian segment. This would provide enough power, supplies, and habitable volume for initial Orion crews to spend as much as 90 days aboard the outpost. The second launch in the assembly sequence would deliver a docking node (similar to the ISS nodes Unity and Harmony) and a utility module (borrowing elements from the shuttle's Orbiter Docking System.) These would provide additional docking ports for spacecraft, additional power, control moment gyros, high rate communications systems, an airlock, and a base for a robotic arm. The final element to join the outpost would be a habitat module derived from the ISS Multipurpose Logistics Modules, built by Thales Alenia Space.
Crews would be ferried to the gateway by Orion and the Russian next-generation piloted vehicle, now known as Federatsia. Resupply of the station could be entrusted to private industry with modified Cygnus vehicles launched by Atlas V or Ariane 5 rockets, and modified Dragon vehicles launched by the Falcon Heavy. Slightly modified versions of these plans were presented by the industry partners at conferences in the following two to three years, but the Russian Science Power Module continued to be the station's backbone.
In May 2016, representatives of RKK Energia, Boeing, and Lockheed Martin presented several concepts for cislunar habitats at a human spaceflight conference in Korolyov, outside Moscow. These were the result of studies performed by the companies under bilateral contracts with Energia signed in 2015 and showed a significant evolution from the earlier industry plans. While one of the concepts did retain a 24-ton version of the Russian Science Power Module as the outpost's cornerstone, others centered on the use of smaller 10-ton components for more specific tasks. The advantage of the Science Power Module is that it provides habitation, propulsion, and power in a single module, but it needs a dedicated cargo launch by NASA's SLS rocket. The smaller modules could be launched by SLS in addition to a crewed Orion vehicle. One such module put forward by RKK Energia consisted of a ball-shaped docking node and a small cylindrical compartment. A very similar configuration had been considered for the Prichal docking node of the ISS Russian segment before it was decided to build only the spherical element.
One of the RKK Energia representatives appearing at the conference presented an alternative concept for ferrying crews to the outpost. А vehicle permanently based at the ISS or another Earth-orbiting space station could dock in Earth orbit with a modified Block-DM upper stage launched by an Angara-5 rocket and head for the outpost. At the end of its return trip, it would deploy a 55-square-meter shield to place itself back into Earth orbit via aerobraking and redock with the space station. Called Ryvok ("Spurt"), the spacecraft would have a fueled mass of 11.4 tons, with a dry mass of 7 tons. It would offer its four crew members 30 cubic meters of habitable volume, significantly more than Federatsia and Orion (which each have about 19 cubic meters.) It would obviate the need to man-rate the Angara-5 rocket. Ryvok crews would fly to the Earth-orbiting space station as well as return back to Earth aboard Soyuz vehicles.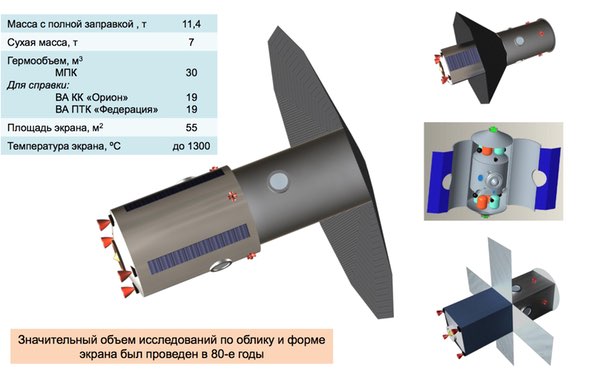 RKK Energia's proposed Ryvok spacecraft. (credit: RKK Energia/TASS)
ISECG reports
As the industrial partners worked out concepts, there was growing support for cislunar habitats from the world's space agencies, both on a national and international level. On the international level, the construction of such a habitat was recommended by the International Space Exploration Coordination Group (ISECG), a voluntary, non-binding international coordination forum formed in 2007 where 14 space agencies exchange information on their activities and work together to strengthen both individual and common exploration programs.
On a national space agency level, cislunar space stations have been an important element of both Roscosmos' and NASA's deep space exploration strategies for several years.
In September 2011, the ISECG produced a Global Exploration Roadmap that identified two possible pathways to Mars. The first, called Asteroid Next, would send humans first to asteroids, then to the Moon and Mars. The second, called Moon Next, would first send humans back to the surface of the Moon, then to asteroids and Mars. In both scenarios, so-called Deep Space Habitats (DSH) in cislunar space were envisaged to demonstrate the capabilities necessary for traveling and living in deep space, in the early 2020s in the first scenario and in the early 2030s in the second scenario.
An updated version of the roadmap published in August 2013 presented a single reference mission scenario reminiscent of the Asteroid Next approach, where human lunar landings in the late 2020s would be preceded by missions to cislunar space in the early 2020s. This would be the Asteroid Redirect Mission (promoted by NASA) and extended duration crew missions (up to 90 days) aboard an evolvable DSH at the EM-L2 point that could eventually act as a staging point for missions to the lunar surface.
National space agency initiatives
On a national space agency level, cislunar space stations have been an important element of both Roscosmos' and NASA's deep space exploration strategies for several years. As described earlier, the establishment of a space station in lunar orbit in the second half of the 2020s was part of Roscosmos' lunar plans before they were scaled back by budget cuts in 2015–2016. Also, when the agency decided in 2012 to modify the Federatsia spacecraft for deep space missions, the Lagrange 1 and 2 points in the Earth-Moon system were specifically singled out as potential targets, a clear sign that the interest in cislunar stations extended beyond lunar orbit.
Although NASA took lunar landing missions off its agenda after the cancellation of Constellation, the agency has continued to see cislunar space as an essential testing ground for human trips to Mars. In September 2012, NASA is said to have sent a report to the White House that described an outpost at the EM-L2 point as the best near-term option to gain required flight experience and minimize risk. Likely inspired by the industry studies presented earlier in the year, the report called for assembling such a station from US, Russian, and European elements and locating it at the EM-L2 point. Later in 2012, that idea receded into the background as NASA shifted its focus to the Asteroid Redirect Mission in order to bring its space exploration plans into closer alignment with President Obama's officially declared goal of sending astronauts to a near-Earth asteroid by 2025.
The Deep Space Habitat made a comeback in NASA's official plans when the agency released its "Journey to Mars" roadmap in October 2015. Both ARM and the Deep Space Habitat were part of the "Proving Ground" phase, intended to practice deep-space operations with decreasing reliance on the Earth. NASA clearly did not exclude international participation in the DSH, stating that the agency and its partners would develop an initial habitation capability for short-duration missions in the early 2020s and evolve this capability for long-duration missions in the later 2020s. The outpost could validate Mars habitat concepts and systems such as "exercise systems, environmental monitoring systems, long-duration consumables storage, fire safety in high-oxygen environments, radiation shielding and high-reliability avionics with long periods of dormancy."
With NASA having no intention of returning to the lunar surface, the use of the DSH to stage missions to the lunar surface was predictably absent from the plan. Instead, additional modules could be launched to the outpost to incrementally build up capability "as designs for the Mars transit vehicle evolve and trajectories are determined."
Judging from the absence of official statements, the space agencies have preferred to do this work behind closed doors, probably in order not to attract too much attention in a political atmosphere that has become increasingly less conducive to international cooperation.
In order to stimulate commercial development of deep space exploration capabilities in support of the Proving Ground phase, NASA has teamed up with a number of US companies through so-called Next Space Technologies for Exploration Partnerships (NextSTEP). Selections for NextSTEP Phase 1 were announced in May 2015 and for NextSTEP Phase 2 in August 2016. NextSTEP 2 is specifically aimed at developing full-sized ground prototypes and concepts for a Deep Space Habitat in a two-year period. Among the six companies selected for NextSTEP 2 were Boeing and Lockheed Martin, which have been crafting their own proposals for cislunar space stations alongside the work being done with RKK Energia and other international partners.
Congress showed its support for a DSH in its 2016 appropriations bill by directing NASA to invest at least $55 million to develop a prototype habitat module by 2018, which is the work now being done by a number of companies under NEXTStep Phase 2. The ground prototypes will be full-scale models of each company's proposed DSH and will also provide the ability to conduct human mission simulations. Although only US companies are involved in NEXTStep Phase 2, NASA officials again made it clear in a presentation at a NASA Advisory Council meeting in Cleveland last July that they are leaving open the option of international cooperation. NASA's own role in Phase 2 will be to define "a reference habit architecture based on contractor and international concepts and government-furnished equipment." Phase 3, set to begin in 2018, should then "determine an acquisition approach including domestic and international partnerships," culminating in the construction of actual flight hardware.
NASA's plans for SLS missions beyond EM-1 in 2018 and EM-2 in 2021 (uncrewed and crewed lunar fly-around missions) remain ill-defined, with the exception of the Asteroid Redirect Crewed Mission in 2026 (EM-6). Speaking at another public meeting of the NASA Advisory Council in Palmdale, California, last November, William Gerstenmaier, NASA associate administrator for human exploration and operations, said that NASA is working toward a cadence of one flight per year throughout the 2020s depending on fiscal year 2017 appropriations. Initial cislunar habitation capability could be achieved in the early 2020s "depending on the outcome of the NextSTEP activity and international planning/contributions." This would be followed by the build-up of cislunar habitation/logistics capability in the mid-to-late 2020s, leading to a "one-year shakedown cruise in 2029 with a Mars deep space transport vehicle." Such a mission has been under consideration for well over a year and would take place in the cislunar environment. Gerstenmaier reiterated NASA's earlier announced goal of flying a crew around Mars in 2033 without disclosing how that would be achieved.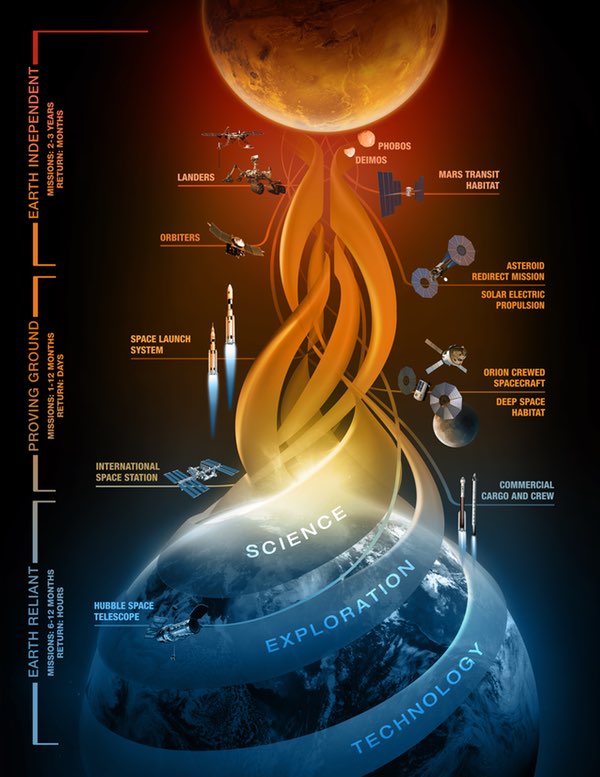 A Deep Space Habitat is part of NASA's Journey to Mars. (credit: NASA)
ISS partner initiatives
Considering the interest displayed in a cislunar habitat by the industry, the ISECG, and both NASA and Roscosmos, the time was ripe several years ago for the ISS partners to embark on their own effort to look into the feasibility of setting up such an outpost on an international basis. Judging from the absence of official statements, the space agencies have preferred to do this work behind closed doors, probably in order not to attract too much attention in a political atmosphere that has become increasingly less conducive to international cooperation.
It would seem the effort began sometime in late 2011, when an interagency group known as the ISS Experts Working Group (IEWG) was formed to study various aspects of ISS operations such as the station's deorbiting, recovery from major anomalies, and human health management for long-duration missions. One of the group's six teams, Team 4, was assigned to study the use of station elements in future exploration missions. The IEWG appears to have worked in close coordination with the industry partners.
On the Russian side, Roscosmos seems to have delegated most of the work to RKK Energia. Representatives of the company are known to have attended IEWG meetings in Paris; Houston; Moscow; Darmstadt, Germany; and Tsukuba, Japan in 2011–2013, and there undoubtedly was support from other industry teams as well. In July 2014, the Russian Interfax news agency reported that the US, Russian and Japanese space agencies had reached preliminary agreement on a crew-tended cislunar platform at the EM-L2 point based on the Russian Science Power Module, exactly the design that was being put forward by the industry at the time. The report added that the station was supposed to remain operational for as long as 30 years.
The only Russian element included in the current architecture is an airlock module virtually identical to one that had been in the works for the Russian Orbital Station but was scrapped from the Federal Space Program 2016–2025.
By late 2014, enough data had been gathered by the IEWG to explore prospects for a joint cislunar space station in closer detail. Meeting in Paris on November 4, 2014, the ISS space agency heads decided to entrust this task to a so-called ISS Exploration Capabilities Study Team (IECST). No mention of this was made in the joint statement on the meeting released the following day. The decision came just months after events in Ukraine and Crimea had forced NASA to withdraw from all cooperative ventures with Russia except ISS, and at a time when Russian "space czar" Dmitri Rogozin was calling on Russia to go to the Moon by itself. Like the IEWG teams, IECST received input from the industry. In 2014–2015 alone, RKK Energia delegations are known to have attended IECST meetings in Paris; at ESTEC in Noordwijk, The Netherlands); at the Johnson Space Center in Houston; and at the Kennedy Space Center.
An update on the work was given late last year by Russian space watcher Anatoly Zak. In articles on his own website and that of the Planetary Society, he reported on the latest meeting of the team, held behind closed doors in Houston from October 24 to 26. It is now apparently known as the International Spacecraft Working Group (ISCWG).
A striking feature of the latest plans is Russia's reduced role in the assembly sequence. The only Russian element included in the current architecture is an airlock module virtually identical to one that had been in the works for the Russian Orbital Station but was scrapped from the Federal Space Program 2016–2025. The 4.6-ton module, which already featured in the plans presented at the human spaceflight conference in Korolyov last May, is made up of a spherical compartment with two EVA hatches and a cylindrical selection that can act as a backup airlock. If launched by SLS, it could fly together with an Orion spacecraft and carry about 4.5 tons of supplies. Alternatively, it could be dispatched to the outpost by an Angara-5V rocket fitted with a cryogenic space tug.
The Science Power Module, a crucial component of the outpost in the early industry studies, seems to have been definitively abandoned, even though it was depicted as a joint Russian-American module in an RKK Energia/Boeing presentation at the conference in Korolyov. Leaving aside the possibility that the Russians themselves may be reluctant to commit to a leading role in the project, a contributing factor may well have been a desire on the part of the ISS partners to keep Russia out of the critical path. Problems with funding the Russian-built "Zvezda" Service Module led to multiple delays in the start of ISS assembly in the late 1990s, a scenario that Russia's ISS partners would obviously not want to see repeated when they start building a cislunar outpost. The troubled development of the Science Power Module for the ISS Russian segment, now expected to fly no earlier than 2019, must have done little to reassure Russia's partners that it can timely deliver a similar component for the cislunar outpost.
While NASA has not officially announced any specific mission objectives for SLS launches beyond EM-2 (except for the Asteroid Redirect Crewed Mission), information obtained by Anatoly Zak suggests the assembly of the outpost could begin in 2023 with the launch of an 8.5-ton US-European propulsion and power module equipped with electric thrusters as well as a Canadian-built robot arm. It would ride piggyback on the SLS together with Orion on the vehicle's Exploration Mission 3 (EM-3). Two subsequent SLS launches would add European and Japanese habitation modules to give the outpost an initial human-tended capability. Japan has reportedly agreed to contribute a habitat module featuring a closed-loop life support system that would significantly reduce its dependence on oxygen and water supplies from Earth. Also under consideration is a 10-ton European-Japanese-Canadian robotic vehicle that could be equipped with a rover and ascent stage for returning soil samples from the Moon beginning in 2026. The international team has also studied the possibility of carrying out crewed sorties to the lunar surface from the outpost.
The second assembly phase in the late 2020s would see the addition of a large US habitation and power module launched on a dedicated SLS cargo mission. According to Zak, this would be equipped with new electric propulsion systems and enable the outpost "to become the first interplanetary crewed spacecraft heading into deep space to explore asteroids or even reach the vicinity of Mars in the 2030s." Whatever path is ultimately chosen, the current strategy is flexible enough to begin construction of the outpost in the early 2020s without the need for an early commitment to its final goal.
Information from other sources indicates that the team is shying away from the idea to place the station at the EM-L2 point beyond the Moon. Other orbits seriously evaluated by the team were low lunar orbits (LLO), near rectilinear orbits (NRO), and distant retrograde orbits (DRO). All these were judged on the basis of such factors as accessibility from Earth (and other lunar orbits, stationkeeping requirements, Earth communication capabilities, eclipse durations, and thermal environment impacts.
Last December, former cosmonaut Oleg Kotov, who now heads the human spaceflight department of Roscosmos' TsNIImash research institute, told the TASS news agency that the preferred option is now a "highly elliptical polar orbit," a clear reference to the near rectilinear orbit. These are halo orbits with large amplitudes either over the Moon's south or north poles that are fixed in the Earth-Moon plane. A spacecraft in such an orbit needs a delta-v of 10 meters per second per year for stationkeeping, maintains a continuous line of sight with Earth for communications, and has an uninterrupted power supply from the Sun. It also needs less time (0.5 days) and velocity change (730 meters per second) to transfer to a low lunar orbit than spacecraft in L2 halo orbits or distant retrograde orbits.
Prospects
Although NASA officials make no secret of their interest in a Deep Space Habitat, they have so far portrayed the plans to build it together with international partners as an industry initiative. Speaking to Anatoly Zak after an ISS conference in San Diego last July, NASA's human spaceflight chief William Gerstenmaier welcomed the industry efforts, but warned that they had not been commissioned or endorsed by NASA. "Until we look at them, I can't pass judgment whether they are viable or not," Zak quotes him as saying in an article for Popular Mechanics. However, "it is encouraging that the industry is doing it on its own… and it is consistent with what we are thinking about, including going to cislunar space… So when we, the government, decide something to do, the industry has (already) done its homework."
One reason for NASA's reluctance to openly discuss the plans has no doubt been the presidential transition and the lingering uncertainty over the Trump Administration's stance on human space exploration.
All this ignores the fact that the IECST was set up by the space agency heads and is an interagency team, no doubt receiving considerable feedback from the industry. Indications are that the international cislunar habitat is also being seriously discussed by leading space agency officials themselves. Roscosmos deputy director Sergei Savelyev confirmed last April that he had held talks on the matter in Houston with several NASA officials, including Gerstenmaier. Anatoly Zak has reported that the heads of the ISS partners' human spaceflight programs held a teleconference on November 9, 2016, to discuss the status of the project and coordinate future steps.
In an update written for Popular Mechanics in early December, he says that NASA is hoping the space agencies involved in ISS will give the green light for the outpost at a meeting next August. RKK Energia head Vladimir Solntsev confirmed in an interview two weeks ago that proposals will be presented at a meeting of space agency heads and the ISS Multilateral Coordination Board in the August-September timeframe. Meanwhile, the space agencies participating in the International Space Exploration Coordination Group will release an updated version of the Global Exploration Roadmap in mid-2017, which is expected to provide more definition on human missions in cislunar space as the common next step in preparation for missions to Mars.
One reason for NASA's reluctance to openly discuss the plans has no doubt been the presidential transition and the lingering uncertainty over the Trump Administration's stance on human space exploration. Vague indications that the administration may be supportive of a return to the Moon could bode well for the cislunar habitat, which can be turned into a staging point for lunar landing missions. Furthermore, the rapprochement that Trump appears to be seeking with Putin might help clear any political hurdles that stand in the way of Russia's participation in the project.
Whatever the Trump Administration's space exploration policy turns out to be, there seems to be no lack of enthusiasm for creating an international cislunar station in the Russian space community. Both RKK Energia's Vladimir Solntsev and Roscosmos chief Igor Komarov have welcomed the idea. At a recent space conference in Moscow, Komarov expressed his belief that the only way to reach the Moon and Mars in the short term is through international cooperation and private funding.
Aside from contributing one or more modules, the Russians could potentially send crews to the habitat on their Federatsia spacecraft, offering more flight opportunities than the single Orion mission per year that NASA can afford. With a Russian heavy-lift launch vehicle unlikely to become available for lunar landing missions before 2030, the cislunar habitat could give Federatsia a destination to fly to as well. Whether the much curtailed Federal Space Program for 2016–2025 approved last March is flexible enough to incorporate funding for Russian DSH elements remains to be seen. An early indication of Russia's willingness to join the project may come this spring, when Roscosmos submits new recommendations for the country's human space program to President Putin.
---