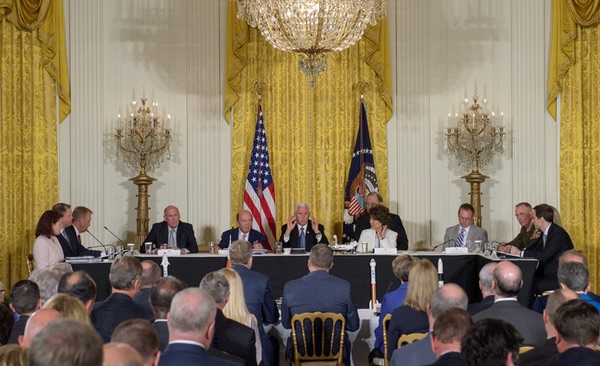 Members of the National Space Council, chaired by Vice President Mike Pence (center), meet June 18 after President Trump signed Space Policy Directive 3 regarding space traffic management. (credit: NASA/Bill Ingalls)
Managing space traffic expectations
by Jeff Foust

Monday, June 25, 2018
It was supposed to be the highlight of last Monday's National Space Council meeting. For days it was an open secret that the President would use the council meeting to formally sign Space Policy Directive (SPD) 3, the latest in a series of space-related policies. That document would establish a first-of-its-kind space traffic management policy, addressing concerns about the growing number of satellites, and increasing amount of debris, in Earth orbit.
"There are no major changes from where the vice president was at back in April," said Pace of SPD-3.
But, in a few sentences, President Trump created a new highlight for the meeting. "We must have American dominance in space. So important," he said. "Very importantly, I'm hereby directing the Department of Defense and Pentagon to immediately begin the process necessary to establish a Space Force as the sixth branch of the armed forces. That's a big statement."
That's an understatement. That direction captured the media attention from the rest of the meeting. While he instructed Gen. Joseph Dunford, chairman of the Joint Chiefs of Staff, to "carry that assignment out," that statement only kicked off a new level of debate about the creation of a separate Space Force, something that will ultimately require congressional approval.
So, what happened to space traffic management? Sure enough, a few minutes after his headline-grabbing statement, he sat down to sign SPD-3 (but, just before he put pen to paper, he asked, "Would anybody like me not to sign this?") And, with that, the President left the meeting, which went ahead with its planned agenda of updates on past policy directives and panels on issues of science and exploration.
The president's speech overshadowed the signing of SPD-3, but that signing was anticlimactic as well. Besides the hints that the signing was forthcoming in the days leading up to the meeting, Vice President Mike Pence had announced in April the development of a draft space traffic management policy (see "Space commerce traffic management", The Space Review, April 30, 2018.)
The final version of that policy, signed as SPD-3 last week, was little changed from the draft that Pence announced two months earlier. "There are no major changes from where the vice president was at back in April," said Scott Pace, executive secretary of the National Space Council, in a call with reporters a few hours before last week's council meeting. "What we're doing is a further elaboration and more authoritative discussion of the foundational principles," he added, as well as development of implementation plans.
The centerpiece of that plan is to give the Commerce Department the responsibility for providing what's known as "space safety data and services," such as warnings of potential collisions between space objects, to civil and commercial operators both in the United States and other nations—that is, pretty much everyone but the U.S. military, which will take care of its own satellites.
"There are no major changes from where the vice president was at back in April," said Pace of SPD-3.
The Defense Department will retain the role of collecting space situational awareness (SSA) data, providing a subset of that—presumably scrubbed of classified satellites—to Commerce. However, Commerce will have the ability to augment that DOD data with data from other sources, including other nations as well as the growing number of commercial SSA providers.
"What we hope to do is have a more user-friendly approach at the Commerce Department," Pace said. "What we hope to see is that people will get more rapid and more accurate information."
Before last week's signing of SPD-3, some in the SSA community were looking forward to Commerce having the ability to combine data sets from different sources. During a panel discussion June 11 in Washington organized by the Secure World Foundation, Moriba Jah, a professor at the University of Texas at Austin who specializes in space situational awareness research, showed off a web-based tool that shows orbital information on satellites based on data from the "authoritative" DOD catalog as well as from other governments and other sources. In the example he used, a Planet cubesat showed up in different positions in its orbit depending on the catalog used.
"The inconsistency says we have work to do," he said. "We need to bring all of these sources of information together, try to quantify what these inconsistencies are, and I think that's how we start getting to some international collaboration and understanding of what's going on in space."
"It's hard to predict exactly what the timeline would be," Ross said of taking over space traffice management work, "but it's probably something more or less on the order of a year."
Just how the Commerce Department will create its space traffic management services is still very much a work in progress. Last Friday, the strategic forces subcommittee of the House Armed Services Committee and the space subcommittee of the House Science Committee held a hearing on the topic, where Commerce Secretary Wilbur Ross said initial planning to take on the work was underway.
"We plan to send initial delegations out to Vandenberg [Air Force Base], out to Omaha, to start learning more about the specifics that would be involved," he said, referring to the home of the Joint Space Operations Center, or JSpOC, and headquarters of US Strategic Command, respectively. "We're prepared to dedicate people to that and have people from those entities also working at Commerce so that we make a seamless integration."
"It's hard to predict exactly what the timeline would be," he continued, "but it's probably something more or less on the order of a year to make a seamless transition between the two."
Pace, earlier in the week, suspected it might take longer. "It's not going to happen overnight, but we're basically getting everybody in their lanes and people pulling in the same direction," he said, predicting the transition would take a "few years" to complete.
One factor aiding that transition is that the Defense Department appears more than willing to give up its current responsibility of providing space traffic management services. "I believe transition is a good idea and I support the actions taken by the president on Monday to designate the Department of Commerce as the lead," said Air Force Gen. John Hyten, head of Strategic Command, at Friday's hearing.
Hyten argued that Strategic Command only reluctantly took on that space traffic management role in the wake of the 2009 collision of an Iridium communications satellite with a defunct Russian Cosmos satellite. "We kind of came to the realization that we're going to have to do this flight safety mission ourselves," he recalled. "We had to take about 100 airmen, 100 military people, off of other missions and put them on that in order to do that mission."
That number of has dropped somewhat, Hyten said, but there are still "dozens and dozens of airmen" working on that who can, once the new policy is implemented, be reassigned to other roles more closely aligned with the Defense Department's warfighting missions. "We don't have to be the public face to the world" for SSA information, he said.
The idea of giving that responsibility to a civil government agency is not new, but previous discussions had focused on giving it to the FAA's Office of Commercial Space Transportation. The new policy instead gives it to Commerce, but that was not an issue to Hyten.
"From the STRATCOM perspective, from the DOD perspective, bluntly, it doesn't matter to me," he said. "We need a civil agency that is doing that role."
During those earlier discussions, an advocate for giving it to the FAA was then Rep. Jim Bridenstine (R-OK), who two months ago was sworn in as NASA administrator. NASA will have roles under SPD-3 supporting Commerce, including hosting research on space traffic management issues, and Bridenstine said he was satisfied with that.
"A couple of years ago, when I drafted that bill, my thought was we'll put it at FAA, and we'll take everything and put it at FAA," Bridenstine said at Friday's hearing, referring to the American Space Renaissance Act that he drafted as a member of Congress. "It appears now that the right course of action, given the consensus that has been come to, is that it be at Commerce, and I fully support that. The key is, it needs to be done."
To fully implement the policy, though, Congress will need to formally authorize that transfer of responsibilities to Commerce, and give it appropriate funding and other authorities. "We've not made a decision—this body, Congress—as to where space situational awareness should be housed," said Rep. Ami Bera (D-CA), ranking member of the space subcommittee, at Friday's hearing.
"From the STRATCOM perspective, from the DOD perspective, bluntly, it doesn't matter to me" which agency takes STM work, Hyten said.
Others earlier argued for the need for legislation. "The whole game for space traffic management is somebody in charge of assigning and deconflicting orbits, and what authorities do they need to effectively do that," said Brandt Pasco, an attorney and fellow at the Hudson Institute, at the June 11 panel. "Only Congress can really establish the authorities and who should be in the lead."
Even before the signing of SPD-3, though, some in Congress were already working to address that. At that panel, Rep. Lamar Smith (R-TX), chairman of the House Science Committee, said he was working on space traffic management legislation. He didn't offer details about the bill, but a staff member later said the committee was seeking advice from industry on what they would want in such a bill.
After Friday's hearing, the House Science Committee announced a markup session for this Wednesday. Among the bills it will consider is one called the "American Space Situational Awareness and Framework for Entity Management Act," a mouthful of a title that is condensed, somewhat, to the "American Space SAFE Management Act."
The bill would formally authorize the Commerce Department to take on civil space traffic management responsibilities within a year of the bill's enactment. In includes a number of measure to support that, such as indemnifying the department from any claims that might ensure from satellite operators who suffer damages as a result of acting on warnings it might provide. It would also allow Commerce to make use of NASA facilities and personnel to carry out that mission, but is silent on the use of DOD capabilities.
"We want to explicitly avoid trying to create, or waiting to create, an international treaty which would take quite some time and be probably quite complex to do," Pace said. "Instead, we want to move a bit faster."
The bill would authorize $20 million a year for Commerce to carry out that space traffic management work, a figure similar to some previous studies on the cost of doing that work. It authorizes an additional $5 million a year for a pilot project for "space traffic coordination" separate from giving space safety warnings to satellite operators. (Appropriators, though, would have to actually provide the funding, which is never guaranteed.)
Other departments in the federal government, notable the State Department, will also be involved in carrying out SPD-3. State will lead work on "international transparency" in space traffic management, including development of non-binding guidelines.
Pace, though, said he didn't expect that work to lead to a treaty-level agreement on space traffic management for the foreseeable future. "We want to explicitly avoid trying to create, or waiting to create, an international treaty which would take quite some time and be probably quite complex to do," he said. "Instead, we want to move a bit faster."
There are already activities at the international level associated with space traffic management, including guidelines for the long-term sustainability of space developed by the UN's Committee on the Peaceful Uses of Outer Space, which is wrapping up a meeting this week in Vienna. That work will need to be included in the development of legislation and implementation of policy, some argue.
"I would encourage all of the people that are involved in the drafting of legislation to become intimately familiar with those guidelines are that have been agreed to, so those particular ideas can be captured in our legislation," said Diane Howard of Embry-Riddle Aeronautical University at the June 11 panel. "That's a very good way that we can lead by example."
---
Note: we are temporarily moderating all comments subcommitted to deal with a surge in spam.