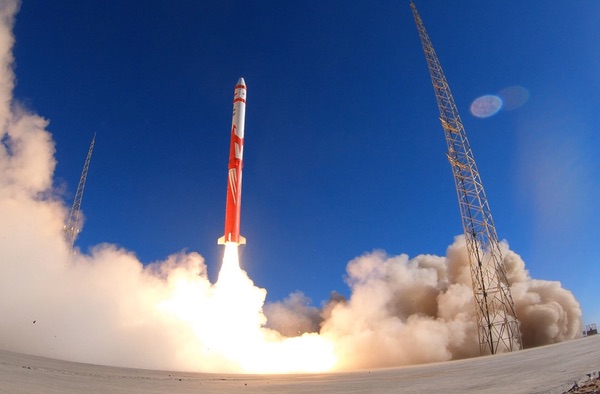 Liftoff of the Zhuque 1 rocket October 27. (credit: Landspace)
A historic day for Chinese NewSpace
by Chen Lan

Monday, November 19, 2018
On October 27, invited by MinoSpace, a Chinese startup satellite company, I went to the Jiuquan Satellite Launch Center (JSLC) and witnessed the inauguraal launch of the LandSpace Zhuque 1 (ZQ-1) solid-fueled small launcher. It was not only the first orbital launch by LandSpace, the China's leading private rocket company, but also China's first private rocket to be launched into orbit. The payload on top of this rocket was the first deliverable by MinoSpace, the Weilai 1 (Future 1) educational satellite developed for CCTV (China Central Television).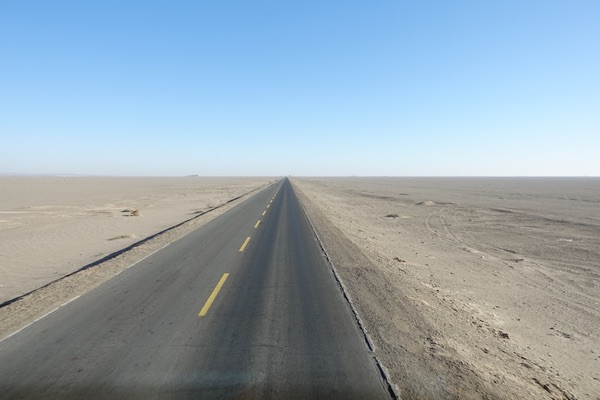 Highway to the launch center. (credit: Go Taikonauts!)
It was a nice day with comfortable temperatures and a clear blue sky. Our bus departed before sunrise and started a four-hour journey in the Gobi Desert. The bus ran on a section of desert expressway at first, where greens, villages, and farmlands were occasionally seen. And we saw a beautiful sunrise. However, after about three-fourths of the journey, an immense flat bare desert was suddenly before my eyes. All living things were gone, replaced with sparsely located strange facilities. The two-lane highway goes straight to the distance, with a railway accompanied at left. I felt that atmosphere became serious, with a little excitement. Finally, I saw the familiar launch towers and the VAB (Vertical Assembly Building) on the horizon that I saw hundreds of times in photos and TV. We reached the check point to enter Dongfeng, the so-called space city.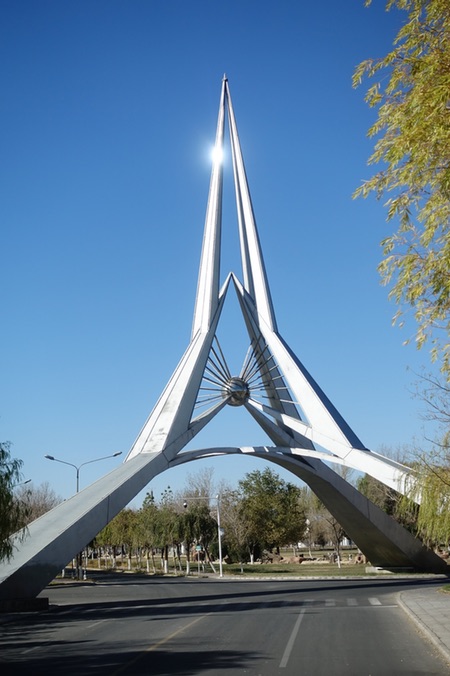 A public sculpture in Dongfeng City. (credit: Go Taikonauts!)
Dongfeng is a clean and silent small town. It is said that all its residents are launch center staff or their family members. From the bus, I saw some foreign faces walking on street. They may be from France or Belarus, as two days later on October 29, the Sino-France CFOSAT ocean satellite and a piggyback Belorussian small satellite would be launched here. After a quick lunch, we headed to the launch site. We passed by the VAB and the Pad 921 closely, but without stopping, and then went east. It reminded me the first time I saw them 19 years ago when the first two photos of the Chinese human space program were leaked on the Internet. After driving for a few kilometers, I saw a white-red colored small rocket standing at a small flat concrete ground, without an umbilical tower or any tall supporting structure.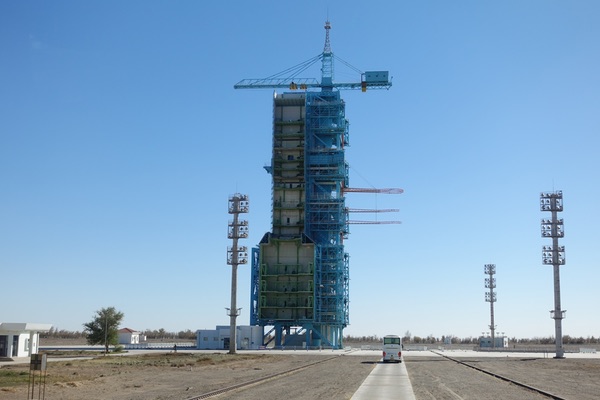 The CZ-2F manned launch tower in JSLC. (credit: Go Taikonauts!)
It was to my surprise that we were allowed to go near to the rocket very closely—it was almost touchable! The rocket was actually standing on a blue mobile platform that includes the erecting mechanism and the flame diversion baffle. Not far away, there are two lightning towers and a white low building of an unknown purpose.
The Zhuque 1 is a three-stage solid fueled launcher with a length of 19 meters, diameter of 1.35 meters, and launch mass of 27 tonnes. It has a liftoff thrust of 45 tonnes and is capable of putting a 300-kilogrgam payload into LEO and 200 kilograms into Sun-synchronous orbit (SSO). The Weilai 1 satellite, based on MinoSpace's MN-10 bus and integrated with in-orbit experiment and imaging payloads, was supposed to be sent to a 500-kilometer SSO with working life of two years.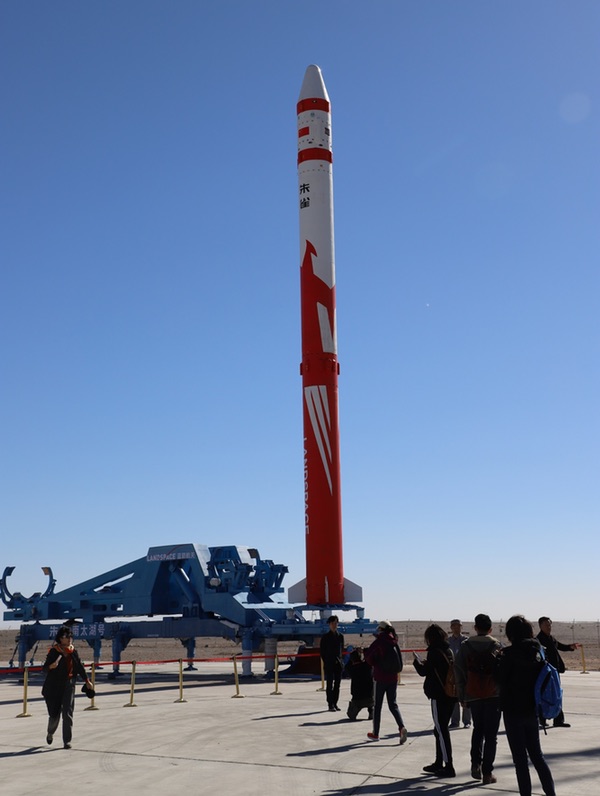 The Zhuque 1 launcher, taken two hours before launch. (credit: LandSpace)
A launch with glory
After another short close visit to the Pad 921, where the Shenzhou crewed spaceship takes off, at about 3:00 pm we were transferred to an open space approximately two kilometers away from the rocket, waiting for launch of the ZQ-1. There were about 200 people, mostly staff of the two companies and guests they invited. The CCTV "Go to the Future" program crew occupied an exclusive space because the Weilai 1 satellite is specially designed to serve this TV program. At such a distance, the rocket could hardly be seen. There was a happy and relaxed atmosphere. People were enjoying the unique scenery of the desert under blue sky. Some even went out of the specified viewing area to take photographs. It was also to my surprise that, contrary to previous rumors, we were allowed to carry our mobile phones and use them all the time. The 4G signal in the launch site is also quite strong.
Close-up of the mobile launch platform. (credit: Go Taikonauts!)
When a string of vehicles evacuated from the distant launch pad and came close to us, and another string of fire engines and ambulances came from the opposite direction, I realized that the launch was imminent. The launch was schedule at 4:00 pm Beijing Time and it was T-30 minutes at that point. People became calm. There was only the countdown voice from the loudspeaker. A drone was hovering over our heads. At T-10 seconds, people started to shout out loud: ten, nine, eight… zero! But there was no sign of life from the tiny rocket on the horizon. About four or five seconds later—maybe shorter but seemed to me to be so long—a bright flash was visible followed by smoke rising from the ground. All that happened in silence until a few seconds later when I heard a not-so-loud rumbling sound; it was even quite enjoyable. The small rocket went up faster and faster. It was hardly visible: only a bright flash with a long white trail of smoke extending from it. The rocket went over our heads and then flew south. As the sound faded, it finally disappeared deep in sky. But the long white contrail got twisted by high altitude winds and remained in the sky for long time. It was the most beautiful scene in the day.
Close-up of the third stage of Zhuque 1. (credit: Go Taikonauts!)
People on the ground were excited. They cheered loudly. We gathered around Dr. Shufan Wu, founder of MinoSpace and co-founder of LandSpace. He had the latest information on his mobile phone from the control room. All looked to be going perfectly. First stage separation and second stage ignition, fairing jettison, second stage separation and third stage ignition, all went well. We were anxiously waiting for the payload separation, the final signal to claim a success. However, Dr. Wu's face got serious and he then left. An investment guy told me that he felt that something may have gone wrong. About a dozen minutes later, we got a clue through our mobile phones as someone had already posted a message on the Internet saying that the third stage lost attitude and failed to enter orbit.
Though the ZQ-1 failed to reach orbit, the launch was still considered a great achievement by LandSpace.
Back in Dongfeng for dinner, people, including those from the two companies and their investors, were a little upset but still congratulated LandSpace and encouraged each other. Many people compared it with the first three failed launches of the SpaceX Falcon 1. The first private space launch has completed most of its steps and failed only in the final stage. It was almost successful. History has already been made. Undoubtedly it was a milestone in Chinese commercial space.
Dr. Wu arrived at end of the dinner. He confirmed the launch failure and told us that the third stage and the satellite has reached an altitude of nearly 340 kilometers and velocity of more than 6.2 kilometers per second, both records in China for a private rocket. One week later, LandSpace released result of the investigation on the failure with exactly the same information. The cause of the failure was identified as a broken pipe in one attitude control thruster.
New feast of capital
Though the ZQ-1 failed to reach orbit, the launch was still considered a great achievement by LandSpace. As a pioneer, the company encountered a lot of difficulties and setbacks before this day. LandSpace was founded in 2015 and is the first private rocket company in China. In early 2017, LandSpace signed a contract with the Denmark based GomSpace to provide commercial launch services using its solid launcher LS-1. Unfortunately, the deal was suspended because LandSpace's solid motor supplier CASC, the state-owned space giant, ceased execution of an agreement signed with LandSpace for providing solid motors, in name of sensitive technology control. This has forced LandSpace to independently develop a liquid engine to get rid of such external reliance. Development of LandSpace's liquid oxygen and methane engine has made fast progress since then.
However, LandSpace managed to get a new solid engine from a new source. The result is Zhuque 1. Its first payload slot was booked by CCTV. Compared to the development and assembly of the rocket, acquiring orbital launch permission from the government, and setting up procedures for private companies to enter the launch site, were more difficult and complicated. With full support from CCTV, LandSpace finally made it after working hard for several months. At end of September 2018, the first ZQ-1 was transported to JSLC. As Zhang Changwu, LandSpace founder and CEO, said, being able to erect the rocket in Jiuquan was itself already a big success.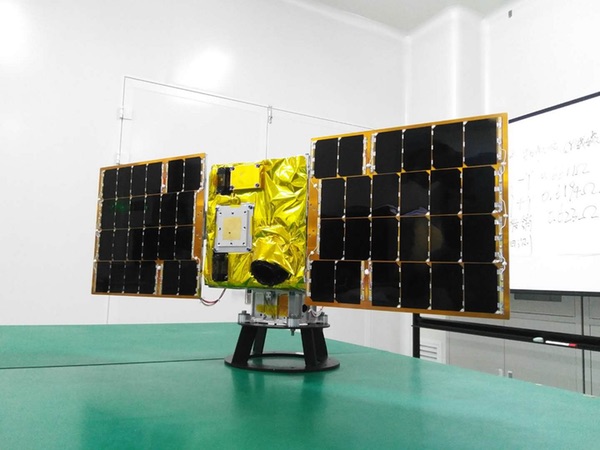 Flight model of the Weilai 1 (Future 1) satellite. (credit: MinoSpace)
By comparison, the journey of MinoSpace, founded in August 2017, was much smoother. In just about one year since its establishment, the company has secured satellite deals valued more than 200 million RMB (US$30 million). It not only showed that China has a large requirement for small satellites, but also proved that MinoSpace has a strong competitive power. Its founder and board director Dr. Shufan Wu had worked in Europe for 17 years, including 12 years at ESA, and was former CTO of Shanghai Microsatellite Engineering Centre, CAS. Another founder, MinoSpace CEO Dr. Enyu Gao, is from CAST, China's most renowned satellite developer.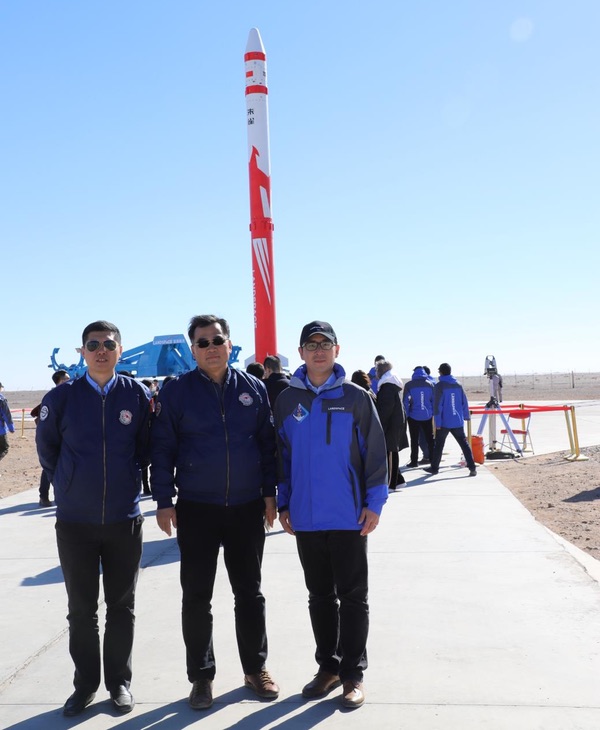 Founders of the two companies. From left to right are: Dr. Enyu Gao (founder and CEO of MinoSpace), Dr. Shufan Wu (founder and board director of MinoSpace, founder of LandSpace), Changwu Zhang (founder and CEO of LandSpace). (credit: LandSpace/MinoSpace)
The two companies represent the fast progress of NewSpace in China. It is estimated that there are more than 100 startup space companies in China. They are mostly supported by private capital. Space is seen as the next big market after mobile Internet, electric cars and AI. A new feast of capital is underway. In Jiayuguan and JSLC, I met many investors, most of whom are involved with LandSpace and MinoSpace. Niu Wen, the angel investor of LandSpace and MinoSpace, estimated that around 6-7 billion RMB (US$1 billion) has been injected into Chinese commercial space, which is still a small fraction of the amount invested in Internet or electric car ventures. These investors all have high expectations on future of NewSpace in China. Their optimism is partially from the government policy on commercial space, which is becoming increasingly open, transparent, and fair to private companies and private capital. They also admit there are problems and risks in this wave of the private space boom, but they see them as normal.
The two companies represent the fast progress of NewSpace in China. It is estimated that there are more than 100 startup space companies in China.
The day after I returned home, MinoSpace announced that a satellite with two subsystems provided by MinoSpace was successfully launched into space with the CFOSAT, the Sino-France Oceanographic Satellite. One week after the ZQ-1 launch, a partner from Essential Capital, which financed Galactic Energy, another private rocket company, told me that they had just test-fired the China's largest privately developed solid motor with a thrust of 60 tonnes.
The story of Chinese NewSpace has just started.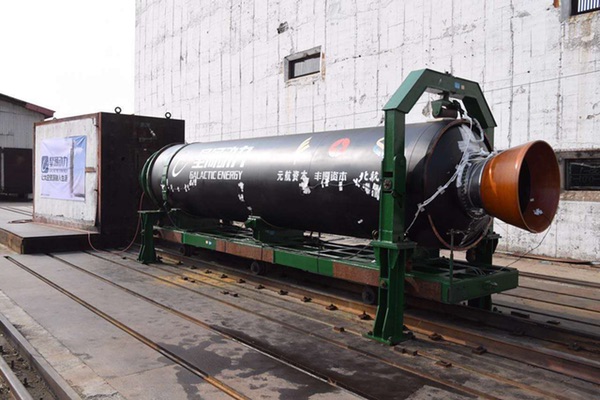 The solid motor of Galactic Energy. (credit: Galactic Energy)
---
Note: we are temporarily moderating all comments subcommitted to deal with a surge in spam.