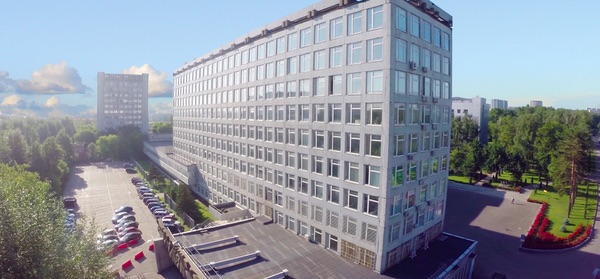 The CNIIHM building on the outskirts of Moscow (credit: CNIIHM)
Russia's secret satellite builder
by Bart Hendrickx

Monday, May 6, 2019
Some ten kilometers south of Red Square in Moscow's Nagatino-Sadovniki District is a drab-looking ten-story building that is unlikely to attract the attention of any casual passers-by. Anyone interested in finding out what goes on inside will learn little more from the name inscribed in a gold-colored plate hanging near the entrance: Central Scientific Research Institute of Chemistry and Mechanics Named After D.I. Mendeleyev (Cyrillic initials ЦНИИХМ, transliterated either as CNIIHM or TsNIIKhM). At first sight, there is nothing to suggest that it has anything to do with the Russian space program. However, plenty of evidence has emerged from open-source intelligence that CNIIHM has become one of the most important satellite builders outside the structure of Roscosmos, specializing in the development of small sаtellites for military purposes, including what likely is a new Russian co-orbital anti-satellite system.
History
Plenty of evidence has emerged from open-source intelligence that CNIIHM has become one of the most important satellite builders outside the structure of Roscosmos, specializing in the development of small sаtellites for military purposes, including what likely is a new Russian co-orbital anti-satellite system.
CNIIHM traces back its roots to 1894 with the establishment of a chemical laboratory in St. Petersburg to, among other things, study the possible uses of a new type of smokeless gunpowder invented by Dmitri Mendeleyev, the Russian chemist best known for creating the periodic table of elements. In 1931, the laboratory moved to Moscow and acquired the status of a scientific research institute, which in 1937 was given the name NII-6. Among the institute's products was a type of solid propellant based on nitrocellulose that propelled the infamous truck-mounted Katyusha missiles used by the Soviet army during the Second World War. Since the launch arrays looked like a pipe organ and the missiles made a wailing sound when they were fired, the Germans nicknamed them "Stalin's Organ."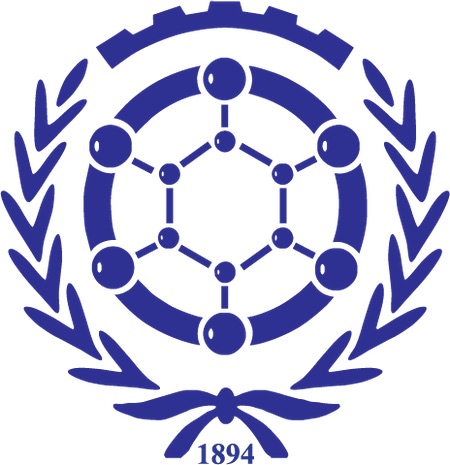 CNIIHM's logo (credit: CNIIHM)
In the decades following the war, NII-6 went on to produce various types of explosives as well as solid propellants and warheads for a variety of missiles, including the surface-to-air missile that shot down the U-2 reconnaissance aircraft piloted by Gary Powers in May 1960. Renamed CNIIHM in 1969, the institute also got involved in the Soviet military space program by producing explosive charges for the co-orbital anti-satellite system known as IS ("Satellite Destroyer"). The explosive charges were mounted on short booms extending from either side of the interceptor satellite. The Soviet Union launched about 20 interceptors under the IS program between 1968 and 1982, with several of them successfully destroying specially launched target satellites.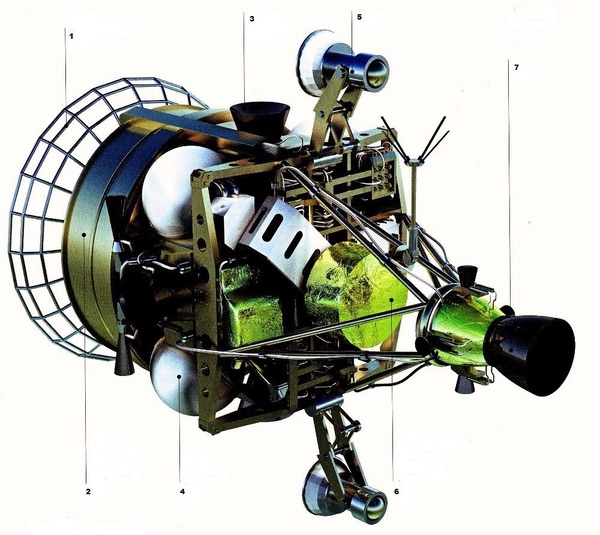 The Soviet-era IS interceptor satellite. One of the two explosive charges is in position 5. (credit: A. Lobanov, I. Afanasyev, A. Suvorov, A. Novichkov)
Like many other Russian companies, CNIIHM went through hard times in the years following the collapse of the Soviet Union, switching mostly to civilian production. A new chapter in the institute's history began in 2005, when CNIIHM became subordinate to the Federal Service for Technical and Export Control (FSTEK), a Ministry of Defense agency tasked with "protecting state secrets and countering cyber espionage." This allowed CNIIHM to branch out into new fields not directly related to chemistry. Little is known about those, but they may include a role in Russia's cyberwarfare program. Last October, the cybersecurity firm FireEye claimed to have found evidence linking CNIIHM to the development of malware known as TRITON to disrupt industrial control system software that allows industrial plants to safely shut down. The malware caused the unexpected shutdown of a petrochemical plant in Saudi Arabia in August 2017.
The institute's responsibilities were further expanded in 2009, when according to its website it became "the Ministry of Defense's leading institute for the development of advanced weapons including new types of ordnance, rocket propellants and explosive devices" and began carrying out "research in key areas of weapon modernization." Apparently, that expansion of responsibilities also included a key role in top-secret military space projects for orbital inspection, satellite negation, and possibly other areas as well. On August 23, 2010, the company received a license (nr.1373K) from the Russian space agency to produce space technology.
Structure
A visit to CNIIHM's current website will not yield any clues about its role in the Russian space program. The website was significantly downsized last year and is now less informative than it used to be. However, the former version of the site, still accessible through the Internet Wayback Machine, did mention space-related roles for two of the company's six divisions.
The bulk of the institute's space-related work seems to take place in a division carrying the obfuscating name "Design Bureau of Applied Mechanics" (acronym KBPM). It is headed by Vladimir Verkhoturov, who earlier held leading management positions at RKK Energiya and OAO Gazkom (now Gazprom Space Systems), where he oversaw the development of the Yamal communications satellites. KBPM is engaged in what is literally described on the website as:
development and production of space technology and space materials;
development and construction of ground-based infrastructure to receive, process and store information received from satellites; and
participation in ground-based testing, launch preparations, flight control and use of satellites.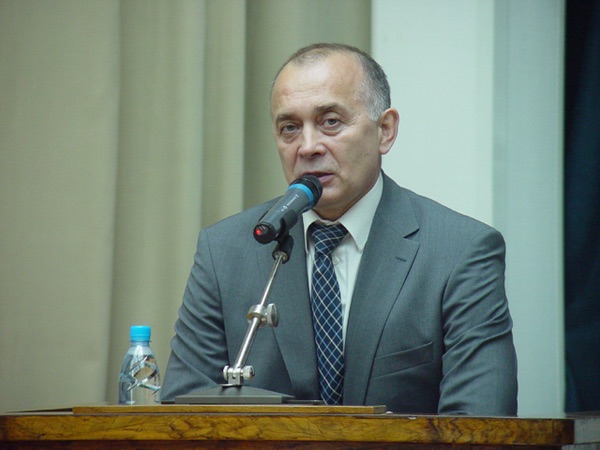 Vladimir Verkhoturov, head of CNIIHM's satellite department. (credit: RKK Energiya)
Another CNIIHM division is called "Scientific Research Center for Nanotechnology" (NITs Nanotekhnologiy), which is led by Vladimir Turkov. This was founded in 2008 in the framework of a federal program known as "Development of the Infrastructure of the Nanoindustry of the Russian Federation in 2008-2011." One of its fields of research is said to be "advanced rocket and space technology," but no further details were given on the website.
Further clues to CNIIHM's involvement in the space program come from vacancies that the institute has published online. These include job offers for engineers needed in what are termed the "satellite design department" and "satellite testing department" and also show that the institute has facilities such as vacuum chambers to test satellite components in simulated space conditions.
Nivelir is most probably a project to build small satellites designed to inspect other satellites in space.
CNIIHM is known to have close ties with a university called the Moscow Institute of Physics and Technology (MFTI), popularly known as PhysTech. In 2005, it established a department at MFTI called "Automated Biotechnical Systems," which was renamed "Advanced Technologies for Security Systems" in 2016. It is led by Sergei Grigorov, who was the director of FSTEK from 2004 to 2011. Although these names are not suggestive of any link with the space program, the department is actually part of the university's Faculty of Aerophysics and Space Research (FAKI) and offers several space-related courses. The department is involved among other things in research on "advanced rocket and space technology" as well as nanotechnology, supporting the activities of CNIIHM's nanotechnology center. Many students of the department do internships at CNIIHM and go on to work at the institute or other organizations under FSTEK. Another part of FAKI is the Department of Applied Mechanics, which has a Laboratory of Applied Nanotechnology (led by Mikhail Ryazhakov) that was founded at the same time as CNIIHM's nanotechnology center and closely collaborates with it.
Finding out more about the specific space projects that CNIIHM is working on is only possible through careful analysis of publicly available documents on the Russian government procurement website zakupki.gov.ru as well as a handful of technical articles and patents published online. These reveal that the institute is working on several types of microsatellites and nanosatellites for military purposes. While CNIIHM is likely to manufacture at least some satellite parts in-house, it primarily seems to act as a system integrator, assembling components delivered by various subcontractors.
Nivelir
One space project in which CNIIHM appears to be the prime contractor is called Nivelir ("Dumpy level"), also known by the military index 14K167. The project officially got underway on September 30, 2011, when CNIIHM was awarded a contract for Nivelir by a mysterious organization called the State Scientific and Technical Center Garant (GNTTs Garant). Online sources reveal virtually nothing about this organization other than that it was set up in 1995 and belongs to Russia's Ministry of Economic Development. This shows that Nivelir has a completely different organizational background than most traditional Russian military space projects, which begin with the Ministry of Defense awarding a contract to a company operating under the wings of Roscosmos.
Nivelir is most probably a project to build small satellites designed to inspect other satellites in space. So far Russia has launched four such satellites. The first three (announced as Cosmos-2491, 2499 and 2504) were launched as co-passengers with trios of communications satellites on the Rokot booster on December 25, 2013; May 23, 2014; and March 31, 2015. The last two of those rendezvoused with the Briz-KM upper stage that deployed them into orbit. A fourth was launched attached to a satellite called Cosmos-2519 that was launched on a Soyuz-2-1v rocket on June 23, 2017. Cosmos-2519, which has the military index 14F150, is a product of the NPO Lavochkin design bureau, best known as a manufacturer of scientific satellites and deep space probes. It may be used for Earth remote sensing and/or long-distance observations of other objects in orbit. The inspector satellite was released from the parent satellite on August 23, 2017 and received the name Cosmos-2521. It subsequently performed repeated rendezvous and proximity operations with Cosmos-2519 until April 2018.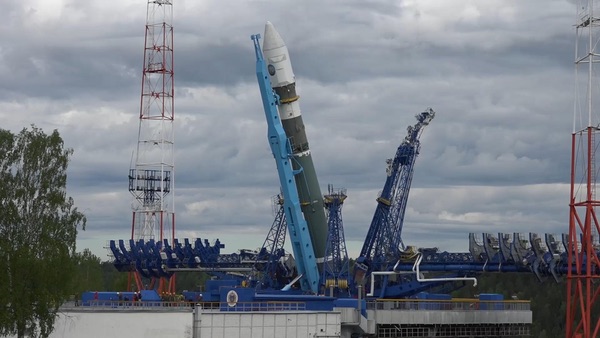 Soyuz-2-1v rocket carrying Cosmos-2519/2521/2523. (credit: Russian Ministry of Defense)
Cosmos-2521 itself released a subsatellite (Cosmos-2523) on October 30, 2017, which the Russian Ministry of Defense said would "diagnose the technical condition of a Russian satellite" and "determine if it could be returned to working order." However, shortly after separating from Cosmos-2521, it lowered its perigee by about 100 kilometers and has not come close to any other satellites since, suggesting it may not have been used for its officially stated goal. In August 2018, US Assistant Secretary of State for Arms Control Verification Yleem Poblete described its behavior as "inconsistent with anything seen before from on-orbit inspection or space situational awareness capabilities" and hinted at the possibility that it might be related to a space weapon development program. It is not clear if this satellite was also built by CNIIHM.
As can be deduced from a handful of publicly available procurement documents as well as several patents filed by CNIIHM, the company probably built all four inspector satellites and they are either identical or, at least, very similar. All of them appear to be equipped with monopropellant hydrazine thrusters of the OKB Fakel design bureau called K50.10.6 and use an eight-liter hydrazine tank (MVSK84) manufactured by NIIMash in Nizhnyaya Salda.
Several patents and technical articles available online seem to describe a fuel-efficient way of maneuvering these satellites in space by performing small, intermittent burns which the authors refer to as "pseudo impulses." At least some of the theoretical groundwork for this maneuvering technique (applicable in a variety of space projects) was laid in research done last decade by Yuri Ulybyshev, a ballistics expert at RKK Energiya. One of the authors of the aforementioned papers and patents, CNIIHM's Sergei Ulybyshev, most likely is his son. None of the publications specifically refer to the Nivelir project, but two of the other authors, Taras Gavrilenko (who worked on small satellites at the PO Polyot company in Omsk, Siberia before moving to CNIIHM) and Aleksandr Glushkov, published papers on orbital inspection in 2011 and 2012, indicating they were involved in the project from the very beginning. The MFTI university appears to have worked on software for the project in the same timeframe under a theme called Nivelir-PO.
The next flight under the Nivelir project may be similar to the Cosmos-2519/2521/2523 mission. Chances are that these two will be launched together, possibly on the next flight of the Soyuz-2-1v rocket slated for later this year.
On November 2, 2016, CNIIHM signed a contract under the Nivelir project with a company based in St. Petersburg called NII Ferrit-Domen. Documentation related to this contract only mentions tests of a "protective coating" without specifying what purpose it will serve. However, NII Ferrit-Domen is known to produce radar-absorbing materials using thin films of hydrogenated carbon with ferromagnetic nanoparticles. The company's website says the material is intended "to lower the radio visibility of ground-based, sea-based, airborne and space-based technology" and also mentions its ability to absorb radiation in the optical and infrared regions of the spectrum. The work done by Ferrit-Domen for CNIIHM is referred to as Nivelir-RP, where "RP" almost certainly stands for "radar absorbing coating" (in Russian). Additional evidence that the work is related to stealthy material comes from the annual reports of NII Ferrit-Domen for 2012 and 2013, which mention joint work on radar absorbing materials with CNIIHM under a research project called Nota-D. CNIIHM's Nanotechnology Research Center has also done research on radar-absorbing materials, as is evident from a patent published in 2014.
The conclusion is that future satellites launched under the Nivelir project are likely to be covered with stealthy material, potentially giving them the ability to sneak up on other satellites without being noticed.
The next flight under the Nivelir project may be similar to the Cosmos-2519/2521/2523 mission. There is procurement documentation for subsystems of a second 14F150 satellite of NPO Lavochkin and at least one other inspector satellite. Chances are that these two will be launched together, possibly on the next flight of the Soyuz-2-1v rocket slated for later this year.
Burevestnik
Procurement documentation has also revealed CNIIHM's involvement in another top-secret space project known as Burevestnik ("Stormy Petrel"), which has the military index 14K168. Indications are that this project started on September 1, 2011, with the signing of a contract between the mysterious GNTTs Garant organization and the Design Bureau of Machine Building (NPK KBM), based in Kolomna just south of Moscow. NPK KBM is a weapon manufacturer that, among other things, produces tactical ballistic missiles, anti-tank missiles, and man-portable air defense systems. It is not known to have worked on any space projects in the past, which makes its leading role in this project somewhat puzzling. CNIIHM got involved in the project when it received a contract from NPK KBM on September 30, 2011, exactly the same day it was awarded the contract for Nivelir. While NPK KBM seems to fulfill a coordinating role in the project, CNIIHM is likely to be the system integrator.
Another player in the project is the Nudelman Precision Engineering Design Bureau (KB Tochmash). The company's core business areas are tactical surface-to-air missiles, anti-tank weapons, and various other types of weaponry. Its main role in the space program so far has been to develop anti-satellite weapons, more particularly a rapid-fire cannon for at least one of the military Salyut space stations launched in the early 1970s and space-to-space missiles for a variety of ASAT projects that the Soviet Union worked on in the 1980s but never materialized. KB Tochmash also develops the homing head for a ground-based direct-ascent ASAT system known as Nudol, which is already believed to have made several test flights (without targeting satellites.)
All that can be inferred from the available documentation about KB Tochmash's role in Burevestnik is that it has built a simulator consisting of a vacuum chamber and an optical bench to re-create the background against which infrared, optical, and ultraviolet sensors need to track fast moving objects in space. The company has also co-operated with the Scientific Research Institute of Television (NIIT) in St. Petersburg to build a star tracker for the project. This contains several foreign-built components, including a Pentax C2514M lens.
There is evidence that Burevestnik uses the same monopropellant propulsion system as Nivelir, raising the possibility that the two programs share a common satellite bus. A further indication of a close link between Nivelir and Burevestnik is the construction of what appears to be a joint ground control center (named "1009/5") for the two projects in Noginsk-9 (also known as Dubrovo), about 60 kilometers east of Moscow. Noginsk-9 is home to the 821st Main Space Intelligence Center, the headquarters of Russia's space surveillance network, where all the information from the country's optical and radar space surveillance systems comes together and is processed. In the Soviet era, Noginsk-9 was also the location of the ground control center for the co-orbital IS ASAT system, which received its targeting data from the nearby space intelligence center. Other ground infrastructure for Burevestnik (labeled 7511/3 and 7511/4) is being built at a storage site for rockets and satellites not far from the town of Tambov and at the military cosmodrome in Plesetsk.
All this, along with the fact that Burevestnik is referred to in some official documentation as a "space security complex", strongly suggests that it is a new co-orbital ASAT system. Since Russia is believed to be developing a variety of both ground-based and airborne ASAT systems to disable satellites in low Earth orbits, as discussed in a recent report by the Secure World Foundation, Burevestnik's primary targets may be satellites in much higher orbits, such as the geostationary belt. Given their small size, one or more Burevestnik satellites could covertly hitch rides to geostationary orbit along with bigger payloads on Angara-5 rockets launched from Plesetsk. Flying at an altitude of 36,000 kilometers and possibly using the same stealthy material as the Nivelir satellites, they could be very difficult to spot from the ground. Nothing can be said with certainty about exactly how Burevestnik would knock out other satellites, but the background of companies such as CNIIHM and KB Tochmash does point to the intended use of an explosive charge or kinetic weapon, despite the fact that the space debris these generate would pose a risk to Russia's own satellites.
The construction of dedicated ground infrastructure for Burevestnik indicates that it is intended to become an operational program. Assuming that Burevestnik uses the same bus as the tried-and-tested Nivelir satellites, the first test flights of these satellites may not be far off.
Numizmat
Yet another project in which CNIIHM is a key player has the name Numizmat ("numismatist" or "coin collector"). It officially got underway with the signing of a government contract on July 1, 2014, between CNIIHM and the Ministry of Defense.
All this, along with the fact that Burevestnik is referred to in some official documentation as a "space security complex", strongly suggests that it is a new co-orbital ASAT system.
One of CNIIHM's subcontractors for Numizmat is the Scientific Research Institute of Television (NIIT) in St. Petersburg, which was awarded a contract for the project on September 1, 2014. All that can be inferred from available documentation is that NIIT will provide some type of TV camera that, like NIIT's star tracker for Burevestnik, will use foreign-built components, more specifically a megapixel lens of Kowa Optical Products (headquartered in Tokyo) and a CMOS (complementary metal oxide semiconductor) image sensor built by ON Semiconductor (based in Phoenix, Arizona.)
Another subcontractor is the Sedakov Scientific Research Institute of Measuring Systems (NIIIS) in Nizhniy Novgorod, which was assigned to the project on January 10, 2015. The company belongs to the Rosatom State Atomic Energy Corporation. None of the documents reveal NIIIS's exact role in the project, but the company is known to have been working for several years on a space-based ultrawideband (UWB) radar, and there is good reason to believe that this is the payload it will deliver for Numizmat. Several of the specialists who signed the Numizmat contracts have co-authored technical papers related to such radars and some of the subsystems mentioned in the contracts are likely part of a so-called spectrum analyzer needed to process the reflected radar signals. This includes passing the signals through a multi-channel receiver consisting of a set of filters, amplifiers, amplitude detectors and analog-to-digital converters.
The UWB radar under development for Numizmat likely is a so-called noise radar. The main advantage of such radars over conventional radars is their inherent immunity from jamming, detection and external interference as well as their ability to perform unambiguous range measurements. One of the papers analyzes the propagation of UWB radar signals through the ionosphere during range measurements at distances of 600 to 6,000 meters. All this suggests that Numizmat will carry a system to emit hard-to-detect UWB signals with the purpose of measuring the distance to relatively nearby objects in space.
Judging from the available articles, NIIIS's research on space-based UWB radars goes back to at least 2012, well before the Numizmat project started. One of the articles, published in 2014, mentions an experimental UWB radar needed to study the possible distortion of UWB radar signals by the atmosphere and ionosphere. It has a drawing of the spectrum analyzer attached to the bottom of a satellite. However, since the article was published several months before NIIIS got the contract for Numizmat in early 2015, the satellite shown in the drawing may be purely conceptual.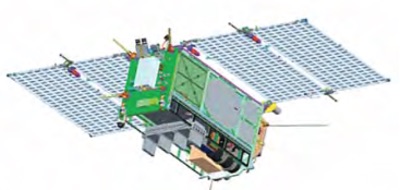 Satellite carrying a UWB spectrum analyzer. (credit: Atomnyy proyekt magazine)
There is some evidence that, in addition to the TV camera and the UWB radar, the satellites will carry an infrared camera developed by the State Institute of Applied Optics (GIPO) in Kazan, which is also known to have received at least one contract for Burevestnik.
The types of payloads under development for the project leave little doubt that Numizmat satellites will perform rendezvous and proximity operations in orbit, but the jury is still out on whether this is for satellite inspection, satellite negation or other purposes.
Nanosatellites
Nivelir, Burevestnik, and Numizmat are likely to be satellites in the mass range of 50 to 100 kilograms, which are generally referred to as microsatellites. Besides these, CNIIHM appears to be working on nanosatellites, weighing roughly between one and ten kilograms. Details on these are very sketchy. Some of the work seems to have taken place under a research project called Naveska ("hinge") consisting of at least three components:
Naveska-N: a project initiated on December 30, 2016, under a contract signed between CNIIHM and the MFTI university under which MFTI ordered components for cubesat-class satellites from Sputnix, itself a manufacturer of nanosatellites.
Naveska-H (the "H" representing Cyrillic "X"): a project in collaboration with the Mendeleyev University of Chemical Technology (2016–2017) aimed at developing miniature solid-fuel propulsion systems for cubesat-class satellites. A precursor of this was a research project called "Nota-H" carried out in 2012–2015. In 2015, some of the researchers who worked on this project received a patent on such solid-fuel microthrusters. One of the patent holders is Vladimir Turkov, the head of CNIIHM's Scientific Research Center for Nanotechnology.
Naveska-Ya: a collaborative venture with the Skobeltsyn Institute of Nuclear Physics of Moscow State University (2017) described only as being intended to "study the interaction between radiation and matter." The Skobeltsyn Institute specializes in studying the effects of the space environment on satellite materials.
The purpose of these nanosat projects cannot be determined at this point, but the hush-hush nature of the research is indicative of military objectives.
It is not known what the links between these individual research efforts are and whether they will result in the manufacture of actual satellites. In what appears to be an effort separate from Naveska, CNIIHM also announced a tender in May 2017 for the delivery of an attitude determination and control subsystem (ADCS) needed for the three-axis stabilization of cubesat type satellites. It wasn't until April 2018 that the contract was awarded to the South African company CubeSpace through what appears to be a Russian intermediary called OOO Legran. One month earlier, CNIIHM also placed an order for a nanosatellite star tracker, but no bids were received.
The purpose of these nanosat projects cannot be determined at this point, but the hush-hush nature of the research is indicative of military objectives. Nanosatellites can be used for a wide variety of missions with military applications, including rendezvous and proximity operations. (see "CubeSat proximity operations: The natural evolution of defensive space control into a deterrence initiative", The Space Review, January 18, 2016.)
Ground stations
As mentioned on CNIIHM's former website, the institute's Design Bureau of Applied Mechanics is also involved in operating satellite ground stations. Analysis of procurement documentation does indeed show that CNIIHM ordered components in the 2011–2012 timeframe for so-called "unified ground stations" (Russian acronym OZS.) As explained in a 2013 article by two specialists of the Mozhaiski Military Space Academy, these are ground stations that are used both to send commands to satellites and receive data from satellites for subsequent transmission to customers, two functions that are traditionally split between individual ground stations in the Russian satellite ground station network. Whereas many Russian ground stations support a wide variety satellites used for unrelated tasks, OZS stations are intended to serve satellites performing one and the same function, making it easier to prevent what the authors of the article call "unauthorized access to information."
One of the contracts signed by CNIIHM was for an OZS station designed to work with civilian Earth remote sensing satellites, specifically Resurs-P satellites built by the Progress Rocket and Space Center in Samara and Earth imaging satellites using NPO Lavochkin's Karat bus. The location of this facility (if it was actually built) is unknown. CNIIHM may also be considering its own constellation of Earth remote sensing satellites. Several articles written by the institute's Yuri Ulybyshev describe possible orbital configurations for such constellations which would make it possible to provide global coverage with a minimal amount of satellites. However, it is not clear at this point whether these studies are purely theoretical or not.
Of greater concern is the apparent development of a new co-orbital ASAT system that would restore a counterspace capability Russia had back in the Soviet days and that no other spacefaring nation has ever had or seems to be pursuing at the present time.
The only OZS station known to be currently operational was built in support of the Nivelir project at a satellite control complex near Yeniseisk in Siberia. There are hints that others exist as well or are yet to be constructed. CNIIHM appears to have outsourced at least part of the work on these OZS stations to NPO PM Razvitiye, a daughter company of ISS-Reshetnev, Russia's leading builder of communications and navigation satellites.
Conclusion
Available evidence suggests that CNIIHM was assigned a key role in orbital inspection and ASAT projects early this decade. Four low-orbiting inspector satellites have been launched since 2013 and at least one other is being prepared for launch. Despite some alarming reports in the West about the purpose of these satellites, they have essentially done nothing more than demonstrate exactly the same capabilities exhibited by a far greater number of American and Chinese inspector satellites since the mid-2000s.
Of greater concern is the apparent development of a new co-orbital ASAT system that would restore a counterspace capability Russia had back in the Soviet days and that no other spacefaring nation has ever had or seems to be pursuing at the present time. This, along with the likely development of a multitude of Russian ground-based ASAT systems, is a clear sign that Russia is aggressively gearing up for a new arms race in space.
Those interested in learning more about CNIIHM's main space projects are advised to go to the following threads on the NASASpaceflight Forum, which also contain links to all sources of information:
---
Note: we are temporarily moderating all comments subcommitted to deal with a surge in spam.