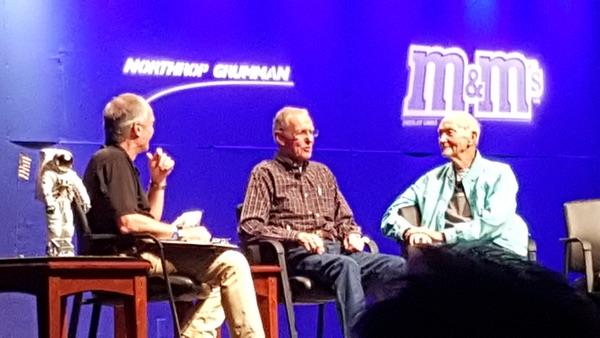 Charlie Precourt, Joe Engle, and Mike Collins on stage at EAA AirVenture. (credit: E. Hedman)
The Apollo 11 50th anniversary at EAA AirVenture
by Eric R. Hedman

Monday, July 29, 2019
The 50th anniversary of Apollo 11 has come and gone. I suspect the media attention will fade away quickly. The attention was nice while it lasted and brought back some great memories. At the annual EAA AirVenture event last week in Oshkosh, Wisconsin, the tribute to Apollo 11's 50th anniversary was held on Friday night at the Theater in the Woods (video embedded below.) It started with a session called, "Designing and Flying the Lunar Module". It was hosted by Charlie Precourt, the retired astronaut who is also a board member of the Experimental Aircraft Association. The panel was supposed to include James McDivitt of Apollo 9. I've discovered it isn't unusual for guys approaching 90 years old not to be able to make it for one reason or another. He was replaced by Douglas Terrier, the current chief technologist at NASA. The rest of the panel included NASA Chief Historian Bill Barry, space author Robert Godwin, and Dick Smith, who worked on the Lunar Module at Grumman as an engineer.
I'm not going to go into great details of what was said and shown during this evening because you can watch it yourself. Instead, I'll just point out some of the highlights you don't want to miss. The first half of the evening went through the history of the development of the Lunar Module. There was also section on the Artemis program.
One of the more interesting sections is about 56 minutes into the video, discussing how film from the 16-millimeter camera on the LEM his recently been enhanced, giving us new images of Neil and Buzz on the surface which was shown to the public for the first time at this event. I also wasn't surprised when Dick Smith pointed out that a clip from the movie Apollo 13 was less than accurate due to some embellishments by Ron Howard.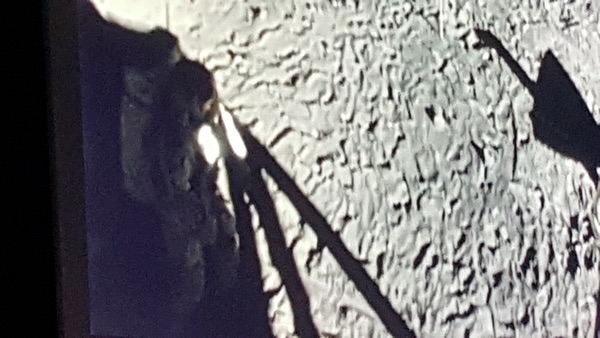 A sample of the enhanced 11-millimeter film from Apollo 11 shown at EAA AirVenture.
In the second half of the evening, Charlie Precourt had a discussion with Joe Engle and Mike Collins, who flew together as test pilots at Edwards Air Force Base. This part was particularly special. These two were so funny and had great stories. The stories covered the gamut from checkout flights through X-15 flights to the lunar missions. Mike Collins' story about polar bears in a snowbank was unexpected. They kept the crowd engaged from beginning to end. They spent a few minutes talking about Christopher Columbus Kraft, NASA's first flight director, who had passed away earlier in the week. It was interesting, that up until a few months ago, he was working for Northrop Grumman on their current lunar lander concept. Near the end, Mike Collins explains why he doesn't like the Artemis plan and would like to see NASA go straight to Mars. I can't do this evening justice with my words so once again I can only recommend that you watch it.
It is going to become increasingly rare to attend events with astronauts from the Apollo era. The events I've gone to have been unbelievably special. I highly recommend that you go if there is any event near where you live with any of these guys. You most likely won't be able to do it much longer.
---
Note: we are temporarily moderating all comments subcommitted to deal with a surge in spam.