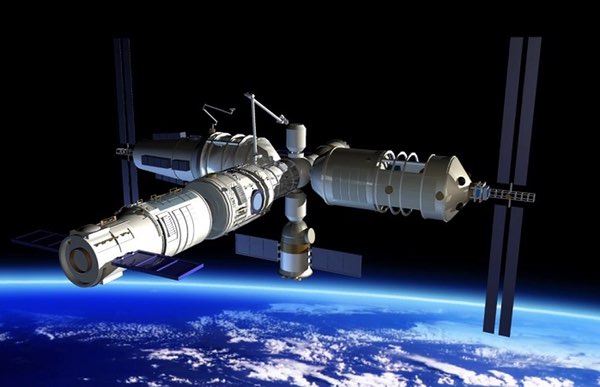 China's growth in space includes plans to build a space station by the early 2020s, a step towards more ambitious plans for the 2030s and beyond. (credit: CNSA)
China's Earth-Moon space economic zone venture
by Ajey Lele

Monday, November 11, 2019
More than a decade ago, Dr APJ Abdul Kalam, a scientist also known as the Missile Man of India who was also the 11th President of India, articulated the concept of Earth-Moon-Mars economy. His broad argument was that the Earth, Moon and Mars should be considered as single economic entity. At the 97th Indian Science Congress, which was hosted by the Indian Space Research Organisation (ISRO) in January, 2010. he said, "Scientists should start considering Earth, Moon and Mars as an economic complex for future habitat expansion of human beings." He made similar arguments at a seminar held at the Institute for Defence Studies and Analyses (IDSA) in New Delhi in November 2007.
Some estimates indicate that such a zone could create an economy worth $10 trillion a year.
China, it appears, has taken heed of Kalam's concept. It was recently reported that China is proposing to establish the first Earth-Moon economic zone. Bao Weimin, director of the Science and Technology Commission of the China Aerospace Science and Technology Corporation (CASC), discussed a very ambitious proposal to establish an Earth-Moon space economic zone by 2050. Some estimates indicate that such a zone could create an economy worth $10 trillion a year.
The initial work investigating the feasibility of establishing such a zone is expected to be completed by 2030. This is expected to involve basic research and development of key technologies. China expects to establish a space transportation system enabling this economy by 2040 and then, within a decade, proposes to establish the Earth-Moon space economic zone. From the Chinese side, this idea of economic zone was first announced during 2016, by Zhang Yulin, then deputy commander-in-chief of China's human spaceflight program. Now, after three years, China has come out with a timeline for implementation of this project and it appears that those experts believe that it could become a reality.
China yet to completely reveal their proposal. Possibly, at present they could still be working on the details. On the face of it, the idea appears to be brilliant on three counts:
It would eventually make possible the settlement of the Moon, a dream of many.
The technology innovation required for creating that economy could lead to an "Industry 5.0".
It would expand the concept of the "space economy" in a big way.
Can China push such an ambitious project through? For this purpose, it could be prudent to look at China's existing space capabilities to understand their possible growth trajectory. Also, it would be important to know about China's experience and capability to undertake major scientific and infrastructure related projects. In addition, it would be important to know about their overall industrial capabilities and in particular, the abilities of their space industry. Obviously, the political and economic support would be the most crucial aspect. The political support would involve generations of political learnerships supporting this idea.
On the whole, in the space sector, China has demonstrated a magnificent growth trajectory in a short time.
Broadly, the major hurdles for undertaking any major space project mainly involves cost and technological capabilities. Even today, it is very expensive to carry any payload to outer space. This cost has to come down drastically. Also, there is a desperate need for development of a reusable space launch vehicle. Various such challenges exist for undertaking cost-effective satellite launches in low, medium, and geostationary orbits. Even sustaining a few decades old program like the International Space Station still remains a challenge. The Moon is 1,000 times as far from the Earth as the ISS. Obviously, China has put forward a very ambitious proposal.
China's space program began during the 1950s and China became a spacefaring state by 1970. China has published four white papers (2000, 2006, 2011, and 2016) providing details of their present and future space projects. All these whitepapers, and a separate one issued for its BeiDou satellite navigation system, indicate that China has three core areas of interest in the space domain: space-based navigation, space stations, and interplanetary missions. Projects like BeiDou clearly demonstrate China's vision, technological capabilities, and ability of the country's space ecosystem to professionally manage such projects. China has a very successful human space program, too, and its developing a space station by the early 2020s. In deep space, China has been in the vicinity of Moon since 2007 and, from 2013 onwards, they have had lander and rover missions there (Chang'e-3 and Chang'e-4). Launch vehicles has been an area of some setbacks, though, like the 2017 failure of the heavy-lift Long March 5 rocket that has delayed some key programs.
China is known to have taken Russian assistance to develop their space program. However, by now China has made significant technological progress on its own. They are making reasonable financial investments in the space domain. At present, aside from the government agencies, China's private space industry is also making good progress. There are more than 100 companies (mostly startups) operating exclusively in the space sector. On the whole, in the space sector, China has demonstrated a magnificent growth trajectory in a short time.
At a geopolitical level, China's progress has been significant in recent decades. The process of the so-called "Peaceful Rise of China," the term used by Chinese polity since the beginning of the century, is complete. Today, China is the second largest economy in the world. Its presence (and impact) is visible at various fronts: economic, political, strategic, and diplomatic. At the same time, China is also involved in various conflicts in the region around them, over maritime sovereignty. They have various ongoing disputes in the South China Sea with countries like Vietnam, Malaysia, and the Philippines. Unfortunately, China is not ready to recognize the power of the tribunal formed under the United Nations Convention on the Law of the Sea. One part of their agenda is very clear: they want to dominate arenas where a significant amount of global maritime trade passes. China is also keen to dominate the oil economy of the region.
China's South China Sea grab is a reality. They are reclaiming the oceans and building new islands. Probably, they have already built more than six artificial islands by filling up the reefs in the South China Sea. There is a massive infrastructure development taking place there, including port facilities, airports, military installations, radars, and hardened shelters for missiles. China is also developing airports and ports at other existing island locations. In Sri Lanka, they have undertaken a major project of reclaiming the sea at the port in Colombo and are developing a city on the lines of Dubai or Singapore.
As this project starts making progress, then China will slowly try to dictate the rules of behavior for future space exploration.
The Belt and Road Intiative (BRI) is a dream project for China's political leadership. It is the reincarnation of the ancient Silk Route, which was a trade route connecting China to Europe across land and sea. Today, BRI involves infrastructure development and investments in countries in Europe, Asia, and Africa. This project is not restricted towards establishing the connectivity via land and sea alone. There is a "digital" and "space" element associated with it as well. BeiDou is integral to the overall BRI architecture. The BRI is consistent with China's policy to facilitate its global rise in the international system. It is a method for expanding Chinese overseas foreign direct investment with eyes on capturing the international markets and to establish a firm grip on global economy. Although BRI is an economic initiative, its strategic underpinnings are obvious.
It is important to analyze the Chinese dream of creation of an Earth-Moon space economic zone by 2050 from this perspective. Possibly, China is the only country in the world today that can dream of such a project. Unfortunately, in recently the US seems busy making America great again! Despite having the capabilities, the US has not shown any appetite for such giant projects.
It is premature to debate the efficacy of this project since it is still in the process of being defined and few specific details are known. However, it is obvious that, as this project starts making progress, then China will slowly try to dictate the rules of behavior for future space exploration. They could end up raising the stature of space economy to almost that of the oil economy. All in all, China has made their ambition clear: in the future they want to dominate outer space.
---
Note: we are temporarily moderating all comments submitted to deal with a surge in spam.