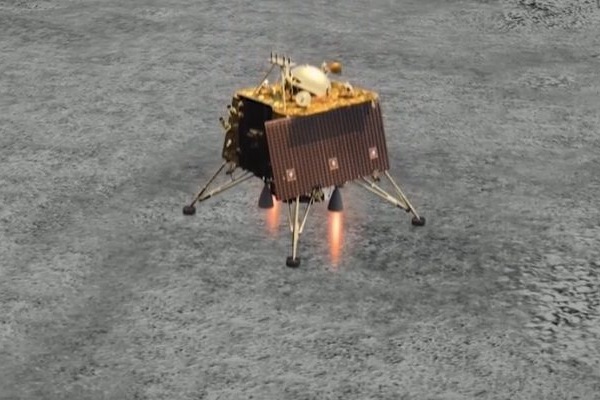 An illustration of India's Vikram lander making its descent to the lunar surface. The Indian government had provided only few details so far about why the lander crashed in September. (credit: ISRO)
Joining the lunar lander club
by Jeff Foust

Monday, November 25, 2019
Landing on the Moon is harder than it looks. Ask India and Israel.
Both countries had aspirations earlier this year to become just the fourth country—after the former Soviet Union, the United States, and China—to soft-land a spacecraft on the Moon. But in April, SpaceIL's Beresheet lander malfunctioned during its descent, crashing to the surface. Less than five months later, the Indian Space Research Organisation (ISRO) tried to land its Vikram spacecraft, but lost contact during its final descent and was presumed lost.
The result, Singh said, was that the spacecraft "hard landed" half a kilometer from the planned landing site.
More than two months later, ISRO has said little about the attempted landing, including confirming that Vikram in fact crashed. So it was noteworthy last week when Jitendra Singh, minister of state for the Department of Space, provided a few details about the attempted landing in a written response to questions from the Lok Sabha, the lower house of India's parliament.
"The first phase of descent was performed nominally from an altitude of 30 km to 7.4 km above the moon surface," he wrote. The lander slowed from 1,683 meters per second to 146 meters per second during that time.
The problem, he said, came in the lander's next phase. "During the second phase of descent, the reduction in velocity was more than the designed value," he wrote. "Due to this deviation, the initial conditions at the start of the fine braking phase were beyond the designed parameters."
The result, he said, was that the spacecraft "hard landed" half a kilometer from the planned landing site. Singh didn't explain what caused that "deviation" or other technical details, emphasizing instead that the main Chandrayaan-2 spacecraft was working as expected in orbit around the Moon.
Neither SpaceIL nor Israel Aerospace Industries (IAI), which built the lander, have said much about the technical issues about Beresheet's crash, although unlike ISRO, they were upfront about the fact that the lander crashed.
In a paper presented at the International Astronautical Congress (IAC) last month, a team from IAI explained what led to the loss of Beresheet. One of the two inertial measurement units on the lander malfunctioned during descent and controllers sent commands to turn it back on. "This led to a cascade of resets in the spacecraft avionics, which shut off the main engine and prevented proper engine activation," the paper stated.
Those resets came from a glitch in communications between the lander's CPU and the faulty IMU that blocked data from the other, working IMU, turning off the engine and causing the computer to reboot. However, key software updates, stored in RAM on the computer, were wiped out in the reset. "Therefore, the computer did not contain all the essential changes implemented during the flight, which made autonomous recovery impossible," the paper concluded.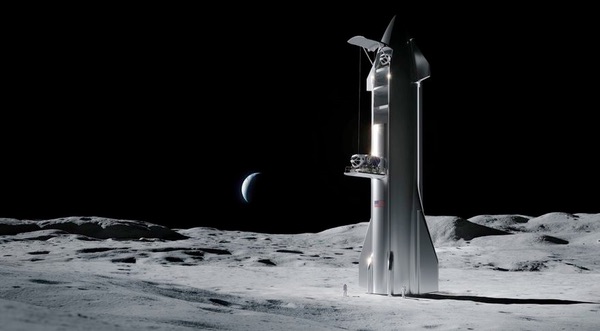 SpaceX proposed using its Starship vehicle for lunar lander missions, delivering up to 100 metric tons to the Moon. (credit: SpaceX)
Growing the CLPS family
The computer glitch that doomed Beresheet is important to one American company. Firefly Aerospace announced in July it was teaming with IAI, using a design based on Beresheet for its lunar lander, called Genesis, that it is developing as part of NASA's Commercial Launch Payload Services (CLPS) program.
Firefly is confident that the problem has been fixed. "The Israelis got a lot of data from that mission. They learned and know exactly what went wrong," Shea Ferring, vice president of mission assurance at Firefly, said during a panel discussion last week at SpaceCom Expo in Houston. "The fix is relatively easy, so we can build off all the successes they did have all the way up until those final moments."
"We're going to characterize the water ice, and ultimately drill and find out just how the water ice is embedded in the regolith on the Moon," Bridenstine said of VIPER, which will fly to the Moon on a CLPS lander.
Firefly was one of nine companies that NASA originally selected to join the CLPS program almost one year ago, making them eligible to compete for task orders to deliver payloads to the lunar surface. Two of those companies, Astrobotic and Intuitive Machines, won task orders in May for lunar lander missions in 2021. (A third, OrbitBeyond, also won a task order then but informed NASA two months later it would not be able to fulfill it, because of what it described as internal corporate issues.)
Those companies now have company. Last week, NASA announced it was adding five companies to the CLPS program through an "on-ramp" competition earlier this year: Blue Origin, Ceres Robotics, Sierra Nevada Corporation (SNC), SpaceX and Tyvak Nano-Satellite Systems. All 14 companies will be eligible to compete for future task orders.
The company that got the most attention for joining CLPS was SpaceX. The company will offer the Starship vehicle is has under development, which SpaceX previously touted as being able to deliver large payloads to the moon—up to 100 metric tons—as well as the ability to return cargo back to Earth.
Gwynne Shotwell, president and COO of SpaceX, said during a NASA media telecon that Starship lunar lander missions could begin in 2022. Such missions would be cargo only, but she said could serve as a "nice stepping stone" to later crewed missions. (SpaceX is widely believed to have proposed Starship for NASA's Human Landing Services program earlier in the month for crewed lunar landers, although the company had declined to comment on whether it submitted a proposal.) Any crewed Starship missions, she said, would only come after "a lot" of uncrewed flights.
Blue Origin, as expected, proposed its Blue Moon lander, which is part of its "national team" announced in October bidding on a crewed lunar lander (see "Coming together to go to the Moon", The Space Review, October 28, 2019). In its cargo version, Blue Moon will be able to carry several metric tons of cargo.
"It has a lot of payload capacity, power to get through the lunar night, a very large, open payload deck," said Brent Sherwood, vice president of advanced development programs at Blue Origin. He didn't say when the lander would be ready for CLPS missions, or if that schedule was dependent on any human lander work the company might get from NASA.
The other three companies were all aiming for smaller landers, at least initially. SNC plans to leverage technology developed for its Dream Chaser vehicle for its landers, while Ceres and Tyvak offered fewer details about their landers, beyond Tyvak's plans to base its lander on systems developed for the microsatellites it's best known for producing. SNC said its lander could be ready in 2022 while Ceres expects to have a lander available in 2023.
The main reason NASA opened up CLPS for additional companies was its desire for larger landers. The first mission that will take advantage of those larger landers is a mission called Volatiles Investigating Polar Exploration Rover, or VIPER. That mission, a successor of sorts to Resource Prospector, a NASA rover mission the agency cancelled last year, would go to the south pole of the Moon and determine if water ice does, in fact, exist in permanently shadowed regions there and, if so, what form it is in and how easy it is to access, all keys to future human missions.
"We're going to characterize the water ice, and ultimately drill and find out just how the water ice is embedded in the regolith on the Moon," NASA administrator Jim Bridenstine said in a speech at the IAC last month where he formally announced plans for VIPER, although agency officials had been talking about the rover at meetings the previous few months.
"Fourteen is a lot," said Firefly's Ferring. "It will be interesting to see what happens after the next few task orders, and how many stay."
Steve Clarke, deputy associate administrator for exploration in NASA's Science Mission Directorate, said at a committee meeting last week that NASA recently distributed a draft version of the task order for launching VIPER to CLPS companies. That put the program on track for awarding that task order by late January or early February, with the goal of launching VIPER by the end of 2022.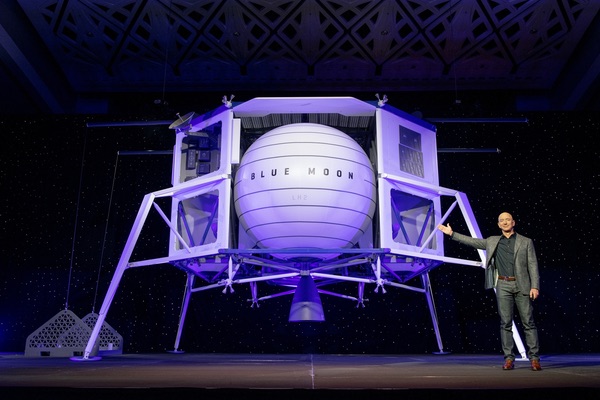 Jeff Bezos unveils a full-scale mockup of the Blue Moon lunar lander in May. The company is offering the lander for CLPS, and it is also part of its proposed crewed lunar lander system in partnership with three other companies. (credit: Blue Origin)
Fourteen's a crowd?
Many of the CLPS companies won't have the payload capacity or lander design to accommodate something as large as VIPER, which NASA has likened to a golf cart. However, all the companies will be eligible for other missions for smaller payloads, like scientific instrumentation and technology demos. Clarke has estimates that NASA will award an average of two task orders a year.
That mission rate is a cause of concern for some companies in the CLPS program, particularly with the addition of more companies to the program. They see the value of thir original CLPS awards as diluted to some degree. Asked if felt that was the case, Steve Altemus, CEO of Intuitive Machines, offered a succinct answer: "Yes."
"Fourteen is a lot," added Ferring. "It will be interesting to see what happens after the next few task orders, and how many stay."
NASA, though, sees having a large number of companies on the CLPS contract as a feature, not a bug. "The government wants competition. This is how we enable innovation in industry as well as opportunity and lower costs," said Christopher Culbert, the CLPS program manager at NASA's Johnson Space Center, at SpaceCom Expo. "We also know that this is a brand new industry. Consolidation is going to happen."
The problem, Ferring said, is that NASA gets the benefits of competition at the expense of companies. "The benefit of NASA doing a program like this is that NASA gets all those lessons learned and can reapply it back to themselves," he said. However, there's no easy way for companies involved in CLPS to share their own lessons learned.
Dan Hendrickson, vice president of business development at Astrobotic, agreed that consolidation among the CLPS companies is inevitable. "I don't necessarily think in ten years we're going to see 14 still around doing what we do," he said.
Astrobotic had been planning its first lunar lander mission for years, an effort that dates back to the Google Lunar X PRIZE, when it won its CLPS task order last year. While NASA joined many other customers on its Peregrine lander, Hendrickson said that it helped the company secure additional customers who signed on after the task order was announced.
Firefly, which hasn't won a task order, still sees other benefits from CLPS even with the competition. "Hiring in this arena is very difficult. There's a lot of competition," he said Being a part of CLPS makes the company look more attractive to prospective employees, he said.
"Without a major government sponsor like NASA, the Moon is an empty and barren place and will remain so," Altemus said.
Altemus also said that CLPS has helped Intuitive Machines with recruiting as well as with finances. "We've built a more robust financial portfolio with different financial institutions and investors," he said, but didn't provide specifics.
Despite the crowded group of companies vying for CLPS awards, Altemus in particular was upbeat about the program. "Without a major government sponsor like NASA, the Moon is an empty and barren place and will remain so," he said. He noted that the Google Lunar X PRIZE failed to stimulate the commercial lunar market that its backers envisioned for it over the course of a decade.
"It is really pivotal and key that the US government plays a part in jump-starting and instigating this whole return to the moon," he concluded.
SpaceX's Shotwell, at the media briefing, offered similar words. "We do think this is a really neat program. It reminds us a bit of the COTS program," she said, referring to the Commercial Orbital Transportation Services program that supported SpaceX's development of its commercial cargo capability through the Falcon 9 and Dragon.
And there may be additional opportunities for CLPS companies. In a separate address at SpaceCom Expo, Tom Cremins, NASA associate administrator for strategy and plans, said the agency would soon release a request for information seeking input on a proposed unpressurized rover that would be used by astronauts on Artemis lunar landing missions. NASA anticipates developing that rover through a public-private partnership, much like other elements of the Artemis program.
He didn't say how the rover would get there, other than that NASA wanted such a rover in place "when the first crews arrive," which is scheduled for 2024. It certainly would be possible for some of the larger CLPS landers to carry such a rover to the moon ahead of that first Artemis human landing.
First, though, the CLPS companies have to demonstrate their ability to land on the Moon, something none of their spacecraft have done yet (although Lockheed Martin, one of the original nine CLPS companies, does have extensive experience developing landers for Mars.) The crashes of Beresheet and Vikram have reminded the companies that getting safely to the surface of the Moon is not something to take for granted.
"The big thing with us is teaming with the Israelis, with all of the successes they did have on Beresheet and fixing the problems that had," Ferring said of Firefly's partnership with IAI. "Taking the history, taking the lessons learned, building from that and doing better the next time."
---
Note: we are temporarily moderating all comments submitted to deal with a surge in spam.