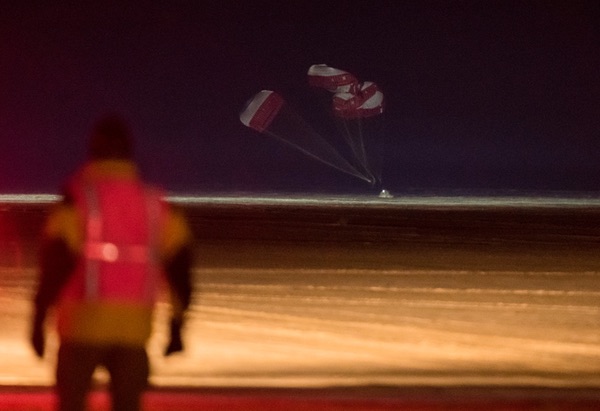 A member of Boeing's recovery team watches as the CST-100 Starliner spacecraft lands at White Sands, New Mexico, December 22. (credit: NASA/Aubrey Gemignani)
The year of commercial crew comes to an end, without crew
by Jeff Foust

Monday, December 23, 2019
Remember when 2019 was going to be the year of commercial crew?
NASA and the space community certainly entered the year with high hopes that this would, at last, be the year that American astronauts, launching on American rockets from American soil (to use a common refrain of NASA administrator Jim Bridenstine), would reach orbit for the first time since the end of the shuttle program. Both Boeing and SpaceX appeared to be getting close to the test flights of their commercial crew vehicles, optimism buoyed by SpaceX's successful Demo-1 mission, an uncrewed test flight of its Crew Dragon spacecraft in March (see "The beginning of the end of commercial crew development", The Space Review, March 11, 2019).
"By early next year, we're going to be launching American astronauts on American rockets from American soil again," Bridenstine said the day before launch.
Getting across the finish line, though, was harder than NASA or either company expected. SpaceX suffered a setback in April when the same Crew Dragon spacecraft that flew Demo-1 was destroyed during preparations for a static-fire test of its SuperDraco abort thrusters ahead of an in-flight abort test. SpaceX and NASA spent months on the investigation, while SpaceX had to use the spacecraft intended for the Demo-2 crewed test flight for that in-flight abort test, which is now scheduled for no earlier than January 11. If that test if successful, Demo-2 will likely follow, using a new Crew Dragon spacecraft, later in the year, pending work such as testing of the spacecraft's parachutes (another challenge for the company this year.)
Boeing, at the time of Demo-1, had planned to fly an uncrewed test flight of its CST-100 Starliner spacecraft some time in the spring. However, that Orbital Flight Test (OFT) mission was delayed by months. In the interim, the company carried out a pad abort test of Starliner, using its launch about thrusters to leap off a pad at White Sands Missile Range in New Mexico in November. But that was not without incident, either: one of three main parachutes failed to open, which the company said was caused when a pin wasn't properly inserted in the parachute rigging.
Boeing, though, pressed ahead with the OFT mission, with a launch date that finally stabilized at December 20. It was an opportunity for the commercial crew program to end the year on something of a high note: while it didn't get people into orbit this year, it did put both spacecraft through successful test flights that will allow crewed test flights to take place in the "first part" of 2020, as Bridenstine and other NASA officials frequently said.
Boeing and NASA were optimistic in the days leading up to the OFT mission. The spacecraft cleared a series of reviews without any issues, and its rocket, a United Launch Alliance Atlas V, was ready. This would be the first flight of a new variant of the rocket, formally known as an Atlas V N22: for the first time the rocket would launch without a payload fairing (the N in its designation) and with a dual-engine Centaur upper stage (the second 2 in that designation.)
The dual-engine Centaur, which had flown on earlier Atlas rockets, was needed because of the mission's unusual profile. "The main reason for using the dual-engine Centaur is to flatten out the trajectory such that we can enable safe aborts if that should be necessary," said John Elbon, chief operating officer of ULA. That reduces the g-forces should an abort and reentry be required, and also avoids a "blackout zone" in the north Atlantic.
If all went as planned, the Centaur would release the Starliner into a suborbital trajectory about 15 minutes after liftoff from Cape Canaveral, with the spacecraft using its thrusters to maneuver into orbit about 15 minutes after that. That would keep Starliner from being stranded in orbit if the thrusters didn't work for some reason—but would play a different role in what happened on OFT.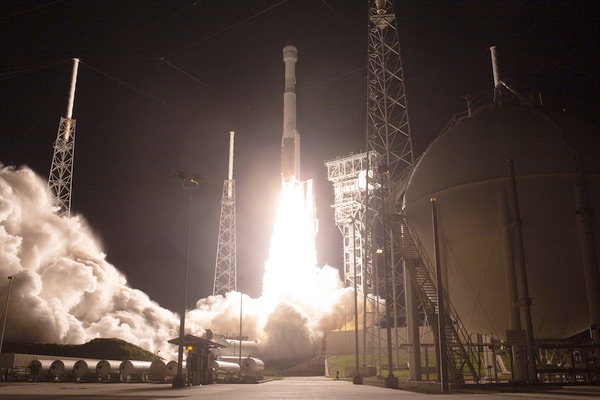 The ULA Atlas V carrying Starliner lifts off from Florida December 20. (credit: NASA/Joel Kowsky)
The day before the launch, NASA was already looking ahead beyond OFT. "This test flight tomorrow by the Boeing Starliner is the next step in this mighty vision," Bridenstine said during a press conference by the countdown clock at the Kennedy Space Center, flanked by the astronauts would fly on both Starliner's crewed flight test and its first operational mission. "By early next year, we're going to be launching American astronauts on American rockets from American soil again."
"Our spacecraft needs to reach down into the Atlas 5 and figure out what time it is," said Chilton. "We reached in and grabbed the wrong coefficient."
In the hours leading up to liftoff there were no issues reported with either Starliner or the Atlas, with the only worry being strong winds at ground level that ultimately didn't pose a hazard to the launch. At 6:36 am EST, the Atlas lifted off from Space Launch Complex 41, soon putting on a light show for much of the southeastern US as its contrail became backlit by the Sun in the early morning skies.
The Atlas did its job. "We achieve those separation parameters and, in fact, literally hit a bullseye," at the time of spacecraft separation, ULA president and CEO Tory Bruno said at a post-launch press conference at KSC.
Attention turned to the Johnson Space Center, which Boeing uses as mission control for Starliner, for that thruster burn to put the spacecraft into orbit. Viewers waited, and waited, and waited some more for an update on the status of the Starliner. Finally, NASA TV commentators announced that there was an "off-nominal" orbital insertion. That led to confusion about whether the spacecraft was, in fact, in orbit—recall it was released into a suborbital trajectory as planned—until those commentators said the spacecraft was in a "stable" orbit, but evidently not the one planned.
A couple hours later, reporters packed the small "auditorium" at the press site—more like a large classroom, right down to the chairs with small desks built into them—for an update. "It appears as though the mission elapsed timing system had an error, and that anomaly resulted in the vehicle believing that the time was different than it actually was," Jim Bridenstine said at the briefing.
The details about what happened took shape at that briefing as well as two that followed on Saturday and Sunday. The spacecraft has a timer that tracks the time elapsed on the mission, and uses that to determine what the spacecraft should be doing at that phase of flight. That timer is initialized by communicating with the Atlas rocket prior to liftoff.
"Our spacecraft needs to reach down into the Atlas 5 and figure out what time it is," said Jim Chilton, senior vice president for Boeing's space and launch division, at Saturday's briefing. "We reached in and grabbed the wrong coefficient." A day later, he said that resulted in the timer being off by 11 hours.
Why the spacecraft "grabbed the wrong coefficient" isn't clear. "If I knew, it wouldn't have happened," Chilton said, citing "extensive testing" done prior to launch. "We are surprised. A very large body of integrated tests, approved by NASA, didn't surface this."
That miscalibrated timer, Boeing and NASA said, caused the Starliner to think it was in a different phase of the mission shortly after spacecraft separation, and started firing its attitude control thrusters. That used up much more fuel than planned for that phase of the mission, and efforts by spacecraft controllers to recover it were exacerbated by a communications problem. (Boeing originally said Starliner was caught in a gap between two NASA TDRS communications satellites, but later acknowledged it was more likely the spacecraft was in the wrong orientation to communicate with them.)
While controllers later stabilized the spacecraft, that anomaly ruled out a scheduled docking with the ISS a day after launch. "We just didn't have enough fuel" to go to the ISS, even after correcting the timer issue, Steve Stich, deputy manager of NASA's commercial crew program, said Saturday. "We didn't have enough propellant to go up close to station, even to approach."
With an ISS docking ruled out, NASA and Boeing decided to instead conduct a truncated two-day mission, performing as many other tests as it could in the limited time and without access to the ISS. The joint Boeing and NASA team has done a good job at looking at things we can do to go ahead and buy back some mission objectives," Stich said. For example, while Starliner couldn't dock with the ISS, it could test communications with the station and also extend and retract its docking adapter.
"To me, there's good data out there that suggests that, once we go through it, maybe it's acceptable to go, as the next step, the Crew Flight Test," said Stich.
The big milestone, though, was to demonstrate that Starliner could safely return to Earth. At 7:23 am EST Sunday, the spacecraft fired its thrusters for a deorbit burn, descending towards White Sands, New Mexico. As ground crews, and a NASA aircraft equipped with infrared cameras, waited and watched, Starliner reentered. This time, Starliner performed exactly as expected, deploying all its parachutes—including all three main ones—and touching down right on target at 7:58 am at White Sands Space Harbor, the landing site of the STS-3 shuttle mission in 1982.
Despite the early difficulties, NASA and Boeing emphasized the accomplishments of the overall mission. "A lot of things went right," Bridenstine said at a post-landing briefing Sunday. With the successful landing, "a whole lot more things did go right, went very, very well."
"Today, it couldn't really have gone any better," Chilton said of the landing.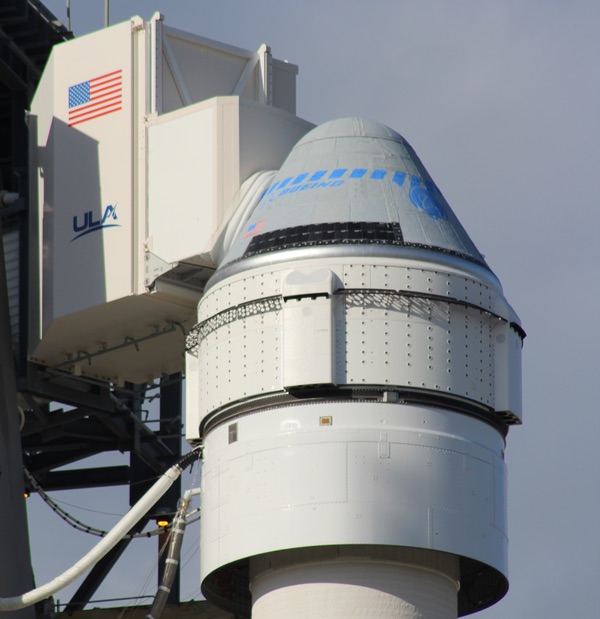 Starliner on top of its Atlas V rocket the day before launch. (credit: J. Foust)
What's unclear, though, is what comes next. Without docking at the ISS Starliner didn't achieve all its mission objectives. Chilton estimated that, based on the data currently available, the spacecraft accomplished "low 60 percent" of those objectives. Once post-landing analysis of the data collected during the mission is complete, he said that could rise to 85 to 90 percent.
Is that enough to allow Boeing to proceed with its Crew Flight Test mission, with NASA astronauts Mike Fincke and Nicole Mann, and Boeing astronaut Chris Ferguson, on board? NASA officials hinted after landing that this could happen.
"We have a solid understanding of the challenge that we had, and why it occurred," Bridenstine said. "It is not something that is going to prevent us from moving forward quickly. We can still move forward quickly. We can get it fixed."
"We need to take a little bit of time to look through all the data and see how the vehicle performed in all phases," Stich said. "To me, there's good data out there that suggests that, once we go through it, maybe it's acceptable to go, as the next step, the Crew Flight Test."
One problem is that, based on Boeing's original Commercial Crew Transportation Capability (CCtCap) contract, it didn't achieve all of its requirements. "The Contractor's flight test program shall include an uncrewed orbital flight test to the ISS," that contract states. "The OFT shall include a CCTS [commercial crew transportation system] that validates end-to-end connectivity, LV [launch vehicle] and CST-100 integration, launch and flight operations, automated rendezvous and proximity operations, and docking with the ISS, assuming ISS approval."
"There's also a difference between what is a NASA requirement and what is a contractual requirement for this particular flight test," Bridenstine said when asked about the contract language. "The NASA requirement might not be the same as the contractual requirement for this particular flight test."
There is a certain logic with proceeding with a crewed flight even without docking with the ISS. Starliner has demonstrated it can both launch and land safely, two of the most critical aspects of flight. (Bridenstine frequently noted in the days after launch that not all mission requirements are created equal, with more emphasis on launch and landing.) If a crewed test flight wasn't able, for some reason, to dock with the station, it could at least get the crew back home safely.
"Boeing has had a very different task from what SpaceX had," Bridenstine said. "The cost to modify from commercial [cargo] resupply to commercial crew was not as much as what Boeing did, basically starting from scratch and trying to meet the same timeline for commercial human spaceflight."
However, any changes to Boeing's plans are likely to face additional scrutiny given the other problems the company is facing, in particular the extended grounding of its 737 MAX airliners after two fatal crashes. While there's no obvious technical link between the problems with the airliners and Starliner's software, public perception—as well as political perception on Capitol Hill and elsewhere—is a different matter. (As this article was being prepared for publication on the morning of December 23, Boeing announced its CEO, Dennis Muilenburg, had resigned, effective immediately.)
Even before this test flight, Boeing had been on the defensive after a report by NASA's Office of Inspector General last month criticized the company and NASA for contract changes that gave the company nearly $300 million in additional funding to advance production of future Starliner spacecraft, of which nearly two-thirds the inspector general deemed was unnecessary. That report also noted that Boeing's per-seat price of $90 million was far higher than SpaceX's $55 million, or even the roughly $85 million NASA has been paying Roscosmos for Soyuz seats. The report even stated that unnamed NASA officials believed that, without that additional funding, Boeing might drop out of the commercial crew program altogether.
Boeing criticized some of the claims of that report, including the claim it would drop out of the program. At that pre-launch press conference Bridenstine came to the company's defense, including criticism that Boeing's CCtCap contract, with an original value of $4.2 billion, was far higher than SpaceX's $2.6 billion.
"Boeing has had a very different task from what SpaceX had," Bridenstine said, because SpaceX could modify its existing cargo Dragon spacecraft. "The cost to modify from commercial [cargo] resupply to commercial crew was not as much as what Boeing did, basically starting from scratch and trying to meet the same timeline for commercial human spaceflight."
"I've seen a lot of reporting on what the cost per seat will be. I will also tell you, NASA has not negotiated what the cost per seat will be, so I don't know where a lot of these numbers are coming from," he added. Those per-seat costs, of course, came from the agency's own inspector general.
So 2019 comes to an end without American astronauts launching on American rockets from American soil, just as 2018 did, and 2017, and so on. There is still optimism that 2020 will finally be that year, particularly with uncrewed test flights, of varying degrees of success, now in the books. But NASA is in discussions with Roscosmos about buying two additional Soyuz seats for missions in the fall of 2020 and the spring of 2021, just in case.
---
Note: we are temporarily moderating all comments submitted to deal with a surge in spam.