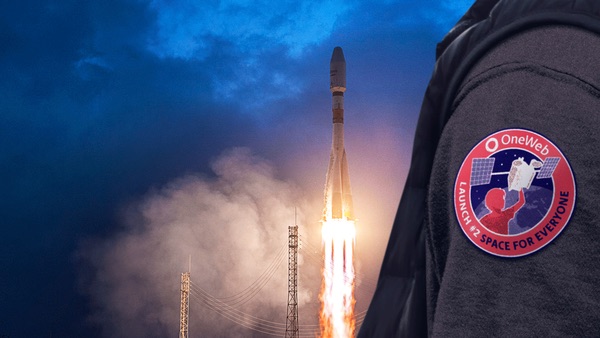 OneWeb launched its first large set of satellites February 6 on a Soyuz rocket from Baikonur Cosmodrome. (credit: OneWeb)
Handicapping the megaconstellations
by Jeff Foust

Monday, March 2, 2020
This year is shaping up to be a critical one for broadband satellite megaconstellations. SpaceX, which launched its first set of Starlink satellites last May, followed by a second set in November, is picking up the pace of deployment of its constellation. Three Falcon 9 launches in January and February placed 180 satellites into orbit, with the next launch scheduled for March 11. Company officials previously talked about performing as many as 24 Starlink launches this year to get the initial phase of its constellation in orbit.
SpaceX, though, is not alone. OneWeb launched its first large group of satellites February 6 on a Soyuz rocket from the Baikonur Cosmodrome in Kazakhstan (the company launched an initial set of six satellites on another Soyuz last year from French Guiana.) The 34 satellites on last month's launch mark the start of full-scale deployment of its constellation of 648 satellites, with 588 satellites in orbit by the end of next year that will be enough to provide initial global coverage. The company has plans for additional, larger constellations as well.
"The biggest question, I think, for Starlink is what's happening behind the scenes," Pivovarova said. "We know there's a lot a development happening. We see teasers of technology here and there. We really want to see what it's going to look like."
Several other companies are in planning stages for their own broadband constellations. Telesat, the Canadian company that is one of the world's largest operators of commercial GEO communications satellites, is working on its own low Earth orbit constellation of several hundred satellites, and expects to select a manufacturer for that system later this year. Kepler, a Canadian startup, is developing a constellation focused more on delivery of large data sets versus consumer broadband connectivity. And last year Amazon unveiled plans for Project Kuiper, a constellation of more than 3,200 satellites for broadband services.
Not every venture, though, will succeed, and there have already been failures. Last fall, LeoSat, which was trying to raise money for a relatively modest constellation—between 78 and 108 satellites—shut down when it couldn't raise a new round of funding needed to continue work on the system. LeoSat estimated its system would cost at least $3 billion, and had commitments from potential customers worth about $2 billion, but couldn't convince potential investors there was a business case that closed.
More failures are likely. Chris Baugh, CEO of Northern Sky Research (NSR), said in a presentation at the SmallSat Symposium in Mountain View, California, last month that his company was tracking "125-ish" constellation companies, which included communications, remote sensing, and a few other applications. NSR has its own model to project the likelihood of success of these companies. "Who is going to make it just to launch?" he asked. "Eighteen percent are highly likely."
Baugh described OneWeb and Space as the "heavyweights" among the constellation companies, based on their ongoing launch plans. He said it was "make or break" for OneWeb this year as they deploy their satellites and seek more funding. SpaceX's Starlink, he said, created "fear or embrace" sentiments in the industry as the company rapidly deploys its constellation.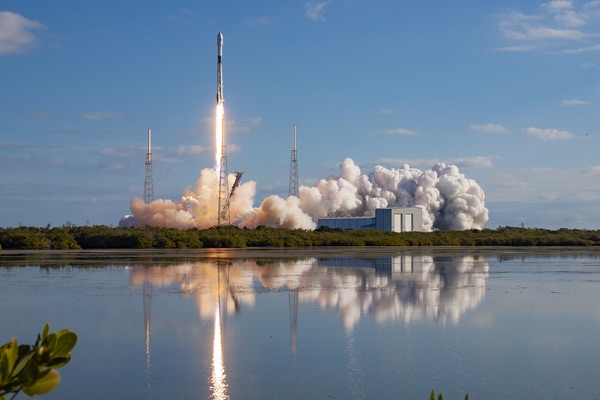 A Falcon 9 launch of a set of 60 Starlink satellites in January. (credit: SpaceX)
There was, understandably, a lot of attention at the conference about OneWeb and SpaceX, and to a lesser degree the emerging plans from Telesat and Amazon. However, there were no representatives from any of those four companies at the conference to talk about their constellation efforts. So, the conference instead turned to outside experts to offer their own assessments of winners and losers.
Leena Pivovarova, an analyst at NSR, discussed OneWeb and SpaceX in one presentation. She said NSR's estimates of the cost of OneWeb's constellation exceeded $5 billion, while the company has raised $3.5 billion to date. The company, she noted, plans to do sales through telecom partners, rather than direct to consumers.
"Their business case still remains very, very challenging," she concluded. "There's a lot of unanswered questions."
"I've been telling people for years that if it made sense to have a LEO constellation, Amazon would do it because it's just a perfect way for them to interconnect all their data centers," said Davis.
There are fewer details about SpaceX's Starlink plans, she said, including how it will do sales and what kinds of terminals customers will use. "The biggest question, I think, for Starlink is what's happening behind the scenes," she said. "We know there's a lot a development happening. We see teasers of technology here and there. We really want to see what it's going to look like."
NSR's estimate of Starlink's cost is as high as $17 billion. "We predict the system costs are quite extreme," she concluded, "so they may need to scale back."
Justin Cadman, a partner at Quilty Analytics, tackled Amazon's Project Kuiper and Telesat's LEO constellation in a separate presentation. While lumped together, the two systems are very different: Telesat's system numbers in the hundreds of satellites versus Project Kuiper's thousands, for example. Telesat is outsourcing development while Amazon appears to be doing its work in-house.
Another big difference between the two involves money. "Amazon blows everybody else out of the water," he said. "In this respect, it's a pittance to put up a Kuiper constellation."
In a later panel of outside experts, Amazon's efforts got a favorable reception. "Amazon doesn't need another customer. They already sort of own the Internet," said Richard Davis, CEO of ArgoSat, a satellite consulting company. "I've been telling people for years that if it made sense to have a LEO constellation, Amazon would do it because it's just a perfect way for them to interconnect all their data centers."
Davis added he used to make that argument to explain why LEO constellations didn't make sense. "And then Amazon went and announced one."
Other panelists agreed that Amazon could make its constellation work by providing services for its large retail customer base and for its cloud computing business. "They are their own best friend," said Karen Jones, senior project leader at the Aerospace Corporation's Center for Space Policy and Strategy. She said Amazon could use Kuiper to support its efforts to use drones for package deliveries.
One concern, she said, is that Amazon could face antitrust concerns if it tried to both be a service provider and a content provider. "This is one the Federal Trade Commission and the Department of Justice may start to scrutinize a little bit more," she said.
A bigger issue, though, may be access to spectrum. OneWeb, SpaceX, and Telesat have all secured the spectrum they need for their constellations, but Amazon, a latecomer, has yet to get its spectrum allocation for operations in the US, with proceedings ongoing at the FCC.
Panelists, though, didn't see that as an insurmountable hurdle. "Amazon always seems to get its way," said Gregg Burgess, vice president of engineering and technology at Sierra Nevada Corporation and who worked on the first- and second-generation Orbcomm satellites.
Noel Rimalovski, managing director of GH Partners, said Amazon could make deals with companies that have gone through the licensing process with the FCC or at the International Telecommunication Union (ITU). "For what's a drop in the bucket for Amazon in what they're spending on the project, they could get a lot more regulatory standing than they currently have," he said.
The panel was, in turn, skeptical about Starlink because of the size of the constellation. "It's not clear to me how they can even launch 30,000 satellites and keep them in orbit, given that they have a five-year life," Davis said. "That one worries me."
"I wonder about Starlink because today, in the most lucrative markets in the world, there's really good terrestrial cellphone connectivity as well as connections to people's homes, so they're going up against some really tough competition in those lucrative markets," said Rimalovski.
The megaconstellation field, though, is not necessarily a winner-take-all competition. Panelists batted around potential customers, from direct consumer broadband to cellular backhaul and augmentation of 5G systems to providing services in remote areas, like the Arctic, all of which could be served by some systems better than others.
There's also government applications, particularly for military users. "I think national security applications will be plentiful and extraordinary," Burgess said. "I have no doubt that the US government will make very extensive use of the global reach of these constellations." SpaceX has already done some Starlink demonstrations for the US Air Force.
"If they do go forward, they have the advantage of an existing global ecosystem of iPhones," Burgess said of a potential Apple megaconstellation.
An intriguing development is the potential for new, and, powerful, entrants into the megaconstellation market, in particular Apple. In December, Bloomberg reported that Apple had a "secret team" working on satellite technologies, possibly allowing its phones to communicate directly with satellites. It wasn't clear, though, if that project also involved the company's own satellite constellation.
Apple, of course, could afford a constellation just as easily as Amazon, which made the idea particularly enticing to some panelists. "If they do go forward, they have the advantage of an existing global ecosystem of iPhones," Burgess said.
But, as a sign that even experts aren't sure exactly how the broadband megaconstellation field will shake out, even critics of systems like Starlink hedged. "There have been a lot of people who have lost a ton of money betting against Elon Musk," Davis said. "I wouldn't put it past him that he could raise $20 billion every five years."
On the other hand, there's a scenario where those big companies fail. "What would be the impact of the failure of OneWeb or Starlink?" NSR's Pivovarova asked. "That's a question that keeps me up at night."
---
Note: we are temporarily moderating all comments submitted to deal with a surge in spam.