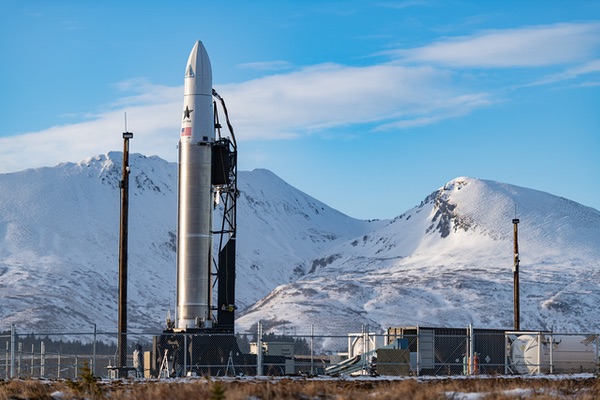 Astra's "Rocket 3.0" on the pad prior to its scrubbed launch attempt from Alaska March 2. (credit: DARPA)
Responsive launch is still not quite ready for prime time
by Jeff Foust

Monday, March 9, 2020
They are the three words—or, more accurately, one word uttered three times—that anyone listening to a launch countdown dreads. On March 2, a small rocket stood on a pad at Pacific Spaceport Complex – Alaska on Kodiak Island, in the final phases of a countdown for its first attempted orbital flight. Weather, which had been poor the previous several days, had improved, and the rocket finally appeared ready to fly.
Then came those words on the countdown net, 53 seconds before the scheduled liftoff. "Hold. Hold. Hold."
"How do we build less expensive systems on rapid timescales? How do we re-inject a sense of innovation into national security space and, frankly, all of space?" Kennedy said in 2018.
A sensor on the rocket was producing "off-nominal" data, the launch operator said. For the next two hours, the audience watching the webcast could only wait as the company provided limited information. Finally, it announced it was scrubbing the launch for the day, unable to resolve the problem before the launch window closed.
Such scrubs are part and parcel of the space industry. Companies fix the problem and try again days later. This scrub, though, had special significance. It marked the end not just of a launch attempt, but a two-year launch competition intended to stimulate develop of vehicles that could responsively launch payloads for the Defense Department. That effort, a Holy Grail of sorts for two decades, remains out of reach—but maybe just barely now.
From 55 to none
That scrubbed launch attempt in Alaska came a little more than two years after DARPA announced the start of a competition devoted to responsive launch. At the annual Commercial Space Transportation Conference in Washington on February 2018, Fred Kennedy, at the time head of DARPA's Tactical Technology Office, announced the DARPA Launch Challenge, a prize competition.
"How do we build less expensive systems on rapid timescales? How do we re-inject a sense of innovation into national security space and, frankly, all of space?" he said at the conference. One answer, he argued, was a competition to harness innovation in the private sector, in the form of the dozens of companies pursuing small launch vehicles.
Teams competing in the DARPA Launch Challenge had to perform one launch to orbit from a site chosen by DARPA on short notice and carrying a payload also provided with little advance preparation. Each team that successfully placed their payloads into orbit would receive $2 million. Then they would have to do it again, but from another site and to another orbit. Teams that did so were eligible to receive prizes of between $8 million and $10 million, depending on how quickly they launched and how much payload they placed into orbit.
DARPA kicked off the competition in April 2018 and held an industry day in Los Angeles a month later. Fifty-five companies expressed interest in the competition, and DARPA later that year approved 18 companies to proceed into a qualification phase.
Last April, DARPA announced the three finalists who would compete for the prizes in early 2020. One was Vector, a company working on a small launch vehicle and who had raised about $100 million to support that work. The second was Virgin Orbit, whose LauncherOne rocket, launched from a modified Boeing 747, was nearing its first flight.
Then there was the third company, which DARPA said was still in stealth mode and not yet ready to identify itself. Most in the industry, though, thought they knew who it was: a company called Astra Space, or sometimes just Stealth Space Company, a startup operating out of buildings at a former naval air base in Alameda, California, across the bay from San Francisco. The company performed two suborbital launches in 2018 from Kodiak licensed by the FAA, which categorized them as mishaps. (The company would later take issue with that assessment, calling them test flights that largely achieved their objectives.)
Last April, DARPA expected the competition to take place in early 2020 from a shortlist of spaceports selected in late 2018. However, in August Vector laid off nearly all its employees when investors withdrew support (see "Revectoring the small launch vehicle industry", The Space Review, August 26, 2019), and in September notified DARPA it was withdrawing from the competition. (Vector would ultimately file for Chapter 11 bankruptcy.) In October, Virgin Orbit withdrew, saying it wanted to focus on its other customers. That company has yet to perform its first launch, although it's now expected some time in the next several weeks.
"We really didn't want to make this a logistics challenge or a regulatory challenge," Master said of the decision to allow Astro to do both launches from Alaska.
That left stealthy Astra as the final competitor. In early February, the company finally emerged from stealth mode, unveiling its plans for small low-cost launch vehicles that it planned to launch frequently. That unveiling was timed to its upcoming launch for the DARPA Launch Challenge. (The company also unveiled a leadership team that included Fred Kennedy, who had left DARPA for the short-term stint as head of the Pentagon' Space Development Agency before joining Astra.)
The Challenge, though, was now less of a competition than a demonstration, with only one company still in the running. At a briefing February 18, DARPA announced it was tweaking the launch rules. Astra would perform its first launch at Kodiak, but rather than going to another spaceport, such as Wallops Flight Facility in Virginia, for the second launch, Astra would be allowed to do the second launch from a different pad at Kodiak instead.
"We really didn't want to make this a logistics challenge or a regulatory challenge," said Todd Master, manager of the competition at DARPA. "Whether we moved 5,000 miles or 1,000 feet, the technical challenges associated with it and the benefit of what we were trying to demonstrate remained the same."
The fact that Astra had yet to carry out an orbital launch was also a factor. "History has shown that, when we have a new vehicle that's on a range with other vehicles that are stacked, particularly when those are large, expensive vehicles with associated infrastructure, people get a little bit nervous," he said, a reference to other launches planned from Wallops in the near future, including a Minotaur 4 launch for the NRO.
At the time of the briefing Astra's two-week window for its first launch had started, but the company was still in the process of setting up the launch site. Its earliest chance to launch would be February 25, but poor weather pushed back the launch to the end of the month.
DARPA extended the launch window by a day, but said that March 2 would be the last chance for Astra to carry out that launch. The weather cooperated and the rocket was erected and fueled on the pad for its launch. Then came that hold at T-53 seconds for the sensor issue that could not be resolved in time for the launch.
"We saw some data that concerned us and we decided it would be better to scrub the launch and try again another day, because if the data was correct, it could have definitely caused a problem with the flight," Chris Kemp, CEO of Astra, said on the DARPA-run webcast of the attempted launch. "Winning the challenge would have been fantastic today, but our objective, really, is to reach orbit in as few flights as possible."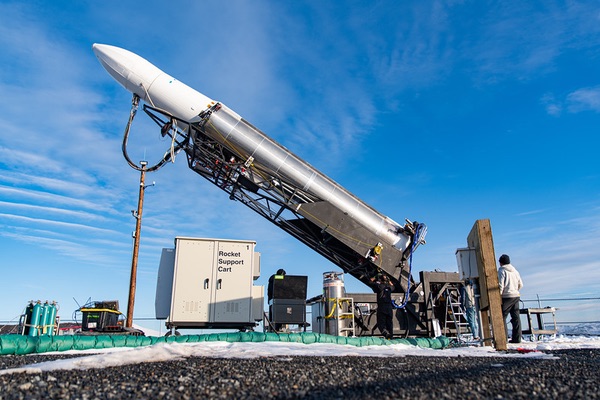 Astra's "Rocket 3.0" being raised to the vertical position during a practice countdown. (credit: DARPA)
Astra's future plans
Kemp made clear in that webcast, and a later call with reporters, that Astra would try to launch again in the near future. The company would first take the time to find the root cause of the sensor issue, and then replace the DARPA-supplied payload with one from a "big line" of unnamed commercial customers lined up.
"That is probably not a day or two. It's more like a week or two," he said of the timeframe of the next launch. "It's certainly not a month or two." As of March 9, the company had not announced a new launch date.
In an interview prior to the launch attempt, Kemp had deemphasized the importance of the competition, saying he expected it would take the company a "few attempts" to reach orbit. (The company dubbed the rocket for that launch attempt "One of Three" as it was the first in a series of three of its "Rocket 3.0" version.) "It's not our expectation that our first launch will succeed, but it is our expectation that a campaign will succeed if we launch, learn and iterate."
Kemp said Astra wants to be able to move ahead rapidly once it does demonstrate it reaches orbit to service that customer base. "There's just so little supply of launches when customers want to fly and where they want to fly that they're willing to launch on a rocket that has no success record," he said. "The fact that we have so many customers waiting in line without yet establishing that track record is pretty encouraging to us."
"With each generation of the rocket we'll have an opportunity to look at the market and understand what the demand looks like, and then design the rocket for a certain production rate," Kemp said.
He emphasized the company's plans to rapidly iterate to support the market. A version 4 of the company's rocket will be able to place about 50 kilograms into sun-synchronous orbit. "We think that is about right for where the market is today," he said. He expected Astra to produce 25 of those, of which more than half have been sold.
When the company emerged from stealth mode, its introductory video talked about eventually doing daily launches, an unprecedented launch rate. Kemp called that goal a "north star" for the company to eventually achieve over several generations of vehicles, each improving cost and production rates.
"With each generation of the rocket we'll have an opportunity to look at the market and understand what the demand looks like, and then design the rocket for a certain production rate," he said.
DARPA's long history of responsive launch
At that post-launch press briefing, Master reflected on how close the company got to at least launching, if not winning the prize. "They got almost there, almost made it to finish line. They just didn't quite make it," he said. "But we learn a lot from these challenges, and we think that even being able to get to the point we got to will demonstrate to folks that this is something that is right on the cusp of the possible."
One problem with the challenge, he noted, was that companies ran into delays developing their vehicles, causing schedules to push out. "When we set this up and first envisioned the challenge just a little under two years ago, we were looking at companies' development schedules and how that would fit into our timeline," he said. At that time, it appeared companies would start flying in the latter half of 2019, timelines that subsequently slipped. "That made it additionally challenging."
"Trying to pursue flexible and responsive launch is actually something DARPA's been at for quite a while, and hasn't quote gotten there yet," he noted.
DARPA has a long, and checkered, history of launch vehicle projects. In the early 2000s its Responsive Access, Small Cargo, Affordable Launch (RASCAL) program supported initial development of an air-launch system by a startup called Space Launch Corporation. RASCAL would have used a concept called mass injection pre-compression cooling to improve the performance of jet engines, enabling higher speeds for the launch aircraft. But DARPA canceled the program in 2005 while the program was still in its early phases.
"They got almost there, almost made it to finish line. They just didn't quite make it," Master said.
It then supported an effort called Force Application and Launch from Continental US (FALCON) for work on both small launch systems and hypersonic technologies. Several companies got initial contracts, including one, AirLaunch, that proposed deploying a small launch vehicle from a C-17 cargo aircraft. DARPA later focused FALCON on hypersonics work, although one of the beneficiaries of those initial awards was a small launch vehicle developer called SpaceX.
Several years ago, DARPA pursued two launch vehicle programs. One called Airborne Launch Assist Space Access (ALASA), sought to develop a small, low-cost launcher that could be launched from F-15 jets without the need for special modifications to the aircraft. Boeing won a 2014 contract to develop the system, using a "mixed monopropellant" of nitrous oxide and acetylene, called NA-7. However, DARPA ended ALASA as a launch vehicle program in 2015 after discovering that NA-7 was too volatile.
Most recently was the Experimental Spaceplane program, originally known as XS-1. The program planned to develop a reusable first stage that could fly ten times in ten days, including one flight to Mach 10. It would be coupled with an expendable upper stage to place medium-sized payloads into orbit.
Boeing, too, won the DARPA competition for that program using a design called Phantom Express that would take off vertically using an AR-22 engine (a version of the Space Shuttle Main Engine) and glide to a landing. That engine completed a series of static-fire tests in 2018, demonstrating it could be used ten times in ten days, and Boeing said it was aaiming for a flight demonstration in the early 2020s.
But on January 22, DARPA announced Boeing was pulling out of the program. "Following a detailed review, Boeing is ending our role in the Experimental Spaceplane (XSP) program immediately," a Boeing spokesperson said. "We will now redirect our investment from XSP to other Boeing programs that span the sea, air and space domains."
DARPA said that Boeing's decision effectively ended the program. "The detailed engineering activities conducted under the Experimental Spaceplane Program affirmed that no technical showstoppers stand in the way of achieving DARPA's objectives, and that a system such as XSP would bolster national security," DARPA said in a statement, adding that responsive launch capabilities "may be explored in separate efforts."
Right now there are no plans by DARPA either to do launch development programs or another competition. "Our intention is not to repeat the challenge," Master said. "From our perspective, a lot of the things that we wanted to see in terms of system developments we saw across a couple different providers." That included systems better able to achieve that long-term goal of responsive launch.
Master said DARPA is in very early discussions with the US Space Force and US Space Command about incorporating responsive launch into a future exercise. In that scenario, a satellite would be responsively launched and provide data to forces participating in the exercise.
"We set a really, really aggressive but achievable set of goals that we were looking for our competitors to achieve," he concluded. The experience "will help us as we look towards the future use of responsive space for the military."
---
Note: we are temporarily moderating all comments submitted to deal with a surge in spam.