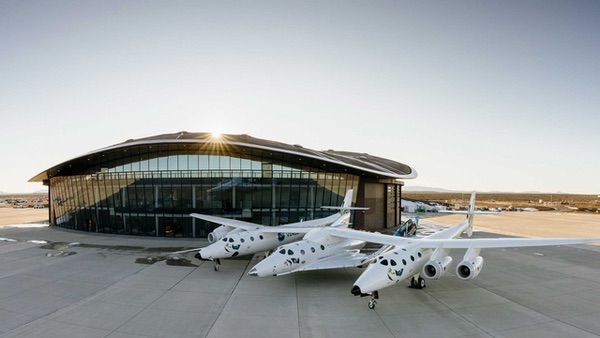 Virgin Galactic's SpaceShipTwo, attached to its WhiteKnightTwo aircraft, in front of the main terminal building at Spaceport America after its arrival there in February. (credit: Virgin Galactic)
What is the future for commercial suborbital spaceflight?
by Jeff Foust

Monday, April 6, 2020
A couple months ago, it seemed like 2020 might finally be the year that commercial human suborbital spaceflight might finally break out, after years—more than a decade, really—of waiting. Virgin Galactic, freshly capitalized through a merger with Social Capital Hedosophia last fall, said it was in the final phases of testing its SpaceShipTwo suborbital spaceplane, VSS Unity, with plans to begin commercial flights later this year. Blue Origin, which delayed plans to begin crewed flights of its New Shepard vehicle last year, said it was on track to begin those flights later this year after a couple more test flights without people on board.
"2020 is shaping up to be a landmark year for the suborbital spaceflight sector and the commercial spaceflight sector, and it's also a landmark year for Virgin Galactic," Whitesides said in early March.
That enthusiasm was on display last month at the Next-Generation Suborbital Researchers Conference in the Denver suburb of Broomfield, Colorado. Representatives of both Blue Origin and Virgin Galactic, as well as the research community that has just started to fly payloads on those companies' vehicles, expressed optimism that the era of routine, low-cost suborbital spaceflight, for payloads and for people, was finally here.
"2020 is shaping up to be a landmark year for the suborbital spaceflight sector and the commercial spaceflight sector, and it's also a landmark year for Virgin Galactic," George Whitesides, CEO of Virgin Galactic, said in an address during the opening session of the conference March 2.
He recounted the company's achievements since last year, including a second flight to the edge of space by SpaceShipTwo and a shift of company operations to Spaceport America in New Mexico. That included, in February, the transport of VSS Unity to the spaceport in preparation for a final series of test flights.
"With Unity relocated to Spaceport America, we're preparing for the final stages of our flight test program," he said, starting with glide tests and then a series of powered test flights. The company was also finalizing the cabin interior of the vehicle for commercial flights. "From there, we'll be ready to consider flying our founder, Richard Branson."
In presentations last year prior to the completion of Virgin Galactic's merger with Social Capital Hedosophia, the company indicated it expected commercial flights to begin by the middle of 2020. But, in the company's first earnings call since the merger closed last October, making Virgin Galactic a publicly traded company on the New York Stock Exchange, the company backed away from that timeline.
"We continue to focus on our top priority of the year, which is to fly Richard Branson into space on a commercial flight," Whitesides said on the February 25 call. "What we're affirming today is that our number one priority is to fly Richard Branson into space on a commercial flight in 2020."
He downplayed the company's previous, and modest, revenue projections for 2020. "Ultimately, the amount of revenue that we generate in 2020 is really not the thing that's going to make this company a great success," he said, saying the focus instead was on creating a fleet of vehicles that could fly on a regular basis.
Meanwhile, the company's stock was flying a trajectory that resembled a suborbital spaceflight. Virgin Galactic shares starting rising in December from a low of a little more than $7 a share, and by mid-February had reached around $40 a share. The share's sudden ruse befuddled the industry and analysts alike, since it was not based on any business fundamentals of the company itself. Some speculated that it was driven by long-term optimism about Virgin's ability to move into point-to-point transportation, something still many years in the future, or enthusiasm about commercial space in general, with Virgin one of the few companies in that sector whose shares are publicly traded.
By late February, the stock started to fall as even the most bullish Wall Street analysts conceded that it was overvalued. It lost nearly half its value, to about $21 a share, near the end of February before rebounding slightly.
Blue Origin had expected to start flying people on New Shepard last year, a point emphasized early in the year by company officials, including founder Jeff Bezos. But company CEO Bob Smith said last fall that timeline was unlikely, as the company decided to "tapped the brakes" on those plans in order to ensure the vehicle was ready for commercial flights.
"We're going to be flying human crews soon," Blue Origin's Squyres said.
Earlier this year, company officials said privately they were still planning to fly people on New Shepard this year, but expected as many as three or four more uncrewed flights before that happened. The company also has yet to release details about when it will start selling tickets and for how much.
"We're going to be flying human crews soon," Steve Squyres, chief scientist at Blue Origin, said in a speech immediately after Whitesides spoke at the conference in early March. He did not, though, elaborate on a timeline or other details about those crewed New Shepard flights.
Squyres joined Blue Origin last year after a career as a planetary scientist at Cornell University, best known for being the principal investigator on the Mars Exploration Rovers mission. When NASA declared the mission over last year, months after a dust storm cut off contact with the Opportunity rover, Squyres said he was looking for a new challenge. "Because of my belief in what Blue is doing," he said, including the company's vision of millions of people living and working in space, "Blue was the right fit for me."
NASA as a customer
Blue Origin has already been flying payloads on its uncrewed New Shepard flights, including through NASA's Flight Opportunities program, and Squyres looked forward to flying people with those payloads. "It is absolutely logical and absolutely possible" to fly researchers with their payloads, he said. "That's going to open up a whole bunch of new lines of inquiry."
Virgin, likewise, has flown payloads through the Flight Opportunities program and envisioned allowing researchers to fly with their payloads. Beth Moses, the chief astronaut instructor at Virgin Galactic who flew on SpaceShipTwo's most recent suborbital spaceflight in February 2019, spoke at the conference and offered practical tips for those researchers interested in going on suborbital flights (among them: "put a moment on your checklist to look out the window.")
The enthusiasm for crewed suborbital research at the conference came not just from the progress the companies were making, but NASA as well. Just before the conference, NASA issued a new call for proposals for the Flight Opportunities program that, for the first time, would allow researchers to fly along with the payloads, something some researchers had been seeking since the program started a decade ago.
"With the expansion of suborbitals and where they're going, we are for the first time allowing for the potential for human spaceflight participants on those missions," Jim Reuter, NASA associate administrator for space technology said in a speech at the end of February at a lunar research workshop in Maryland. Reuter runs NASA's Space Technology Mission Directorate, which runs the Flight Opportunities program. "We're not doing that for the sake of having human spaceflight, but if it helps the researcher, we're accommodating it."
The solicitation does set some safety requirements for such vehicles—no more than one launch or reentry failure in 14 flights—and also requires those researchers seeking to fly to go through the "informed consent" process required for other suborbital spaceflight participants. Advocates of crewed research flights, though, saw the solicitation as a big victory.
Among those advocates is Alan Stern of the Southwest Research Institute, who started the Next-Generation Suborbital Researchers Conference ten years ago in part because he saw the potential for researchers to fly with their payloads. "I think this is really going to be game-changing," he said, eliminating the drawbacks of automated payloads. "It represents a really fundamental breakout from 20th century modes of spaceflight to a 21st century mode where the researchers fly with their experiments and do the work themselves."
One issue with the Flight Opportunities solicitation is that it does not allow NASA civil servants or contractors to fly on those vehicles, because of the informed consent issue. But NASA administrator Jim Bridenstine, who also spoke at the conference, opened the door for flying NASA personnel, including astronauts, on commercial suborbital vehicles.
"There is an interest in NASA, especially from its administrator, to not just do human-tended payloads, but what we would call crew-tended payloads. In other words, NASA astronauts themselves would fly with equipment and fly with payloads," Bridenstine said in a conference keynote.
That would, Bridenstine said, require a certification process for those vehicles. "We're not going to have our astronauts signs waivers of liability," he said. "So, we have to actually make sure these vehicles are safe."
"There is an interest in NASA, especially from its administrator, to not just do human-tended payloads, but what we would call crew-tended payloads. In other words, NASA astronauts themselves would fly with equipment and fly with payloads," Bridenstine said.
Developing that certification process is still in its earliest stages, he said, and would take lessons learned from the commercial crew program. The requirements originally developed for commercial crew, he said, could be narrowed to those required for suborbital flights. In addition, flight experience as both New Shepard and SpaceShipTwo start flying more frequently could take the place of some technical reviews in that certification process.
But exactly what that certification process will require will take time. "That in itself could take a year," Bridenstine said after the speech, and thus even longer to apply it to those vehicles.
But…
That conference, including the announcement by Bridenstine, took place just five weeks ago. However, in a nation and world battling the coronavirus pandemic, that seems like another era.
NASA has hunkered down, mandating telework for all but a small fraction of staff deemed mission-essential, which at some centers is limited to just those responsible for the safety and security of the center itself (see "Space in uncertain times", The Space Review, March 23, 2020). NASA has, for example, extended the deadline for proposals for the latest Flight Opportunities call from April 24 to May 22 "due to the difficulties associated with the COVID-19 outbreak." Final awards are now expected by November.
Virgin Galactic has kept a low profile in the last month beyond a press release describing its contributions to relief efforts, noting in a brief SEC filing that it was awarding its top executives just half of the bonuses they had earned "in light of recent COVID-19 (coronavirus) considerations." Its stock price has tumbled, as has nearly every publicly traded company amid the drastic economic consequences of the pandemic. The stock fell to less than $10 a share in mid-March before rebounding somewhat, and in recent days has been trading around $12–15 a share.
The company's chairman, Chamath Palihapitiya, who set up Social Capital Hedosophia as a special purpose acquisition company that eventually merged with Virgin Galactic, didn't talk about the company during a recent interview on the Recode Decode podcast. However, he offered a very pessimistic view about startups in general given the state of the economy.
"The investing landscape is done," he said. "I think that people need to make hard decisions to conserve at least 36 months of cash, and if you're not doing that, you're not giving yourself enough of a buffer for all of this to sort itself out."
Blue Origin had been quietly moving to prepare for another uncrewed New Shepard test flight from its West Texas facility as soon as April 10, according to a report last week by The Verge and supported by an FCC license application for communications during that test flight. That flight was postponed when Texas officials instituted a 14-day self-quarantine period for visitors from states like Washington with high numbers of COVID-19 cases (although those officials later said it wouldn't apply to Blue Origin employees coming for a launch.)
However, some Blue Origin employees argued against attempting the launch at all given the risks both to themselves and to the community of Van Horn, Texas, where they stay during launch attempts, of spreading the coronavirus. Since that report, at least three Blue Origin employees have tested positive for COVID-19, although it's not clear if any were working on New Shepard or interacted with personnel who were.
What is clear is that commercial suborbital spaceflight's future is less certain now than it was just a handful of weeks ago.
Just how the pandemic and severe economic recession it has triggered will affect the commercial suborbital spaceflight field remains to be seen. Blue Origin certainly has the financial wherewithal from its founder, Jeff Bezos, to press ahead, but the company's ambitions are far larger than New Shepard. That suborbital effort could be overshadowed by the New Glenn orbital rocket and its BE-4 engine, the Blue Moon lander, and other projects.
Virgin Galactic, by contrast, is all-in on flying people on suborbital spaceflights; it may have long-term ambitions for hypersonic passenger travel, but getting to that distant future requires first achieving profitable operations of SpaceShipTwo. The company hasn't restarted ticket sales, but said in February it was opening a "One Small Step" program where people could pay a refundable $1,000 deposit to be at the front of the line when it does restart sales (likely for more than the previous price $250,000.) The company hasn't yet disclosed how many people have registered for that program.
A depressed economy might reduce the number of potential customers, at least temporarily, with the means to pay for such flights. Those customers, and the companies, also run the risk of public backlash to what might be considered tourist joyrides as the nation and world struggle to recover from the pandemic.
Right now, those are all hypotheticals. What is clear is that commercial suborbital spaceflight's future is less certain now than it was just a handful of weeks ago, when two companies finally appeared to be approaching commercial service and buoyed by both public and government interest.
"This is a very challenging time, and it may well get worse for the next bit, but if we work together—deploying human ingenuity, toughness, and community resilience—we will beat it," Whitesides said in the Virgin Galactic statement about its pandemic relief work. That confidence, at least, is reassuring, and necessary in this troubled time.
---
Note: we are temporarily moderating all comments submitted to deal with a surge in spam.