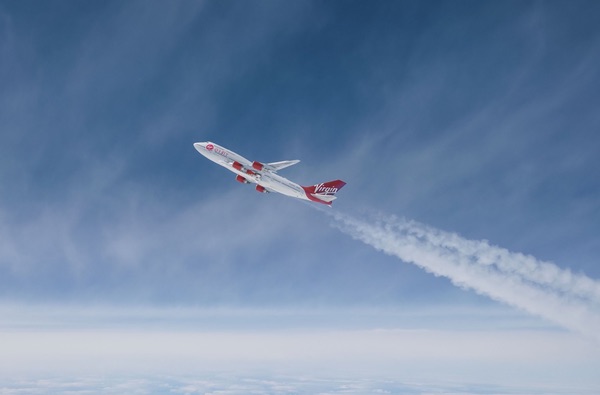 Virgin Orbit's 747 aircraft, with a LauncherOne rocket attached to its left wing, climbs during a simulated launch release maneuver during an April 12 test flight. (credit: Virgin Orbit)
Cost versus control in the small launch market
by Jeff Foust

Monday, April 20, 2020
The pandemic may have slowed much of the space industry, but some parts of the business are moving ahead. Last week, for example, small launch vehicle developer Rocket Lab announced a new launch contract with Synspective, a Japanese company developing a constellation of synthetic aperture radar (SAR) satellites. Rocket Lab agreed to launch Synspective's first satellite, StriX-α, on an Electron rocket late this year.
"We understand just how important it is to have control over your orbit and your launch schedule when building out a constellation," said Rocket Lab's Beck.
At first glance, it looked like an ordinary launch contract announcement, and another sign of Rocket Lab's position as one of the leaders, if not the leader, in the small launch vehicle market. There was just one thing: Synspective already had a launch contract for StriX-α.
One year earlier, the company announced a contract with Arianespace to launch the satellite on a Vega rocket some time in 2020. "I feel very honored to work together with a world-leading launch services provider, Arianespace, to launch our first satellite," Motoyuki Arai, founder and CEO of Synspective, said in an April 2019 press release about the contract.
The problem for Synspective, though, is that the Vega is grounded. The vehicle suffered a launch failure last July, the first in 15 flights of the rocket. The vehicle was set to return to flight in March on a dedicated rideshare mission carrying more than 40 smallsats, but the closure of the spaceport in French Guiana because of the coronavirus pandemic has indefinitely delayed that launch.
Synspective's StriX-α was not scheduled to be on that launch, but on a later rideshare mission, given that the 150-kilogram satellite is only a small fraction of the overall payload capacity of the Vega. With uncertainty about when the rocket will return to flight, and when that rideshare mission will be arranged, the company decided it couldn't wait any longer.
"We are very pleased to work with Rocket Lab, a pioneer in rocket ventures. We are also grateful for their flexibility in accepting our requests on the satellite's orbit and launch period," Arai said in the Rocket Lab press release about the contract.
"We understand just how important it is to have control over your orbit and your launch schedule when building out a constellation, so we're proud to be delivering that capability to Synspective on Electron," Peter Beck, founder and CEO of Rocket Lab, said in the same statement.
Those comments drive to the heart of the argument about the viability of small launch vehicles. With rideshare options for smallsats growing, small launch vehicle providers argue that their vehicles, while more expensive, are also more flexible.
At the SmallSat Symposium in California in February, Beck drew an analogy to ground transportation. "You're taking an Uber because you have a specific destination and a specific timeframe," he said. "If you want a dedicated mission with control over your schedule and your orbit, that costs more. If you don't need those things, then you should take the bus."
"Everything worked as it should. It was beautiful," said Virgin Orbit's Hart. "We all walked away and we said, 'Now we have a launch system.'"
The bus comes in forms like SpaceX's rideshare program, which the company updated at that conference, rolling out an online booking system. Under that program, satellites weighing up to 200 kilograms can launch for as little as $1 million. An Electron rocket, whose payload capacity is a little less than 200 kilograms, costs more than $5 million.
Rocket Lab, though, argues it has not felt pressure from rideshare services to reduce prices, and has customers like Synspective as proof of its approach. "What we're hearing from the market and what we're hearing from our customers is they like to have options," said Lars Hoffman, senior vice president of global launch services at Rocket Lab, during a panel discussion at the Satellite 2020 conference in early March in Washington, DC. "What they really appreciate to have the dedicated option that we're presenting."
Rocket Lab is not alone in that view. "We're already seeing the types of satellites, the orbits they're going to, and the need for responsiveness only increasing," said Monica Jan, senior director of strategy and customer experience at Virgin Orbit, on the same panel at Satellite 2020.
Virgin Orbit is in the final phases of development of its LauncherOne small launch vehicle. On April 12, the company performed a captive-carry test flight of the system, with a fully fueled rocket attached to the left wing of the company's modified Boeing 747 aircraft. (The vehicle was loaded with liquid nitrogen (LN2), rather than liquid oxygen, along with the RP-1 fuel, to simulate a cryogenic oxidizer while reducing risk on a test flight.) The two-hour test flight included a simulation of the launch release maneuver, with the plane pulling up, although the rocket remained attached as planned throughout the flight.
The company called the test a success. "The LN2 flight was the capstone test of our development program," Dan Hart, CEO of Virgin Orbit, said in a video released by the company a few days later. "Everything worked as it should. It was beautiful. We all walked away and we said, 'Now we have a launch system.'"
With that test in the books, Virgin Orbit will soon be ready for an orbital launch attempt, although it has not announced a date. The company has a growing list of customers, commercial and government, on its manifest. On April 10, the US Space Force's Space and Missile Systems Center (SMC) announced it awarded a contract to Virgin Orbit—specifically, its government contracting arm, VOX Space—for three LauncherOne missions starting in October 2021 for a mission called STP-S28.
SMC emphasized responsiveness, from a contracting perspective, in its launch contract announcement. "The competitive award of the STP-S28 task order is a prime example of the flexible and responsive contracting processes the launch enterprise is using to deliver resilient and affordable space capabilities to our nation," Col. Rob Bongiovi, director of SMC's Launch Enterprise at Los Angeles Air Force Base, said in a statement announcing the contract.
At Satellite 2020, neither Hoffman nor Jan said they were worried about competition, be it from other small launch providers or rideshare offerings from SpaceX and others, pushing down their prices. That's because, they said, the high costs of launch vehicle development make it difficult to get a return.
"I don't see this as a race to the bottom," Jan said of launch pricing. "Everyone's predicting a very super-low price, but they fail to recognize that, at the end of the day, launch is still a capital-intensive heavy manufacturing business."
"Some people can offer prices who haven't launched yet, and they are going to realize that launch is expensive and capital intensive," Hoffman said, estimating it costs $100 million to get to a first launch, then $100 million more to scale up production. "That will, I think, as the market matures, moderate this pricing."
"As a business owner, you're always thinking of the things that can kill you," Beck said. "But for all the reasons to have a big keg of dry powder, global pandemic was not on my list."
The sharp economic downtown induced by the pandemic may make it difficult for new entrants to raise those large amounts of funding. That gives an advantage to Virgin Orbit, whose development is effectively complete, and Rocket Lab, which is in service (although its launches are on hold temporarily because of the lockdown in New Zealand caused by the pandemic, which may be eased as soon as next week.)
Rocket Lab also raised a large round—$140 million—less than a year and a half ago, which Beck described in a recent interview as "dry powder" to backstop the company or fund new initiatives. "As a business owner, you're always thinking of the things that can kill you," he said. "But for all the reasons to have a big keg of dry powder, global pandemic was not on my list."
Pandemic or not, the launch market is moving forward, but it remains to be seen if there are enough customers that value control—of launch schedules and orbits—over cost for business plans to close. Synspective shows that there are at least some customers for that proposition. But even Synspective said that it was still retaining its Arianespace contract for a future satellite mission.
---
Note: we are temporarily moderating all comments submitted to deal with a surge in spam.