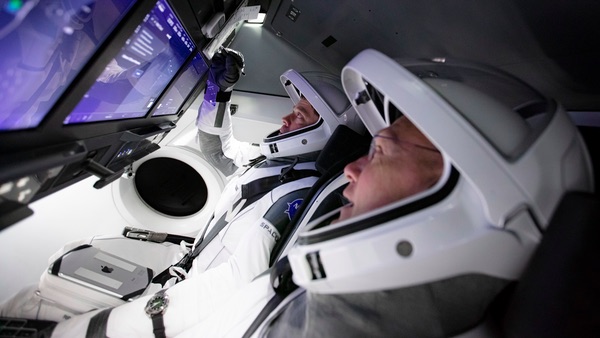 NASA astronauts Bob Behnken (background) and Doug Hurley training for their Demo-2 commercial crew mission, now scheduled for launch May 27. (credit: SpaceX)
Commercial crew safety, in space and on the ground
by Jeff Foust

Monday, May 4, 2020
The last time NASA launched astronauts from the Kennedy Space Center, hundreds of thousands of people showed up to watch the final flight of the space shuttle in July 2011. The expectation, by NASA and others, was that similar crowds would show up when commercial crew flights finally began. The large crowds that showed up for launches like the first Falcon Heavy mission in 2018 or even relatively routine cargo launches appeared to confirm that belief, and NASA was planning for big crowds, not just of the public outside the gates of KSC but also official guests and working media inside, for a historic mission.
Then came the pandemic, and all those plans went out the window.
"We're asking people not to travel to the Kennedy Space Center, and I will tell you, that makes me sad to even say it," Bridenstine said.
Now NASA is in the unusual, but understandable, position of telling people not to witness in person one of the agency's biggest missions in the last decade. "We are asking people to watch from home," NASA administrator Jim Bridenstine said Friday in a media teleconference about the upcoming SpaceX Demo-2 commercial crew mission.
"We're asking people not to travel to the Kennedy Space Center, and I will tell you, that makes me sad to even say it," he continued. "Boy, I wish we could make this into really spectacular." (That view is not shared by some local officials, like Wayne Ivey, sheriff of Brevard County, Florida, who last week encouraged tourists to come for the launch.)
Those restrictions go beyond the public. Media who registered to cover the launch have been told that only a "limited number" will be allowed on site because of the pandemic. Even friends and family of the crew, NASA astronauts Bob Behnken and Doug Hurley, will be watching from home.
"A disappointing aspect of this pandemic is that we won't have the luxury of our family and friends being there at Kennedy to watch the launch," Hurley said in a separate briefing Friday. "It's obviously the right thing to do in the current environment."
Those briefings came less than four weeks before the long awaited—and long overdue—first crewed mission under the commercial crew program. Demo-2 is scheduled to launch on May 27 at 4:32 pm EDT from KSC, with the Crew Dragon spacecraft carrying Behnken and Hurley docking with the ISS about 19 hours later.
The final pieces for that mission are coming into place. At the first of the briefings Friday, SpaceX president and chief operating officer Gwynne Shotwell said the company had one more test of the Mark 3 parachutes developed for Crew Dragon, scheduled for later that day. After the briefings, SpaceX announced that the test took place and appeared to be a success.
"I would probably not be a real astronaut if I didn't say I was looking forward to the possibility of doing some spacewalks on the upcoming mission," said Behnken.
A separate area of concern was an investigation into a Merlin engine that shut down prematurely during a March launch of a Falcon 9 carrying a set of Starlink satellites. The failure didn't affect the success of the overall mission, but prevented the stage from landing on a droneship in the Atlantic. That first stage was making its fifth flight, while the Falcon 9 launching Demo-2 is a new vehicle.
NASA participated in the investigation and previously said that the investigation, and any changes resulting from it, would need to be complete before Demo-2 could launch. "We have reviewed the anomaly resolution of the Starlink launch and have cleared the engines on our vehicle," Kathy Lueders, manager of the commercial crew program at NASA, said. "That is behind us right now."
She added there is still work to complete on both the rocket and spacecraft. "The spacecraft is still processing, the launch vehicle is still processing, and as you're processing vehicles there are little issues that come up that you have to work through," she said. There are also a series of reviews, leading up to a flight readiness review May 20.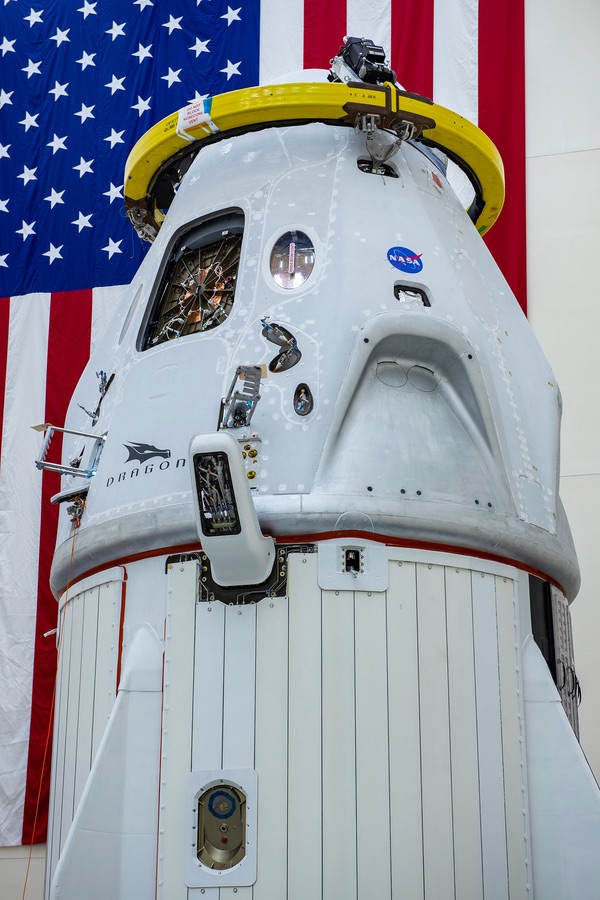 The Crew Dragon spacecraft for the Demo-2 mission. (credit: SpaceX)
The biggest question for Demo-2 is not the readiness of the mission to launch, but how long the mission will last after launch. NASA originally envisioned a short mission, lasting a few weeks at most, to test out the spacecraft and then bring it home.
By last fall, though, NASA was talking about extending Demo-2, perhaps by months. With only three people—just one, Chris Cassidy, a NASA astronaut—on the station currently, NASA wanted to find ways to increase the crew size to allow more time for station maintenance and research. The spacecraft SpaceX had originally built for Demo-2 was intended for a short mission, but it was pressed into service for an in-flight abort test in January. SpaceX moved up the Crew Dragon that had been planned for the first operational mission for Demo-2, and with it the capability for an extended mission.
The duration of Demo-2 has become something of a moving target: at least a month, barring problems with the spacecraft, but as long as 119 days, an upper limit based on conservative estimates of degradation of the Crew Dragon's solar panels from atomic oxygen.
"It is a trade-off," said Kirk Shireman, NASA ISS program manager. Bringing the spacecraft back sooner gives NASA more time to perform post-flight reviews and formally approve the vehicle for use on regular "post-certification" missions that will carry four at a time. Keeping it up there longer helps address the lack of crew time on the station.
The compromise, he said, is to end Demo-2 when the next Crew Dragon is about ready for its mission, called Crew-1. "What we would like to do, from a station perspective, is to keep them on orbit as long as we can until that Crew-1 vehicle is just about ready to go, bring Demo-2 home, allow that certification work to be completed, and launch Crew-1," he said.
Behnken and Hurley have added training in recent months as a refresher for station operations. Behnken, who performed six spacewalks on two shuttle missions, prepared for the possibility of carrying out a spacewalk from the station during his time there. "There is a lot of work and activities that can be done in the U.S. segment, certainly more than one person can accomplish on their own," Behnken said. "I would probably not be a real astronaut if I didn't say I was looking forward to the possibility of doing some spacewalks on the upcoming mission."
But, he added, "our number one thing is to get Dragon checked out and get ready for those next crews, then help out Chris Cassidy and then, if there are some cool things that we can do and help out space station at the same time, like those spacewalks, that will be some icing on the cake for us."
The two will have one other thing to do while on the station. On the final shuttle mission, STS-135, the crew brought to the station a small American flag that also flew on STS-1 30 years earlier. The flag was left behind to be retrieved by the first commercial crew mission, a "capture the flag" moment, as President Obama said during the STS-135 mission.
"My heart is sitting right here," Shotwell said in one briefing, motioning to her throat. "I think it's going to stay there until we get Bob and Doug safely back."
The pilot of STS-135 was Doug Hurley. "I don't know if we've thought about it to a huge degree," he said when asked about plans to collect that flag. "I think we will probably grab that from Chris [Cassidy] and put it in a safe place while we do our work on board space station, and then we'll bring it back when we come back later this summer."
But amid the happy talk of capturing flags and doing spacewalks, there's the realization that this is a test flight, with significant risks. Bridenstine noted that the mission will mark only the ninth time people have flown on the first flight of a crewed spacecraft, including not just US history but also that of China and the former Soviet Union. (That figure doesn't include the SpaceShipOne and SpaceShipTwo suborbital vehicles.)
"My heart is sitting right here," Shotwell said in one briefing, motioning to her throat. "I think it's going to stay there until we get Bob and Doug safely back."
"NASA has been very satisfied with the level of safety from our perspective," Bridenstine said. "We should not lose sight of the fact that this is a test flight. We're doing this to learn things, and it's also true that we're taking it very, very seriously from a safety perspective. This is a big day NASA, it's a big day for SpaceX."
It's a big day that won't be shared in person, though, for a different kind of safety. "Having large crowds of hundreds of thousands of people at the Kennedy Space Center, now is not the time for that," he said. "We don't want an outbreak. We need a spectacular moment that all of America can see and all of the world can see."
---
Note: we are temporarily moderating all comments submitted to deal with a surge in spam.