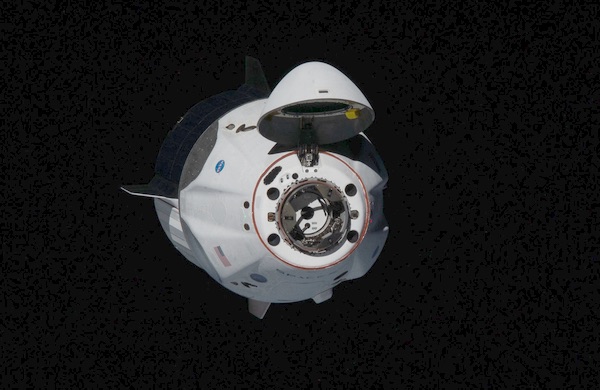 The SpaceX Crew Dragon spacecraft, named Endeavour by the two astronauts on board, approaches the ISS May 31. (credit: NASA)
A shaky ride to a smooth launch
by Jeff Foust

Monday, June 1, 2020
Ordinarily, planning a mid-afternoon launch from Florida during the summer would be inadvisable, especially if there's no margin for error. The heat and humidity can make for "dynamic" weather conditions (to use a word that came up frequently in forecasts last week) that make it difficult to predict if a launch can proceed.
"The thing that really stood out to both of us, and we mentioned it as soon as we docked, is that we didn't feel the docking," Hurley said.
However, the schedule for the Demo-2 commercial crew mission was dictated not by Mother Nature but instead by Isaac Newton. The launch was tied to the orbit of the International Space Station so that the Crew Dragon spacecraft could reach the station after launch. That required an instantaneous launch window that, in late May, happened to be in the afternoon from the Kennedy Space Center.
Still, try explaining that to the boss. "I was told that the rocket you just witnessed had to be launched within one second, or it would be impossible for it to hit its target," President Donald Trump said last Saturday, after a successful launch that he watched in person. He had been at the Kennedy Space Center three days earlier as well, when weather conditions didn't quite clear in time to allow the launch.
"I said to Jim [Bridenstine]: 'Jim, it's okay. Why don't you wait five or ten minutes?'" Trump recalled of his conversation with the NASA administrator during that first launch attempt. "And he said, 'Sir, we only have a window of one second.' And I walked out of here shaking my head."
The weather, as it turned out, provided the only drama for the launch. The countdown for the first launch attempt May 27 went smoothly until weather scrubbed it 17 minutes before liftoff. Three days later, they tried again, and again the countdown went smoothly, this time to zero. The Falcon 9 lifted off and 12 minutes later, delivered the Crew Dragon spacecraft into orbit, all according to plan.
The Crew Dragon—which the crew of Bob Behnken and Doug Hurley had named "Endeavour," in part after the shuttle both previously flew on—also performed as expected. Nineteen hours after liftoff, Endeavour docked with the International Space Station, and a few hours later Behnken and Hurley entered the station.
Everyone appeared happy with the flight, especially the astronauts. "I want to complement the teams at Hawthorne. Just a spectacular job with the simulator as the vehicle flew exactly like the simulators out in Hawthorne," said Hurley, referring to the simulators at SpaceX's headquarters in Hawthorne, California.
Behnken added, though, that the simulators were not perfect. "While it was an exciting ride, I think we got a couple of minor surprises, just in terms of the way the vehicle is moving and shaking," he said of the launch experience.
Docking was smoother. "The thing that really stood out to both of us, and we mentioned it as soon as we docked, is that we didn't feel the docking," Hurley said. "It was just so smooth."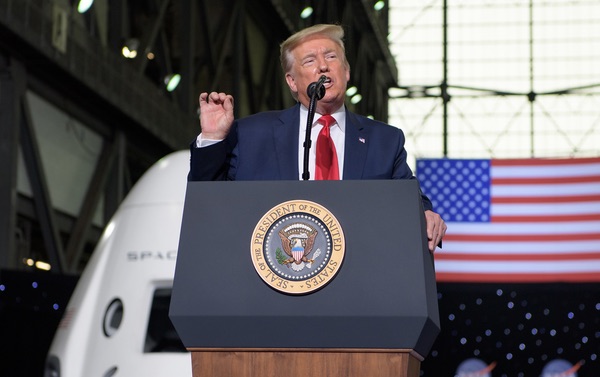 President Trump speaks at the Kennedy Space Center after the successful Demo-2 launch May 30. (credit: NASA/Bill Ingalls)
Taking credit
The fact that the launch itself was so anticlimactic stood in contrast to the struggles of the commercial crew program itself. Since its formal start a decade ago, the program has had to overcome congressional skepticism that underfunded the effort in its early years. It also had to deal with technical challenges by both SpaceX and the other commercial crew company, Boeing, that delayed their flights by years.
Plenty of people lined up to take credit. "With this launch, the decades of lost years and little action are officially over. A new age of American ambition has now begun," Trump said in his speech inside the Vehicle Assembly Building at KSC after the launch. "Past leaders put the United States at the mercy of foreign nations to send our astronauts into orbit. Not anymore."
"When I first came into office three and a half years ago, NASA had lost its way, and the excitement, energy, and ambition, as almost everybody in this room knows, was gone," he said.
Trump used his speech (which he called "the first big space message in 50 years" for reasons never made clear) not to mark any new direction in national space policy, but instead recap what his administration had done in space, including accomplishments like commercial crew whose origins long predate his time in office.
"When I first came into office three and a half years ago, NASA had lost its way, and the excitement, energy, and ambition, as almost everybody in this room knows, was gone," he said on a stage that included a Crew Dragon mockup and an Apollo lunar rover model. "We have created the envy of the world and will soon be landing on Mars, and will soon have the greatest weapons ever imagined in history. I've already seen designs. And even I can't believe it."
"Four years ago, this place was essentially shut down," Trump said a little earlier, talking to a media pool immediately after watching the launch. "The space program was over. The shuttle program was dead. One of the Secret Servicemen said they were here with the past administration — I won't tell you who — and they were here to shut down the facility."
Bridenstine, by contrast, took pains on several occasions before and after the launch to thank former NASA administrator Charles Bolden, who led the agency for most of the Obama Administration. "He had members of Congress on both sides of the aisle that were in opposition to it and wouldn't adequately fund it, and ultimately gave him a hard time about it," Bridenstine said of Bolden's advocacy for commercial crew.
Bolden, he recalled, "persevered and he pushed through. That was the beginning of what we all got to experience today."
Before the launch, Bolden gave credit to Bridenstine. "I think he's working out to be a great administrator," he said of Bridenstine in a call with reporters. "I give him kudos for everything that's happened."
That call was organized by the campaign of Joe Biden, the former vice president and presumptive Democratic nominee for president. Bolden and former Sen. Bill Nelson (D-FL) used the call to highlight what Biden did for the commercial crew program, despite the fact that Biden didn't appear to take much of a public interest in space in his two terms as vice president—particularly when compared to current Vice President Mike Pence, who chairs the National Space Council.
"Joe Biden was very much a part of this whole thing," Nelson said, claiming Biden, as vice president, helped Nelson win congressional support for the approach enshrined in a 2010 NASA authorization bill that backed commercial crew development in parallel with the Space Launch System and Orion. "He was very much a part of the decision-making that went into this and ultimately brings us to this success."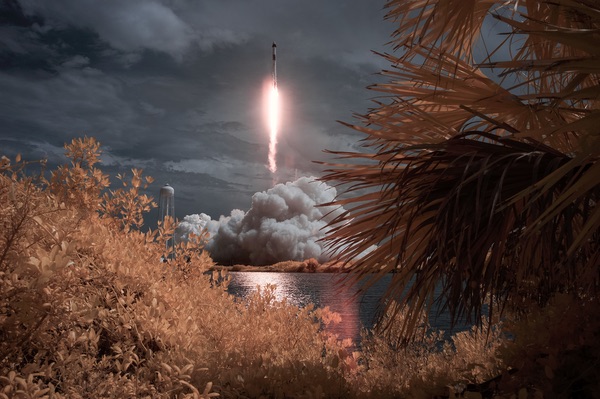 A false color infrared image of the Demo-2 launch. (credit: NASA/Bill Ingalls)
Next steps
Now that Behnken and Hurley are successfully on the ISS, the next question is how long they'll stay there. While the Demo-2 test flight was originally intended to be a short-term mission—no more than a couple weeks—NASA now expects the two astronauts to remain on the station for perhaps a couple months, or longer, to support a short-staffed space station.
Bolden, Bridenstine recalled, "persevered and he pushed through. That was the beginning of what we all got to experience today."
NASA hasn't set a firm date for the end of the Demo-2 mission. Among the factors that go into the decision-making process, agency officials said, include the health of the Crew Dragon spacecraft, work that needs to be done on the station, and progress on the next Crew Dragon spacecraft, which will fly a mission called Crew-1 with three American astronauts and one Japanese astronaut on board.
Barring a problem with the spacecraft that requires an early return, the plan for Demo-2 will become clearer in about month. "We'll power up the spacecraft about once a week and we'll some data on those solar arrays," said Steve Stich, deputy manager of the commercial crew program at NASA. The solar arrays are the life-limiting factor of the mission, the agency previously stated, as they degrade given exposure to atomic oxygen.
It will take, he added, a few weeks to see just how well the arrays are performing. "In a month or so, we'll be able to make a decision as to how long to keep this vehicle in orbit."
There should be plenty to keep Behnken and Hurley busy on the station for weeks, as prior to their arrival the only NASA astronaut on the station was Chris Cassidy, who shared the station with Russian cosmonauts Anatoly Ivanishin and Ivan Vagner. That work could include some spacewalks by Behnken and Cassidy—experienced spacewalkers from previous missions—to do work like replacing batteries in the station's power supply with new ones delivered on a Japanese cargo spacecraft last month.
"That's going to take somewhere on the order of four to five EVAs to install those," said Kenny Todd, NASA ISS deputy program manager. "We are looking at all options that could allow us to do those EVAs while we have Bob and Doug on board."
Installing those batteries could wait until the next crew arrives on the station but, he said, "it would be in our best interest to have those batteries installed and have that work behind us."
NASA's current schedule, revealed by Bridenstine shortly before the Demo-2 launch, is for the Crew-1 mission to launch August 30. That would likely require the Demo-2 mission to end by early August to provide time to review the health of the spacecraft and formally certify the Crew Dragon's use for operational missions like Crew-1.
That could slip if Crew-1 is delayed, but NASA says work on the spacecraft is on schedule. Kathy Lueders, NASA commercial crew program manager, said she received word the day before the Demo-2 launch that the Crew-1 spacecraft had reached a milestone called "prop checkout," one of the final stages of acceptance testing.
"Our team is getting the vehicle ready, and also watching this demonstration mission and making sure that our learning out of this test flight is then rolled into how we're going to fly Crew-1," she said.
When Crew-1 is ready to fly, its launch schedule will also be dependent on the station's orbit, with weather still a concern, especially if it takes place in the heart of hurricane season. But this time, the boss probably won't be looking over their shoulders.
---
Note: we are temporarily moderating all comments submitted to deal with a surge in spam.