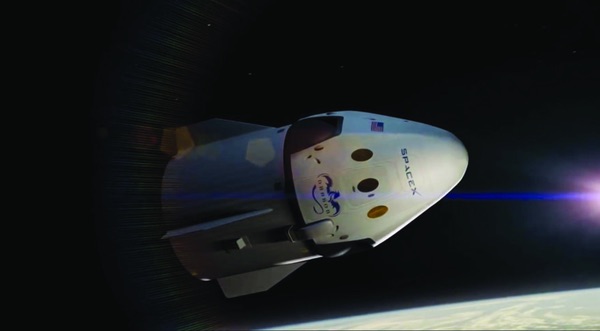 Both Axiom Space and Space Adventures have announced contracts for Crew Dragon missions, either to the International Space Station or a free-flyer mission to a higher orbit. (credit: SpaceX)
Orbital space tourism set for rebirth in 2021
by Tony Quine

Monday, August 10, 2020
Orbital space tourism has been in a holding pattern since 2009, a decade-long hiatus caused, indirectly, by the end of the space shuttle in 2011. However, orbital space tourism is finally due to return in 2021, perhaps on a scale unimaginable back in 2009.
According to media releases from the two main protagonists in the sector, Space Adventures and Axiom Space, up to nine seats to orbit will be available for purchase, by either individuals or organizations, during the final quarter of 2021. These will be spread across three spaceflights, using both the tried and tested Russian Soyuz, and SpaceX's Dragon, two of which will dock at the International Space Station.
Orbital space tourism is finally due to return in 2021, perhaps on a scale unimaginable back in 2009.
Space Adventures is, of course, a very familiar name in this sphere, having sent seven wealthy adventurers to the ISS onboard Russian Soyuz flights, between 2001 and 2009. This roster included Dennis Tito, the world's first space tourist, (or spaceflight participant, as the Russians prefer); Anousheh Ansari, the first woman to participate in such a flight; and Charles Simonyi, who enjoyed his first trip so much he flew for a second time.
However, the necessity for NASA to fly astronauts on Soyuz, after the final Space Shuttle flights, effectively closed down the source of Space Adventures' seats. NASA paid up to $90 million for dozens of seats, including one Kate Rubins will use to fly to the station this October.
In 2015, the "Year in Space" mission of Scott Kelly and Mikhail Kornienko provided a one-off opportunity for a tourist flight. This arose because their Soyuz needed to be swapped for a newer model after six months, although the crew would remain on the ISS for a remainder of their (nearly) 12-month stay.
British singer Sarah Brightman had been revealed as Space Adventure's next client, back in 2012, although at that time it was unclear when she might fly. She eventually began training in January 2015, and seemed to be making serious preparations for her flight. However, she failed to complete her training, vanishing from the Yuri Gagarin Cosmonaut Training Center near Moscow in unplanned circumstances that have never been satisfactorily explained. Her backup, Japanese entrepreneur Satoshi Takamatsu, was unable to take her place, and so Brightman was replaced by a professional Kazakh cosmonaut, Aydyn Aimbetov, in a hurried deal between the Russian and Kazakh governments.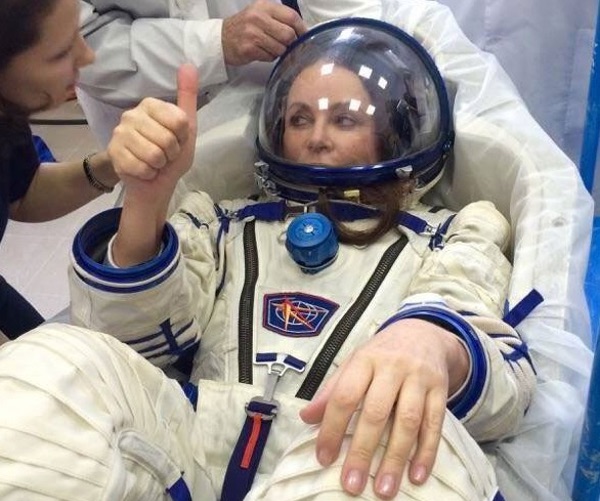 Sarah Brightman trained for a 2015 Soyuz flight to the ISS but dropped out several months before the mission. (credit: Sarah Brightman)
Since that time, ongoing delays of the debuts of SpaceX's and Boeing's commercial crew vehicles, meant NASA, or other ISS partners, continued to occupy all available Soyuz seats, which meant Space Adventures continued to be frozen out. Russia even reduced their own ISS crew to two cosmonauts for a time to free up more seats for sale to their partners. The number of Soyuz flights was reduced from four per year to three and then to two.
However, rumors and unofficial reports throughout 2017 and 2018 suggested that Space Adventures and Roscosmos were working on a proposal to fly pairs of space tourists, with a single professional cosmonaut, on a modified Soyuz. Such flights would begin when NASA reliance on Soyuz ended.
The prospect of four wealthy strangers going into space without the leadership and support of a professional astronaut, when such flights remain very much in the experimental stage seems strange and even reckless!
Confirming these rumors, in February 2019 Space Adventures announced that they had signed a contract with Roscosmos to fly two paying customers and a single professional cosmonaut on a special Soyuz in late 2021. This was confirmed a few months later when Sergei Krikalev, Executive Director of Manned Spaceflights, revealed at the International Astronautical Congress in Washington that engineers were modifying the Soyuz control interfaces to enable it to be flown by a single professional cosmonaut. Subsequently, Energia Corporation, the Soyuz constructors, have also confirmed that a modified version of the current Soyuz MS model is being developed.
This will make its debut on the announced Space Adventures flight, which has now been designated Soyuz MS-20. Although initially announced as being 10 or 11 days long, rumurs from Russia suggest it will actually be 30 days, to avoid landing in the period of least favorable weather in Kazakhstan. The Russian cosmonaut who will command the flight has been selected: Alexander Misurkin, who has visited ISS twice, and has spent 334 days in space. It is clear that this flight is well on course for liftoff in December 2021.
However, a year after their Soyuz announcement, Space Adventures and SpaceX announced an agreement in February 2020 to fly up to four Space Adventures clients on a Crew Dragon, also in late 2021. This flight will not visit the ISS but will be boosted to a higher orbit, perhaps as high as 1,000 kilometers, to provide views which have not been seen by previous space tourists, and will be of five days long. Both Space Adventures and SpaceX have said that the Dragon will complete the flight in fully automated mode, without a professional astronaut onboard, enabling all four available seats to be sold to paying clients. While this may seem extraordinary, the scenario was confirmed by SpaceX President Gwynne Shotwell, who said in June that, "We'll fly Dragon autonomously and we'll opt to work on ensuring that, at least one of the astronauts, one of the private passengers, are trained up enough to be in charge."
The prospect of four wealthy strangers going into space without the leadership and support of a professional astronaut, when such flights remain very much in the experimental stage seems strange and even reckless! Little has been said about the cost of either the Soyuz or Dragon flights, although it seems reasonable to assume that if all four seats on Dragon are occupied by paying clients, this will offer a cheaper option. Speaking in June 2020, Space Adventures CEO, Eric Anderson, advised that his company's orbital flights started at around $42 million.
The fact that Space Adventures is dealing with both Roscosmos and SpaceX is interesting, and doubtless reflects a desire to drive up the supply of seats, drive down the price, and develop a level of competitiveness which has not previously been possible in this sector. Indeed, Roscosmos has already responded to news of the SpaceX deal by confirming that they are looking to drive down their costs to ensure that Soyuz remains competitive. It also a contract for a further partnership with Space Adventures, which will see another Soyuz flight launched in 2023, during which a client will have the opportunity to undertake the first spacewalk by a non-professional astronaut.
Overall, Space Adventures must be confident of the demand, and their pipeline of clients, which has presumably, been building up, since 2009.
At the same time that Space Adventures have been rolling out their plans, a newcomer, Axiom Space, has also been gradually sharing its strategy to fly its clients to the ISS. The company, which is led by Mike Suffredini, former NASA ISS program manager, includes several other former NASA personnel among its leadership team.
Axiom have ambitious plans to eventually operate their own space station, from around 2024–25. In June, they announced that they had contracted Thales Alenia Space to build the first components of this station. However, in the interim, they plan to fly missions to the ISS every six months, also partnering with SpaceX. These visits will build from ten days to as long as 180 days.
The first Axiom Dragon flight is due to launch in October 2021, and, unlike Space Adventures, it will carry a professional astronaut, supplied by Axiom, and three paying passengers. In early June 2020, Axiom revealed that they planned to announce the identities of their first crew, within a month or so, but so far, this hasn't happened.
However, on July 29, NASA announced the retirement of veteran astronaut Rex Walheim, and, within hours, Axiom announced his appointment as their Director of Safety and Mission Assurance. This could well signify the start of the process of announcing that crew. Further Axiom-Dragon flights are provisionally scheduled for mid and late 2022.
So, with up to nine seats available within a relatively short four-month window in 2021, the obvious question is whether the demand is there If so, what sort of people will want to participate in these flights?
Certainly, Space Adventures attracted clients from a variety of backgrounds between 2001 and 2009. All were wealthy, and self-funded their flights, but their backgrounds were diverse.
Why was Masilinger special? Why would sponsors put up perhaps $50 million to help her pursue her dream of spaceflight?
This new era of space tourism, seems likely to provide opportunities for large corporations, educational foundations etc. to fly their own researchers to pursue scientific objectives. This certainly seems to be the principle direction of travel for Axiom, whose statements suggests an initial focus on clients who wish to conduct scientific and research programmes. Axiom have also made several references to flying 'National Astronauts' representing governments which don't currently have access to space. However, the only country which has its own astronaut corps, with no access to space, is the United Arab Emirates, so this looks like a medium-term plan.
However, other possibilities include suggestions of a movie shot in space involving Tom Cruise, Axiom, SpaceX, and NASA. These rumors were seemingly endorsed in a tweet by NASA administrator Jim Bridenstine, but this seems likely to be a longer-term plan. In late July, it was claimed that Universal had agreed to bankroll the project to the tune of $200 million, but Cruise is committed to compete two more movies in the Mission Impossible franchise, the timeline for which is uncertain. This seems to move any "space movie", which would not be connected to Mission Impossible, to the 2022–23 timeframe.
Otherwise, there has been little reported about would be passengers for any of these initial flights. In October 2018, the private "German Woman in Space" project "Die Astronautin" signed a memorandum of understanding with Axiom to fly one of their candidates—either Insa Thiele-Eich or Suzanna Randal—to the ISS.
"Die Astronautin" is a private project started in 2016 to find Germany's first female astronaut and send her to the ISS by 2020, funded by private sponsors. HESpace, an aerospace recruitment agency, initiated the project under the leadership of its (then) CEO, Claudia Kessler, and completed the search for their two candidates within a year. The objective was to stimulate interest in STEM subjects and careers among girls and young women. Initially, the two finalists included Germany's first female Eurofighter pilot, Nicola Baumann, although she dropped out within a few months and was replaced by astrophysicist, Randall, a change which was widely interpreted as indicating that all was not well in the "Die Astronautin" camp.
Sadly, commercial sponsors on the financial scale required have been elusive, and more recently the focus has changed to persuading German government agencies to fund the spaceflight. The "Die Astronautin" were cautiously optimistic in early 2020, but the pandemic has thrown all government finances into crisis, and it remains to be seen, if financial support will be forthcoming. So, with the project still mired in the challenge of raising funds from sponsors or the German government, participation in the first Axiom flight seems very unlikely.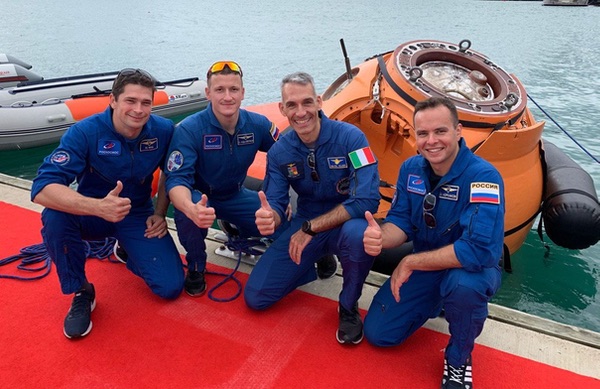 Italian Air Force (IAF) Pilot Walter Villedei (second from right) has been training with Russian cosmonauts, although neither he not the Italian government have announced any plans for him to fly in space. (credit: Aeronautica Militaire)
Satoshi Takamatsu, the Japanese entrepreneur who backed-up Brightman in 2015, has said, as recently as 2018 that he still planned to fly with Space Adventures. He did actually complete his training, and was certified for flight, so he could re-emerge as a potential client for the double tourist Soyuz. However, he has declined requests to make comment in recent months, and there are no reports that he has been back to Russia for renewed medical checks.
In July 2019, a Russian journalist and TV sports presenter, Tina Kandelaki, announced via her social media accounts, that she was undergoing the necessary medical examinations to potentially participate in a Soyuz flight to the International Space Station. However, there was no mention of who would finance such a trip, and Kandelaki has said little else to her 2.7 million Instagram followers, in the last twelve months. However, it should be remembered that all would-be Space Adventures clients have to sign a non-disclosure agreement, immediately that they begin serious dialogue, and too many social media clues would probably breach such an agreement.
Another curious possibility surrounds Italian Air Force (IAF) Pilot Walter Villedei. He has visited Star City several times and has even taken part in some cosmonaut training exercises. Indeed, the Italian Air Force's enthusiasm to promote Villedei as a would-be astronaut was one of the reasons behind ESA astronaut Samantha Cristoforetti's decision to leave the IAF in January 2020 and to transfer to ESA direct employment. Would the IAF or the Italian Space Agency (ASI) be willing, or able, to enter into an agreement to fly their man, with Space Adventures? It seems improbable, but not impossible.
However, the strongest rumors surround a former participant in the "Die Astronautin" project, who has actually been confirmed by Space Adventures to be pursuing one of the Soyuz berths. Austrian-born Johanna Maislinger, a 34-year-old airline captain, reached the final 30 candidates in the German competition before being eliminated. She now appears to be a shoo-in for the Soyuz MS-20 flight, albeit that her funding sources still seem to be rather opaque.
We'll need to wait a little longer for official confirmation of the identities of any of the selected clients across the three upcoming flights, but the nine people will likely be revealed over the remaining months of 2020.
Maislinger, who worked and lived in Germany but only had an Austrian passport, claimed that this had been her downfall as far as "Die Astronautin" was concerned, and she then began to pull together her own alternative project. Within weeks, in the summer of 2017, she claimed that a major personal sponsor in Berlin was funding her effort to the tunes of several tens of million dollars. Later, other personal and corporate sponsors, in both Germany and her native Austria, were linked to her, including Siemens and Red Bull. Representatives of Red Bull TV were openly discussing her plans within the German/Austrian/Swiss space community. This all seemed rather extraordinary. Why was Masilinger special? Why would sponsors put up perhaps $50 million to help her pursue her dream of spaceflight?
Yes, she holds multiple pilot ratings, has medical and engineering degrees, and participates in numerous extreme and adventurous sports. But still, there are no easy or obvious answers to those questions. Yet, Space Adventures have actually confirmed, on several occasions, that Maislinger is indeed one of their clients, and have linked her name to the upcoming Soyuz flight. However, their most recent comments predate the announcement about Space Adventures' Dragon mission.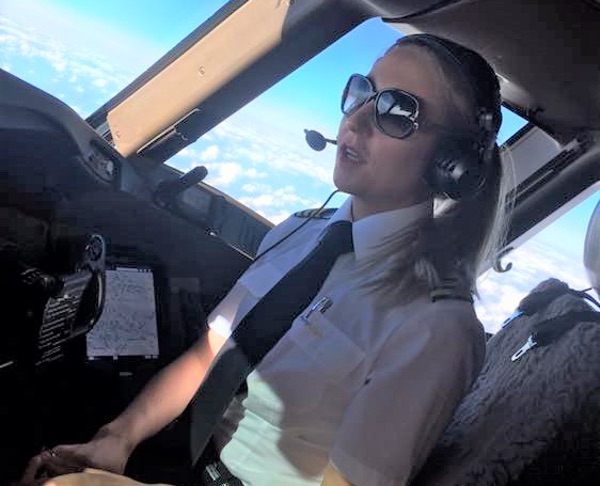 Johanna Maislinger, a professional pilot, said in 2017 sponsors had lined up to provide millions of dollars for her to fly in space, but has remained quiet since then. (credit: Johanna Maislinger)
So, let's also re-consider Gwynne Shotwell's earlier remarks, about how SpaceX envisage the crew of the Space Adventure's Dragon mission being made up. An experienced wide-body jet commander, with a medical degree, and a background in engineering, and the necessary funding to pay for their seat, would appear to be a highly suitable candidate, to be "in charge", as Shotwell put it!
Space Adventures have declined to comment on any of this. Maislinger herself closed down her entire social media presence soon after her plans became public, and has distanced herself from German and Austrian media attention.
In July 2020, Space Adventures Moscow Office announced that two clients had signed contracts to fly on the Soyuz, but declined to give any further details, only saying that they would be named around one year before the December 2021 flight. On August 2, Roscosmos also confirmed that they expected the clients to be revealed in the same timeframe. However, they have also said that, at this stage, they do not know their identities, although this does seem rather unlikely!
So, we'll need to wait a little longer for official confirmation of the identities of any of the selected clients across the three upcoming flights, but the nine people will likely be revealed over the remaining months of 2020. Training is due to start in early 2021, with both Axiom and Space Adventures, stressing that their SpaceX flights will require only around three months training, all of which will happen in the United States. With regard to Axiom's planned visit to the ISS, it's unclear how access to the Russian segment will be facilitated without training in Moscow.
Trusted sources at the Yuri Gagarin Cosmonaut Training Center have said that Soyuz training for Space Adventures clients will need to begin in December 2020, as the only opportunity for winter survival training will be in January 2021.
Assuming that all goes to plan, and schedule, (and there are quite a few dependencies on the SpaceX side), this training will be a prelude to a very busy final quarter of 2021 when all three missions are scheduled to take place!
---
Note: we are temporarily moderating all comments submitted to deal with a surge in spam.