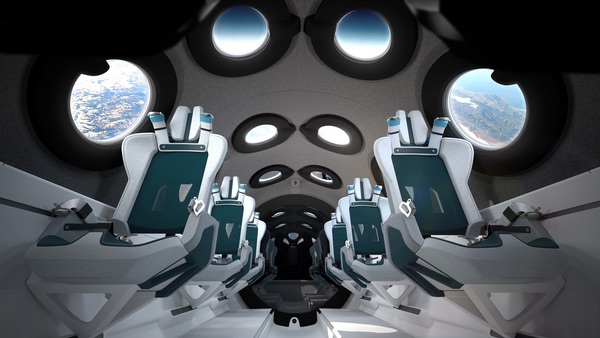 The interior of SpaceShipTwo features reclining seats, lots of cameras, and a mirror in the back. (credit: Virgin Galactic)
Virgin Galactic, still awaiting liftoff, spreads its wings
by Jeff Foust

Monday, August 10, 2020
For the last 15 years, Virgin Galactic has been very clear about its plans: develop a suborbital vehicle, SpaceShipTwo, that will fly customers and payloads to the edge of space on a regular basis. It's kept a focus on that goal despite extensive delays, testing setbacks, and a fatal test flight accident nearly six years ago. When the company did develop a side business, a small launch vehicle called LauncherOne, it spun that out into Virgin Orbit, a separate business that now shares little with Virgin Galactic other than founder Richard Branson and the "Virgin" in their names.
Over the last year, though, Virgin Galactic has expanded its vision. No longer content solely with developing a suborbital human spaceflight system, the company has increasingly talked up other lines of business, from supersonic aircraft to orbital spaceflight. That change in focus leaves some to wonder how committed the company is to that original suborbital spaceflight vision.
"The design philosophy of the aircraft is geared around making high-speed practical, sustainable, safe, and reliable, while making the customer experience a top priority," Whitesides said of the Mach 3 aircraft design the company released last week.
The idea of high-speed point-to-point travel is not that new to Virgin Galactic. Over the years, the company has hinted that SpaceShipTwo could be a precursor for a high-speed passenger transport designed to take people around the world in a couple hours or less, similar to what SpaceX has proposed for its Starship next-generation vehicle under development. Something along those lines has been a long-running dream for the space community, despite its major technical, financial, and regulatory obstacles.
When Virgin Galactic announced last summer that it would merge with Social Capital Hedosophia, a special-purpose acquisition company that was publicly traded on the New York Stock Exchange, a presentation to investors played up the point-to-point travel angle. It suggested that the company would leverage the technology it developed for SpaceShipTwo into a hypersonic vehicle for passenger transportation, although that would be beyond the five-year plan laid out in that presentation. Boeing later agreed to invest $20 million into the newly public Virgin Galactic because of its interest in hypersonic flight.
In early May, the company announced a Space Act Agreement with NASA regarding high-speed transportation. "What this does is establish a framework for us to have technology interface and shared research areas that will allow us to make quicker progress on areas that are the long-lead technology areas for a high-Mach vehicle," George Whitesides, at the time CEO of Virgin Galactic, said in an earnings call. That included, he said, thermal and propulsion technologies. But he added that the agreement would neither generate review nor change the company's capital expenditures in the near term.
Last Monday, hours before the company released its latest quarterly financial results, the company announced a preliminary design of such a vehicle. That vehicle, though, didn't look much like SpaceShipTwo, nor was it the kind of very-high-speed vehicle that the company had previously suggested it was interested in developing. Instead, it revealed an airliner capable of carrying between 9 and 19 people at speeds of about Mach 3.
"The design philosophy of the aircraft is geared around making high-speed practical, sustainable, safe, and reliable, while making the customer experience a top priority," Whitesides said in an earnings call later in the day. While the company said it had a memorandum of understanding with Rolls-Royce to study engine concepts for the plane, it said nothing about when the plane might be ready and how much it would cost to develop.
Starting work on a supersonic aircraft during perhaps the worst downturn in the history of commercial aviation is, at the very least, a contrarian play. Yet Virgin Galactic may still be behind the competition. Boom Supersonic has been working on supersonic passenger planes for several years, and will in October roll out a prototype, XB-1, to begin flight tests. (The Virgin Group of airlines was an initial customer of Boom's planes, and Virgin Galactic subsidiary initially provided engineering and manufacturing services for Boom.) Last week, another startup, Hermeus, announced it won an Air Force contract to study how its proposed Mach 5 aircraft could be used by the Defense Department, including as part of the Presidential and Executive Airlift fleet. That company has already tested an engine that it says can power its aircraft.
The price of a Virgin Galactic orbital flight, Whitesides said, will be "competitive with other offerings in the market, and with the premium service and training that people expect from the Virgin Galactic brand."
Virgin Galactic's expanding ambitions include orbit as well. In June, the company announced it had signed another Space Act Agreement with NASA regarding orbital human missions to the International Space Station. As Virgin Galactic described it in its announcement, the company would identify potential spaceflight participants, handle training, and procure flights to the station and back. The company didn't state exactly how those people would get to the station, but other space tourism companies, like Axiom Space and Space Adventures, have previously announced deals for Crew Dragon missions with SpaceX.
The company shared a little more about the program in last week's earnings call. "This initiative has been largely driven by the significant demand of our existing customer base to participate in orbital spaceflight," Whitesides said. Some of those customers, he said, told him they saw their future SpaceShipTwo suborbital spaceflight as a form of training for a later orbital mission.
Whitesides said that, since the June announcement, a dozen customers had "entered into deposit agreements" for orbital flights. He didn't disclose the size of the deposits or the overall cost of an orbital mission, other than the orbital flight pricing will be "competitive with other offerings in the market, and with the premium service and training that people expect from the Virgin Galactic brand." An orbital flight purchased though another company, on either a Crew Dragon or Soyuz mission, would likely cost on the order of $50 million today.
According to the text of the Space Act Agreement released by NASA, Virgin Galactic will develop by August a "technical proposal" for private astronaut missions to the ISS. NASA will then review it and, if it finds it feasible, open new discussions with Virgin Galactic to reach agreement on the missions themselves. The agreement includes no exchange of funds between NASA and Virgin Galactic.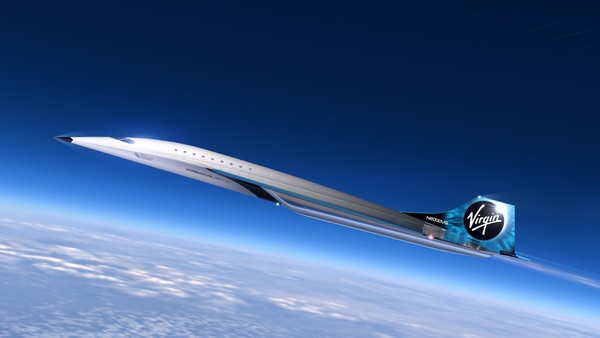 Virgin Galactic released this design last week of a Mach 3 jet capable of carrying up to 19 passengers, but didn't say how long it would take to develop, or how much it would cost. (credit: Virgin Galactic)
Flying SpaceShipTwo
But what about Virgin Galactic's core business, suborbital spaceflight? Testing of SpaceShipTwo has been proceeding slowly. The company moved its current SpaceShipTwo vehicle, VSS Unity, to Spaceport America in New Mexico in February and has since performed two glide flights, in May and June.
In last week's earnings call, Whitesides said the company would soon resume powered flights of the vehicle, the first since February 2019. One, in the fall, would have two pilots on board and seek to go beyond the 80-kilometer altitude the company considers space. It would carry some payloads for NASA's Flight Opportunities program, generating what he called a "modest amount of revenue."
If successful, it will then go on to a second flight that will include four mission specialists in the vehicle's cabin, along with the two pilots. "The primary test objective of this flight will be to evaluate the performance of our full customer cabin and associated hardware, as well as procedures and training details," he said.
"Sir Richard is in a unique position to provide the ultimate cabin and spaceflight experience evaluation, as a visionary of the Virgin customer experience," Whitesides said.
A week earlier, Virgin Galactic unveiled—virtually—the final design of the cabin. That design includes an updated version of the reclining seats the company first showed off in 2006 (see "A sneak peek inside SpaceShipTwo", The Space Review, October 2, 2006), as well as portholes with built-in handholds and cameras to enable customers to take selfies with the Earth in the background during the weightless portion of the flight. The company emphasized the large number of cameras on board, which the company will use to provide an individualized video for each customer. A large mirror in the back of the cabin "allows astronauts to view themselves weightless while illuminated by the natural brightness of the Earth," the company says, while also making the cabin appear longer.
The cabin, Whitesides said at the time of the announcement, was "largely" complete, suggesting that its installation into VSS Unity was not yet finished. (The company released only renderings of the cabin, rather than actual photos.) "We still have a few pieces that we're putting in, but what you see is what our customers will get," he said.
Once the objectives of those two test flights are successfully completed—which the company said could require more than two flights—Whitesides said last week the company will then, at last, be ready to fly company founder Richard Branson. "Sir Richard is in a unique position to provide the ultimate cabin and spaceflight experience evaluation, as a visionary of the Virgin customer experience," he said.
That flight, though, won't take place until at least the first quarter of 2021, ruling out any plans to begin commercial service this year. At the time of last summer's merger announcement with Social Capital Hedosophia, the companies were aiming to begin commercial service in mid-2020, then earlier this year revised that timeline to simply flying Branson this year. That, too, has been delayed, again.
Whitesides said the pandemic slowed work both at Spaceport America and its manufacturing facility in Mojave, California, contributing to delays. "The COVID protocols that we have put in place have limited the number of people that we can bring back into the facility in both New Mexico and Mojave, reducing the pace at which we can work compared to pre-COVID," he said.
Presumably, once Branson flies, and does so successfully, the company will be ready to begin commercial flights, but exactly how frequently remains unclear. The company has yet to restart ticket sales—which will be higher than the $250,000 previously charged—but has signed up more than 700 people to a waiting list, each putting down a $1,000 deposit.
Virgin Galactic, anticipating a shift from development to operations for SpaceShipTwo, changed leadership last month. The company hired Michael Colglazier, a longtime Disney executive most recently responsible for the company's theme parks, as its new CEO. Whitesides moved into a new position, "chief space officer," where he will oversee some of those new initiatives like orbital space tourism and high-speed aircraft.
"I'm really confident that he's going to create an amazing customer experience for our future astronauts," Chamath Palihapitiya, chairman of Virgin Galactic, said in a call with Wall Street analysts the day the company announced hiring Colglazier. "We've all talked about how we can create an incredible experience not just for the astronauts but everybody that comes to Spaceport America. I think Michael understands how to do that."
"Opportunities like this one do not come along very often, and this was a truly extraordinary opportunity, and I couldn't pass it up," Colglazier said. "Taking on the role of CEO of Virgin Galactic at this point in the company's growth trajectory is perfectly suited to my background and experience."
"I'm really confident that he's going to create an amazing customer experience for our future astronauts," Palihapitiya said of Virgin Galactic's new CEO.
That growth trajectory has yet to pivot upwards, at least financially. The company reported a loss of $63 million in the second quarter, about the same as in the first quarter. The company has $360 million in cash on hand, enough to last the company at least through the end of next year at that rate. Jon Campagna, Virgin Galactic's chief financial officer, called that loss an "approximate indication of our ongoing cash burn" for current operations.
"However, there may be some strategic initiatives that we decide to invest in that may lead to an increase in our burn rate," he added, which might include the high-speed aircraft and orbital spaceflight efforts, although he did not elaborate. Just before the earnings call, the company announced it would sell another 20.5 million shares of its stock, generating about $460 million in gross proceeds. That money would be used for "working capital, general and administrative matters and capital expenditures," it stated.
The company didn't elaborate on how it would spend the money on the call. Citing SEC "quiet period" regulations involving a stock offering, the company took no questions from analysts during the brief call, unlike prior quarters' earnings calls. Investors, customers, and others hope the company can start making noise again soon—preferably with a rocket motor and not a press release.
---
Note: we are temporarily moderating all comments submitted to deal with a surge in spam.