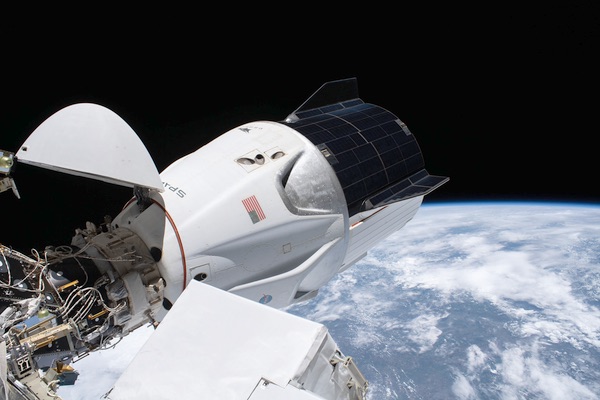 A Crew Dragon spacecraft like this one currently docked to the ISS will be used for both an Axiom Space mission to the station next year and the Inspiration4 free-flight mission launching this fall. (credit: NASA)
The new era of private human orbital spaceflight
by Jeff Foust

Monday, March 8, 2021
Back about 15 years ago or so, one might have expected commercial human spaceflight to be relatively commonplace by now. The Ansari X PRIZE had been won, and promised to open a new era of suborbital spaceflight, while tourists were flying regularly on Soyuz mission to the International Space Station. Surely by the early 2020s thousands of people would be flying to space, at least suborbitally, on an annual basis.
"When Garrett Reisman just threw the idea into the air six months ago, I said, 'Why not?' And here I am already, one year before takeoff," Stibbe said about signing up for the Ax-1 mission.
Not quite. Suborbital spaceflight remains grounded, with Virgin Galactic facing extended delays in the development and testing of SpaceShipTwo, while Blue Origin appears to be in no rush to start flying people on New Shepard. That first era of orbital space tourism ended when the supply of Soyuz seats dried up a decade ago with the retirement of the Space Shuttle and hasn't reopened yet.
That may be changing, at last. With SpaceX's Crew Dragon now in service, plans are moving forward to use that spacecraft not just for ferrying astronauts to and from the ISS, but also for flying private astronauts to the station or simply into orbit. Crew Dragon's entry into service has ripple effects, such as allowing Russia to fly tourists again on Soyuz spacecraft (see "Soyuz plans unclear as the 60th anniversary of Gagarin's flight approaches", The Space Review, January 25, 2021) and giving new life to proposals to fly people on SpaceX's next-generation vehicle, Starship.
Axiom goes to the ISS
If there is such a thing as a "conventional" approach to private orbital human spaceflight, it's that taken by Axiom Space: sell seats for a mission to the ISS to wealthy individuals. In January, the company announced it had done that, revealing the crew for the Ax-1 mission to the ISS, scheduled for early 2022.
That mission will be commanded by Michael López-Alegría, a former NASA astronaut now employed by Axiom. The other three seats on the Crew Dragon spacecraft will be occupied by customers: American Larry Connor, Canadian Mark Pathy, and Israeli Eytan Stibbe. Each paid an unspecified amount—not disclosed by the company but widely believed to be in the neighborhood of $55 million each—for the mission, which will spend eight days at the station.
The three are all wealthy businessmen, some with backgrounds in aviation. Connor is an entrepreneur best known as managing partner of The Connor Group, a real estate investment firm, and is also a pilot and race car driver. Pathy is chief executive of Mavrik, an investment firm, as well as chairman of Stingray Group, a media and technology company. Stibbe is a former Israeli Air Force pilot who is now the founding partner of Vital Capital, an "impact investment" fund. (The Israeli government announced Stibbe would be on the mission back in November, while the other two were not disclosed until Axiom's announcement in late January.)
Stibbe, speaking at a session of the Ilan Ramon International Space Conference in Israel the same day as Axiom's announcement, suggested his participation on the mission came together fairly quickly, after a meeting last year with former NASA astronaut Garrett Reisman. "When Garrett Reisman just threw the idea into the air six months ago, I said, 'Why not?' And here I am already, one year before takeoff," he said.
As the name suggests, Ax-1 is the first in a series of such missions proposed by Axiom, part of a long-term strategy that includes developing commercial modules for the ISS and, eventually, a standalone commercial space station for tourism and research. Last month, the company raised $130 million to further that work.
"If anybody's going to freak out, I want it to happen here on Earth before it happens up in space," Isaacman said of training for the Inspiration4 mission.
"We have quite a few in the hopper," Michael Suffredini, the former NASA ISS program manager who is co-founder and CEO of Axiom, said of future missions in an interview last month. A second mission is partially booked, with one customer signed up and the other two in negotiations. A third mission is already fully booked, but he did not disclose who those customers, or prospective customers, are.
Axiom seeks to take advantage of NASA's low Earth orbit commercialization policy, which allows two private astronaut missions per year to visit the ISS. "We have to come in and make our case for our flights," he said. "The most important thing is to get your customers signed."
Inspiration4 spaceflight contests
Axiom's Ax-1 mission slipped from October of this year to early 2022 because of the schedule of other visiting vehicles to the station, company officials said. That means it will come after a dedicated Soyuz private astronaut mission to the station, Soyuz MS-20, scheduled for December, as well as the possibility of flying private astronauts on the Soyuz MS-19 crew rotation mission to the station in October.
It also won't be the first commercial Crew Dragon flight. Just days after Axiom announced the crew for Ax-1, a new venture announced plans for its own Crew Dragon flight. The Inspiration4 project will fly four people on a Crew Dragon mission currently scheduled for launch in October. That vehicle will spend several days in LEO, but won't dock with the ISS.
Inspiration4 is the brainchild of Jared Isaacman, the billionaire founder of Shift4, an online payments company, and also an experienced pilot. Isaacman, at a briefing announcing the mission February 1, said he had wanted to go to space since childhood. "I remember actually—very true story—telling my kindergarten teacher that some day I'm going to space," he recalled.
Rather than just buy a seat on an Axiom flight, though, Isaacman decided to purchase a dedicated Crew Dragon mission. The other three seats, rather than being resold, would be distributed in three ways. He gave one to St. Jude Children's Research Hospital for one of its employees. A couple weeks later, the project announced who would get that seat: Hayley Arceneaux, a 29-year-old physician's assistant in the hospital who, as a child, was successfully treated for bone cancer there.
The other two would go to winners of two separate contests. One was purely a game of chance: a sweepstakes to raise money for St. Jude by buying raffle tickets for the seat. People could buy tickets at a rate of ten per dollar, up to $1,000; donations above that earned additional perks, but not more tickets. The other was a little more of a game of skill: contestants would open a Shift4 ecommerce shop and produce a video explaining why they wanted to go to space. That video would be judged by a panel on several factors, from its social media virality to the contestant's "entrepreneurial spirit."
Both contests closed at the end of February, a month after they started. Shift4 has yet to name the two winners. During a talk last Wednesday at the US Air Force Academy, Isaacman said those winners had been selected, but he didn't know their identities yet. "I'll hopefully meet both my additional crew members in about 36 hours in a Zoom session," he said, followed by medical screening this week at UCLA. "We'll probably announce the full crew somewhere around March 22."
That will be followed by months of preparation for the flight, he said, including training on the Crew Dragon spacecraft. "We're going to live in the simulator pretty much four days a week between now and launch," he said. There will be additional training, like flying people in high-performance jets and spending time in the mountains in "really uncomfortable situations" like bad weather. "If anybody's going to freak out, I want it to happen here on Earth before it happens up in space," he said.
The contest provided a unique opportunity to gauge the public's interest in orbital spaceflight independent of the willingness to pay: someone could enter the sweepstakes with only a small donation (or none at all, since there was, hidden in the rules, a no-purchase-necessary option to enter), or the contest with a modest investment of time and money to set up an online shop and creating a video.
The results were underwhelming. During the announcement of Inspiration4, Isaacman said the goal was to raise $100 million (with Isaacman contributing an additional $100 million) for St. Jude. "The other [seat] will be awarded through a national fundraising campaign that begins today and runs through the month of February," he said at the announcement after stating that one seat would be donated to the hospital. "Our goal is to raise over $200 million, and I'm contributing the first $100 million to this great effort."
"I began to think that maybe every single person who is doing something creative could be called an artist," Maezawa said. "If you see yourself as an artist, then you're an artist."
But the sweepstakes fell well short of that $100 million goal. By early March 1, hours after the end of the competition, the project website said it had raised $10.9 million. (As this article was being prepared for publication a week later, that total was approaching $11.1 million.)
"The $100 million goal was set for the duration of the mission between now and launch and we will be sharing different opportunities and incentives throughout the coming months beyond the current sweepstakes opportunities," an Inspiration4 spokesman said in mid-February. The project hasn't announced what those opportunities and incentives are, and how they might be more compelling than a trip to space.
That lack of donations can't be blamed on a lack of awareness. In addition to the media coverage of both the announcement and the selection of Arceneaux, Inspiration4 ran an ad for the competition during the Super Bowl February 7. That cost the project more than $5 million for the airtime alone, in addition to the expense of producing the 30-second ad, directed by Bryce Dallas Howard and narrated by Octavia Spencer.
One limiting factor is that both contests were limited to US citizens and permanent residents. While SpaceX's Elon Musk suggested at the announcement that they could fly someone from another country on the flight, the rules made the restrictions clear, and that it was a deliberate choice. "The issue was timing of regulatory approval," Isaacman tweeted. "Crew selection will be complete by first week of March… training begins mid-March. It would have been impossible to get approvals in time. International astronauts with NASA have years of notice."
Response to the other contest, requiring the video submission, may have also fallen short of expectations. While many social media influencers interested in space participated, it wasn't clear there was broader interest. Isaacman acknowledged in one tweet that participants had "crazy good odds" of winning.
Oh, dearMoon
If Axiom Space represents a conventional approach to private human orbital spaceflight, and Inspriation4 a slightly different take, dearMoon is a whole different ballgame. In September 2018, Japanese billionaire Yusaku Maezawa announced he was buying a flight of SpaceX's next-generation launch vehicle, then called BFR, to take himself and eight artists around the Moon in 2023. Since then, he said little about the "dearMoon" flight as SpaceX continued development of what it now calls Starship.
Last week, Maezawa effectively restarted the project. The mission is still scheduled for 2023 on a flight around the Moon—an ambitious schedule given the current state of Starship—but rather than handpicking a group of artists, it will select the crew from a contest. "I began to think that maybe every single person who is doing something creative could be called an artist," he said in a video posted on the dearMoon website. "If you see yourself as an artist, then you're an artist."
Musk, who appeared in the dearMoon video, said he was "highly confident that we will have reached orbit many times with Starship before 2023, and that it will be safe enough for human transport by 2023."
The only qualifications, he said, was to be willing to take whatever creative activities that participant performs to a new level by doing them in space, and to help other people on the flight do the same. Unlike Inspiration4, whose detailed rules included not just restrictions on nationality but also set a minimum age and a maximum height and weight, dearMoon announced no other qualifications to participate.
Indeed, the website offered few details at all about the contest. A "pre-registration" period is open through March 14, after which those who sign up will participate in an "initial screening" over the next week. That will be followed by an "assignment" and online interview, with final interviews and medical checks scheduled for late May.
The website, though, doesn't discuss what the assignment will be or what judging criteria it will use. The pre-registration form, which the project said last Friday had collected more than 500,000 responses, asks for little more than an individual's name, email, and nationality. In a response to questions asking for more details about the project, organizers said only that "for the time being, all available information can be found at https://dearmoon.earth/."
The biggest question, perhaps, is whether Starship will be ready in time. The latest Starship prototype, SN10, launched and landed after a brief flight to ten kilometers last Wednesday… only to explode minutes later, apparently from damage caused by a hard landing and/or problems with the deployment of landing legs. A fireball that hurls the remains of a vehicle into the air isn't exactly the best way to convince people it's safe to fly around the Moon in.
Musk, who appeared in the dearMoon video, said he was "highly confident that we will have reached orbit many times with Starship before 2023, and that it will be safe enough for human transport by 2023." That will require development and testing not just of the Starship vehicle with its crew accommodations, but also the Super Heavy booster required for sending Starship and its payload into cislunar space.
"I'm a little scared," Maezawa admitted in the video, "but I'm more curious and I trust Elon and the SpaceX team, their technological prowess and teamwork."
---
Note: we are using a new commenting system, which may require you to create a new account.