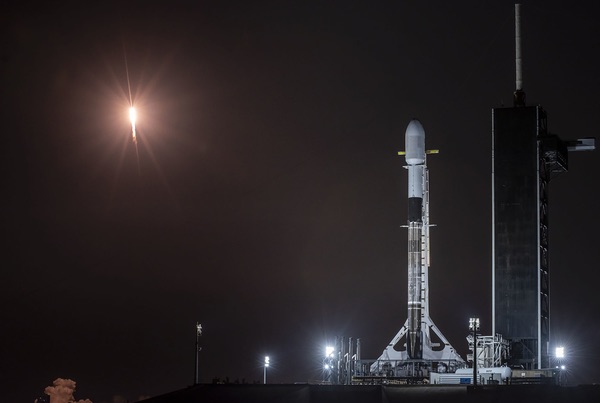 A Falcon 9 stands on the pad at LC-39A last month as another Falcon 9 lifts off from SLC-40 at Cape Canaveral, a sign of the increasing cadence of launches from the Eastern Range. (credit: SpaceX)
Spaceport traffic management
by Jeff Foust

Monday, March 15, 2021
Early Sunday morning, just a few hours after clocks sprung ahead to daylight saving time, a Falcon 9 lifted off from Launch Complex 39A at the Kennedy Space Center. An hour and five minutes later, it deployed its payload of 60 Starlink satellites into low Earth orbit.
Those watching the launch could be excused for feeling a sense of déjà vu. Nearly 74 hours earlier, another Falcon 9 lifted off from nearby Space Launch Complex 40 at Cape Canaveral Space Force Station, carrying another set of Starlink satellites, again deployed 65 minutes after liftoff.
"We were able to go from locking down the range for 72 to 96 hours to being able to support multiple launches in a single day," said Monteith.
Of SpaceX's eight Falcon 9 launches so far this year, six have been dedicated to Starlink satellites. (Of the other two, one carried a Turkish geostationary communications satellite and the other was a rideshare mission to Sun-synchronous orbit with 143 satellites, including 10 Starlinks.) SpaceX's rapid launch cadence has attracted interest because of its ability to reuse Falcon 9 first stages with increasing effectiveness, along with the growing population of Starlink satellites those launches are enabling.
Another issue is scheduling launches. All eight of those Falcon 9 launches have taken place from the Eastern Range, which encompasses Cape Canaveral and KSC. It shares the Eastern Range with United Launch Alliance, which has yet to launch this year but has several Atlas 5 launches scheduled this year starting in May. They'll be joined late this year by Relativity Space, which plans to launch its first Terran 1 rocket from LC-16 at the Cape, and late 2022 by Blue Origin's New Glenn from LC-36. Firefly Aerospace also plans to launch its Alpha rocket from LC-20, although its initial launches will be from Vandenberg Air Force Base in California.
That means a busy launch complex is going to get busier. "Over the last 12 months, we had 297 requested launch opportunities on the range. Two hundred and ninety-seven times, someone asked us to go try to set a date on the range," said Brig. Gen. Stephen Purdy Jr., commander of the 45th Space Wing that runs the Eastern Range, during a session of the 47th Spaceport Summit in late February.
Of those 297 requests, which he said each required "a lot of work and a lot of coordination," 225 were approved. That led to 55 launch attempts that "went to countdown" and 32 launches. That's only expected to grow with increased launch rates by existing users, like SpaceX, and newcomers making their first launches. "There's a lot of work that goes on just get those launch dates, and that's going to keep increasing as we get to those expected launch rates in the future," he said.
That runs the risk of traffic jams at the range as companies vie for launch slots, something that happens from time to time now as SpaceX and ULA coordinate launches. For many years, the capacity at the Cape was limited by tracking systems, needed for range safety, that took days to reconfigure between launches.
That's changed with the introduction of autonomous flight safety systems, which eliminate the need for those tracking systems. Launches can be scheduled more closely together provided at least one vehicle has such a system. "We were able to go from locking down the range for 72 to 96 hours to being able to support multiple launches in a single day," said Wayne Monteith, a former commander of the 45th Space Wing who is now associate administrator for commercial space transportation at the FAA.
If you look at what causes launch delays, it's usually not scheduling," Cabana said. "The primary factors are weather or an actual problem with the vehicle itself."
SpaceX, which uses those autonomous flight safety systems, has taken advantage of them to schedule launches very closely together. Last August, the company planned two Falcon 9 launches the same day, one from LC-39A and the other from SLC-40, but weather scrubbed one of them. Last month, the company prepared for two Falcon 9 launches from those two pads less than four and a half hours apart, but one was postponed by technical problems.
"We came very close," said Hans Koenigsmann, senior advisor for build and flight reliability at SpaceX. Sooner or later, he believes, SpaceX will pull off two launches in one day. "This will happen in the near future, that we launch two vehicles from two pads on the same day. It will only increase from there."
Other Eastern Range users will have to transition to autonomous flight safety systems by October 2025, Purdy said, which will free up a "not insignificant amount of personnel and equipment" currently used for tracking launches, in addition to providing more schedule flexibility.
However, there doesn't appear to be other solutions on the horizon that can provide similar major increases in launch capacity. "Technology is not the driver for us to getting to a higher launch rate," said Bob Cabana, director of KSC. "If you look at what causes launch delays, it's usually not scheduling. It's not the operations of the range or the spaceport that causes delays. The primary factors are weather or an actual problem with the vehicle itself."
There are no easy answers for those issues. "We've got multiple projects underway to keep nibbling away at the weather question," Purdy said. One example was a study to change the limit for lightning around a launch site from five to four miles (8 to 6.4 kilometers).
An increased launch rate also brings with it new problems. One is interaction between launches and commercial aviation, an issue that rose to the fore three years ago after the inaugural Falcon Heavy launch, which closed a large swath of airspace for several hours, disrupting hundreds of flights along a busy East Coast flight corridor (see "Space, fighting for airspace", The Space Review, November 19, 2018).
"The state of California really needs to open up its eyes about the importance of commercial space," said Mojave's Evans. "We've tried contracting the last couple of governors and getting help, and it's been crickets."
Monteith said the FAA is continuing to work to integrate launches into the national airspace system so that smaller amounts of airspace can be restricted for shorter periods, rather than closing off airspace for hours. "When we get to 50, 100, 150 launches a year, it becomes exceptionally problematic," he said of the current approach.
Purdy said the range is working to streamline the coordination process involved with each request for a launch date, which can take "multiple hours" per request, which involves not just the FAA but also maritime users and other military organizations. "The range adjudication process is one of our biggest pain points right now," he said. "An automation process in that people-centric approach is something we're trying to work cooperatively with the FAA and our other mission partners on."
Another issue is infrastructure. Companies are typically responsible for building, or rebuilding, individual launch sites; Blue Origin says it has spent $1 billion at LC-36, which is nearing completion to support New Glenn launches. But there is shared infrastructure at the Cape that can be strained by the growth of launch activity.
"At some point you're going to need a wider road, you're going to need more commodities, you're going to need bigger pieces of infrastructure," Purdy said. Who pays for that is "a broader discussion among the community."
"Right now it's the government that's paying for it," Cabana said of infrastructure costs, because that infrastructure is needed for civil and national security launches. He said he didn't expect any major changes soon, like the creation of a "spaceport authority" to oversee all the launch infrastructure at the Cape with a greater role, and cost, for commercial providers. "Down the road, some time in the future, could there be a spaceport authority? Absolutely, but they you have to figure out how that is going be paid for."
The surge of launch activity stands in contrast to other launch sites in the country. Vandenberg Air Force Base, for example, hosted just one orbital launch last year, a Falcon 9 launch of the Sentinel-6 Michael Freilich ocean science satellite. That launch rate will go up this year, at least somewhat, with launches planned this spring by ULA's Delta IV Heavy and Firefly's first Alpha rocket.
Commercial spaceports continue to pop up, despite a lack of launch activity. A panel later the same day at the Spaceport Summit featured eight such spaceports, from Alaska to Florida. Only three, though, have hosted a suborbital or orbital launch of any kind: Mojave Air and Space Port in California, Pacific Spaceport Complex in Alaska, and Spaceport America in New Mexico.
Asked in the panel discussion what was top issue facing spaceports seeking to grow the commercial space industry, the near-unanimous answer was a lack of funding for infrastructure, even for those without any launch activity. "It's been something we've been struggling with and I've been trying to find a source for that. Right now that is the number one constraint," said Todd Lindner of Cecil Air and Space Port in Jacksonville, Florida. That site, a former naval air station, has been an FAA-licensed spaceport for several years but has yet to host any launches.
Cecil is one of several airports that have FAA spaceport licenses, but run into problems with funding. The FAA offers grants to airports for infrastructure improvements, but there is as yet nothing analogous for space-specific infrastructure, including at those same airports that have spaceport licenses. "I think we're going to need to have, in the future, dedicated funding set aside within the space side of the FAA as well to support those specific needs," said Dave Ruppel of Colorado Air and Space Port, an airport with an FAA spaceport license just outside Denver.
Some are looking for state and local support as well. "The state of California really needs to open up its eyes about the importance of commercial space," said David Evans, acting head of Mojave Air and Space Port. (The spaceport announced last week it was hiring Cecil's Lindner as its new CEO.) "We've tried contracting the last couple of governors and getting help, and it's been crickets."
"The city has fully supported the development of the Houston Spaceport," said Jimmy Spence, representing that spaceport, also known as Ellington Airport. At the state level, he added, there's now a "little bit better recognition" of spaceports.
"I just don't see anybody else doing that level of launches right now," Koenigsmann said, comparing SpaceX's launch rate with other users of the Eastern Range.
One executive called for greater federal coordination and support, helping to build a network of spaceports that can serve government and commercial needs. "There's a lot of areas trying to develop spaceports. There would be a natural competition and kind of tragedy of the commons, if you will, if things develop too fast to support the markets that each spaceport can serve," said Scott McLaughlin, executive director of Spaceport America.
He called on the federal government to develop a more strategic view of spaceports, as well as funding to support them. "If the federal government can develop some competitive criteria that allows spaceports to grow in a way that makes sense, I think that would be very helpful to the industry," he said.
One proposed spaceport not represented on that panel, Spaceport Camden in Georgia, hopes to compete with Cape Canaveral. The project is still seeking its FAA launch site operators license, which the FAA said earlier this month won't be awarded until as late as June as it completes an environmental impact study of the site, intended to host small launch vehicles.
Despite the delays, and strong opposition from environmental groups and some local residents who worry about the effects of a launch failure, spaceport advocates remain optimistic. "This is a once-in-a-generation opportunity. We're at the right place at the right time," said Steve Howard, commissioner of Camden County, during a presentation last week at a Rotary Club of Atlanta meeting.
The spaceport lacks any firm customers, but Howard and other supporters, like retired general Robert Dickman, believe that that it can lure launch vehicle operators who can't launch from Cape Canaveral, or find it too expensive. "Spaceport Camden will offer that small rocket a place to launch that's less expensive and less bureaucratic than the government facilities," said Dickman, a former commander of the 45th Space Wing, at that meeting.
"Cape Canaveral is out of room. Spaceport Camden can relieve some of that pressure," Howard said.
However, those at the Eastern Range say they're not out of room, at least not yet. At last month's Spaceport Summit, KSC's Cabana said they have yet to turn any prospective users away despite various constraints, from limited sites available to development to the spaceport's capacity. KSC, in fact, recently opened Launch Complex 48, a "clean pad" designed for small launch vehicles that require minimal fixed infrastructure.
"We've managed to work all our agreements with the folks who want to be a part of this spaceport," Cabana said.
Increased users, though, will mean increased coordination among launch operators, beyond existing coordination between SpaceX and ULA. At the summit, Scott Henderson, vice president of test and flight operations and Florida site director for Blue Origin, said that today, when SpaceX returns a booster to its Landing Zone 1 at Cape Canaveral, his company has to evacuate nearby LC-36. When Blue Origin begins launching New Glenn from LC-36, SpaceX will, in turn, have to clear Landing Zone 1.
"As we add more launch providers, that's going to be more dynamic," Henderson predicted. "We're going to have to figure out a way to do that."
SpaceX's Koenigsmann didn't seem too worried about that. "I just don't see anybody else doing that level of launches right now," he said, comparing SpaceX's launch rate with other users of the Eastern Range.
He has a point. After all, there's another Falcon 9 launch of Starlink satellites coming up as soon as this weekend.
---
Note: we are using a new commenting system, which may require you to create a new account.