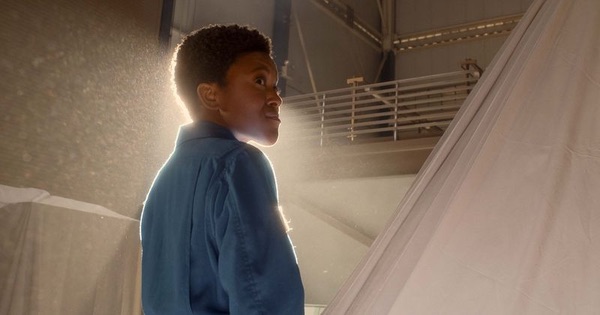 Danielle Poole contemplates her next step while visiting her old Apollo spacecraft. (credit: AppleTV+)
This woman's work: "For All Mankind" and women's pain
by Emily Carney

Monday, March 22, 2021
In February, Apple TV+'s "For All Mankind" debuted its second season (see "It is very cold in space: Season 2 of 'For All Mankind'", The Space Review, February 8, 2021), and caught up with the women characters we've grown acquainted with during the show's first season. Perhaps the most notable and unique characteristic of "For All Mankind" is how it depicts its women—astronauts, ground support crew, and wives/mothers—as real people with real issues, similar to how the AMC show "Mad Men" turned the image of the well-coiffed, lipsticked 1960s woman inside out during its seven seasons. In the new episodes of "For All Mankind", its cadre of women are again front and center, and are all experiencing deep emotional and/or physical pain as the events of the 1980s unfold. "For All Mankind's" women deny the presence of pain at all, or reveal it only after it's shoved vividly into the forefront. (Note: this piece contains spoilers of "For All Mankind" Season 1, and the first four episodes of Season 2.)
"For All Mankind's" women deny the presence of pain at all, or reveal it only after it's shoved vividly into the forefront.
From its very start, Season 2 references the visible and invisible loads its women carry. Season 1 ended with astronaut Danielle Poole (played by Krys Marshall) literally embodying physical pain, as she breaks her arm—on purpose—to save colleague Gordo Stevens' career, following his mental breakdown at Jamestown, NASA's Moon base by Shackleton Crater. This creates an impression at NASA that Stevens "saved" her on Jamestown, and that she was a weak addition to the crew, even though the opposite is the case. We also find out that during the last decade, she was attempting to save her distressed Vietnam veteran husband, but to no avail. Her reputation still sullied by the "accident" at Jamestown, Poole has effectively sacrificed her own career ambitions to save troubled men.
Molly Cobb, NASA's first woman on the Moon (played by Sonya Walger), fares no better in Season 2's first episode. During a solar storm, against NASA protocol and her own better judgment, she saves a male colleague, ESA astronaut Wubbo Ockels, after he accidentally crashes a Lunar Roving Vehicle, carrying him on her back while accruing a worrying radiation dose. Women carrying men "on their backs"—visually and figuratively—is a theme expressed frequently in "For All Mankind".
While no-nonsense astronaut Ellen Waverly Wilson (played by Jodi Balfour) is not affected physically by the same solar storm, she returns to Earth to a sham marriage, with a past fulfilling gay relationship very much still on her mind. Tracy Stevens (played by Sarah Jones) now has a new fluffy perm, a hot little black dress she wears on "The Tonight Show" with Johnny Carson, and a surprise new marriage to a tycoon; she appears to have completely rebelled from the "perfect astronaut and wife" image she embodied in Season 1, and has ironically embraced the reckless impulsivity enjoyed by hapless ex-husband Gordo.
Karen Baldwin (played by Shantel VanSanten), astronaut Ed Baldwin's wife, responds to the news of Tracy's Las Vegas nuptials by downing a few glasses of The Outpost's finest whiskey, perhaps reminded too much of her own sacrifices in her marriage—which last season, involved her having to say goodbye to their dying son, solo, while Ed finished a mission at Jamestown. She carried the burden of this tragedy alone while concealing its details from Ed so he could complete his mission with no distractions; her sacrifice bears parallels to Danielle's, who sacrificed her mission and reputation to save Gordo. Despite this loss, their marriage survived, and we discover how Karen has empowered herself following this tragedy, buying The Outpost and adopting a daughter, a refugee from Vietnam, years previously. Margo Madison (played by Wrenn Schmidt), who blackmailed her way through the glass ceiling in Season 1 to become one of NASA's first women flight directors, is now JSC's Director and NASA Administrator Paine's right-hand woman. But despite her authority, she finds herself butting heads with military authorities as the Cold War continues to escalate.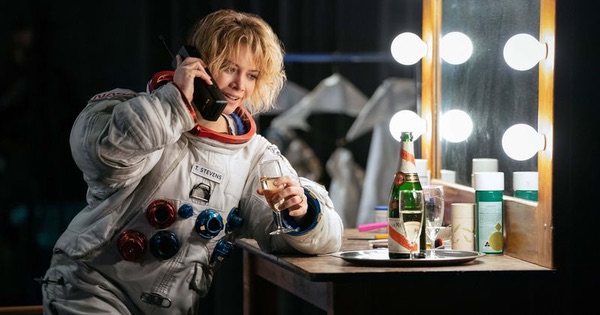 Tracy Stevens enjoys the high life as a celebrity astronaut. (credit: AppleTV+)
Defining and redefining gender roles
Season 1 of "For All Mankind" showed women in roles they were not given in NASA's real-life timeline. There was no real reason why women were excluded from eligibility as Apollo astronauts. The trope "women could not meet test pilot requirements during the 1960s" is often offered as a tidy explanation, but the actual reason probably had more to do with sexism, which was aided and abetted by NASA's and the United States' culture at the time. There were women scientists and engineers who existed during the 1960s who, if they had been allowed to enter Air Force flight training, likely could have qualified as pilots next to male astronaut-scientist colleagues, and therefore could have met astronaut qualifications. If scientists like Harrison Schmitt could qualify to fly on Apollo, there is no reason that women could not.
One notable thing on "For All Mankind" is how the women, despite enduring events that would flatten most people, seem stoic despite their pain.
As the 1970s segued into the 1980s, in real life and in the "For All Mankind" timeline, society saw how women could serve and thrive in typically "male" roles. In addition, as the 1980s unfolded, we saw in real life how women heroes were not immune from the same tragedies men could encounter. This became sadly apparent on January 28, 1986, when Teacher in Space Christa McAuliffe and veteran astronaut Judy Resnik were killed seconds after shuttle Challenger launched on a too-cold morning. "For All Mankind" uses the vehicle of alternate history to illuminate how, as the decade progressed and gender roles were accelerated, women were allowed to be "heroes," but paid a price in physical (literally, in Poole's and Cobb's storylines) and mental pain that often went unspoken. Danielle Poole's story arc in Season 2 shows that, while she was one of the pioneering women of 1960s NASA and indeed could qualify for the role of astronaut, dynamics of gender and race manage to hold her back despite her desire to return to flight status.
Following her husband's suicide, Poole meets up with her sister-in-law to exchange family mementos. During this meeting, her sister-in-law confronts her about her career—or lack thereof, pointing out how Poole injured herself in a zero-sum game to save a white male colleague, and how her presence at NASA doesn't indicate real root change, but instead indicates tokenism. Poole leaves this conversation distressed, but realizes her sister-in-law was correct. While she's in line to return to space, it's as a supportive member of a crew on Jamestown; what she really wants to do is command her own mission. Poole eventually confronts Baldwin, who is head of the astronaut office, about this fact. Season 2's writing has enabled Poole to shove her desires to the forefront, and express her pain about being allowed to be a "pioneer" at the expense of keeping her head down, and not asking for what she really wants: something many women, particularly women of color, must endure professionally.
One notable thing on "For All Mankind" is how the women, despite enduring events that would flatten most people, seem stoic despite their pain. Poole relegates her one "freak out" to the interior of her car while waiting to enter The Outpost after her husband's death. Cobb says nothing about her odd visual symptoms after she reenters Jamestown after the solar storm. Wilson seems downright happy and amiable, chatting politely with her sham husband before the solar storm puts a massive damper on a sublime, downright beautiful lunar sunrise scene. Tracy Stevens' splashy appearance on "The Tonight Show" seems to be a calculated effort to announce "now it's my time in the spotlight."
Karen Baldwin might be troubled and/or uncomfortably reminded of her own underlying marriage issues by Tracy's actions, but she decides to solve her problems at the bar, downing drinks and sneaking joints by its dumpster out back. Margo Madison is one of the highest ranking women at NASA, but lives at her minimalistic office and shows no indication of a life outside of work whatsoever, save for occasional gigs at a local piano bar. Despite it all, everything in spaceflight parlance seems "nominal," and the women present an image of having it all under control, when we all know nothing during the decade was "under control." As the season unfolds, we will find out more about how political pressure and the still-ongoing Cold War influences "For All Mankind's" NASA, and its decision-making.
What a fitting metaphor to describe the women of "For All Mankind" Season 2: they like to hide things, and to deny the presence of pain, or of being uncomfortable, and yet they are holding up the men around them.
Also in an ironic twist, a woman announces the first major crisis encountered in Season 2. On Skylab XIX, Irish ESA astronaut Doreen Campbell (played by Penny O'Brien) is stationed at the space station's trusty old Apollo Telescope Mount control panel, and is the first to eyeball the approaching solar storm that will cripple spacecraft, including Jamestown. While Campbell also is not physically impacted by the storm, her very presence aboard Skylab—a famously all-male outfit in NASA's actual reality—is downright revolutionary. It's also noted on Earth by Margo Madison that Campbell likes to hide cold symptoms, and needs to inform flight surgeons of her condition every hour.
What a fitting metaphor to describe the women of "For All Mankind" Season 2: they like to hide things, and to deny the presence of pain, or of being uncomfortable, and yet they are holding up the men around them. It's a struggle and a reality all women universally have upheld, likely for centuries, and the show's accelerated alternate history communicates it firmly. The show's women are essential in driving the show's narrative, and have backgrounds and screen time equivalent to the male characters. But here's where reality and alternate history converge. The women continue to fight to show who they are, why they are the way they are, and what they're capable of doing, while the men get to be where they are because they're men.
---
Note: we are using a new commenting system, which may require you to create a new account.