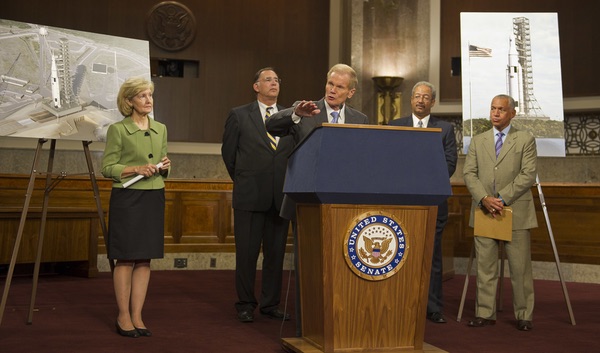 Bill Nelson, at the time a US senator from Florida, speaks at a September 2011 event unveiling the design of the Space Launch System, a vehicle established in a 2010 NASA authorization bill he helped author. Nelson was nominated Friday to be the agency's next administrator. (credit: NASA/Paul E. Alers)
Back to the future
by Jeff Foust

Monday, March 22, 2021
On Thursday afternoon, the core stage of the Space Launch System roared to life for a second time. Two months after its first test-firing was cut short after a little more than a minute because of what turned out to be "intentionally conservative" limits in software controlling the engines' hydraulics (see "Green Run, yellow light", The Space Review, January 18, 2021), the four RS-25 engines this time ignited and ran for a full 500 seconds. "Everything that we've seen in the test today looked nominal," John Honeycutt, NASA SLS program manager, said in a briefing just after the test.
Because the engines ran for more than eight minutes, they created a towering plume high into the clear skies at the Stennis Space Center, big enough to be seen in weather satellite images. By coincidence, that plume could also be seen as a signal of new leadership at the agency, someone who played a major role in the creation of that rocket.
"Most every piece of space and science law has had his imprint, including passing the landmark NASA bill of 2010 along with Senator Kay Bailey Hutchison," the White House said of Nelson.
On Friday, less than 24 hours after the Green Run test at Stennis, the White House announced its intent to nominate Bill Nelson, the former Florida senator, to be the administrator of NASA. While Nelson was not among the names originally in the mix in space policy circles for the job in the weeks after Joe Biden's election in November, in recent weeks he had become the leading candidate given his ties to Biden when both served in the Senate and Nelson's leading role in space policy in his three terms there.
"Most every piece of space and science law has had his imprint, including passing the landmark NASA bill of 2010 along with Senator Kay Bailey Hutchison," the White House said in its release announcing Nelson's nomination. "In the Senate he was known as the go-to senator for our nation's space program."
That "landmark NASA bill of 2010" was the NASA Authorization Act of 2010, the bill that put into law the compromise hashed out between Congress and the White House after the Obama Administration announced its intent to cancel the Constellation program earlier that year and pursue new initiatives, notably commercial crew. That bill allowed NASA to cancel Constellation and go ahead with commercial crew, but retained the Orion spacecraft and required NASA to develop a heavy-lift vehicle called the Space Launch System derived from the Ares rockets NASA planned for Constellation.
Nelson was one of the biggest backers of the SLS, frequently calling it a "monster rocket," an appellation intended to show his fondness for the giant launch vehicle (see "A monster rocket, or just a monster?", The Space Review, September 19, 2011). That support continued even as the vehicle's cost went up nearly 20% from a baseline set in 2014 and its first launch slipped from 2017 to, now, no earlier than November of this year.
The crafting of the 2010 bill and the formulation of the SLS came at the apex of Nelson's influence on space policy in that period of transition for NASA. In 2009, he lobbied the Obama Administration to nominate former astronaut Charlie Bolden to be NASA administrator, blocking other candidates the administration proposed. Bolden got the job, serving as NASA administrator through the end of the Obama Administration in January 2017.
In 2017, Nelson again played a key role in process to select a new leader for the agency. When the Trump Administration nominated Jim Bridenstine, Nelson emerged as a leading voice opposing it. Using his position as the top Democrat on the Senate Commerce Committee, he criticized the nomination at Bridenstine's confirmation hearing that November.
Nelson argued that Bridenstine, then a Republican congressman from Oklahoma, was not experienced enough to lead the agency. "The NASA administrator should be a consummate space professional who is technically and scientifically competent and is a skilled executive," he said at that hearing (see "A contentious confirmation", The Space Review, November 6, 2017).
"NASA is not political. The leader should not be political," added Nelson, who frequently said that support for NASA should not be bipartisan but rather nonpartisan. "When that has occurred—that it has been partisan in the past—we had a disaster." Nelson was unsuccessful in that effort, with Bridenstine winning confirmation in April 2018 on a party-line vote.
"Bill Nelson is an excellent pick for NASA Administrator," Bridenstine said in a statement. "The Senate should confirm Bill Nelson without delay."
Those comments would seem to be the type to come back to haunt Nelson. Unlike Bridenstine, who had spent just a few years in politics before becoming NASA administrator, Nelson spent most of his career in either state or federal politics. His support for SLS and early skepticism of commercial crew—he suggested at one point in 2010 that the funds the administration proposed for that program be directed to a heavy-lift vehicle—would also seem to be ballast weighing down any bid for the job.
Yet, that record, and those comments, haven't had much of an effect. When the White House formally announced the nomination Friday morning, there was a wave of statements from Capitol Hill, industry, and elsewhere, all backing the nomination.
"Bill Nelson has long been one of NASA's strongest and most passionate advocates," said Sen. Maria Cantwell (D-WA), who succeeded Nelson as the top Democrat on the Senate Commerce Committee after Nelson lost his bid for a fourth term in 2018. She now chairs the committee that will take up Nelson's nomination in the next several weeks.
"I am confident that he has the expertise and the political acumen to maintain and build upon the nation's leadership in space in both the public and commercial sectors," she continued. "I look forward to hearing his vision when he appears before the committee."
Nelson's confirmation is unlikely to be anything like the partisan battle Bridenstine experienced, even with the Senate now evenly divided. One Republican senator, Marco Rubio of Florida, has already endorsed Nelson's nomination.
"I cannot think of anyone better to lead NASA than Bill Nelson," Rubio said in a statement. "His nomination gives me confidence that the Biden Administration finally understands the importance of the Artemis program, and the necessity of winning the 21st century space race. I look forward to supporting Bill's swift confirmation, and working with him in the years to come."
Nelson also has the support of Bridenstine despite that bruising confirmation battle more than three years ago. There had been a rapprochement after that confirmation, with Nelson praising Bridenstine in late 2018 for keeping NASA "apolitical." In 2019, after Nelson left office, Bridenstine appointed him to the NASA Advisory Council.
"Bill Nelson is an excellent pick for NASA Administrator," Bridenstine said in a statement. "Bill Nelson will have the influence to deliver strong budgets for NASA and, when necessary, he will be able to enlist the help of his friend, President Joe Biden. The Senate should confirm Bill Nelson without delay."
"All I know, from what I read, is that the president is pushing to have Bill Nelson to be the head of NASA, and I think that will speak very well for NASA's role at the table, especially if there is not a space council," Manber said.
Others cited that close relationship between Nelson and President Biden as a hopeful sign for the agency. "The value of an administrator who is personally close to President Biden can't be overstated, giving NASA policy, mission, and investment priorities a new level of significance in the White House," said Mike French, vice president for space systems at the Aerospace Industries Association and a former NASA chief of staff during Bolden's tenure running the agency.
"When you have a nominee who really is wanted by the president of the United States, that is not a bad thing," said Jeffrey Manber, CEO of Nanoracks, during a Washington Space Business Roundtable webinar Thursday. "All I know, from what I read, is that the president is pushing to have Bill Nelson to be the head of NASA, and I think that will speak very well for NASA's role at the table, especially if there is not a space council, especially with the major social and national challenges we face."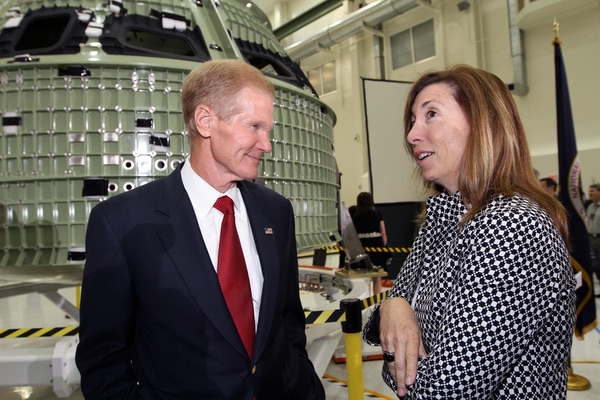 Bill Nelson at a 2012 event about development of NASA's Orion spacecraft with Lori Garver, then NASA's deputy administrator. Garver has been one of the few critics of Nelson's nomination. (credit: NASA/Kim Shiflett)
Exactly how the White House settled on Nelson isn't clear yet. Nelson was not one of the names in circulation last November, when it seemed likely the incoming administration would nominate a woman for the job. Most of the leading candidates discussed at the time were women, including former astronaut Pam Melroy; Wanda Austin, former president and chief executive of The Aerospace Corporation; Wanda Sigur, former vice president and general manager for civil space at Lockheed Martin; and even former Rep. Kendra Horn (D-OK), who chaired the House space subcommittee but lost reelection in November. (Melroy has since emerged as a leading candidate to become deputy administrator.)
According to some rumors, Ellen Stofan, the former NASA chief scientist who took leave from her post as director of the Smithsonian's National Air and Space Museum to run the NASA transition team for the incoming Biden Administration, was strong considered or perhaps even offered the job, but elected to go back to the Smithsonian. She recently became undersecretary for science and research for the Smithsonian Institution.
One person critical of the nomination is Lori Garver, who was NASA deputy administrator during that 2010 debate about the agency's future. "I was the one in his cross-hairs & he was working hard against the commercial guys in the beginning & forced SLS," she recalled of Nelson and that debate in one tweet.
She also referenced comments she made in a segment on the CBS television show "60 Minutes" earlier in the month about SLS. While NASA officials emphasized the progress they were making on SLS, and the Artemis program more generally, Garver pointed out the cost overruns and delays on SLS. "It's ironic, honestly, that NASA, the very symbol of a democratic and capitalist society, has done a lot of its human spaceflight programs in more of a socialist way," she said.
When the host of that segment, Bill Whitaker, pushed back against that "socialist" characterization, Garver responded, "You will plant the potatoes in March. You will build your rocket in my district. That's what it is."
"It appears we prefer a guy who ordered the potatoes be planted in March - even tho they haven't sprouted after 10 yrs & $20B - to a woman who drove positive change," Garver tweeted Saturday.
"His legacy is the monster rocket and in some ways it is poetic justice that it will be his cross to bear," said Garver.
Nelson's nomination would seem to put to rest any thoughts that the Biden Administration will reconsider SLS or other major elements of Artemis. (Even if it had, getting them through Congress would have been a challenge.) At a press conference last month, White House press secretary Jen Psaki endorsed the Artemis program, saying "we support this effort and endeavor." She didn't, though, elaborate on that support on key issues like budgets and schedules.
The 2024 deadline for returning humans to the Moon, announced two years ago by then-Vice President Mike Pence, is all but certain to change, a victim in the shortfall of funding NASA's Human Landing System program received from Congress last December. And agency officials note that Artemis will have to live within its current means, rather than expect significant budget increases, going forward.
"We are not counting on very large budget increases, so if we want to have a reasonable cadence of Artemis missions and have the funding to develop the Human Landing System and surface systems, we need to try to get those SLS per-launch costs down," Steve Jurczyk, NASA's acting administrator, said in an interview last week.
He was referring to a study started by the agency to look at ways of reducing costs of Artemis, particularly SLS. "Nothing is off the table right now," he said. "We'd just like the team to go off and look at everything that makes sense to look at."
That study, he said, was not requested by the new administration but instead started by Bridenstine before he departed NASA in January. That effort, which doesn't have a specific goal yet for cost reductions, will produce an interim report by July or August that may then require some additional work. "We'd like to get this done as soon as possible, but also make sure that the things that we're deciding to implement are really going to be effective and are really going to reduce costs," he said.
By that time, Nelson should be settled into his office on the ninth floor of NASA Headquarters. All administrators leave their imprint on the agency, but Nelson arguably is the first to have already shaped NASA before become administrator. He will, in effect, be implementing policies and executing programs he helped create a decade ago.
"His legacy is the monster rocket & in some ways it is poetic justice that it will be his cross to bear," Garver tweeted last week. "I'm sure he'll support what's in place - Artemis, commercial crew, SLS, Orion, science, earth etc. Luckily, lots of good stuff is in the hopper."
---
Note: we are using a new commenting system, which may require you to create a new account.