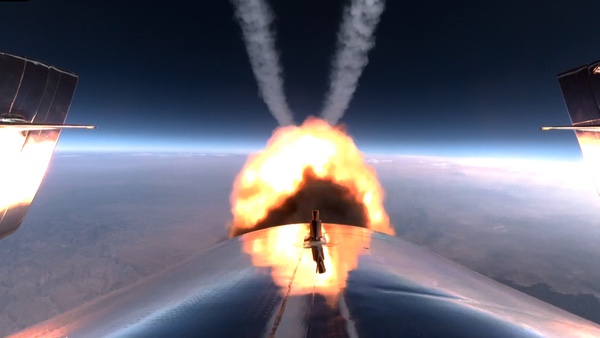 A view of SpaceShipTwo ascending on its suborbital spaceflight July 11 with six people, including Virgin Galactic founder Richard Branson, on board. (credit: Virgin Galactic)
The suborbital spaceflight race isn't over
by Jeff Foust

Monday, July 12, 2021
It was never a race, Branson insisted. Not that anyone believed him.
Branson was sitting on a stage in a temporary building adjacent to the main hangar at Spaceport America in New Mexico, a couple of hours after making his long-awaited and highly anticipated suborbital journey on SpaceShipTwo on Sunday. He and other members of the "Unity 22" crew faced the media for a press conference where one reporter, unsurprisingly, asked him what it felt like to beat Jeff Bezos, founder of rival Blue Origin, to space.
"I've said it so many times," he said, sighing. "It really wasn't a race. We're just delighted that everything went so fantastically well. We wish Jeff the absolutely best, and the people who are going up with him during his flight."
"I've said it so many times," Branson said, sighing. "It really wasn't a race."
Despite his protestations to the contrary, the events of the last couple months, and particularly the last couple weeks, have all the appearances of a race to space between two billionaires, albeit a peculiar one (see "Is a billionaire space race good for the industry?" The Space Review, June 14, 2021). Like two marathoners that had fallen far off the pace but were reinvigorated to sprint to the finish by the prospect of beating each other, Bezos and Branson had accelerated their suborbital spaceflight efforts recently after years of delays.
In early May, Blue Origin announced that it would fly its first New Shepard suborbital vehicle with people on board July 20. The company didn't reveal who would be on board beyond that one seat would go to the high bidder in an auction. (The identity of that winner, who bid a jaw-dropping $28 million for the seat when the auction concluded June 12, has yet to be revealed.)
Several days before the auction ended, Blue Origin announced two other people who would fly on the mission: Bezos and his younger brother Mark. Bezos was now on track to go to space before Branson, who for many years had said he would be on the first commercial SpaceShipTwo flight.
Virgin Galactic flew its current SpaceShipTwo vehicle, VSS Unity, May 22, and had not scheduled its next flight, which at the time was to carry two pilots and four Virgin Galactic employees as crew. Branson was supposed to go on the flight after that, a schedule that all but ruled out him going to space before July 20. While there was at least one report that Branson's flight would be moved up to the Fourth of July weekend, by the end of June there was no evidence of preparations for an impending flight.
On the morning of July 1, Blue Origin revealed the identity of the fourth person who would join the Bezos brothers and the auction winner on New Shepard: Wally Funk, one of the "Mercury 13" women that six decades ago passed the same medical tests as the Mercury 7 astronauts but never got a chance to become astronauts. In an Instagram video, Funk was elated when Bezos, visiting her home, offered her the seat. "I can't tell people who are watching how fabulous I feel to be picked by Blue Origin to go on this trip," she said.
The announcement was a public relations coup for a company whose founder was facing a backlash from those who thought this all seemed like a frivolous waste. Even critics of Bezos and Blue Origin praised the company for righting a historical wrong by giving Funk a chance to fly to space at long last. (Funk purchased a ticket on Virgin Galactic years ago, hoping to get to space that way; it's unclear if she still plans to fly on SpaceShipTwo at some point as well.)
That high lasted less than 12 hours. Late that day, Virgin Galactic announced it had scheduled its next flight for July 11 from Spaceport America. This would be the "fully crewed" flight with two pilots and four people in the cabin. And among those four in cabin would be Richard Branson.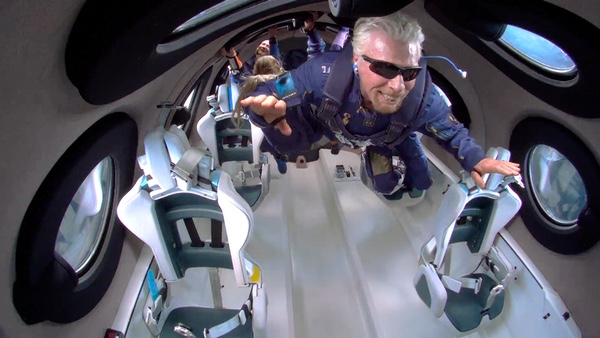 Richard Branson floats through the cabin of SpaceShipTwo during the microgravity phase of the July 11 flight. (credit: Virgin Galactic)
"As part of a remarkable crew of mission specialists, I'm honored to help validate the journey our future astronauts will undertake and ensure we deliver the unique customer experience people expect from Virgin," Branson said in the statement announcing the flight. Company executives previously said that the reason they wanted to fly Branson while still in the test program was so that he could refine the overall experience before the company starts flying customers in early 2022.
"They're not flying above the Kármán Line, and it's a very different experience," argued Blue Origin's Bob Smith.
Virgin executives justified moving up Branson's flight based on the performance of SpaceShipTwo on its previous flight in May, the first to space from Spaceport America. "The only changes we made from the flight in May is to take the payload science racks out and put the seats in," Mike Moses, president of space missions and safety at Virgin Galactic, said in an interview after Sunday's flight. "That's one of the reasons why we made the decision to fly Richard. There were no changes to any systems, no safety upgrades needed. Everything was as planned."
Blue Origin, in the week and a half between Virgin's announcement of Branson's flight and the flight itself, tried to claim that Branson was not, in fact, going to space. The company's argument was that while its New Shepard flies beyond the Kármán Line, the 100-kilometer altitude widely used as a boundary of space, SpaceShipTwo falls short, maxing out at less than 90 kilometers. "They're not flying above the Kármán Line, and it's a very different experience," argued Bob Smith, CEO of Blue Origin.
On Friday, two days before SpaceShipTwo's flight, Blue Origin posted an infographic on social media comparing New Shepard with SpaceShipTwo. Among its arguments: New Shepard flies above the "internationally recognized boundary of space", the Kármán Line, while SpaceShipTwo does not. (Other differences it noted included the larger windows on New Shepard and existence of an escape system that SpaceShipTwo lacks, as well as a lower environmental impact.)
"From the beginning, New Shepard was designed to fly above the Kármán line so none of our astronauts have an asterisk next to their name. For 96% of the world's population, space begins 100 km up at the internationally recognized Kármán line," the company wrote. The "96%" is a reference to the world's population outside of the United States, where government agencies use 50 miles (about 80 kilometers) for awarding astronaut wings. It's an argument Blue Origin has made for years, including comments by Bezos in 2019 that those who flew on SpaceShipTwo would get "asterisks" next to their names because they fell short of the 100-kilometer mark.
However, while the Kármán Line is a definition of the boundary of space that is commonly used, it is not the boundary of space in international treaties and agreements, which have avoided specific definitions of where space begins. To many, Blue Origin's comparison looked petty, and a day later Bezos, in an Instagram post (his favored social media platform these days), wrote to Branson that he was "wishing you and the whole team a successful and safe flight tomorrow. Best of luck!"
Given that lead in, the flight itself was almost anticlimactic. Winds overnight at the spaceport delayed the rollout of SpaceShipTwo, attached to its WhiteKnightTwo aircraft, pushing back takeoff Sunday by 90 minutes. Once airborne, though, the flight went smoothly. Forty-five minutes after takeoff, WhiteKnightTwo released SpaceShipTwo, which ignited its hybrid engine for 60 seconds. It reached a peak speed of Mach 3 and altitude of about 86 kilometers before gliding back to a runway landing just shy of an hour after takeoff.
Moses said after the flight that there were only minor issues on the flight, none of which affected safety. The late start for the flight meant that, on a hot summer morning, the cabin got a little warm, particularly when the external cooling system was disconnected ahead of takeoff. Virgin had planned to stream live video from inside the cabin during the flight, but very little came through, perhaps, he speculated, because of some antenna blockages.
"The view was just stunning," Bennett said at the press conference, calling the experience "very zen" and peaceful. "I was mesmerized for a good 30 to 40 seconds."
Those, though, appeared to be the only issues in the hours after the flight. "The quick look of what we saw live, and the pilot feedback, was that all systems performed normally," Moses said. "It looks like we're in pretty good shape."
The boss was happy. "I'm never going to be able to do it justice. It's indescribably beautiful," he said at the press conference, struggling to put into words what it was like to see the Earth through the windows of SpaceShipTwo at apogee.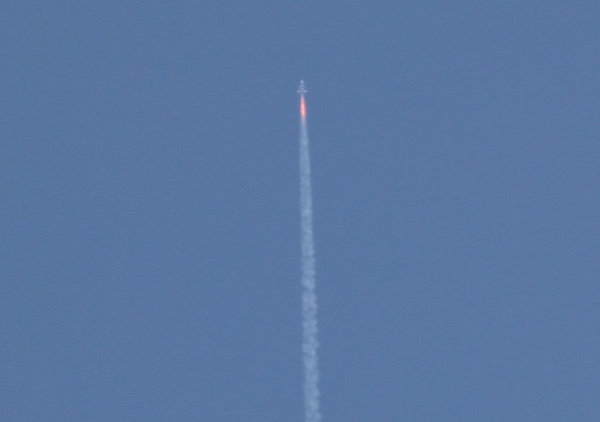 SpaceShipTwo in the powered portion of its flight, as seen from Spaceport America. (credit: J. Foust)
Branson was one of three first-timers on SpaceShipTwo on the Unity 22 flight. Colin Bennett, lead operations engineer at Virgin Galactic, was on the flight to evaluate cabin hardware and procedures. He was busy with that for the first part of the flight until Beth Moses, the company's lead astronaut trainer and test director for the flight, reminded him to look out the window.
"The view was just stunning," he said at the press conference, calling the experience "very zen" and peaceful. "I was mesmerized for a good 30 to 40 seconds."
Sirisha Bandla, vice president of government affairs and research operations at Virgin Galactic, was on the flight to perform an experiment from the University of Florida arranged through NASA's Flight Opportunities program, demonstrating human-tended suborbital research. She said at the press conference that her family was elated that she got to go to space. "They've heard me say I want to go space since I was little," she said. "I couldn't be happier and can't thank them more for their support."
The other three—Beth Moses and pilots David Mackay and Mike Masucci—flew together on SpaceShipTwo's second flight to space in February 2019; Mackay also piloted the SpaceShipTwo flight in May. "This time I did spent a little but more time at apogee trying to take in that view," Masucci said after Sunday's flight. "The amazing thing about Unity is that you get the sense of coming to a stop: stillness, quiet, there's no system noises, there's no sense of movement. That Overview Effect is definitely there."
If the timetable for Branson's flight was accelerated, there was no sense that preparations for the event itself were rushed. About 500 people, including media, Virgin's customers and other special guests were in attendance, hosted in relative comfort in the temporary accommodations at the spaceport. After Unity landed, but before it was towed back to the terminal, recording artist Khalid performed several songs. Once the Unity 22 crew was out of the spaceplane, they were brought on stage where former astronaut Chris Hadfield pinned astronaut wings—of the company's own design, not those issued by the FAA for commercial spaceflight crews—on them.
But even the celebration was a bit anticlimactic. Branson said on July 1 that he would, after the flight, "announce something very exciting to give more people a chance to become astronauts." Many thought it would be the reopening of ticket sales, which have been effectively closed for years, a sign that Virgin Galactic was finally ready to enter commercial service.
"Will I do another adventure? I'm not sure it would be fair to put my family through another one," Branson said. "I'll definitely give it a rest for the time being."
Instead, Branson announced a sweepstakes in partnership with a fundraising platform, Omaze, to offer two seats on "one of the first" commercial SpaceShipTwo flights in early 2022. Participants can buy tickets, with the proceeds going to Space for Humanity, a non-profit that plans to acquire seats of its own on suborbital and high-altitude balloon flights to give more people access to spaceflight.
"If enough people over the world participate, it just means the charity can keep on doing tickets for people," Branson said. "It's a lovely sort of self-propelling way of just trying to get lots of people who couldn't have otherwise afforded it to go to space."
The end of this "billionaire space race" is a false conclusion to a broader competition. Blue Origin, like Virgin Galactic, is not selling tickets at this time, and has offered few clues about when tickets will go on sale and for how much. They, too, seem to be easing into commercial service, with only a couple more New Shepard flights expected for the rest of this year after the July 20 mission.
Virgin Galactic is sticking to its plans to perform two more test flights of VSS Unity by the fall, including one for the Italian Air Force, before going into a maintenance period for both the spaceplane and aircraft that will last until early next year. Mike Moses said the test program continues, even as the focus of it shifts from technology validation to operations. "We're in a stage of testing now where we're moving from the more hardcore aerodynamic testing into more operational readiness testing," he said. "Now it's much more about repeating the trajectory, evaluating the results and then optimize."
Thus, it won't be until next year (at least, given the long history of delays by both companies) before New Shepard and SpaceShipTwo enter anything like "routine" commercial operations and start flying customers. Those people will have to decide which company offers the better experience, assuming they can afford only one suborbital flight.
As Blue Origin's Smith noted, the two companies will offer "a very different experience" from each other, although altitude has little to do with the differences. Will people prefer the airplane-like takeoff and landing of SpaceShipTwo, or vertical liftoff and parachute and retrorocket landing of New Shepard? Will the giant windows on New Shepard win over customers, or Virgin's famous attention to the customer experience? That will be for the market to decide which is better—or even if there is enough demand to sustain a single player, let alone two.
Branson, who said he took notes on "30 or 40 little things that would make the next experience for the next person who goes to space with us that much better," may be working to improve that experience, but didn't seem in a hurry to go again. While exuberant at the post-landing celebration on stage, even hoisting Bandla on his shoulders, he looked a little tired at the press conference, sitting down as soon as he walked on the stage even while the other crewmembers were still standing.
Asked at the press conference about what would be his next adventure, the man who spent much of his lifetime engaging in hazardous feats from crossing the Atlantic in a balloon to flying to space wanted to take a break. "Will I do another adventure? I'm not sure it would be fair to put my family through another one," he said. "I'll definitely give it a rest for the time being."
---
Note: we are using a new commenting system, which may require you to create a new account.