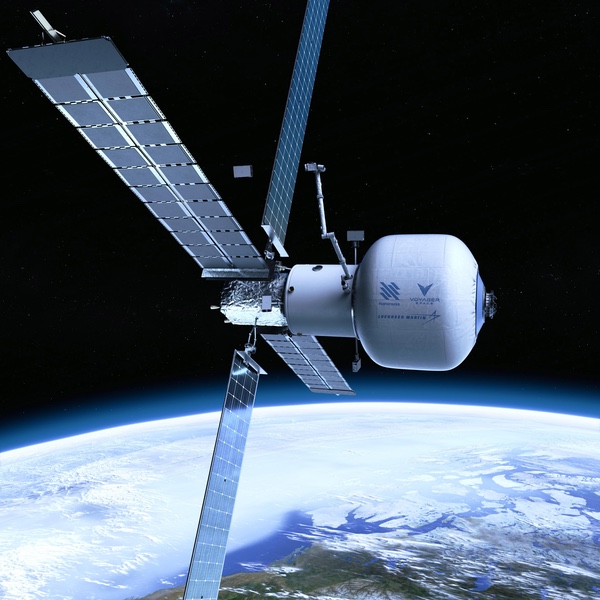 Nanoracks, Voyager Space, and Lockheed Martin are cooperating on a commercial space station called Starlab that could be operational as soon as 2027. (credit: Nanoracks)
The commercial space station race
by Jeff Foust

Monday, November 1, 2021
The International Astronautical Congress (IAC) returned last week after the pandemic forced last year's event to move online. An estimated 5,000 people traveled to Dubai for the usual panel discussions and technical sessions on a wide range of space topics.
"Since the beginning, Nanoracks has sought to own and operate a private space station to fully unlock market demand," Nanroacks CEO Manber said.
The event also served as a trigger for companies to unveil their proposals for commercial space stations. There had been plenty of signs of interest among companies in NASA's plans to support development of commercial stations to succeed the International Space Station. Agency officials said in recent weeks that they received 10 to 12 proposals for the first phase of its Commercial LEO Destinations program, which will offer a total of $400 million to up to four companies to fund initial design studies for commercial stations. NASA is expected to make those awards later this fall.
Before IAC, though, companies said little about designs of their concepts or even whether they submitted proposals for that program. The most details came from Axiom Space, which already has a $140 million award from NASA to develop a commercial module that will be attached to the ISS. That module will serve as a core of a commercial segment on the ISS, eventually separating to become a standalone station when the ISS is retired. (Axiom, though, hasn't confirmed if they submitted a proposal for the Commercial LEO Destinations program.)
On October 21, the Thursday before the IAC started the following Monday, the first new partnership emerged. Nanoracks announced it was working with Voyager Space Holdings, the company that owns a majority of Nanoracks, and with Lockheed Martin on a commercial space station concept called Starlab. Nanoracks will serve as the lead company on the project, with Lockheed Martin acting as the manufacturer and technical integrator and Voyager, which owns several space companies, handling strategy and investment.
Starlab features a straightforward design, with a docking module at its core. Attached to one side of the docking module is a large inflatable module, while on the other is a power and propulsion element. That core module will also host a robotic arm. The completed station would have 340 cubic meters of habitable volume, about three-eighths that of the ISS, and produce 60 kilowatts of power. It can host four people at a time.
Nanoracks had long made clear its interest in commercial space stations, although much of its earlier concepts focused on converting upper stages of rockets, left in LEO, into habitable modules. It's made extensive commercial use of the ISS, including installing the station's first commercial airlock, Bishop, there last December. In August, it hired a longtime NASA official, Marshall Smith, to be its senior vice president of commercial space stations.
"Since the beginning, Nanoracks has sought to own and operate a private space station to fully unlock market demand," Jeff Manber, CEO of Nanoracks, said in a statement. "Our team has spent the last decade learning the business of space stations, understanding customer needs, charting market growth, and self-investing in private hardware on the ISS like the Bishop Airlock."
"Orbital Reef provides world-class technical accommodations and has a futuristic space architecture with all the features we should have in space," said Blue Origin's Sherwood.
Lockheed brings to the table its vast experience and capabilities. "Lockheed Martin's extensive experience in building complex spacecraft and systems, coupled with Nanoracks' commercial business innovation and Voyager's financial expertise, allows our team to create a customer-focused space station that will fuel our future vision," Lisa Callahan, vice president and general manager of Commercial Civil Space at Lockheed Martin, said. "We have invested significantly in habitat technology which enables us to propose a cost-effective, mission-driven spacecraft design for Starlab."
The companies did not disclose the cost of developing Starlab but estimated it would be ready as soon as 2027, ahead of the projected 2030 retirement of the ISS. "Voyager Space is highly confident in the Starlab business model and its ability to be commercially sustainable and well capitalized," said Dylan Taylor, chairman and CEO of Voyager Space. "Voyager Space sees numerous synergies leveraging the capabilities across our organization's operating businesses, as well as within the Lockheed Martin ecosystem."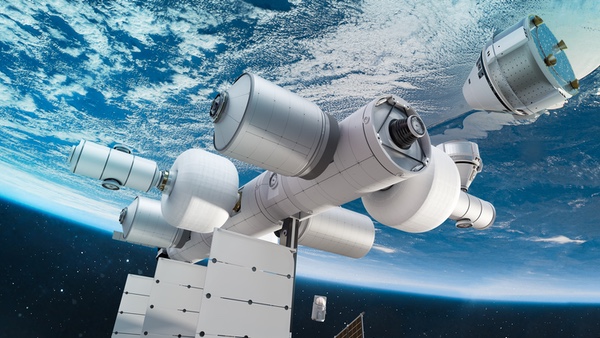 Orbital Reef is designed to be "infinitely scalable" by adding more core modules and power systems, allowing additional habitation and lab modules to be installed. (credit: Blue Origin)
The second announcement came four days later, at the end of the first day of the IAC in Dubai. In an online presentation from Dubai—even journalists in attendance at the conference had to participate via Zoom rather than in person—representatives of Blue Origin, Boeing, Redwire, and Sierra Space announced their partnership to develop a commercial space station called Orbital Reef.
Under that partnership, Blue Origin will take the lead, including developing large core modules and providing launch services using its New Glenn rocket. Sierra Space, the "principal partner," will offer its LIFE inflatable habitat module, as well as its Dream Chaser vehicle for transporting cargo and crew to and from Orbital Reef. Boeing will produce a science module and provide its CST-100 Starliner commercial crew vehicle. Redwire will be responsible for microgravity research and manufacturing, as well as payload operations and deployable structures such as the station's solar panels.
"Orbital Reef provides world-class technical accommodations and has a futuristic space architecture with all the features we should have in space," said Brent Sherwood, senior vice president of advanced development programs at Blue Origin, ranging from large volumes to a "sky canopy" with large windows facing Earth. "Our services and amenities are inspiring, practical, and safe."
A video played at the online briefing showed a very large station, with a long core module with several habitats and solar arrays attached to it, serviced by both Dram Chaser and Starliner spacecraft. That, however, is not what the companies expect to have in orbit later this decade. Instead, what Sherwood called a "baseline configuration" that would be ready in the second half of the 2020s would include a core module, LIFE habitat, science module, and a "energy mast" consisting of solar arrays and radiators.
That configuration would still offer about 90% of the habitable volume of the ISS with 100 kilowatts of power and the ability to host ten people. The station can be scaled up from there, he said, by adding copies of those modules. "The architecture is designed so that it is infinitely scalable by ganging together additional core modules and energy masts, and attach modules on the sides."
The companies also said that while the team was vertically integrated and could provide everything needed to operate Orbital Reef, it would be open to bringing on components from other companies using standard interfaces. "This is open vertical integration," said Sherwood. While Blue Origin and others would be willing to work with customers with specific technical needs, those sophisticated enough to develop their own modules can use those standards "to allow your module to simply be attached."
One surprising elements of the partnership is the inclusion of Sierra Space. That company, established earlier this year as a subsidiary of Sierra Nevada Corporation, had expressed an interest in developing space stations on its own, using LIFE modules and Dream Chaser vehicles.
"What we determined is that, by working together here, it allows us to merge our capabilities, our very complementary capabilities," said Janet Kavandi, president of Sierra Space. "Everyone comes together to build a very complete capability in space. It helps relieve the cost, so all the burden isn't placed on one company."
"If Congress does this, capital markets and entrepreneurs will respond in a way that establishes America as preeminent in LEO human spaceflight at a cost significantly less than the ISS," said Bridenstine, calling for at least $2 billion a year in NASA funding for commercial stations.
How much of a burden isn't clear. As with the Starlab team, the Orbital Reef consortium declined to estimate the cost of developing the station, other than Sherwood estimating it would be "at least an order of magnitude less" than the ISS's nominal $100 billion cost. The companies didn't disclose how much they were investing on their own for Orbital Reef beyond Kavandi noting that Sierra Nevada has invested more than $1 billion into Dream Chaser for its initial use ferrying cargo to the ISS, as well as an unspecified amount into LIFE.
The companies, though, recognize they will need to make significant internal investments to make the station a reality. The initial NASA Commercial LEO Destinations awards will run through mid-decade, after which NASA plans a second phase to certify stations for hosting NASA astronauts. The size of those later awards are uncertain, but the timing means that companies can't wait for NASA funding to start development.
"You can't start in the middle part of the decade and have a station ready to be operating so that you can have an overlap in operational capability before the ISS is retired, if it's retired in 2030," said Sherwood. "That requires investment in these systems prior to any award by NASA."
That NASA effort seeks to have one or more commercial space stations ready by the late 2020s, enabling an orderly transfer from the ISS before that station is retired around 2030. That date still requires approval from the ISS partners, who so far have only endorsed operations through 2024, as well as Congress, which has formally authorized station operations through 2024 but has, on several occasions, included legislative language in various bills to extend that authorization to 2030.
NASA, though, has struggled to win support from Congress for that strategy where it really counts: funding. NASA asked for $150 million for commercial LEO development in its fiscal year 2020 and 2021 spending bills, but got only $15 million and $17 million, respectively. In its 2022 request, NASA sought a smaller amount, $101.1 million. A House bill would provide a little less than half that amount, while a Senate bill released last month would, for the first time, fully fund the program.
"After several years, NASA has finally provided the Committee with a rationale for this funding and a roadmap that seeks to ensure continued NASA access to LEO on new, commercial, free-flying platforms," Senate appropriators said in the report accompanying the bill.
But that amount isn't enough in the opinion of advocates of commercial space stations. "It is still not enough," former NASA administrator Jim Bridenstine said at a hearing of the Senate Commerce Committee's space subcommittee October 21, at almost the same time Nanoracks and Lockheed were announcing Starlab. "The Senate should absolutely declare that NASA needs to tell it when is the objective to have that new station, and the Senate needs to fund the requirements to achieve that."
In his written testimony, Bridenstine argued that NASA's commercial LEO development efforts should get at least $2 billion a year. "If Congress does this, capital markets and entrepreneurs will respond in a way that establishes America as preeminent in LEO human spaceflight at a cost significantly less than the ISS," he wrote. (Bridenstine, among is various post-NASA roles, chairs the advisory board for Voyager Space Holdings.)
Also at the hearing was Mary Lynne Dittmar, executive vice president for government affairs at Axiom Space. "That $101 million that Jim is talking about, when you look at how NASA is planning to allocate it, does not meet the commitment to Axiom for 2022," she said, referring to its $140 million award to allow Axiom to dock a commercial module to the ISS. "The work that needs to go to the space station side of it, for the station to do the analysis that's needed to ensure that Axiom can reach orbit and dock by 2024, is not funded completely in that amount."
"I think we need to be thoughtful about all this, and not just think that, whatever we're doing today, we're going to do more of that," Melroy said. "It's more about, if we started over again, what do we want to do?"
The witnesses at the hearing also called for a new NASA authorization bill that would, among other attributes, include that extension of the ISS to 2030 and perhaps other support for LEO commercialization. Doing so would avoid a gap in US space station access that they argued China, with its new space station, would be eager to take advantage of.
"What we need is to demonstrate a bipartisan commitment to preventing an American gap in LEO," said Mike Gold, executive vice president for civil space and external affairs at Redwire, at the Orbital Reef briefing. "There's simply no better way to send that message, both domestically and internationally, than in a bipartisan authorization bill."
Companies also said at the hearing they need more details from NASA about its requirements for post-ISS microgravity research, to aid them both in the technical designs of their stations as well as their business cases. "NASA has yet to clearly define its needs for services after the ISS ends, nor does it plan to do so for some time," Dittmar said.
In an interview at the IAC last week, NASA deputy administrator Pam Melroy acknowledged that NASA needs to provide more information about its requirements for research and development of exploration technologies, like closed-loop life support systems, that could be done on commercial stations after the ISS is retired.
"It's clear to me that we're going to have microgravity research for a while, and our requirements should be shaped by that," she said. One option she mentioned was a study or workshop by the National Academies to bring together potential users and determine their needs. "We need to talk with our international partners about what their requirements are and what's the framework for cooperation in that kind of environment."
"I think we need to be thoughtful about all this, and not just think that, whatever we're doing today, we're going to do more of that," she added. "It's more about, if we started over again, what do we want to do?"
To achieve the goal of one or more stations by the end of the decade, though, the time for starting over, and starting in earnest, is now.
---
Note: we are using a new commenting system, which may require you to create a new account.