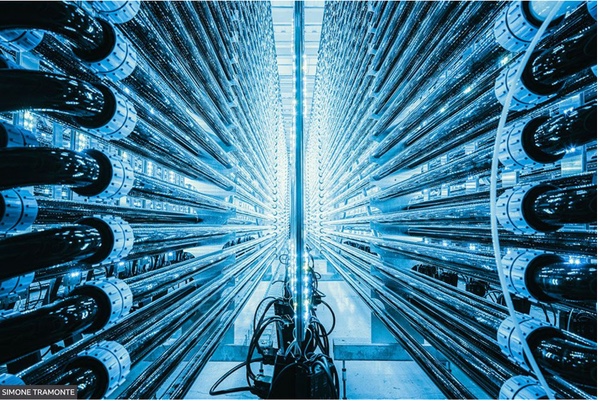 Sustainable Cities winner: Net-zero Transition Photobioreactor, by Simone Tramonte, taken in Reykjanesbær, Iceland. A photobioreactor at Algalif's facilities in Reykjanesbaer, Iceland, produces sustainable astaxanthin using clean geothermal energy. Featured at The New York Times Climate Hub, Glasgow (2021).
Who was missing at COP26 and why it's a problem
by Layla Martin

Monday, December 13, 2021
I attended the United Nations Climate Conference (COP26) this November in Glasgow and observed a lack of participation from the aerospace & defense (A&D) sector. I am in possession of the COP26 attendee list, which is 1,616 pages long. After cross-checking the attendee list, I was unable to confirm any representatives from The Boeing Company, Lockheed Martin, Northrop Grumman, Raytheon Technologies, Virgin Orbit, and SpaceX in attendance at the climate summit. After individually reviewing the physical materials I gathered at the conference against the corporate sponsors, I was unable to confirm one of the preceding A&D companies sponsored COP26. If corporate sponsorship was considered "too green" by the board, why were employees with titles such as "Director of Sustainability" not listed on the roster at COP26?
There were 40,284 attendees at the two-week long climate summit, with more simultaneously occurring panels, presentations, speeches, and hubs than any one person could observe. Therefore, it is certainly possible that I missed something, and the A&D "Directors of Sustainability" were, in fact, in attendance. If so, I apologize. Who are you? Which aerospace company do you represent? Where may I review your most recent pollution and emissions report? Can you confirm that self-reported data has been verified for accuracy by a third party? What was your pledge at COP26?
We are fixing to launch stuff into space like gleeful frat boys who've just discovered a truck bed loaded with illegal fireworks and a couple cold kegs of Coors on the 4th, and there are no emissions regulations in place?
Jeff Bezos was in attendance and pledged $2 billion. Per Amazon's self-reporting, their total carbon footprint increased 16% and emissions from direct operations increased 67% in 2021 (year over year.) Amazon is valued at $1.75 trillion with net sales increasing 15% to $110.8 billion in the third quarter, compared with $96.1 billion in third quarter 2020. Again, Amazon is valued at $1.75 trillion, with a T.
The American A&D industry is valued at $416 billion. There has been a 52% increase in rocket launches in the last 10 years with 128 orbital launches in 2021 (based on publicly reported orbital launch information). Rocket launches continue in December, with Blue Origin carrying its third group of travelers to the edge of space on Saturday.
One key takeaway from COP26 is that untangling corporate emissions, sustainability, and claims of carbon neutrality is a complex undertaking. With self-reported data, seemingly endless corporate structures, and murky transparency, trying to determine the truth about A&D emissions feels like attempting to swim through pancake batter. In addition, from my limited understanding there are currently no regulations on rocket emissions. I must be missing something. How is that possible!?
One rocket launch emits about 300 tons of carbon dioxide, which is the equivalent of one transatlantic flight carrying 300–400 passengers. The environmental impact of aerospace (A) is closely intertwined with defense (D), at times indistinguishably so. Together, the A&D sector produces significant emissions and is projected to continue on a path of expansion in the years to follow. As reported by Chelsea Gohd for Space.com: "SpaceX has filed paperwork for up to 42,000 satellites for the Starlink constellation."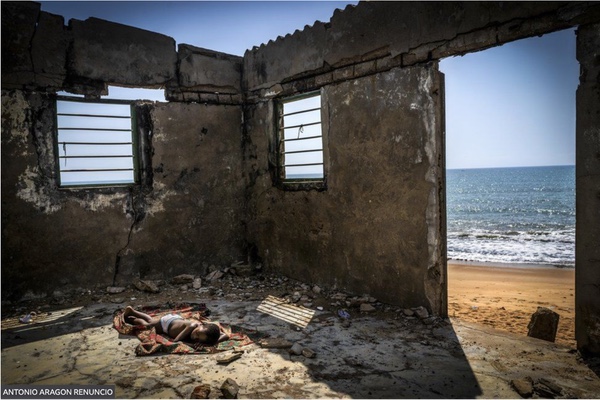 Spanish photographer Antonio Aragón Renuncio has won Environmental Photographer of the Year 2021 for his photo of a child sleeping inside a house destroyed by coastal erosion on Afiadenyigba beach in Ghana. The image, titled "The Rising Tide Sons," highlights the rising sea levels in West African countries, which are forcing thousands of people to leave their homes. Featured at The New York Times Climate Hub, Glasgow (2021).
We are fixing to launch stuff into space like gleeful frat boys who've just discovered a truck bed loaded with illegal fireworks and a couple cold kegs of Coors on the 4th, and there are no emissions regulations in place? Considering the collective action issue surrounding orbital debris mitigation combined with the climate crisis here on Earth, what is the logic here? In an August 2018 paper titled "The Policy and Science of Rocket Emissions," Dr. Martin Ross and Dr. James A. Vedda emphasize:
"The relatively unconstrained atmospheric flight operations enjoyed by space launch providers since the beginning of the space age cannot be taken for granted as a permanent condition. This status is, to some extent, the result of policy neglect from the scientific and regulatory communities. Research has been minimal and inconsistent. The hint of regulation due to ozone depletion is faint but always present. The launch industry has benefitted so far from this policy vacuum."
With 90,000 employees and an annual revenue in excess of $30 billion, Northrop Grumman is one of the world's largest weapons manufacturers and military technology providers. Northrop Grumman was awarded the primary contract for the James Webb telescope in 2002. In 2021, Northrop Grumman was awarded the contract for the Mars Ascent Propulsion System, whose will return samples collected by the Perseverance rover return to Earth. Northrop Grumman's 2020 Climate Change Response questionnaire includes the statement:
"Environmental matters, including unforeseen costs associated with compliance could have a material adverse effect on our reputation, our financial position, outputs of operations, and/or cash flows."
Carbon pricing, or a carbon tax, is one market-based solution but would have to be set high enough to incentivize behavior, with exemptions and loopholes preemptively addressed. What are your thoughts on the lack of rocket emissions policy in place? How do you feel about private sector carbon dioxide accountability?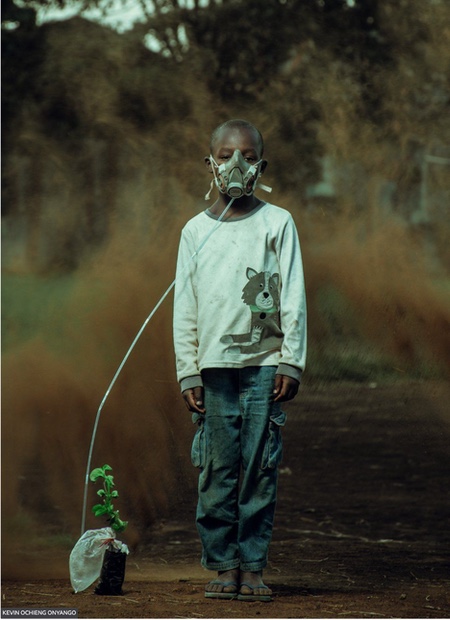 Climate Action winner: "The Last Breath, by Kevin Ochieng Onyango, taken in Nairobi, Kenya" as featured at The New York Times Climate Hub, Glasgow (2021).
---
Note: we are using a new commenting system, which may require you to create a new account.