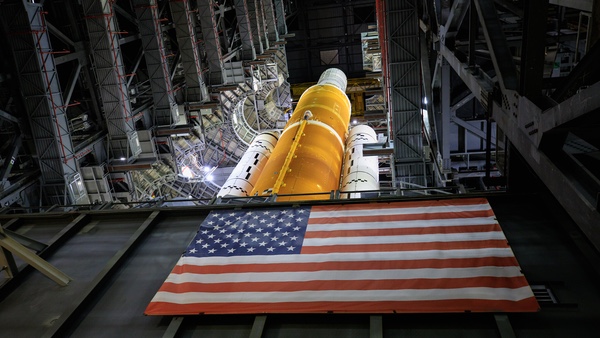 The first SLS in the Vehicle Assembly Building at the Kennedy Space Center, awaiting a first launch some time in 2022. (credit: NASA/Frank Michaux)
New year, new (and overdue) rockets
by Jeff Foust

Monday, January 10, 2022
In a race to see which will launch first, neither the Space Launch System nor Starship appears to be winning.
Both giant launch vehicles are set to make their first launches early this year. In the case of SLS, that launch comes after years of delays that have had ripple effects on the overall Artemis program. SpaceX's Starship had also fallen behind the aspirational schedules of its founder, Elon Musk, who in September 2019 predicted that the company would "try to reach orbit in less than six months" (see "Starships are meant to fly", The Space Review, September 30, 2019).
However, it wasn't clear that SpaceX would have been ready for an orbital Starship launch in January or February even if the FAA issued a launch license at the end of December as Musk anticipated.
Late last year, both NASA and SpaceX said they were ready for inaugural launches of their vehicles in early 2022. In October, NASA officials announced they were targeting no earlier than February 12 for the SLS launch of Artemis 1, an uncrewed test flight of the Orion spacecraft. A month later, Musk told two National Academies committees that he expected the first Starship/Super Heavy orbital flight to take place "in January or perhaps February," assuming SpaceX got a launch license from the FAA by the end of December.
Neither vehicle is launching in January or February, though. In mid-December, NASA announced that an engine controller, a computer that controls the RS-25 engines in the core stage of the SLS, was malfunctioning: one of two redundant channels in the controller "failed to power up consistently." After weeks of troubleshooting, NASA decided to replace the controller while it continued to study the problem. That would rule out a launch in February: the agency said it was "reviewing launch opportunities in March and April."
Even those launch opportunities remain in doubt. On Wednesday, NASA said it was preparing to roll out the vehicle to Kennedy Space Center's Launch Complex 39B in mid-February for a fueling test and simulated countdown known as a wet dress rehearsal. "NASA will set a target launch date after a successful wet dress rehearsal test," the agency stated. But given the time needed to perform the test, then roll the SLS back to the Vehicle Assembly Building for final preparations before going back out to the pad, a launch even in April starts to look doubtful.
Halfway across the country in Boca Chica, Texas, regulatory issues have put the brakes on Musk's schedule for launching Starship. The FAA did not award SpaceX a launch license for Starship at the end of December, instead announcing that it needed at least two more months to complete a controversial environmental review (see "The battle for Boca Chica", The Space Review, October 25, 2021).
Part of the reason the FAA gave for the two-month extension was that SpaceX still had to address more than 18,000 public comments submitted regarding the draft version of the environmental review. That suggested to some that SpaceX's more strident fans, who spoke out in support of the company at two public hearings, might have undermined the company's plans with their outpouring of support. However, the FAA also said that it was continuing the consultation process with other agencies for the environmental review, particularly involving endangered species and preservation of historical sites.
There is no guarantee that the FAA will be ready at the end of February, its new deadline for completing the environmental review. An environmental review for Spaceport Camden, a proposed launch site in Camden County, Georgia, suffered extensive delays in its environmental review, including a series of shifting deadlines before the FAA awarded a license to the spaceport last month.
However, it wasn't clear that SpaceX would have been ready for an orbital Starship launch in January or February even if the FAA issued a launch license at the end of December as Musk anticipated. He said in November there would be a "bunch of tests" in December, but there were only a handful of tanking and static fire tests of Starship, and much less testing of the Super Heavy booster. A delay in FAA licensing could provide cover for any technical delays, or the company may simply be slowing down work knowing the vehicle doesn't need to be ready until at least March.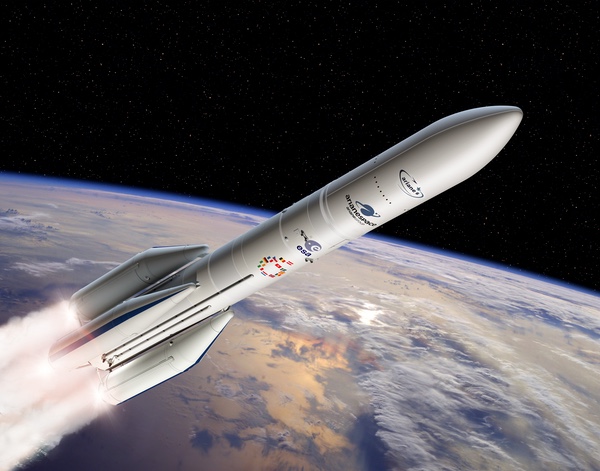 Arianespace's CEO is confident the first Ariane 6 will launch before the end of 2022. (credit: ESA/D. Ducros)
Other new launchers
A few years ago, 2020 was shaping up to be a milestone year for new launch vehicles. Four new vehicles intended, at least in part, to serve commercial markets were scheduled to make their inaugural launches that year: Arianespace's Ariane 6, H3 from Japan's Mitsubishi Heavy Industries (MHI), Blue Origin's New Shepard and the Vulcan Centaur by United Launch Alliance.
As of the end of 2021, those four vehicles have, combined, a perfect track record: zero for zero. All four vehicles have suffered development delays that pushed back their first launches to 2021 and now to 2022 or later.
"Absolutely not 2023," Peller said when asked if early 2023 was a likely date for the first Vulcan launch. "We have a plan that will support a flight in mid-2022."
Heading into 2022, some companies are confident that this will be their year their vehicles make their first launch. At a press briefing last week, Arianespace CEO Stéphane Israël said his company was expecting to launch the first Ariane 6 in the second half of the year. He noted that the core and upper stages of an Ariane 6 were being shipped to the launch site in French Guiana for tests on the launch pad there starting in April, including a hotfire test of the core stage.
He said he was confident that, despite numerous schedule slips, including one recently from the second quarter to the latter half of 2022, the rocket would take flight before the end of the year. "All our energies are mobilized to do so," he said at the briefing. "Very important milestones are now behind us, and this is why we are confident of making this maiden flight this year."
A few weeks earlier, he had similar confidence in an Ariane 6 launch in 2022. "There will be no delay in Ariane 6 because we are now in the very last mile leading to the launch," he said during a panel discussion at Euroconsult's World Satellite Business Week in Paris in mid-December.
At the same panel, a ULA executive offered similar confidence in the schedule for Vulcan Centaur. The key issue for that vehicle has been delays in the development of the BE-4 engine by Blue Origin and thus delivery of those engines to ULA.
"The Blue team is making great progress and we do expect to receive those engines some time in the first quarter of this coming year," said Mark Peller, vice president of major development at ULA, during the December 2021 panel. "That puts us on a good pace to get the integrated rocket down to the launch site and supporting an inaugural launch for Astrobotic's Peregrine lunar lander" in 2022.
Some are skeptical that the Vulcan can be ready if the first flight-ready BE-4 engines don't arrive until as late as early spring, but Peller was adamant that the first Vulcan could instead launch as soon as the summer. "Absolutely not 2023," he said when asked if early 2023 was a likely date for the first launch. "We have a plan that will support a flight in mid-2022."
Neither MHI nor the Japanese space agency JAXA have provided many updates on the status of the H3, other than past schedules that suggested a first launch as soon as the first quarter of this year. Blue Origin, meanwhile, made it clear that a first launch of New Glenn in late 202, a date it set early last year, was looking increasingly unlikely.
"Yes, we have a target to launch, but we will launch when we're ready and we are aligned with our customers," Jarrett Jones, senior vice president for the New Glenn launch vehicle program at Blue Origin, said at the panel last month.
The company was moving ahead with testing and qualification of various components of the vehicle, he said. "My expectation is that qualification will be completed next year and that we will have a rocket in build, if not built, by the end of the year, ready for launch," he said.
New Glenn, like Vulcan, uses BE-4 engines, although with seven in its first stage versus two BE-4 engines for Vulcan. "The expectation is that we'll get those towards the second half of 2022," Jones said of the first flight-ready BE-4 engines, "and then we're going to need three months for integration."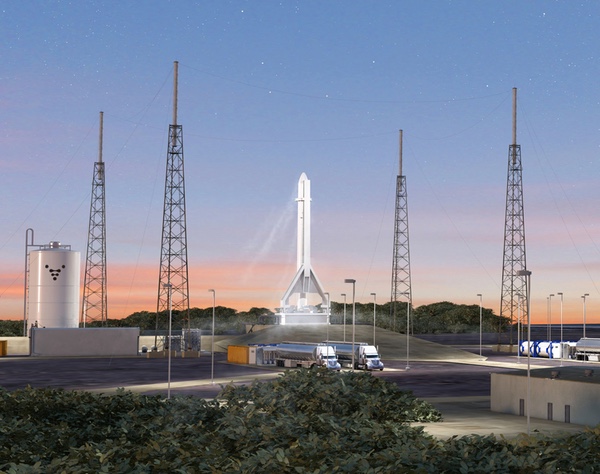 Relativity Space says it's a "few months" away from the first launch of its Terran 1 rocket. (credit: Relativity
New small launchers
Last year saw the successful introduction of new small launch vehicles, including Astra's Rocket 3.3 and Virgin Orbit's LauncherOne. Both vehicles are scheduled for launches this month, with LauncherOne flying as soon as Wednesday from the Mojave Air and Space Port in California and Astra launching a set of cubesats for NASA from Cape Canaveral, Florida.
Those two companies, along with Rocket Lab, are just a few at the forefront of a field with dozens of small launchers in development. Some of those vehicles, by companies from Europe to China to the United States, are planning their first launches in 2022.
"We're doing our first launch in a few months from our launch site at Cape Canaveral," said Relativity's Ellis.
One company that will be launched closely is Relativity Space. The company has raised more than $1 billion since the fall of 2020, including a $650 million round in June. It used that round to announce its plans to develop a large reusable launch vehicle, Terran R, capable of placing up to 20,000 kilograms into low Earth orbit, with a first launch projected for as soon as 2024.
First, though, is the Terran 1, the company's original vehicle and its entrant into the small launcher market and making extensive use of 3D-printing technologies. That vehicle, too, once has a goal of launching in 2020 but saw its launch slip to 2021 and now some time in 2022.
"We're doing our first launch in a few months from our launch site at Cape Canaveral," Tim Ellis, CEO of Relativity, said on another panel at World Satellite Business Week last month.
However, there's still a lot of work ahead for Relativity before the first Terran 1 is ready for launch. He said the company was finishing up qualification of the Aeon engines used on the vehicle and completing acceptance testing of the primary structures of the vehicle. "We're putting the finishing touches on the launch site right now," he said, along with shipping the completed stages there. "Then we'll be gearing up for first launch."
He declined, though, to give a more specific date for that first launch than a few months. "You'll see stuff soon," he promised. Many companies have made similar statements; time will tell which will follow through this year.
---
Note: we are using a new commenting system, which may require you to create a new account.