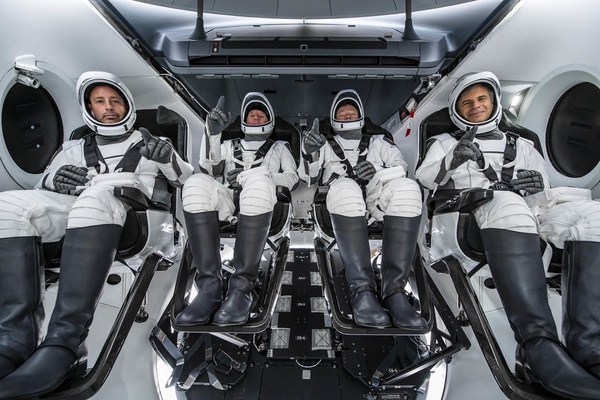 The Ax-1 crew of (from left) Mark Pathy, Larry Connor, Michael López-Alegría, and Eytan Stibbe. Connor says he consideres his crew private astronauts, a distinction separate from suborbital space tourists. (credit: Axiom Space)
Space travelers by any other name
by Jeff Foust

Monday, April 4, 2022
The space industry has struggled to come up with a common term for people who fly to space on commercial vehicles who are not part of the flight crew. There's space tourists, private astronauts, and spaceflight participants, the last option having the advantage of being the term used in federal law and regulations (but the disadvantage that is sounds, well, bureaucratic.)
Some, at least, see differences between those terms. "I think it's important to address the difference between space tourists and private astronauts," said Larry Connor, one of the members of Axiom Space's Ax-1 mission, set to launch this Friday on a SpaceX Crew Dragon from the Kennedy Space Center.
Connor, a real estate investor who is also a pilot and race car driver, spoke very seriously about the responsibility he and his crewmates have on the commercial mission to the station, the first by an American spacecraft. "When we started our training over a year ago, Axiom did, in my view, a great job outlining high expectations and standards for this first mission," he said at a media briefing last Friday. "We understand this first civilian mission is a big honor and a big opportunity. But with that come a big responsibility, and that is to execute the mission correctly and successfully."
"We understand this first civilian mission is a big honor and a big opportunity. But with that come a big responsibility, and that is to execute the mission correctly and successfully," Connor said.
He called the Ax-1 crew private astronauts that have undergone extensive training. "In our case, depending on our role, we've spent anywhere from 750 to over 1,000 hours training," said Connor, who will be the pilot of the mission. "Additionally, across all of the astronauts here, we're going to do some 25 different experiments encompassing 100 hours of research on the eight days we're on the ISS."
Space tourists, he said, were a different category. "Our feeling is with space tourists, they'll spend 10 or 15 hours training, 5 or 10 minutes in space," he said. "By the way, that's fine," he added, before launching into a description of training for the Ax-1 mission.
His comments came a day after a group of space tourists got their 10 minutes of spaceflight on the latest Blue Origin New Shepard flight. The NS-20 mission carried five customers along with Gary Lai, the chief architect for the New Shepard system at Blue Origin. (Lai was a fill-in for Pete Davidson, the "Saturday Night Live" comedian originally named to the flight last month. Davidson dropped out days after the announcement for reasons neither he nor Blue Origin have disclosed.)
In a briefing after their flight, they didn't discuss the responsibility they had but instead the joy of the flight. "That whole thing was just an out-of-body experience. I don't know what else to say other than that," said Jim Kitchen, an entrepreneur and business school professor.
"It was more intense than I thought it would be," said Lai. "Obviously, I've been thinking about what this experience would be like for our astronauts. To experience it myself was a joy. It was ten times more intense than I thought it would be."
But they, too, touched on the training. George Nield, the former FAA associate administrator for commercial space transportation, emphasized training in his comments about the flight from the perspective of a customer, after years of overseeing the industry as a regulator. "I just can't say enough about how important that is and what an outstanding job the Blue Origin team did in terms of making us feel ready and prepared for this amazing experience."
Lai noted that those flying on New Shepard get more than two and a half days of training. "It's very repetitive training," he said. "The whole purpose was to make everything we have to do muscle memory. What we could not simulate in the training was what I was talking about before: the intensity." That meant the training kicked in despite the intensity of the experience. "I have much deeper appreciation for all the thinking that went through that training program and, in the end, it paid off."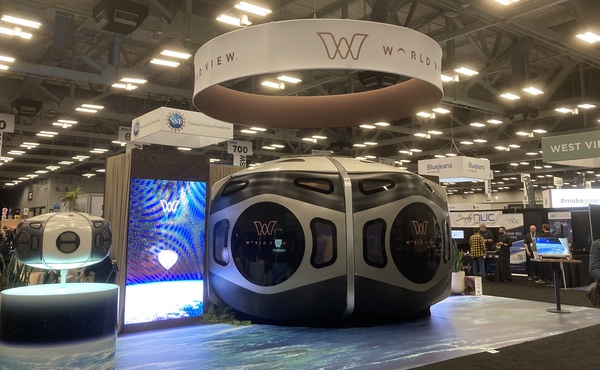 World View displayed a full-scale replica of the cabin for its stratospheric balloon flights at SXSW last month. (credit: J. Foust)
Trying to democratize spaceflight
The two commercial spaceflight experiences do have something in common: the perception that they are, in the minds of detractors, joyrides for millionaires and billionaires.
"It was more intense than I thought it would be," said Lai. "It was ten times more intense than I thought it would be."
Blue Origin has not disclosed ticket prices, but a seat on the first crewed New Shepard flight sold at auction last year for $28 million. (That person, Justin Sun, didn't go, but does plan to fly a dedicated New Shepard flight later this year.) The auction created a list of qualified customers, some of whom have flown for unspecified amounts.
Axiom Space hasn't disclosed the price for seats on its missions to the ISS, although $55 million per person is the widely rumored amount. At last Friday's briefing, Michael Suffredini, president and CEO of Axiom Space, declined to say if that was enough to make the mission profitable.
"We're a commercial entity. Our objective is to make money over the life of the company, or we're not much of a company," he said. "Suffice it to say, this is in line with what our original vision for the mission was." He said later that, by the fourth mission, the company hopes to replace the professional astronaut accompanying the three customers with a fourth paying customer, which some suggest could make the missions profitable.
Those in the industry, or who represent the industry, recognize the perception problem. "The industry got some bad press for this idea, which I think is really unfortunate, that space is just for billionaires and it's just a joyride. It's absolutely not true," said Karina Drees, president of the Commercial Spaceflight Federation. She was speaking last month during a panel at the South by Southwest (SXSW) festival in Austin, Texas, titled "Democratizing Access to Commercial Space Travel."
That was specifically a problem, she suggested, with the flights last summer of Richard Branson on Virgin Galactic's SpaceShipTwo and Jeff Bezos on New Shepard. "These entrepreneurs have put their own money into producing these vehicles and they were the first ones to ride on them," she said, providing a demonstration of their safety.
"There has been this perception that space tourism is only reserved for a select few," said Ryan Hartman, president and CEO of World View, on the panel, a perception he called "concerning." So how does one democratize access to space when ticket prices are in the hundreds of thousands to millions of dollars?
World View is one of two companies developing alternative approaches to giving people at least some aspects of the space experience through stratospheric balloons. That was the original focus of the company when it was founded about a decade ago, but it later shifted to uncrewed balloons carrying cameras and other payloads. (Two World View co-founders, Taber MacCallum and Jane Poynter, have since founded their own company, Space Perspective, to provide similar balloon flights for people.)
"Space is a tool for transformation. We can't solve the problems we've created with the same level of thinking that created them," said Lyons.
World View pivoted back to flying people last fall and claims it will be ready to start such flights in 2024 for $50,000 per person. At SXSW, the company had a full-sized model of the cabin it plans to use for those flights. People could sit in the cabin and go through a brief simulated flight, as screens representing cabin windows showed the views as the balloon ascended, coasted in the stratosphere, and then descended for a landing. It also announced last week that it named Adrian Grenier, the actor best known for the series "Entourage," as its "Chief Earth Advocate" to support work on sustainability initiatives and "helping participants understand their individual relationship to the planet as they prepare for and reflect on their trip."
"We had to be innovative in how we designed a solution that made this as affordable as possible," Hartman said at the SXSW panel. "It is the most affordable solution in space tourism." (Except, of course, that the passengers don't go to space, only see the Earth from an altitude that gives the perception if looking down on it from space.)
If World View can maintain that cost, it would be far less than a suborbital flight, let alone an orbital one. However, $50,000 is still out of the reach of much of the public. The nonprofit group Space For Humanity hopes to bridge that gap by paying for flights for space for people who might benefit from the experience but not afford it on their own.
"Space is a tool for transformation. We can't solve the problems we've created with the same level of thinking that created them," said Rachel Lyons, executive director of Space For Humanity, at the SXSW panel.
The organization solicited applications from people interested in flying on vehicles like stratospheric balloons and suborbital vehicles and got 7,000 applicants. Lyons said the organization is working through the selection process and plans to pick people to fly on those vehicles in the next six months, starting with World View. The organization will fly sets of people together to create a group experience.
"We're vehicle agnostic," she added, with plans also to fly with Space Perspective and discussions underway with Blue Origin and Virgin Galactic. "We're looking to fly in the next year and a half, and then after this first flight we want to do this on a year-to-year basis," reopening applications from time to time.
Hartman, meanwhile, said World View was looking for ways to reduce its ticket prices, such as hedging helium in much the same way airlines hedge fuel. That's complicated, he added, by the recent surge in inflation, driving up costs while he's trying to reduce them. "I'm here to tell you that's nearly impossible to do," he said. "We're not going to stop giving up."
---
Note: we are using a new commenting system, which may require you to create a new account.