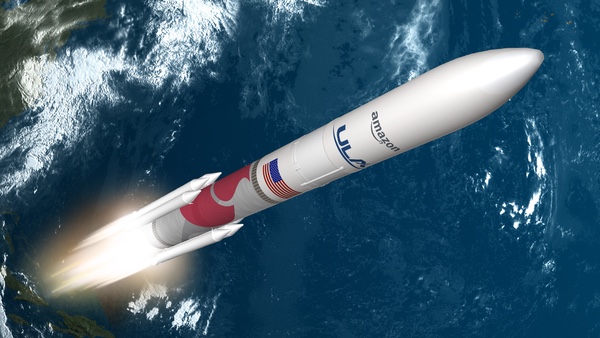 The Amazon deal includes 38 launches of Vulcan Centaur rockets, more than all the previous orders for the vehicle combined. (credit: ULA)
A megaconstellation megadeal
by Jeff Foust

Monday, April 11, 2022
Megaconstellations need mega rockets. Or, rather, mega amounts of rockets.
Last week, Amazon outlined its launch plans for a broadband constellation called Project Kuiper. The company received an FCC license in July 2020 for the system, which will place 3,236 satellites into low Earth orbit. The company had, to date, procured nine Atlas V launches from United Launch Alliance for an initial subset of the constellation, as well as a single launch of ABL Space System's RS1 small launch vehicle that will launch a pair of prototype satellites as soon as late this year.
"Securing launch capacity from multiple providers has been a key part of our strategy from day one," said Amazon's Badyal.
But, in a single announcement April 5, the company announced how it deploy the rest of its constellation. Amazon said it signed contracts with Arianespace for 18 Ariane 6 launches, Blue Origin for 12 New Glenn launches with an option for 15 more, and ULA for 38 Vulcan Centaur launches. In total, Amazon is buying at least 68, and as many as 83 launches, that it says will be spread out over five years.
The company said it deliberately chose three companies as a diversification strategy. "Securing launch capacity from multiple providers has been a key part of our strategy from day one," Rajeev Badyal, vice president of technology for Project Kuiper at Amazon, said in a statement. "This approach reduces risk associated with launch vehicle stand-downs and supports competitive long-term pricing for Amazon."
The sheer number of launches, though, made it unlikely that the company could work with a single company, given the available capacity on the market and demands of other customers, like the US and European governments. While many speculated that Blue Origin had the inside track, given that it is owned by Amazon founder Jeff Bezos, Blue Origin executives long insisted that it would be competitive tender.
The size of the order will affect some of those companies, particularly ULA. The Amazon order includes more launches than the company had booked to date for the Vulcan from all other customers, primarily the US Space Force. At an event during the 37th Space Symposium in Colorado Springs to announce the contracts, ULA CEO Tory Bruno said his company would be making major changes to accommodate the order.
"We are essentially going to be doubling America's launch industrial base," Bruno said. "These additional launches will take us to about twice our flight rate, which means about twice our infrastructure."
ULA will be doing everything short of building a second launch complex for Vulcan to accommodate the Amazon order. That includes a second vertical integration facility where rockets are stacked and a new mobile launch tower to transport the rockets to the pad. The company even plans to buy a second ship to transport rocket stages from ULA factory in Alabama to the launch site. Bruno said it would take a couple years to complete that infrastructure.
"With this launch contract, it allows us to have a pretty clear line of sight to an engine recovery program we've talked about for a number of years, because reuse is all about launch cadence," Bruno said.
That investment extends to ULA's suppliers. Northrop Grumman will expand production of the solid rocket strap-on boosters for Vulcan: each Kuiper launch will require six such boosters. Aerojet Rocketdyne will also increase production of the RL10 engines that power the rocket's Centaur upper stage. On Monday, Aerojet announced it received an order for 116 such engines, specifically a variant known as RL10C-X produced using additive manufacturing technologies.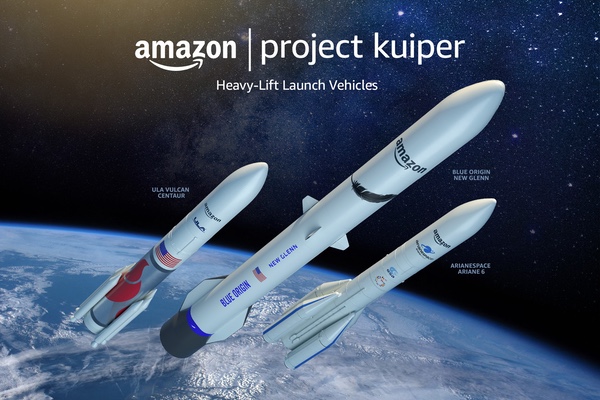 Amazon is buying up to 83 launches of vehicles that, to date, have combined yet to make a single launch. (credit: Amazon)
Bruno said ULA has already started those investments by ordering tooling for its factory needed to increase production rates. The company will convert its Spaceflight Processing Operations Center at Cape Canaveral, which ULA previously upgraded to assemble a new Vulcan launch platform, into a second vertical integration facility.
He estimated that, to support the Amazon contract and other customers, ULA will need to produce 20 to 25 vehicles a year; enough, he said, for ULA to start thinking about reusability. The company has previously discussed a concept it calls Sensible Modular Autonomous Return Technology (SMART) to recover and reuse the first stage engines, but not the whole stage itself.
"With this launch contract, it allows us to have a pretty clear line of sight to an engine recovery program we've talked about for a number of years, because reuse is all about launch cadence," he said. "Now we know exactly how to close that business case."
Bruno added that ULA had been in talks with other megaconstellation developers. "This isn't the only opportunity we had to do a megaconstellation," he said. "We really wanted to work with Amazon because the service they're going to offer is pretty amazing and the culture that they have is a much better fit for us." He did not disclose what other megaconstellation providers ULA had been in talks with the launch.
Arianespace is also using the Amazon contract to make upgrades, in this case to the Ariane 6 itself. All but two of the 18 launches Amazon ordered will use an enhanced version of solid-fuel strap-on boosters that feature a larger engine called the P120C+. The larger engine on the Ariane 64—the version of the Ariane 6 with four strap-on boosters—will increase the vehicle's payload capacity to low Earth orbit by about two tons.
Arianespace CEO Stéphane Israël said the company doesn't need to make production or launch site upgrades to accommodate the Amazon order. The order fits into the company's plans for 11 to 12 Ariane 6 launches a year, and the launch site in French Guiana can support up to 20 launches annually.
He said the order validated Arianespace's plans to support that launch rate despite soft demand from the conventional GEO communications satellite market and limited demand for European governments. "We are also considering with the European Space Agency other upgrades," he said, but didn't specify what they are. Funding for those upgrades could come from ESA's next ministerial meeting, scheduled for late this year, where member states allocate funding for the agency for the next three years.
Blue Origin announced no changes to its New Glenn rocket in the contract announcement. That vehicle is lagging Ariane 6 and Vulcan Centaur in development (see "The launch market squeeze", The Space Review, March 28, 2022) and CEO Bob Smith did not provide specifics about when it will be ready to fly at the Space Symposium event. "We're in build mode," he said, outlining work on both the vehicle itself and final testing of the BE-4 engine that powers both New Glenn and Vulcan Centaur.
Indeed, in the announcement of the contracts and at the event, Amazon and its launch providers offered few specifics about the deals. The companies were coy about launch schedules, costs, and reasons why Amazon chose this particular mix of vehicles.
None of the companies would say when the launches would begin, only that they would take place over five years (Arianespace said its launches would be over three years.) None of the vehicles has yet to make its first launch, and even if the satellites were ready, it's unlikely any Kuiper launches would take place until least later in 2023.
Amazon is, for now, focused on its prototype satellites, getting them launched to test how well they work in space. "We're assuming success" with those prototypes, said Dave Limp, senior vice president for Amazon Devices and Services, the division of Amazon that includes Project Kuiper. "We're beginning to bring up production and manufacturing." There are now more than 1,000 people working on Kuiper, including at a new facility in the Seattle suburb of Redmond, the same city where SpaceX produces Starlink satellites.
"We're assuming success" with those prototypes, said Amazon's Limp of its prototype satellites. "We're beginning to bring up production and manufacturing."
Amazon, though, is under schedule pressure to get those satellites launched. Its FCC license requires it to have half its satellites, or more than 1,600, in orbit by July 2026. The full constellation needs to be in orbit three years later. A company spokesperson said the contracts are designed to meet those FCC license requirements.
The panel discussion at Space Symposium revealed how many satellites each company will launch. Each Ariane 6 can accommodate 35 to 40 Kuiper satellites, while a Vulcan Centaur can launch 45 satellites and New Glenn 61. (Beyond Gravity, a company until recently called RUAG Space, will build satellite dispensers for all three launch vehicles at a hew factory in Sweden.)
That means that, assuming none of the New Glenn launch options are exercised, ULA will launch a little more than half the satellites, with Arianespace and Blue Origin splitting the rest. If 40 Kuiper satellites fit on an Ariane 6, those confirmed orders would, combined, launch 3,162 satellites, with the previously ordered Atlas V launches likely covering the rest. The New Glenn options likely would accommodate spare satellites or cover for shortfalls by other launch providers, either because of delays or failures.
The companies also did not disclose the costs of the contracts. Assuming a very favorable average price of $75 million per launch—slightly higher than the current list price of the Falcon 9—the confirmed order would cost Amazon $5.1 billion, and justify its claim as the largest commercial launch order ever. Amazon has previously stated it plans to invest at least $10 billion into the overall Kuiper system, including satellites, launches, and ground infrastructure.
Notably absent from the contracts were SpaceX and Japan's Mitsubishi Heavy Industries (MHI). SpaceX is, of course, a competitor in the broadband megaconstellation market, but SpaceX has shown its willingness to support those competitors by signing a launch agreement with OneWeb after that company lost access to the Soyuz vehicles it planned to use to complete its constellation. MHI is still developing its H3 rocket, which promises to be less expensive than the H-2A, but has not offered an updated schedule for its first launch—factors that did not stop Amazon from ordering other rockets yet to make their debuts.
"Amazon has talked to every major launch provider and they will continue to explore all options for future launch services," a spokesperson representing Amazon said. "The three launch vehicles selected offered the right combination of capacity, performance, and cost to meet needs."
For Amazon, there are few other options. Russian vehicles are now no longer an option with sanctions imposed on Russia after its invasion of Ukraine, but even before that, vehicles like Proton and Soyuz were falling out of favor on the commercial market. Chinese vehicles remain off-limits for export control reasons.
Amazon also ruled out using large numbers of small rockets to deploy its constellation. While the dozens of companies developing those small launchers have played up the benefits of dedicated launch, the economics, on a price-per-kilogram basis, work in favor of large rockets for at least the deployment of those constellations.
"We do need new, larger launch vehicles that make it economic," said Limp. While he did not disclose technical details of the satellites, he suggested they would be larger than those used by OneWeb and SpaceX, whose satellites weigh between 150 and 300 kilograms each.
"I think this announcement by Kuiper is just going to create more scarcity in launch," said Markusic.
Amazon's bulk buy will make it harder for other megaconstellation companies, like AST SpaceMobile and Telesat, to secure the launches they need, unless they're willing to work with SpaceX, which may have plenty of capacity between its current Falcon vehicles and the under-development Starship. It might also encourage other launch companies to move into larger vehicles, particularly those currently in the small end of the launch market.
"I think this announcement by Kuiper is just going to create more scarcity in launch," said Tom Markusic, CEO of Firefly Aerospace, in an interview. The company is working towards a second launch of its Alpha small launch vehicle but also planning the medium-class Beta rocket that he wants to start flying in about three years. "We want to get it out on the market as fast as we can."
Relativity and Rocket Lab are also moving ahead with larger vehicles, with Rocket Lab holding a groundbreaking ceremony Monday in Virginia for the factory that will build its larger Neutron rockets. Depending on how the megaconstellations shake out, not to mention the effect vehicles like Starship have in the market, scarcity in launch could easily become a glut.
---
Note: we are using a new commenting system, which may require you to create a new account.