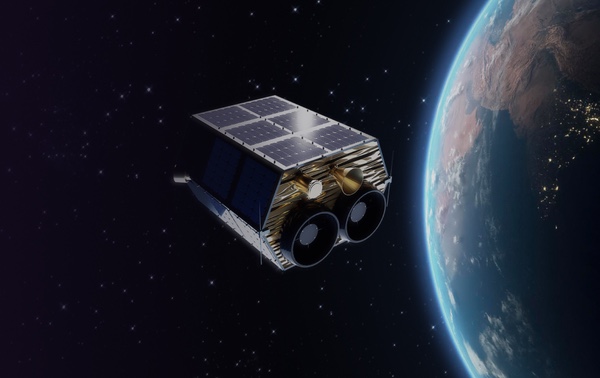 SETS, which makes electric propulsion systems, is among the Ukrainian space companies that could help support European space ambitions. (credit: SETS)
How Ukraine could help Europe boost its space sector
by Viktor Serbin

Tuesday, May 31, 2022
While Ukraine is paying a high price for its independence and recognition, Ukrainian industries, the space industry among them, are under a heavy toll. Many of the core space facilities and companies are in the areas that were or are still actively being bombed by the Russian air forces. But it seems the ongoing war in Ukraine can offer new opportunities for the space industry, especially considering the high chances for Ukraine of joining the EU.
The inclusion of Ukraine in the family of European countries would mean new opportunities for the Ukrainian space industry.
Ukraine could add to and strengthen the European space effort as one of the ten countries with a full cycle of spacecraft manufacturing, especially after Russia found itself excluded from major space initiatives.
Recently, the EU Commission recognized the high level of the first part of the survey completed by Ukraine to join the European alliance. The inclusion of Ukraine in the family of European countries would mean new opportunities for the Ukrainian space industry. Through Ukraine, Europe can receive extended expertise in most areas of the space industry and years of experience in building outstanding space products.
Along with integration into the EU, Ukraine strives to become a European Space Agency member. In April, during Space Symposium, the ESA chief stated that the State Space Agency of Ukraine had submitted a letter seeking membership, and ESA is looking for ways to assist. Here, I decided to investigate how and why Ukraine could become a valuable part of the European space industry.
Ukraine as global tech player
Ukrainians have already significantly contributed to the global tech scene. Lubomyr Romankiv, born in Ukraine, was co-inventor of magnetic thin-film storage heads for recording and reading information on hard drives. WhatsApp was co-created by a Ukrainian emigrant, just like PayPal. Many other valuable tech projects like Grammarly, Reface, GitLab, People.ai, Ajax Systems, and Revolut are actively used by the global community. Ukrainians are often looking for creative solutions and have the skills necessary to develop world-recognized products. Hence the potential in the space industry. But it's not only about potential: Ukraine has already proven its leading role in space exploration.
Ukraine is among the countries that can be proud of many big names. Among them, Oleksandr Zasyadko, who developed combat missiles and dreamt of reaching the Moon in early 19th century. Mykola Kybalchych designed a crewed rocket-propelled ship. Yuri Kondratiuk, whose lunar route were used for the landing of American Apollo and its astronauts on the Moon. Sergii Korolov, who started the space era by sending the first satellites and first astronaut into space. And Volodymyr Hlushko, who was the pioneer of liquid rocket propellant engines development in the Soviet Union.
It is no wonder that with such a rich history of space exploration and capability for full-cycle development of space launchers and satellites, Ukraine has the potential to become one of the biggest space hubs in Europe. In Ukraine, there's a country-wide infrastructure network for research institutions, development offices, and manufacturing facilities. Ukrainian specialists participated in international projects like Sea Launch and Land Launch. Now, Ukrainians create the first stage for the Antares rocket and the engine for the upper stage of the European Vega rocket. Ukrainian rockets Dnipro and Zenit showed high levels of reliability, and even Elon Musk considers Ukrainian Zenit to be the best non-SpaceX launch vehicle.
Strong technical education
Well-educated and highly motivated Ukrainians work at leading space companies and organizations around the globe, including SpaceX and NASA. But it would have been impossible without quality education in the country.
With over 130,000 engineering graduates yearly, Ukraine educates around as many engineers as Germany. If one considers the quality of this education, it's worth mentioning that according to the QS EECA University ranking in 2022, among 450 top universities in Eastern Europe, 38 are Ukrainian.
Ukraine could become a core player in the European space sector and potentially even fill in the gap that appeared after the exclusion of Russia from major space activities.
With the high interest of the population towards engineering education and the strong expertise of lecturers and professors, many of whom are PhDs, Ukrainians obtain the education that allows them to solve the most pressing issues. Foreigners who come to Ukraine acknowledge that the country has a population exquisitely educated in sought-after STEM (Science, Technology, Engineering, & Mathematics) disciplines, and this makes them perfect candidates for engineering jobs. And Ukrainian teams prove their top-quality education regularly. For instance, teams from Ukraine have won or been listed among top projects in the global NASA Space Apps Challenge, having offered the best solutions to global issues.
Active space startups scene
Overall, Ukrainian state space companies employ more than 16,000 specialists, which equals the number of NASA employees. The aerospace industry comprises more than 100 transnational private companies, including Boeing, operating here and providing opportunities for Ukrainian tech specialists to solve global problems and gain unique experience.
Since 2015, Ukraine has seen the arrival of space startups. The space industry is now one of the key focus areas for Ukraine and its government, and the legislation that allows private space companies to engage in rocket building has given a significant boost to the sphere. In 2019, the government allowed private space companies to develop their own launchers. And now a variety of local startups are seeking investors ready to support the development of different types of vehicles—classical liquid- and solid-propellant launchers, air-launch and vertical launch launchers, and more.
Ukrainian engines and their components attract the attention of the global space industry players. For instance, Flight Control company in Dnipro covers the needs of international space companies and has developed engines for Firefly Aerospace's Blue Ghost lunar lander. SETS, also located in Ukraine, offers unique technology of Hall thrusters necessary to move satellites while in orbit. The tech is similar to that previously provided by Russian Fakel that has fallen under sanctions. At SETS, we have successfully tested technologies on Earth and already sent the products to clients, and propulsion systems will soon be tested in space.
Cost-efficient space industry
Without the limitless opportunities in the American space market and intensive investments in the space industry in Europe, Ukrainians are accustomed to working within limited budgets. This allows them to make the most out of available financing and offer cost-efficient solutions, making Ukraine an attractive spot for space project development.
While relatively low in cost, Ukrainian specialists offer the best price-to-quality ratio. Limited financing also causes space startups to think about gaining profits as soon as possible to be able to further invest in project development. Space startups also prefer locations with well-developed space infrastructure, which impacts the cost of the final product and serves as a significant benefit.
Ukraine could become a core player in the European space sector and potentially even fill in the gap that appeared after the exclusion of Russia from major space activities. The Ukrainian space sector is not only the state enterprise able to sell former Soviet technologies, but also dozens of young, dynamic, and ambitious private space companies and startups working to solve different problems, including lunar landings, lunar bases, space debris removal, and planetary defense, not to mention spaceport and launcher development. The European space sector would win from cooperation with Ukraine, both in terms of technologies and economically.
---
Note: we are using a new commenting system, which may require you to create a new account.