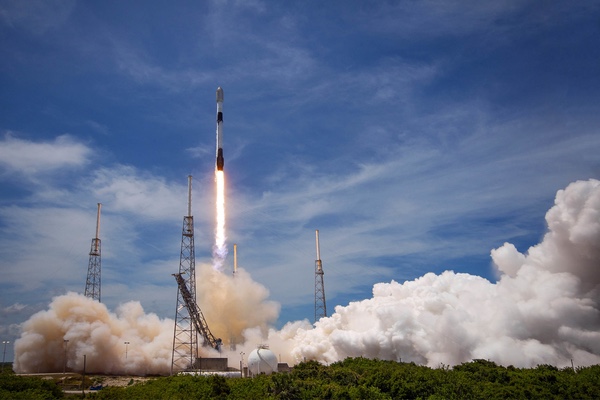 SpaceX launched dozens of smallsat payloads on the Transporter-5 rideshare mission last month, heling further the growth of the space industry despite the potential for a downturn. (credit: SpaceX)
Will the economy deflect the trajectory of space startups?
by Jeff Foust

Monday, June 6, 2022
For the last few years, it had been something of a space industry parlor game to predict when there would be a shakeout among the growing number of startups. After all, there were far too many companies working on small launch vehicles, each needing to raise tens to hundreds of millions of dollars, than most reasonable forecasts of the market could support. Then there were the LEO constellations, needing in some cases billions of dollars, for demand that might be filled by only a couple such systems.
Timelines for some electronics, said RBC Signals' Faith, have "stretched out from what used to be weeks to now many, many months."
Yet startups and their investors defied those expectations. Space companies continue to thrive in the market, garnering investment at a record-breaking pace. A report in April by BryceTech found that space companies raised $15.4 billion in 2021, double the previous record of $7.7 billion set in 2020. Other records set in 2021 included the number of companies raising money (212) and the average size of reach deal ($64 million).
There are signs, though, the market may be cooling, this time because of external factors. Supply chain problems that rippled through the entire economy have affected space companies, delaying development of satellites and launch systems and increasing costs.
"We see companies that, during a healthy supply chain and healthy markets, would be thriving," said Jordan Noone, co-founder and general partner at Embedded Ventures who previously cofounded Relativity Space, during a panel session at Space Tech Expo in Long Beach, California, last month. Today, "many of those companies have major struggles."
A big supply chain issue has been with semiconductors and other electronics. At the Space Tech Expo panel, Ron Faith, president and COO of ground station operator RBC Signals, said his company has seen a "significant impact" in lead times for many essential components. "They've stretched out from what used to be weeks to now many, many months," he said.
Smallsat developers had turned to electronics components designed for automotive and other consumer applications years ago because they were cheaper and more plentiful than space-rated alternatives conventionally used by spacecraft. But Chris Winslett, program manager at Lockheed Martin for its work on the Transport Layer communications satellite constellation for the Space Development Agency, said that's been turned on its head because of the supply chain disruptions. "With the issues of the pandemic, we actually saw a lot of commercial and automotive parts have longer lead times than space parts," he said on the panel.
Supply chain challenges extend to logistics. Faith said his company has traditionally transported the antennas, six meters in diameter, for its ground stations by ship to locations around the world. Now, the company is using air freight because of shipping congestion. "It does increase costs," he said, "but quite frankly the time compression is way more important right now given the other challenges that are in the supply chain."
Increased costs are also a concern for space companies, and everyone else, with the spike in inflation to levels not seen in four decades. A rise in interest rates to stem inflation could also slow down the economy. Elon Musk, in a memo to management at the automaker Tesla last week, called for a hiring freeze and 10% reduction in that company's salaried workforce, saying he had a "super bad feeling" about the economy. (President Joe Biden, asked about Musk's comments Friday, cited investments other companies were making and then quipped, "Lots of luck on his trip to the Moon.")
"We're seeing right now a bit of a chilling going on within the industry," said Lars Hoffman, senior vice president for global launch services at Rocket Lab, during another Space Tech Expo panel, saying the "heating up" of the market over the last few years, with space companies continuing to grow despite the disruptions of the pandemic, was ending.
He said he was watching the level of investment in space companies. "If that starts to slow down," he said, "that cools down the progress that a lot of us are making."
"The fact that the space SPAC community had some of the worst returns and worst exposure once those companies became public is going to haunt the growth investor community for five or ten years," said Noone.
There are signs of a broader downturn in venture capital investment. A report by Crunchbase found $39 billion in VC investment across all industries in May, the lowest total for a single month since November 2020 and down 45% from the peak of $70 billion invested in November 2021.
Another investment tool, the special purpose acquisition corporation (SPAC), has also fallen out of favor. Private companies merging with publicly traded SPACs allowed those companies to go public as an alternative to the traditional initial public offering process. However, the poor performance of many companies after SPAC mergers has soured the markets on them, making them less attractive as a means to raise money.
While a dozen space companies have used SPACs to go public, mostly in the last year, only one such deal is still pending: D-Orbit, a company developing space tugs, is working to close a merger with a SPAC, Breeze Holdings, in the third quarter of this year.
Those that have gone public though SPACs have done poorly. When SPACs raise money by going public, they usually do so at a price of $10 a share, which becomes a de facto baseline for judging the performance of companies after their mergers. Every space company that has gone public via SPACs is trading below $10 a share, in some cases far below. Spire, which operates a constellation of cubesats for tracking and weather data, closed Friday at $1.72 a share. BlackSky closed Friday at $2.60 a share, and even that represented a sharp increase over just a couple weeks earlier, when it was trading just above $1 a share before winning one of three commercial imagery awards from the National Reconnaissance Office.
The poor performance of SPACs in general, and space SPACs in particular, could deter additional investment. "The fact that the space SPAC community had some of the worst returns and worst exposure once those companies became public is going to haunt the growth investor community for five or ten years," said Noone.
Those investors, he said, might instead turn to "safe investments" in information technology or other fields and stay away from more speculative ones like space. "The growth investors have all been spooked," he said.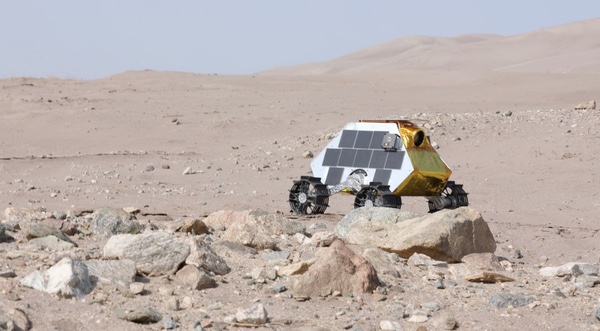 Lunar Outpost raised $12 million to develop robotic lunar rovers, with two small rovers already in development for missions to the Moon. (credit: Lunar Outpost)
The drop in VC investment overall, CrunchBase noted, hasn't affected all rounds of investment equally. While later-stage funding has dropped significantly, seed-stage funding was 11% higher in May than the monthly average for such rounds in 2021.
Indeed, at the same time that Hoffman and Noone were raising warnings about the climate for space investment, two space startups were raising initial funding rounds. Lunar Outpost announced it raised a $12 million seed round to support its development of robotic lunar rovers. The Colorado company is already working on two such small rovers that will fly on landers by Intuitive Machines for NASA Commercial Lunar Payload Services missions, and will use the funding for work on larger, longer-lived rovers.
Lunar Outpost raised the money from several funds that have previously invested in or even specialize in space, such as Explorer 1 Fund, Promus Ventures, Space Capital, Type 1 Ventures, and Cathexis Ventures. Justin Cyrus, CEO of Lunar Outpost, said those investors will provide business and technical support in addition to capital. "We chose to raise the money with these investors because they provide substantial amount of value to help us get to the Moon sustainably."
"I certainly don't see a slowdown," Haot said. "The launch capacity is not there for what is being built today and for the next five to ten years."
The company, he said, didn't need to raise the funding to survive, instead seeking the funding to speed up work on its larger rovers. (In addition to the smaller rovers it is already on contract to build, it has a separate line of environmental monitoring products that he said profitable today.) The first of those larger rovers, weighing 100 to 200 kilograms, could be ready by late 2023 or early 2024.
Another startup, AstroForge, raised $13 million in a "seed-plus" round from several funds, most of which have only dabbled in the space industry. It is, perhaps, better evidence of the continued investor interest in speculative space companies because it wants to revisit asteroid mining.
The company says it's learned from the failures of Planetary Resources and Deep Space Industries, two ventures that pursued asteroid mining years ago, raised modest amounts of capital, but eventually failed. "All these guys want to build a multibillion-dollar 600-meter-long spacecraft and they'll get a trillion dollars' worth of metal," said co-founder and CEO Matt Gialich. "We think we can do it by thinking about it very differently."
That means going after platinum-group metals—earlier ventures focused on water ice and other volatiles that could be used to support in-space infrastructure—and taking advantage of the current abundance of small spacecraft and low-cost launch options. The company's first mission will launch early next year, a 6U cubesat that will test in Earth orbit the company's extraction technology on an "asteroid-like material" (the company declined to disclose details of that extraction technology or many other technical details.)
"All the first-order math works," he insisted. "We think we have a way that this can actually be a profitable company and a real business. We can go take a stab at launching it."
Many in the space industry, including veterans of past asteroid mining ventures, are skeptical. Even Gialich's co-founder needed convincing. "You're crazy, man," Jose Acain recalled when Gialich broached the idea during a long hike. By the end of that hike, "it's still crazy, but maybe there's something there."
Some later-stage companies remain optimistic about the market, seeing strong demand for launch and satellite services. Among them is Max Haot, CEO of Launcher, a company working on a small launch vehicle called Launcher Light as well as an orbital transfer vehicle called Orbiter. The first Orbiter mission is scheduled for this fall on a SpaceX Transporter rideshare mission, and the company has booked three more Orbiter flights on Transporter missions through 2023 before Launcher is ready in 2024.
There's such strong demand for Transporter flights, he said, that there is now a waiting list to get on launches scheduled 2023. He ties that to growing awareness of the value of space illustrated by Russia's invasion of Ukraine, where commercial satellite systems have played a key role in monitoring the invasion and providing support to Ukraine.
"The unfortunate conflict in Ukraine has made it very clear that launch vehicles and access to space is strategic," he said, arguing there wasn't enough supply yet of launch services to meet growing demand. "The same thing is happening in every facet of the industry, where startups are able to achieve more with less money. It's just the beginning of the small satellite revolution."
"I certainly don't see a slowdown," he said. "Yes, there will be an impact: maybe some less startups for a few years. But the launch capacity is not there for what is being built today and for the next five to ten years."
Rocket Lab's Hoffman said he expected less of a contraction of the industry than a slowdown in overall growth. "There's going to be a little bit of a lull, if you will, over the next year or two, and then things should start picking back up again," he said. "It's still growing. It's just not growing as fast as we were expecting or hoping two years ago or one year ago."
---
Note: we are using a new commenting system, which may require you to create a new account.