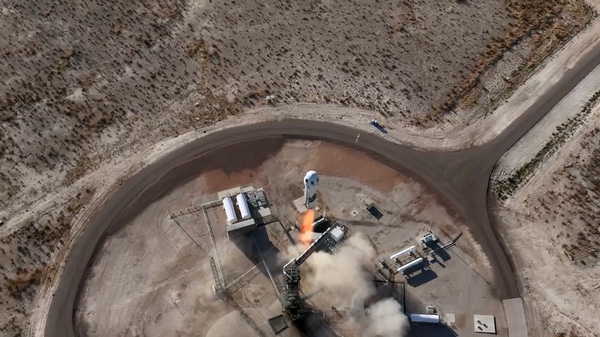 Blue Origin's New Shepard lifts off on a June mission, just the fourth to carry people since company founder Jeff Bezos flew to space a year ago. (credit: Blue Origin)
Billionaires and backlash: suborbital spaceflight a year after Branson and Bezos
by Jeff Foust

Monday, July 25, 2022
A year ago, the space community watched a marathon end with a sprint. After many years of development, and many years of delays, both Blue Origin and Virgin Galactic finally flew their founders to space days apart. Richard Branson went on Virgin Galactic's SpaceShipTwo nine days before Jeff Bezos went on the first crewed flight of Blue Origin's New Shepard. It marked the end the lengthy development phase of commercial human suborbital spaceflight and the promise of a new era of operational flights that would give many more people a chance to briefly experience expansive views and microgravity (see "Will suborbital space tourism take a suborbital trajectory?", The Space Review, July 26, 2021).
That new era is slow to take off. A year after the dueling flights, Blue Origin has performed only a handful of flights as it eases into commercial service. That's still better than Virgin Galactic, whose SpaceShipTwo has yet to fly since taking Branson to the edge of space last July as the company overhauls its fleet and plans for a new generation of vehicles. Even the promised—or feared—backlash against the "billionaire space race" has largely fizzled.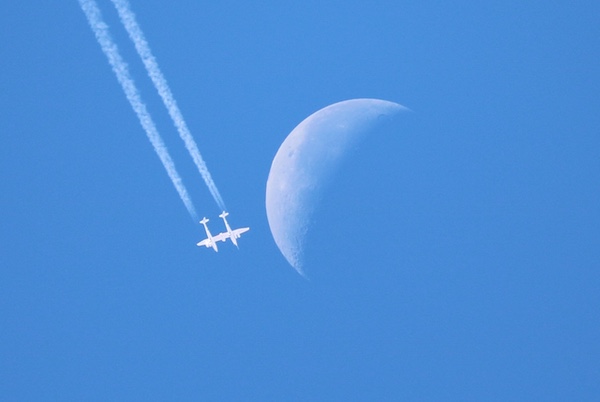 Virgin Galactic's WhiteKnightTwo aircraft, VMS Eve, heads back to Mojave for maintenance work last fall. The company has not flown the plane with SpaceShipTwo since the July 2021 suborbital spaceflight with Branson on board. (credit: Virgin Galactic)
Slow liftoff
After Blue Origin's NS-16 mission that took Bezos, his brother Mark, Wally Funk, and Oliver Daemen on a ten-minute flight beyond the Kármán Line and back, Blue Origin said it would ease into regular crewed flights. Company officials said at the time they expected to conduct two more crewed flights before the end of the year, but their plans for 2022 remained uncertain. "What we do in the following year I'm not sure yet. We'll figure that out, and what the cadence will eventually be," Bezos said at an event just after the flight.
Those near-term predictions were accurate. Blue Origin flew two more crewed New Shepard flights (and one carrying only experiments) in the rest of 2021, including the first six-person flight.
"The challenge for Blue at this point is that we're actually supply-limited," Blue Origin's Smith said. "It's incumbent on us to go build new vehicles, get them ready and safely go fly, and also safely get our launch cadence up."
Early this year, Bob Smith, CEO of Blue Origin, suggested the company would increase its flight rate this year, saying at an FAA commercial space transportation conference in February that the company would "easily double" the number of people it flies this year compared to last year, when it flew 14 people. That would include bringing into service an additional New Shepard vehicle and turning around vehicles between flights faster.
"The challenge for Blue at this point is that we're actually supply-limited. No business ever wants to be supply-limited when there's robust demand," he said. "It's incumbent on us to go build new vehicles, get them ready and safely go fly, and also safely get our launch cadence up."
However, the company is, in fact, operating at a slower flight rate than last year. Nearly seven months into the year, Blue Origin has made just two crewed New Shepard flights, carrying 12 people. On Friday, Blue Origin announced the six-person crew for its next New Shepard mission, NS-22, but did not disclose a launch date for it.
The flights have attracted a diverse mix of participants. There are celebrities like actor William Shatner and Michael Strahan, the former football player and current TV show host, who were gifted flights on New Shepard by Blue Origin. (Another, comedian Pete Davidson, backed out of a flight in March for reasons neither he nor the company disclosed.) Space For Humanity, a nonprofit organization, purchased a seat that it awarded to Katya Echazarreta, who became the first Mexican-born woman to go to space on the most recent New Shepard flight, NS-21. It purchased a second seat that it gave to Sara Sabry, set to become the first Egyptian to go to space on NS-22.
There's also been a curious intersection between spaceflight and crypto groups. An organization called the Crypto Space Agency purchased a seat on the NS-21 flight and, through what effectively was a raffle, gave it to Victor Correa Hespanha, a Brazilian engineer. The company sold non-fungible tokens (NFTs) that served as entries into the raffle, although one of the founders of the group, Joshua Skurla, acknowledged in an interview that they did not sell enough NFTs to cover the cost of the flight.
Another crypto group, MoonDAO, purchased two seats on future New Shepard launches. Its members—a DAO, or decentralized autonomous organization, is a community-led group whose members vote on key decisions—awarded one seat to Coby Cotton, a co-founder of the "Dude Perfect" YouTube Channel, who will go on NS-22.
Most, though, bought their flights themselves. They represent a mix of wealthy individuals, many of which have an interest in exploration or extreme activities. One, Evan Dick, liked the NS-19 flight in December so much he flew again on NS-21 in June.
That pace of flights, while slow, still puts Blue Origin far ahead of Virgin Galactic, which has yet to fly SpaceShipTwo since Branson's flight last July.
Immediately after that flight, Virgin Galactic offered a schedule that anticipated being back in service by now. It expected then to perform one more SpaceShipTwo flight, a mission for the Italian Air Force announced in 2019, then go into a maintenance period lasting several months before resuming flights in early 2022.
Virgin Galactic will be able to fly fewer than 200 people a year until the Delta-class vehicles enter service—less if some of the flights are devoted to research rather than private astronauts.
Weeks later, though, that schedule changed. Even as it reopened ticket sales—at a price of $450,000, $200,000 higher than previously—it pushed back the start of commercial flights to late in the third quarter, citing the need to do more work on both the SpaceShipTwo vehicle named VSS Unity and the WhiteKnightTwo carrier plane, VMS Eve, to enable more flights.
By September, Virgin Galactic changed its plans again, moving immediately into that maintenance period and delaying the Italian Air Force flight. Its schedules have continued to slip, and as of the company's latest earnings report in May, it now expects commercial service to begin in the first quarter of next year, blaming supply chain problems and a workforce spread over multiple projects for the latest delay.
If the company managed to stick to that schedule, VSS Unity will return to service in early 2023, flying once a month. It will be joined later next year by VSS Imagine, the first and likely only "SpaceShip III" vehicle, capable of flying twice a month.
Virgin Galactic, though, is betting its future on a new generation of vehicles. The "Delta-class" suborbital spaceplanes will be able to fly weekly and be manufactured at higher rates thanks to partnerships with other aerospace companies. Those vehicles, though, won't be ready to start flying customers until 2026.
The company is taking steps to produce the Delta-class vehicles as well as new carrier aircraft. Virgin announced July 6 a contract with Aurora Flight Sciences, a subsidiary of Boeing, to produce components for two new aircraft that will be assembled at Virgin's factory in Mojave, California. The Delta-class spaceplanes, meanwhile, will be assembled at a new factory the company announced July 15 will be located in Mesa, Arizona. Virgin has not announced what suppliers it plans to work with for components for those vehicles.
The Delta-class spaceplanes and new aircraft will be able to support as many as 400 flights a year, the company claims. Assuming six people per vehicle and a current ticket price of $450,000, that would result in more than $1 billion in annual revenue—if the company can actually achieve that flight rate and sell tickets at those prices.
However, for the at least 800 people who have tickets (a number based on what the company reported in its May earnings announcement), they will have to wait years to fly. With Unity capable of carrying four people once a month and Imagine six people twice a month, Virgin Galactic will be able to fly fewer than 200 people a year until the Delta-class vehicles enter service—less if some of the flights are devoted to research rather than private astronauts.
Jeff Bezos (left) and his brother Mark celebrate after their New Shepard flight last year. Bezos and Branson faced criticism as billionaires taking joyrides, but the backlash has had little impact on the industry. (credit: Blue Origin)
Feeble backlash
The flights of Branson and Bezos a year ago generated a lot of enthusiasm and excitement, but also criticism. There seemed, at times, to be a steady drumbeat of op-eds, social media posts, and other comments criticizing the billionaires for spending their money on space rather than addressing social issues, endangering the environment with the emissions of their spaceflights, and more.
That criticism went all the way to the United Nations. In a speech last September, UN Secretary-General António Guterres warned of a "malady of mistrust" in the world, citing as one example "billionaires joyriding to space while millions go hungry on Earth."
"Why should I put my life's energy into an industry that is just about the glorification of three big billionaires out there, having a bit of a jolly?" asked Baduel.
Other times, the calls came from inside the space industry's house. "Everyone in society, every citizen in the world, should be having benefit from space, and not only a few billionaires that want to do circles around the planet," said Jean-Marc Nasr, executive vice president and head of space systems at Airbus, during a company event a day after the Guterres speech. "I think it's what we do at Airbus: space that matters."
That seemed to leave some advocates of commercial spaceflight feeling, or at least sounding, embattled, defending the industry against what to them sounded like an onslaught of criticism.
An example of that was a panel discussion at last month's Summit for Space Sustainability in London by the Secure World Foundation and UK Space Agency. The panel, titled "Billionaires, Buzz, and Benefit: How Do We Fix Space's PR Problems?", featured a journalist, public relations executives, a social media influencer, and a spaceport CEO to discuss the perceptions of space among the public.
They argued that the exploits of billionaires in the industry was warping public perceptions of it. "The industry's mission is not clear because, when you look at the sentiment analysis, data from social listening tools, everything is around launches and billionaires, and people just don't feel part of that mission," argued Farzana Baduel, CEO of Curzon PR. "They think to themselves, 'Why should I put my life's energy into an industry that is just about the glorification of three big billionaires out there, having a bit of a jolly?'"
Camille Calibeo, the social media influencer on the panel who also works for space refueling startup Orbit Fab, recalled what she saw on social media after the Branson and Bezos flights. "Oh my gosh, it was awful on TikTok and Instagram and Twitter," she recalled, recalling "fighting" among people within the space industry and also those outside it. "People outside were thinking, 'Why on earth are we watching Branson and Bezos go to space?'"
But while the experience on social media might have been awful—a not-uncommon experience in general these days—it's not clear if the backlash has had any real effect on the industry. While the UN Secretary General may have criticized suborbital space tourism, the UN has done nothing else to try to slow it down. And despite concerns raised by Baduel that young people didn't feel a part of the "mission" of space, there's little sign of it slowing down the hiring or retention of employees in the field, an issue she raised (she suggested later in the panel that the industry could help humanize itself with a space technology reality show along the lines of "Love Island," a risqué British reality TV series.)
"Just as normal Americans pay taxes when they buy airline tickets, billionaires who fly into space to produce nothing of scientific value should do the same, and then some," Blumenauer said a year ago.
Perhaps the strongest evidence against a true backlash against the space industry, or billionaires within it, is an obscure House bill. Immediately after last July's New Shepard flight, Rep. Earl Blumenauer (D-OR), a member of the House Ways and Means Committee, announced his intent to introduce a bill he called the Securing Protections Against Carbon Emissions (SPACE) Tax Act. The bill would levy a tax on commercial human spaceflight, with exceptions for those conducting scientific research.
"Space exploration isn't a tax-free holiday for the wealthy. Just as normal Americans pay taxes when they buy airline tickets, billionaires who fly into space to produce nothing of scientific value should do the same, and then some," he said in a statement. The bill would tax suborbital spaceflights on a per-person basis, with a "significantly higher excise tax" for orbital flights.
There was just one problem: the SPACE Tax Act didn't exist. A spokesperson for Blumenauer said at the time that the release was "a starting point for conversations we are having with experts" and that the bill would be released in the "coming weeks."
Weeks turned into months with no sign of the SPACE Tax Act. Another spokesperson for Blumenauer said in December that the congressman was still working on the legislation "and will introduce it in the new year."
Finally, in April he introduced the bill, HR 7547. It imposes a 10% tax on tickets for commercial human spaceflights as well as a $100,000 tax per suborbital launch or $2 million for other commercial human launches. It was immediately referred to the Ways and Means Committee—which has done nothing to advance it. At this point in the year, with more pressing matters in Congress, it seems unlikely the bill will go far before the end of the current Congress, requiring Blumenauer and any supporters—the bill has no cosponsors—to start over next year.
The lack of activity and apparent interest in the SPACE Tax Act suggests there is not much of a backlash against suborbital space tourism, at least one strong enough to influence public policy. Perhaps people don't care that much about suborbital spaceflight given all the other issues to worry about today. Perhaps, more damningly for the industry, is that suborbital space tourism is just not that important.
---
Note: we are using a new commenting system, which may require you to create a new account.