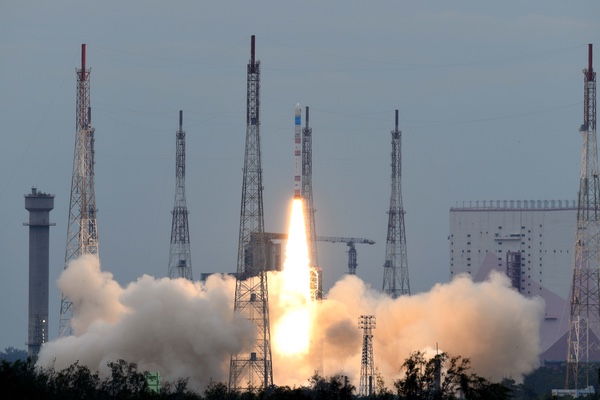 India's Small Satellite Launch Vehicle lifts off August 7 on its inaugural, but unsuccessful, flight. (credit: ISRO)
Small launchers struggle to reach orbit
by Jeff Foust

Monday, August 15, 2022
On the morning of August 7, a crowd gathered in the control room at India's Satish Dhawan Space Centre, the country's main launch site. They were there to see the long-awaited inaugural launch of the Small Satellite Launch Vehicle (SSLV), a rocket designed to place up to 500 kilograms into low Earth orbit. It was the newest of a dizzying array of new small launchers being developed worldwide to serve the burgeoning smallsat market.
The rocket lifted off on schedule at 9:18 am local time (11:48 pm EDT Saturday night) and all appeared to go well, at first. The three solid-fuel lower stages all performed nominally, with applause and cheers from those gathered in the control room. All that was left was for a small liquid-fueled kick stage to circularize the orbit and deploy the two satellites.
"Satellites are no longer usable," ISRO said in a statement. Indeed, the satellites were no longer, having almost certainly burned up on that first perigee.
Then, confusion. The mission appeared to skip ahead directly to the deployment of its primary payload, an Earth observation satellite called EOS-02, followed by a student-built cubesat. Telemetry screens showed that the kick stage, known as the Velocity Trimming Module, fired for only a tenth of a second. There were still cheers in the control room, but the webcast frequently cut away to two launch controllers with serious looks on their faces, one of them on the phone, as if advising, or being advised by, others that something was not quite right.
A short time later, the chairman of the Indian space agency ISRO, S. Somanath, took to stage to state there had been some "data losses" in the terminal phases of flight and it would take some time to determine the status of the satellites. Several hours later came the bad news: the kick stage had indeed shut down prematurely and placed the satellites into orbits with a perigee of just 76 kilometers. "Satellites are no longer usable," ISRO said in a statement. Indeed, the satellites were no longer, having almost certainly burned up on that first perigee.
Somanath said in a statement that "failure of a logic to identify a sensor failure," later identified as an accelerometer, led to the failure of the mission. "This issue related to the SSLV has been reasonably identified, but we will go deeper into it," he said. "The system has a deficiency which we need to look at very carefully."
The failure of the inaugural launch of the SSLV is just one example of the broader issues facing the small launch vehicle industry. Companies and organizations face technical struggles to develop a vehicle. But then, once a vehicle has gotten past those hurdles, it must face a new set of challenges of winning enough business to be viable financially.
Astra's reset
Among small launch vehicle developers, Astra Space has illustrated there are limits to the saying, "If at first you don't succeed, try, try again." Astra's first three orbital launches in 2020 and 2021 all failed before a November 2021 launch finally reached orbit, a cause of celebration and a sign that the company had overcome the technical problems with the Rocket 3 family of vehicles.
But a launch in February carrying four NASA-sponsored cubesats failed when the rocket's payload fairing failed to separate cleanly. The company quickly rebounded with a successful launch in March, but in June another Rocket 3.3 vehicle, carrying the first two of a six-satellite constellation for NASA called TROPICS, again failed when the rocket appeared to lose control late in the burn of the second stage.
Astra provided no updates about the status of the investigation into the most recent failure until August 4, when the publicly traded company released its second quarter financial results. While it was still investigating the cause of the latest failure, the company said it was discontinuing the Rocket 3.3 vehicle, effectively immediately. There would be no more launches of that vehicle as the company shifts its focus to the much larger Rocket 4.
"Whether we'll be able to commence commercial launches in 2023 will depend on the success of our test flights," Kemp said of Rocket 4.
"The feedback that we were getting from some of the larger constellation operators was that satellites were getting larger," said Chris Kemp, CEO of Astra, in the earnings call. "Then we started talking to our customers, and it was pretty clear that, after two of the last four flights we had flown were not successful, the opportunity to fly on a vehicle that has received all of this attention and energy from our team was also favorable to them."
Astra unveiled Rocket 4 at a company event in May, at the time touting a payload capacity of 300 kilograms to LEO. That capacity, Kemp said in the call, has since doubled to 600 kilograms, which he credited to changes in the upper stage. Rocket 3.3, by contrast, had a maximum payload capacity of 50 kilograms.
With the shift to Rocket 4, Astra says it won't conduct any more launches until some time in 2023, when it plans a campaign of test flights of Rocket 4 before beginning commercial service. "Whether we'll be able to commence commercial launches in 2023 will depend on the success of our test flights," Kemp said.
Those customers who had purchased Rocket 3.3 launches would be remanifested on Rocket 4, including NASA, which had purchased three Rocket 3.3 launches for its TROPICS cubesats. "We are in discussions with NASA to proceed with TROPICS on Launch System 2.0," Kemp said, referring to Rocket 4 and its ground systems.
It's unclear NASA will go along, though. TROPICS, designed to monitor the development of tropical storms, had unusual orbital requirements: three planes of two satellites each, inclined at 30 degrees, in order to minimize the revisit time. Those requirements tend to drive a dedicated launch—few satellites operate in such orbits—and since each TROPICS satellite is a 3U cubesat, Rocket 3.3 appeared the ideal choice for launching them. Ideal, other than an abysmal success rate.
Even before Astra's announcement, NASA officials said they were considering options for launching the remaining four TROPICS satellites. The mission could still meet its baseline goals with four satellites, although now with no margin for error. At an advisory committee meeting August 2, Karen St. Germain, director of NASA's Earth science division, said she was meeting with the agency's Launch Services Program "to figure out what that path forward will be."
Financing Rocket 4 may be another challenge. The company ended the second quarter with $200 million in cash on hand and an agreement to sell up to $100 million in stock over the next two years. Kelyn Brannon, Astra's CFO, said the company believes "its sources of liquidity will be sufficient to fund operating and capital expenditure requirements through at least 12 months."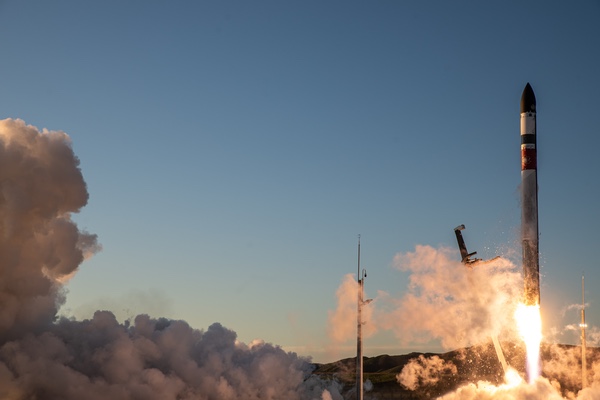 A Rocket Lab Electron lifts off August 4 carrying a classified payload for the NRO. The company says its launch rate is constrained by the readiness of its customers, not the rockets. (credit: Rocket Lab)
Lagging demand for small launchers
Astra seems to have lost the bet it made on the importance of reliability for launch vehicles. "I don't think it's all about reliability," Kemp said at the SmallSat Symposium in February, just before a launch failure. "If you have a company that can build several spare satellites, it's the agility and the speed with which you can get to orbit, ultimately, that is of value." (See "Smallsat launch and the real world", The Space Review, February 21, 2022.)
That view clashed with another panelist, Dan Hart, CEO of Virgin Orbit. "So I would say, number one, small satellite customers want reliability. They need to get to space," he said. "Satellites that are not placed in space are not that useful."
Hart's company is delivering on reliability. After a failure in the inaugural launch of its LauncherOne air-launch vehicle in 2020, the company has had four consecutive successful launches, most recently one in early July that placed seven payloads into orbit for the US Space Force. The company is now gearing up for its next launch and its first from outside the US, flying out of Spaceport Cornwall in England.
While Virgin Orbit has achieved launch success, it has not been successful yet in increasing its launch rate. The company went into 2022 projecting six launches, but has performed only two so far. After the Cornwall launch it forecasts just one more launch this year, back as Mojave Air and Space Port, which has hosted all the previous LauncherOne missions.
In an earnings call Friday, the company emphasized the revenue from its most recent launch, which at more than $12 million was far higher than previous launches. It also emphasized reductions in manufacturing time of the rocket and hours spent in launch operations. Hart said the company was "ahead of the planned learning curve" with those reductions.
"When I think about our launch manifest, it feels like a game of Whac-A-Mole," Beck said. "If we didn't do that, our launch cadence would be even less."
The company, though, has been vague about its long-term prospects. In an earlier earnings call, Hart declined to say how many launches the company needed to perform to break even. But the company, in last Friday's call, projected generating $30–40 million in revenue from its four launches projected for this year, but negative cash flow of $220–230 million. A lot more launches would be needed to close that gap, although the company has talked about diversifying into satellite services.
Whether there's a market for that many launches is uncertain. The demonstrated leader in small launch is Rocket Lab, whose next Electron mission, scheduled for mid-September, will be the 30th for the rocket overall and the seventh this year.
Peter Beck, Rocket Lab's CEO, said that launch rate is driven not by when the rockets are ready but when its customers are. "Launch cadence is really governed by our customers' readiness," he said in a virtual keynote at the 36th Small Satellite Conference at Utah State University last Monday.
Beck, both in his conference speech and an earnings call three days later, argued that the company could launch faster if only the customers were ready. At the conference, he described the challenge of continuously shifting schedules among its various customers as something like a carnival game.
"When I think about our launch manifest, it feels like a game of Whac-A-Mole," he said, moving customers around based on their shifting schedules. "If we didn't do that, our launch cadence would be even less. The number one driver for us at this point is customer readiness."
Even blue-chip customers, like the National Reconnaissance Office, are not immune from schedule slips. The NRO planned to do back-to-back Electron launches just a week and a half apart in July, but the second of the two launches slipped to early August because of a software update required for the classified payload.
"That, of course, is the question for the smallsat community: are small launches really a viable way of having a steady access to space or will things like rideshare continue to dominate?" said Niederstrasser.
The competition for small launch vehicles from rideshare launches on larger rockets remains as strong as ever. During a side meeting at the Small Satellite Conference last week, SpaceX said it has "several hundred" payloads manifested on future launches, with its Transporter line of dedicated Falcon 9 rideshare missions, flying three to four times a year, already fully booked through 2023 and "getting pretty full" in 2024, according to Jarrod McLachlan, director of rideshare sales at SpaceX.
"We're still far away from seeing the demand that will drive the once-a-week launches that many of these companies are hoping to see in the future," said Carlos Niederstrasser of Northrop Grumman in his latest annual survey of the small launch vehicle industry he presented at the conference last Thursday. "That, of course, is the question for the smallsat community: are small launches really a viable way of having a steady access to space or will things like rideshare continue to dominate?"
His survey, based on open-source data, found slowing growth in the number of new launch vehicle project as well as "significant attrition" among existing ones. They survey included 166 vehicle efforts, of which nearly 50 were considered defunct. Only 11 were considered operational, having at least one successful launch with more on order, a figure compiled before Astra announced plans to retire Rocket 3.3.
Some companies, undeterred by the record of past launches and market uncertainty, are pressing ahead. Firefly Aerospace is planning its second Alpha launch as soon as next month, having corrected the problem that doomed the vehicle's inaugural launch nearly one year ago. ABL Space Systems and Relativity Space are preparing for inaugural launches of their RS1 and Terran 1 rockets, respectively, in the near future as well.
And more ventures are coming out of the woodwork as well. Niederstrasser presented his survey at the start of a two-hour session on launch systems at the conference. Before the session ended, he announced he had found out about another new system, bringing the total to 167.
---
Note: we are using a new commenting system, which may require you to create a new account.