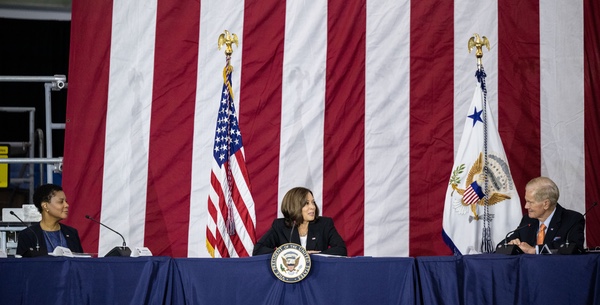 Vice President Kamala Harris (center) chaired the September 9 National Space Council meeting, with participants that included Alondra Nelson (left) of OSTP and NASA administrator Bill Nelson. (credit: NASA)
A substantive National Space Council meeting
by Jeff Foust

Monday, September 12, 2022
Most meetings of the National Space Council since it was revived five years ago have paid at least some attention to optics and visuals. The first, in October 2017, was held at the National Air and Space Museum's Udvar-Hazy Center, with the nose of the shuttle Discovery as the backdrop. (The council returned there nearly two years later, this time at the other end of the orbiter.) Many others have used space hardware of some kind as background, a visual reminder that this is the National Space Council.
A UN resolution "would allow countries to go on record regarding their support, creating that shared agreement among the majority of UN member states, while increasing political pressure on countries that have plans for future ASAT tests," said Desautels.
Last Friday's meeting of the council, at the Johnson Space Center, was no exception, with hardware like an Orion mockup clearly visible in the background. What got less attention, though, was how the meeting itself was presented to those tuning in online. The webcast, run by the White House and simulcast on NASA TV, apparently had just one camera to work with for the event. That worked fine for people sitting near the center of the angled table where participants sat, like Vice President Kamala Harris, but less so for people on the sides. Those on the far left side, for example, could only be seen from the side—if they could be seen at all. When the council heard testimony from several panels of witnesses, who faced the council, the online audience could only see the backs of the heads.
That presentation made the National Space Council meeting look like a local school board meeting on public access TV. The lack of style, though, should not be confused with a lack of substance. At the council's first public meeting in nine months—a span that caused to some to wonder what exactly the council was doing—officials rolled out a number of initiatives and announcements on topics ranging from space security to the space workforce.
Building support for an ASAT test ban
One issue that has consequences for not just national but also international space policy is a ban on testing direct-ascent antisatellite (ASAT) weapons because of the debris they can create. In April, Harris announced that the US would no longer conduct such tests—not that any were planned—and called on others to join in that moratorium (see "A small ban of ASATs, a giant leap for space security?", The Space Review, April 25, 2022.)
Since then, though, only two countries have formally joined the ASAT testing ban: Canada and New Zealand, neither of whom had developed, or planned to develop, such weapons. (As this story was being published, a third country, Japan, announced its intent to join the ban.) Many other countries had expressed support for the concept but had not taken any steps to formally commit to a testing moratorium.
At the council meeting Friday, Harris announced that the US would introduce a resolution at the UN General Assembly later this month calling for a ban on direct-ascent ASAT tests. The resolution, while nonbinding, would be a way for countries to formally signal their support for the proposal.
At the council meeting, Monica Medina, assistant secretary for oceans and international environmental and scientific affairs at the State Department, said her colleague, Mallory Stewart, assistant secretary for the State Department's Bureau of Arms Control, Verification, and Compliance, would lead the effort to win support for the resolution at the UN, while also discussing it at a meeting this week in Geneva of an "open-ended working group" chartered by the UN to discuss reducing space threats.
"In the coming weeks, Assistant Secretary Stewart and her team will have extensive consultations at the UN," Medina said. "Our goal is that this resolution is adopted with the broadest possible support."
Last month, another State Department official said that a UN resolution was one option under consideration to build support for the ASAT ban. "Such a resolution would allow countries to go on record regarding their support, creating that shared agreement among the majority of UN member states, while increasing political pressure on countries that have plans for future ASAT tests," said Eric Desautels, acting deputy assistant secretary for arms control, verification and compliance, during a panel discussion at an August 24 event organized by The Aerospace Corporation and the George Washington University's Space Policy Institute.
The other option to "multilateralize" the moratorium, he said, would be to pursue a binding agreement of some kind to halt ASAT tests. However, that would be a much longer effort, suggesting than a UN resolution and other effects to develop non-binding norms of behavior were first steps.
"There are potentially other steps that could eventually get you to a legally binding arms control agreement, but these are slow, painful processes," he said. "Diplomacy doesn't move very quickly, so let's address things that we can, potentially through the UN."
Space traffic management cooperation
At the council meeting, Don Graves, deputy secretary of commerce, mentioned the role his department is intended to play in taking over civil space traffic management (STM) from the Defense Department. Space Policy Directive 3, published more than four years ago, directed that shift in responsibilities, but the progress to date has been slow and uneven.
The agreement "is a necessary first step in a civil authority conducting tracking and notification of space objects," said Gen. Dickinson.
Graves said that the Commerce and Defense Departments has signed a memorandum of agreement (MOA) to cooperate and "will drive our mutual work" on the transition. "That's really going to allow us to have not just a basic level of space traffic awareness, but it will also allow us to drive the research, the innovation, we all know we need to maximize the space environment for future generations."
The agreement itself was not disclosed, and neither department provided many details about what is different now the agreement is in place. Both sides praised it nonetheless. "This MOA is a necessary first step in a civil authority conducting tracking and notification of space objects," said Gen. James Dickinson, head of US Space Command, in a statement.
Eventually, the Commerce Department's Office of Space Commerce will take over the work of providing warnings of potential collisions to satellite operators, using the space situational awareness (SSA) data collected by the Defense Department. However, the Office of Space Commerce plans to also use data from international partners and commercial providers.
On the latter point, Graves also announced that the office was making its first purchases of commercial SSA data as a pilot project. The department did not immediately disclose the winners, but they include LeoLabs, which operates a worldwide network of radars to track satellites and debris in low Earth orbit.
That data buy will set the stage for experiments in using commercial SSA data. That includes, Graves said, an "all-commercial" STM experiment where the office will test performing STM activities using only commercial data. "It will seek to replicate a portion of the DoD's basic safety services using only commercial data and analytical services."
Coordinating commercial space investigations
At the council meeting, Polly Trottenberg, deputy secretary of transportation, said that the FAA and the National Transportation Safety Board had signed a new agreement outlining their roles in investigating commercial space transportation accidents. The new MOA replaces one that had been signed 22 years ago.
Under the new agreement, the NTSB will take the lead on investigations involving death or serious injury, either of people on board or those on the ground. It will also lead investigations where there was property damage outside of launch sites "from debris that could reasonably be expected to cause death or serious injury." All other investigations into commercial spaceflight incidents will be led by the FAA.
"We've got to update the rules because they're just simply outdated. They were written for a space industry of the last century," Harris said last month.
The agreement brought an end to a bureaucratic turf war that started last fall when NTSB published a notice of proposed rulemaking, or NPRM, to update its plans for investigating commercial space accidents. It proposed taking a more expansive role than it had in the past, including provisions in the NPRM that many in industry, as well as the FAA itself, found duplicative (see "Regulatory issues for a growing launch industry", The Space Review, March 14, 2022)
Congress later got involved, with the bipartisan leadership of the House Science Committee asking the White House to direct the NTSB to withdraw its rulemaking plans. Instead, the NTSB said it would work with the FAA on an updated agreement, and would not publish a final rule without an additional round of public comment.
"This agreement reflects our shared goal to ensure a safe, robust and vibrant U.S. commercial space industry," said Billy Nolen, acting FAA administrator, in a statement. "This will help us ensure that safety lessons learned move into the operation as quickly and seamlessly as possible."
Regulating "novel" commercial space activities
The space industry went into last Friday's National Space Council meeting knowing one topic would be discussed: how to regulate emerging commercial space activities that don't fit into the current regulatory system set up for communications, remote sensing, and other mature markets. Such "novel" activities range from commercial space stations to in-space manufacturing to lunar landers.
Harris, in an August 12 speech in Oakland, California, mentioned the issue and said it would be the subject of the space council meeting. "We've got to update the rules because they're just simply outdated. They were written for a space industry of the last century," she said then.
The issue didn't come up until near the end of the two-hour council meeting, taking in some expert testimony on the value of clarifying commercial space regulations for improving space safety and providing certainty to potential investors. At the end, Harris announced she would seek proposals from agencies on how to set up a new regulatory framework. Those proposals would be due in 180 days, although she didn't say what would come next.
There have been no shortage of proposals in the past, including those that would give "mission authorization" authority to the Office of Space Commerce or the FAA's Office of Commercial Space Transportation. Their parent cabinet departments weighed in on the issue.
"We believe that it's absolutely critical for the U.S. to ensure that all commercial space missions are properly authorized and supervised," said Commerce's Graves.
"We certainly recognize novel space activities require regulatory clarity and flexibility and predictability," said Transportation's Trottenberg.
Neither, though, offered hints at what they might propose, instead pointing to efforts like streamlining of commercial launch regulations at the FAA.
"Today, the space industry employs tens of thousands of skilled technical workers," Harris said, but added that thousands more positions are "just waiting to be filled."
Other organizations are also in the mix. The day before the council meeting, the FCC published a draft order that would direct LEO satellites licensed by the FCC, or seeking market access to the US through the FCC, to deorbit their satellites within five years of their of their missions, rather than the current guideline of 25 years. The change, sought by many in the space community, is intended to reduce the amount of orbital debris produced as well as the number of maneuvers active satellites have to make to avoid defunct satellites.
While some have debated what agency should be taking on the role of regulations like this, the FCC is taking action, something the commission's chair, Jessica Rosenworcel, mentioned at the council meeting. "Twenty-five years is an awfully long time," she said of the old guideline. "Our space economy is moving fast, so at the FCC we're going to make this effort move faster."
Strengthening the space workforce
One final matter dealt with the space workforce. NASA and other government agencies have long stressed the value of space for science, technology, engineering, and math (STEM) education, encouraging students to pursue STEM careers, not necessarily in space. As the space industry continues to grow, both companies and the government see the need to get more people to work in the industry, including in positions that don't require the college educations normally associated with STEM fields.
Harris emphasized "the work we must do to build a skilled technical space workforce," including machinists, welders, and other roles that require formal training but not a college degree. "Today, the space industry employs tens of thousands of skilled technical workers," she said, but added that thousands more positions are "just waiting to be filled."
The White House used the meeting to release a detailed "interagency roadmap" for space-related STEM education and workforce development, outlining efforts from increasing the number of apprenticeships for space-related jobs to working with TV shows to profile space education and workforce topics.
The centerpiece of it, though, was an initiative by a coalition of more than a dozen companies, working with the Aerospace Industries Association and AIAA, to develop regional pilot job training programs. Those pilot programs will start this fall on Florida's Space Coast, Mississippi and Louisiana, and southern California.
"This coalition of companies will partner with our community colleges, with our technical schools, and our unions to help workers learn the skills they need, to take on the new jobs that are being created in the space industry, and to help our nation lead the way in space," Harris said.
Perhaps, by the next meeting of the National Space Council, those jobs will include a few additional camera operators.
---
Note: we are using a new commenting system, which may require you to create a new account.