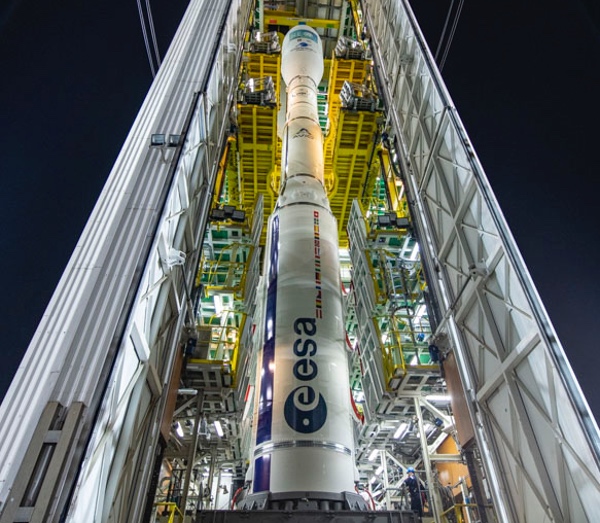 The Vega C on the pad before its ill-fated launch December 20. (credit: ESA/CNES/Arianespace/Optique vidéo du CSG - JM Guillon)
After all, it's rocket science (and bureaucracy)
by Jeff Foust

Tuesday, January 3, 2023
Last year was the most active one ever for spaceflight, in terms of launch activity. There were 186 orbital launch attempts worldwide in 2022, of which 179 were successful. That's more than double five years ago, when there were 86 successful launches out of 90 attempts. That increase is thanks primarily to China and SpaceX: the country went from 18 orbital launch attempts in 2017 to 64 in 2022, while the company went from 18 to 61 launches in the same span.
SpaceX in particular has made launch seem routine. Not only were all 61 of its launches successful last year, every booster landing attempt—something that still seemed experimental five years ago—was also a success.
However, 65 years after the launch of Sputnik, spaceflight is still not routine. The final weeks of 2022 revealed some of the persistent challenges to routine launches. One rocket, supported by European governments, malfunctioned minutes after liftoff, preventing its payload from reaching orbit. A startup made several attempts at the inaugural launch of its small rocket, only to be stymied by technical problems. Two other companies, looking to expand to new launch sites, ran into obstacles more bureaucratic than technical.
"A slight problem"
On the evening of December 20, a Vega C rocket lifted off from Kourou, French Guiana, carrying two Pléiades Neo imaging satellites for Airbus Defence and Space. It was the second flight of the Vega C, an upgraded version of the Vega small launch vehicle, after a successful inaugural launch in July.
"We're still waiting for some news of the launcher, which has had a slight problem," the webcast host said a few minutes later, hesitating between "slight" and "problem".
Arianespace, which markets the Vega C, went into the launch feeling optimistic about the prospects for the Vega C. Three weeks earlier, the company announced it signed a contract with the European Commission for five Vega C launches from 2024 to 2026 of Sentinel satellites that are part of the Copernicus Earth observation program.
While the European Commission, which jointly operates Copernicus with the European Space Agency, was unlikely to select another vehicle for those satellites, the contract was nonetheless an endorsement of the Vega C, increasing its backlog of contracted launches to 13. In a briefing with reporters, Arianespace CEO Stéphane Israël declined to give the value of the contract but said Arianespace offered a "very competitive" price. "What we sold for Sentinel is highly competitive as opposed to what I have seen when one has been launched from the US," he said, but did not elaborate.
The liftoff, and the first few minutes thereafter, of the December 20 launch appeared to go as planned. By about four minutes after liftoff, though, the rocket's altitude began to deviate from the planned trajectory shown on the mission webcast, suggesting a problem with the rocket's upper stage.
The webcast's commentators soon picked up on the issue, yet held out hope that the problem could somehow be corrected. "Well, it was a very spectacular liftoff," the host said at one point as the data on the screen showed the rocket's altitude plummeting. "We're still very hopeful and we hope that the problem is going to be resolved."
"We're still waiting for some news of the launcher, which has had a slight problem," she said a few minutes later, hesitating between "slight" and "problem" as though trying to put the best spin on what was clearly becoming more than a slight problem.
Arianespace soon confirmed that the launch had failed. It, along with ESA and Vega prime contractor Avio, offered a few details at a briefing the next day billed as a press conference but which took no questions from the dozens of reporters online.
Arianespace CTO Pierre-Yves Tissier said at that briefing that the chamber pressure in the rocket's solid-fuel Zefiro-40 second stage started to drop seven seconds after ignition. There was a "progressive decrease" in pressure up to three minutes and 28 seconds after liftoff, when there was a sudden drop, followed by failure of several electronics units on the stage.
Neither he nor others at the briefing speculated on what caused that decrease in pressure in the Zefiro-40 motor, although they noted it worked well in the first Vega C launch as well as two qualification tests. They also did not estimate how long the joint Arianespace-ESA investigation would take.
The failure is the third for the Vega series of vehicles in three and a half years. A launch in July 2019 failed because of a problem with the Zefiro-23, the motor used as the second stage on the original version of the Vega, replaced by the Zefiro-40 for Vega C. The Vega successfully returned to flight in September 2020, but its next launch that November failed because of improperly connected cables in its Avum upper stage, grounding Vega until April 2021.
The failures comes at an awkward time for European spaceflight, with the Soyuz no longer available, only two remaining Ariane 5 launches, and the first Ariane 6 launch no sooner than the fourth quarter of this year. Vega C remains a cornerstone, with Ariane 6, of Europe's access to space in the long term, but the transition has not been easy.
"We are committed to organize and implement a long-lasting, successful return to flight of Vega C," Israël said at the briefing after the failure, but did not estimate when he thought the Vega C would be ready to launch again.
ABL Space Systems attempted a launch of its RS1 rocket from Kodiak, Alaska, November 21, only to be stopped by a last-second technical issue. (credit: ABL Space Systems)
Striking a balance
Perhaps more challenging than returning a rocket to flight, particularly one that has successfully reached orbit before, is the first launch of a new rocket. In the former case, you know a rocket works and you just need to figure out what went wrong. In the latter case, you're still figuring out if the rocket works and finding out all the ways it doesn't.
"This one was close. If we had been just 0.3% less conservative, RS1 would have flown that day," the company said of the third launch attempt.
That's the case with ABL Space Systems, which had hoped to conduct its inaugural RS1 launch from Kodiak, Alaska in late fall. The company had kept a relatively low profile in the vehicle's development, compared to some of its peers in the small launch vehicle field, which it extended to that inaugural launch: there was no webcast of the launch planned, but instead a series of social media updates.
ABL made its first launch attempt November 14, only to scrub the launch 30 minutes before liftoff because of a valve failure in the pressurization system in the rocket's lower stage fuel tank. A second attempt three days later made it to T-1.8 seconds when it noticed low pressure in half its gas generators when attempting ignition of the first stage. The company concluded that it had not properly conditioned the liquid oxygen in the vehicle. A third attempt November 21 was aborted at T-1.75 seconds: the liquid oxygen was properly conditioned but there was low pressure in the system used to ignite the engine.
"This one was close. If we had been just 0.3% less conservative, RS1 would have flown that day," the company said of the third launch attempt in a recap." A tantalizing end to the week for our team, but you have to strike a balance between false positive aborts (scrubs) and false negative aborts (damage)."
The company set up for a fourth attempt December 8 from Kodiak, but aborted the launch at T-6 minutes. The company said several days later that "unexpected electrical interference" in its avionics triggered the abort, a problem it noticed only when the vehicle was loaded with propellant. "This indicates a thermoelectrical or thermomechanical root cause," the company concluded.
ABL stood down for the rest of the month to correct the problem and prepare for a fifth launch attempt. That launch is currently scheduled for no earlier than January 9, again from Kodiak.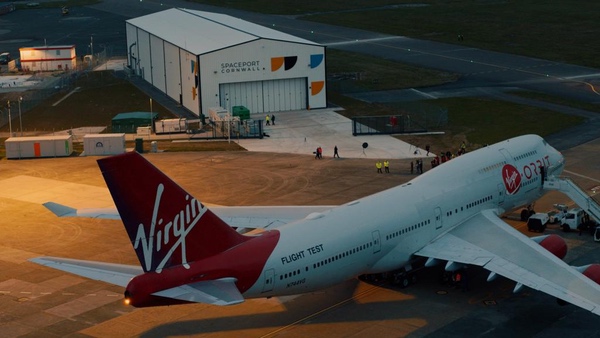 Virgin Orbit's "Cosmic Girl" Boeing 747 at Spaceport Cornwall in England, awaiting its first UK launch. (credit: Virgin Orbit)
Paperwork problems
Both Rocket Lab and Virgin Orbit have successfully reached orbit multiple times with their small launch vehicles, operating from New Zealand for Rocket Lab's Electron and Southern California for Virgin Orbit's air-launched LauncherOne. But both companies ran into issues trying to launch from new locations.
"It is taking longer than we had anticipated and it is taking a bit more effort than we anticipated as well," Virgin Orbit's Hart said of the UK launch licensing process in November.
Virgin Orbit had long touted the mobility of LauncherOne: any airport that could accommodate a Boeing 747 could, in theory, become a launch site. The company was finally ready to test that in the fall by sending its 747, called Cosmic Girl, to Cornwall Airport Newquay, aka Spaceport Cornwall, in England for a mission called "Start Me Up" that would be not just Virgin Orbit's first launch from outside the US but the first orbital launch attempt from (or at least taking off from) UK soil.
That, though, required licenses for both Virgin Orbit and Spaceport Cornwall, going through a new process run by the UK's Civil Aviation Authority (CAA), the equivalent of the FAA in the US. As that process went on, there was some frustration from Virgin Orbit's side at how long it was taking.
"The good news is that we don't see a showstopper or a big issue we're working," Virgin Orbit CEO Dan Hart said in an earnings call in early November. "But, it is taking longer than we had anticipated and it is taking a bit more effort than we anticipated as well."
His comments came a few days after a report by a House of Commons committee that criticized licensing delays and called on the CAA to assign more personnel to work on launch licensing reviews. (The CAA had, in fact, already increased the number of people working on launch licensing by the time the report came out.)
The delays were affecting Virgin Orbit's business. The company started 2022 projecting up to six launches in the year, and by early fall, with two launches successfully completed, the company was hoping to get a fourth launch in back in the US after conducting the UK launch. But in the November earnings call, Hart said the company would complete only three launches in the year, assuming that they got their licenses in time for the UK launch.
A month later, Virgin Orbit said it would not be ready to launch from the UK in 2022 after all. The company said December 8 that it needed to perform unspecified "additional technical work" on the rocket while awaiting a CAA license. The launch would be postponed "for the coming weeks," or not until after the beginning of 2023.
That license finally came December 21. Virgin Orbit now has all the regulatory approvals needed for its UK launch, although it did not announce a specific date when the launch would take place. "This is a major milestone for the CAA and represents the successful completion of an enormous effort," Hart said in a statement, "which has included the construction of new regulations, new processes and new teams."
The CAA, sensitive to claims it was holding up the launch, noted in the statement it issued the Virgin Orbit license "within our expected timelines." The CAA previously estimated the launch licensing process would take 9 to 18 months to complete; it stated it awarded the license to Virgin Orbit in 15 months.
The delays in the licensing process, though, affect Virgin Orbit in two ways. One is that the company has yet to demonstrate it can increase its launch rate needed to generate more revenue and stanch the company's losses. It's not clear, though, how many more launches it would have been able to perform if it had remained at its home base of Mojave Air and Space Port in California.
A second challenge is that the struggles getting a license from the UK suggest the company's plans to expand launch operations to other countries may be more difficult than predicted. Virgin Orbit has emphasized the mobility of its LauncherOne system and discussed flying out of airports from Australia to Japan in the coming years. But if each new location brings with it licensing obstacles, the market opportunities might not be worth the regulatory headaches.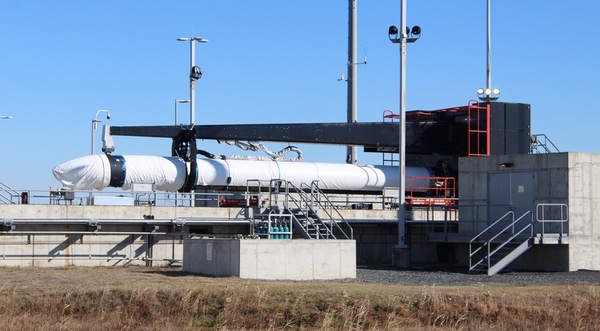 A Rocket Lab Electron, resting horizontally and wrapped in blankets, awaiting launch from Launch Complex 2 at Wallops Island, Virginia, in December. (credit: J. Foust)
While Virgin Orbit was waiting for its licensing paperwork from the CAA, Rocket Lab was waiting for a different approval. The company was gearing up for its long-awaited first launch from Launch Complex 2, its launch site at Wallops Island, Virginia. The facility itself was completed three years ago with plans to host a first Electron launch there in mid-2020.
The challenges of getting started at Wallops, Beck said, "make you appreciate owning your own range where you're in control of all of this and you're dealing with one regulator directly."
However, to launch from Wallops, Rocket Lab would need a new autonomous flight termination system developed by NASA, which oversees the launch range. That system, called the NASA Autonomous Flight Termination Unit, or NAFTU, was completed in 2020, but a review found numerous errors in its software. That led to a cross-agency review of the system that brought in experts from the FAA and Space Force to assist.
By early 2022, NAFTU was ready for an independent review and certification, which found additional issues that needed to be fixed. "We knocked down each one of those challenges, one by one, and we completed independent testing in the summer of 2022," said David Pierce, director of NASA's Wallops Flight Facility, at a December 14 briefing.
By the fall, NAFTU was formally certified and handed over to Rocket Lab. There was nothing left to do before Rocket Lab could attempt to launch its Electron December 16 other than what Pierce described as some minor paperwork to demonstrate its flight safety plan to the FAA.
A day later, though, Rocket Lab announced that the December 16 flight would be delayed at least two days because of the need by NASA and the FAA to complete "range-driven documentation": the paperwork that Pierce mentioned the previous day.
Peter Beck, CEO of Rocket Lab, expressed his frustration with the delay with a head-banging tweet. In an interview at Rocket Lab's Wallops facility on December 16, he acknowledged he was "disappointed and frustrated" in the problem that was beyond his control and which he felt should have been resolved long ago.
"This is the first time and there's always going to be some teething issues," he said. "I guess we're just frustrated that these teething issues didn't happen six months ago. It happened literally days before we were ready to launch." Rocket Lab, he said, had been ready for its "Virginia Is for Launch Lovers" mission, carrying three HawkEye 360 radiofrequency surveillance satellites, since early December.
The paperwork issue was resolved, but high upper-level winds scrubbed the December 18 launch attempt. Forecasts did not improve by the time the launch period closed December 20, forcing Rocket Lab to postpone the launch until after the holidays.
Beck said he doesn't expect the problems leading up to the first Electron launch from Wallops to be repeated. Rocket Lab said in a November earnings call it expected to perform as many as 14 Electron launches in 2023, four to six of which would be from Launch Complex 2.
New Zealand's Launch Complex 1, though, owned and operated by Rocket Lab, will continue to be the primary launch site for Electron. The challenges of getting started at Wallops, he said, "make you appreciate owning your own range where you're in control of all of this and you're dealing with one regulator directly."
As Rocket Lab and others gear up for new launch attempts in January, SpaceX is already off and running. Its first Falcon 9 launch of the year took place on the morning of January 3, carrying 114 smallsats for many customers as part of its Transporter series of dedicated rideshare launches. That launch alone may end up placing more satellites into orbit than what many small launch vehicles companies will achieve combined in 2023.
---
Note: we are using a new commenting system, which may require you to create a new account.