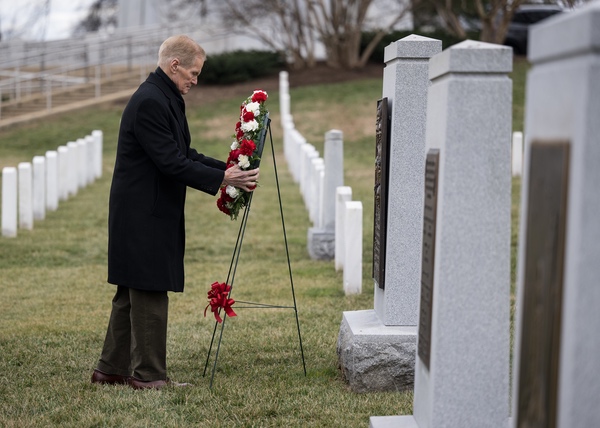 NASA administrator Bill Nelson lays a wreath during ceremonies last week at Arlington National Cemetery as part of NASA's annual Day of Remembrance. (credit: NASA/Aubrey Gemignani)
Human spaceflight safety in a new commercial era
by Jeff Foust

Monday, January 30, 2023
Every year in late January, NASA reflects on its tragedies. The annual Day of Remembrance ceremonies across the agency commemorate the three human spaceflight fatal accidents that clustered in the same place in the calendar despite being spread out over decades. There are memorials, ceremonies, and discussions to recall those events and reflect on how to prevent future tragedies.
"Each of us has a responsibility to cultivate a work environment where every member of the NASA family feels empowered to voice doubt," Nelson said.
This year's events have taken on a special significance. February 1 marks the 20th anniversary of the breakup of Columbia during reentry at the end of the STS-107, a round number that is always a trigger for additional reflection. Two decades means that many of the people who were at NASA at the time of the accident are no longer there, while many agency employees have joined since then; an inevitable decline of institutional memory.
The 20-year span since Columbia brings up another historical reminder. That accident took place 17 years after Challenger, which took place 19 years after Apollo 1. Is NASA due for another human spaceflight accident?
The agency's leadership is working hard to make sure that's not the case. In a "safety town hall" meeting January 24, they implored the agency's workforce to avoid "groupthink" and speak up if they saw a problem.
"These are the enduring lessons from each of these tragedies," said NASA administrator Bill Nelson. "The bottom line is this: speak up. A question, even a simple question, is more forgivable than a mistake that can result in a tragedy. Each of us has a responsibility to cultivate a work environment where every member of the NASA family feels empowered to voice doubt."
He and other leaders have a particular personal perspective for this. For the first time in the agency's history, the three highest-ranking officials—administrator, deputy administrator, and associate administrator—have all flown in space before. Deputy administrator Pam Melroy and associate administrator Bob Cabana are former NASA astronauts who commanded shuttle missions, while Nelson, famously, was a payload specialist on the mission immediately before Challenger in January 1986.
"While I love honoring the crews, this can be a hard day," said Melroy, who appeared to be fighting back tears, "and I get so much comfort from Bill and from Bob because you've been through this, and you understand."
Cabana recalled he had joined NASA's astronaut corps seven months before Challenger, and was the director of flight crew operations for STS-107, riding out to the pad with the seven astronauts ahead of their launch. "I knew it was preventable. I knew we could have done something, in retrospect, when we learned about it," he recalled.
"I was the one who had to tell the families that they weren't coming home," he said. "I don't ever want to have to do that again. We can prevent accidents with people flying in space."
All three emphasized the importance of an open workplace culture, where people feel able to bring up issues and concerns. Cabana said it was "mandatory" for people to speak up if they have a question, even if they are new to the agency or a program. "If you're brand new to an organization, don't think that everybody else knows it all. If you have a question, please ask that question."
"A lot of times people are grateful someone asked it," Melroy added.
"They have learned from us on the NASA missions we fly to ISS," Cabana said of SpaceX. "If you look at how they run their totally private astronaut missions, they run them in the same manner as they execute the missions for us."
As important as that cultural shift is—encouraging debate, avoiding the normalization of deviance seen in both the Challenger and Columbia accidents—there is a bigger change with potential implications for safety. All three accidents NASA memorializes involve vehicles owned and operated by the agency. But, the last time NASA astronauts launched on such a vehicle was the final shuttle mission in 2011. Since they, they have flown to the space station—owned and operated by multiple governments—on either Russian Soyuz vehicles or commercial crew vehicles: SpaceX's Crew Dragon and, as soon as this April, Boeing's CST-100 Starliner.
That shift, at a minimum, changes the dynamic of safety with NASA no longer in full control. "It's a challenge," Nelson acknowledged. "Who, at the end of the day, if it's a NASA mission, is responsible? It's us. Therefore, we've got to look over their shoulder, we've got to ask the questions, and use the same degree of rigor that we would, if it were a government mission only."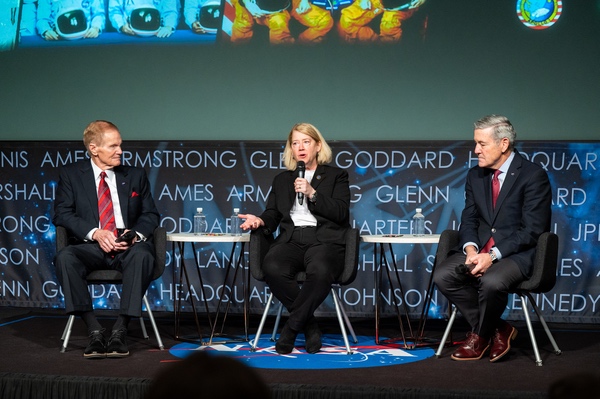 Bill Nelson, Pam Melroy, and Bob Cabana discuss safety during an agency town hall January 24. (credit: NASA/Keegan Barber)
A day later, NASA held a briefing about the next such mission, the Crew-6 Crew Dragon mission launching to the International Space Station in late February. "It's multiple reminders for us that we need to, in human spaceflight, remain vigilant and continue to recognize that we are keeping the safety of the crew in our hands," said Kathy Lueders, NASA associate administrator for space operations, of past accidents.
"Spaceflight is certainly challenging. It's still challenging in 2023, but we take that very seriously in commercial crew and we're looking forward to a safe mission when we're ready to fly," added Steve Stich, NASA commercial crew program manager.
At the town hall, Cabana said that the rigor he saw SpaceX approach its commercial crew missions for NASA had transferred to its private astronaut missions. "They have learned from us on the NASA missions we fly to ISS," he said. "If you look at how they run their totally private astronaut missions, they run them in the same manner as they execute the missions for us."
He said later that NASA had worked with SpaceX to avoid the "normalization of deviance" problem at the root of past accidents. "We've seen it in flying on our SpaceX vehicles, even today, where something's not right but nothing goes wrong," he said. "We have to question when something's not right."
He didn't elaborate on the issue or issues seen with SpaceX vehicles that prompted those reviews. However, at a similar safety town hall event one year earlier, Cabana alluded to a parachute on a cargo Dragon spacecraft that opened later than the other three parachutes when it returned earlier in the month. A similar situation was seen on the return of the Crew-2 Crew Dragon the previous November. "We need to make sure we understand the model that we have, that we're OK as we go forward," he said then.
NASA, though, has not previously revealed the "lagging parachute phenomenon," as agency officials later called it, had occurred on the cargo Dragon return; unlike Crew Dragon missions, the splashdowns of the cargo vehicles are broadcast neither by NASA nor by SpaceX. Only when a reporter picked up on Cabana's comments and made inquiries did NASA acknowledge the situation, holding a media teleconference a few days later.
NASA and SpaceX officials said at the briefing that they believed the lagging opening could be just an artifact of the aerodynamics of such large parachutes, and the issue has not been seen, or reported by NASA, on subsequent splashdowns.
"If commercial human spaceflight takes off, which we think it will the same way commercial aviation did, at some point the industry will have to learn its lessons on its own," Melroy said.
That is not the only case where there is a lack of public transparency in human spaceflight safety. In September, Blue Origin conducted a launch of its New Shepard suborbital vehicle, this time with the capsule carrying only payloads rather than people. A little more than a minute into the flight, though, some sort or problem with the vehicle's booster triggered the launch abort motor on the capsule, sending it safely away. The capsule parachuted back to Earth intact, and the company later said that, if there had been people on board, they would have survived (although perhaps after experiencing as much as 15g's, briefly, during the abort.)
Blue Origin has said almost nothing about the incident since then, which has grounded the vehicle. While speculation focused on the vehicle's BE-3PM engine, a company executive said a day after the accident it was a "little premature" to assume the failure was linked to an engine problem. Four and a half months later, it is apparently still premature, given the lack of comment from Blue Origin on the progress into the investigation and any return-to-flight plans.
Days after the accident, the bipartisan leadership of the House Science Committee's space subcommittee called on the FAA, which licenses commercial human spaceflight launches, to provide more details about the accident and the investigation, noting the safety risk. "On a different day with a different mission, this vehicle's anomaly could have put human lives in danger," Reps. Don Beyer (D-VA) and Brian Babin (R-TX) wrote. (The specific capsule/booster combination used on that launch had only been used for uncrewed flights; a different booster and capsule has flown the company's crewed flights.) However, both the FAA and Blue Origin have kept quiet publicly about the investigation.
The other commercial human suborbital spaceflight company, Virgin Galactic, has had its share of safety issues, including the October 2014 accident during a SpaceShipTwo powered test flight that killed co-pilot Michael Alsbury and seriously injured pilot Pete Siebold. The current SpaceShipTwo vehicle, VSS Unity, has not flown since July 2021 as the company makes repairs to both it and its WhiteKnightTwo carrier aircraft. That flight, with company founder Sir Richard Branson on board, was hailed as a success, only to find out months later that the vehicle has strayed from assigned airspace—something again only revealed after leaking to the media.
Commercial human spaceflight safety will become an issue not just for NASA, as it flies its astronauts on Crew Dragon and Starliner, but also the FAA, which licenses those launches along with New Shepard and SpaceShipTwo. The agency had focused on protecting the uninvolved public, restricted from enacting safety regulations for those flying on the vehicles under a "learning period" included in a law passed in 2004 and which, after several extensions, is scheduled to expire in September. The industry is watching that expiration with some trepidation, even as FAA officials have said they don't plan to immediate enact a suite of new regulations the moment the learning period ends.
"If commercial human spaceflight takes off, which we think it will the same way commercial aviation did, at some point the industry will have to learn its lessons on its own," Melroy said at the town hall. She said NASA worked closely with FAA on licensing crew and cargo launches and would continue to do so as that agency took on new regulatory responsibilities.
"A lot of people don't realize how closely we scrutinize all the activities on our commercial cargo, commercial crew, our private astronaut missions. We're very, very involved," she said. "As time goes on, we hope to transfer that knowledge as things go forward, but I think at least for a decade or more to come, we're going to be extremely engaged with all those commercial partners."
As that engagement continues, there will likely be repeated calls for vigilance, including watching out for normalization of deviance and creating an environment where everyone feels comfortable raising questions. Another attribute that both the agency and industry should adopt is transparency with regulators, customers, and the public to demonstrate that ongoing commitment to safety.
---
Note: we are using a new commenting system, which may require you to create a new account.