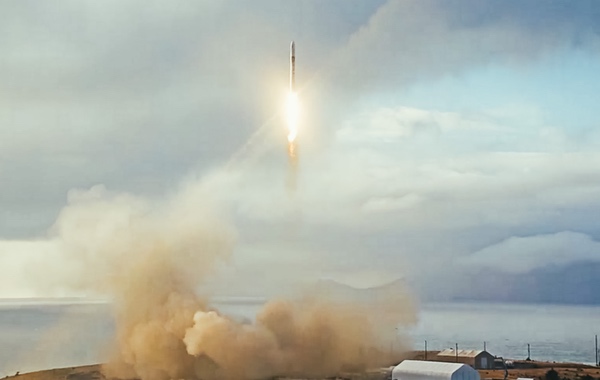 ABL Space Systems launched its first RS1 rocket January 10. Seconds after liftoff, though, the vehicle lost power and crashed in an explosion that damaged its launch pad. (credit: ABL Space Systems)
Too many or two few? The launch industry's conundrum
by Jeff Foust

Monday, February 13, 2023
After months of anticipation, the first orbital launch from UK soil took off from Spaceport Cornwall in southwestern England late in the evening of January 9. Virgin Orbit's "Cosmic Girl" 747 aircraft, with a LauncherOne rocket slung under its left wing, headed out over the Atlantic for its mission. The event attracted a large crowd despite the late hour and the fact that there was little for them to see other than the airplane's takeoff, since the release of the rocket and its climb to orbit would take place off the coast of southern Ireland, far out of view. (Attendees were entertained by other things, including a "silent disco" where they could dance away to tunes played on wireless headphones.)
"This is like a $100 part that took us out," Hart said the component linked to the LauncherOne failure.
The action was on the mission's webcast, where viewers could follow the mission, including telemetry from the airplane and rocket. The flight appeared to go like four previous, successful missions over the previous two years, with the rocket separating from the 747 and igniting its first stage engine, followed a few minutes later by stage separation and second stage ignition. The telemetry appeared erratic at times, but the company announced on the webcast and social media that the second stage and its payload of seven smallsats had reached orbit, where they would coast before a second burn more than a half-hour later to circularize the orbit and release the payloads.
"LauncherOne has once again successfully reached Earth orbit! Our mission isn't over yet, but our congratulations to the people of the UK! This is already the first-ever orbital mission from British soil – an enormous achievement by @spacegovuk and their partners in government!" the company tweeted.
A half-hour later, though, the company retracted that claim and deleted the tweet. "We appear to have an anomaly that has prevented us from reaching orbit. We are evaluating the information," the company announced. It didn't explain why it claimed the payload reached orbit, and provided few details about the failure.
A few days later, it said the upper stage suffered an unspecified anomaly that shut down its engine prematurely. The company said is started a formal investigation, which would be jointly overseen by the FAA and the UK's Air Accidents Investigation Branch.
That investigation is ongoing, Dan Hart, president and CEO of Virgin Orbit, said on a panel Feb. 7 at the SmallSat Symposium in Mountain View, California. However, he said the data investigators had reviewed to date appeared to identify a likely cause involving a relatively inexpensive component in the propulsion system in the rocket's second stage.
"Everything points to, right now, a filter that was clearly there when we assembled the rocket but was not there as the second stage engine started, meaning it was dislodged and caused mischief downstream," he said. "This is like a $100 part that took us out."
He didn't state when the investigation would be completed, but said Virgin Orbit is already working on modifications, like removing the filter, as it prepares to return to flight from Mojave Air and Space Port in California. "We're in integration for our next flight and looking forward to flying from Mojave over the coming weeks."
Virgin Orbit is not the only launch company to have suffered a recent failure. Almost exactly 24 hours after LauncherOne was released from Cosmic Girl, ABL Space Systems launched its first RS1 rocket from Pacific Spaceport Complex Alaska (PSCA) on Kodiak Island. There were no crowds and no silent disco at this event; there was not even a livestream as the company instead provided updates on social media.
About 20 minutes after the scheduled liftoff, ABL announced the mission's failure. "After liftoff, RS1 experienced an anomaly and shut down prematurely," the company tweeted. "The team is working through our anomaly response procedures in coordination with PSCA and the FAA."
A week later, the company released more details about the failed launch, which carried two smallsats. ABL said that at T+10.87 seconds, the first stage suffered a "complete loss of power" that shut down its nine engines. The rocket, less than 250 meters above the pad at the time, continued upward for 2.6 more seconds before falling back to the ground, exploding only about 20 meters from where it lifted off.
"We're seeing an abnormally high rate of failures for small launch vehicles," said Spice. "I don't think it's necessarily all that unpredictable when you think about the challenges that have been placed in front of these companies."
While the investigation is going, ABL speculated that a fire at the base of the vehicle caused the loss of power, based on telemetry as well as imagery. "Shortly before the power loss, a handful of sensors began dropping out sequentially. This evidence suggests that an unwanted fire spread to our avionics system, causing a system-wide failure," the company stated.
Like Virgin Orbit, ABL didn't give an estimate of when it would make its next RS1 launch attempt, but noted both stages of the second vehicle are completed and ready for testing. "Pending the results of our anomaly investigation, we'll be prepared to share more on the expected timeline for these efforts."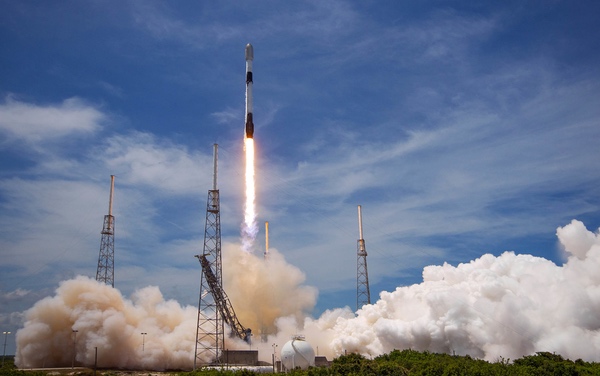 A SpaceX Falcon 9 lifts off last year on the Transporter-5 dedicated smallsat rideshare mission. Those Transporter missions have depressed smallsat launches to the point where others providers argue they cannot make money. (credit: SpaceX)
"The beginning of the bloodletting"
Those failures and others, including a Vega C lost in a December launch, are signs of stress to some in the industry. "We're seeing an abnormally high rate of failures for small launch vehicles," said Adam Spice, CFO of Rocket Lab, on the SmallSat Symposium panel. "I don't think it's necessarily all that unpredictable when you think about the challenges that have been placed in front of these companies."
He and others said small launch vehicle developers are facing pricing pressure from SpaceX. That company operates a series of dedicated smallsat rideshare missions, called Transporter, with the most recent one in early January. SpaceX also offers rideshare space on some of its Starlink launches, such as one in late January that carried a orbital transfer vehicle (OTV) from D-Orbit with several payloads.
Even with price increases announced last year, SpaceX offers list prices typically far below dedicated small launch vehicles: $275,000 for a 50-kilogram smallsat. During a side meeting at last August's Small Satellite Conference in Utah, Jarrod McLachlan, director of rideshare sales at SpaceX, said all of its Transporter missions in 2023—the company launches three or four a year—were already fully booked and "getting pretty full" for 2024. "We've really seen a strong market demand."
That's become a problem for small launch vehicle companies. "If we talk about 50 kilograms, 100 kilograms, this kind of satellite size, this is the size of the Transporter missions," said Marino Fragnito, senior vice president and head of the Vega business unit at Arianespace. "The reference price is the Transporter price. With that price, nobody will make money."
Even Rocket Lab, among the most successful of the small launch vehicle companies with more than 30 Electron launches, saw the effects of SpaceX on the market. "I think the fact is they've suppressed prices in the market. I think the fact is they've taken a lot of volume off of the market," Spice said. "That's a reset that really wasn't there in the model even only a few years ago."
He and others suggested that cost cutting in order to compete with SpaceX threatened reliability. "Delivering a reliable and regular launch service is expensive," said Giulio Ranzo, CEO of Vega prime contractor Avio. "Pricing needs to take this into account. There is no easy solution to finding a lower price launch service."
Spice was perhaps the most pessimistic on the panel, citing a combination of the pricing pressure from SpaceX, technical problems, and less access to capital given the state of the industry and broader economy.
"You have a very strong muting function that SpaceX is providing to the small launch market, which I think ultimately will force survival of the fittest," he said. "I think there will be a lot fewer players out there in a few years than there are today."
A little later, he was even more blunt. "People underestimate how difficult the launch business really is," he said. "I think we're at the beginning of the bloodletting of aspirational launch companies."
"There are not enough launch companies. There are not enough launch vehicles available to fill that demand," said Choi.
Even non-aspirational launch companies—those that have attempted launches—have suffered problems. Last August, Astra abruptly retired its Rocket 3 vehicle after a string of failures, saying it wanted to focus its resources on the larger Rocket 4. Astra, which went public in 2021 through a special-purpose acquisition company (SPAC) merger, has seen its share price plummet and faces the threat of delisting from Nasdaq.
Virgin Orbit also appears to be in financial straits. The company, which also went public through a SPAC merger at the end of 2021, has seen its cash reserves dwindle. The company has raised $55 million since November through debt offerings with Virgin Investments Ltd., the investment arm of Virgin Group. Those transactions are secured with the Virgin Orbit's assets, including its 747 aircraft, as collateral.
At the SmallSat panel, Hart didn't address the company's financial issues, despite an audience question submitted through an online platform that was upvoted to be one of the most popular.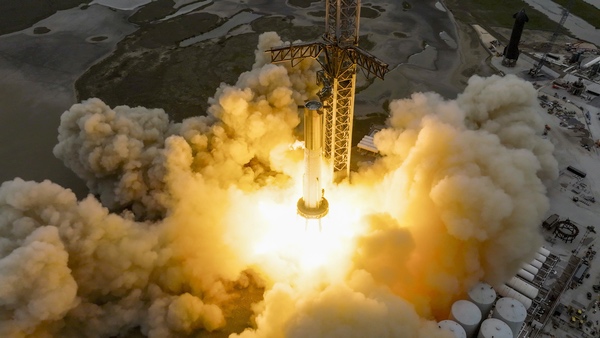 A static-fire test of nearly all the engines in the Super Heavy booster for Starship last week. Starship could further reduce costs and create complications for launch providers. (credit: SpaceX)
"There are not enough launch companies"
While launch companies raise the specter of a shakeout that would reduce the number of players in the field, some customers are asking for just the opposite: more options for launching their payloads.
"There are not enough launch companies. There are not enough launch vehicles available to fill that demand," said Tom Choi, chief executive of Saturn Satellite Networks, during a separate panel at the SmallSat Symposium two days later.
While Choi's company focuses on GEO satellites, building a series that can be launched together on a vehicle like the Falcon 9, he said he sees growing demand for LEO satellites. He claimed the LEO space industry, generating $3–4 billion a year in revenue now, could grow to $30–50 billion in a decade, although he did not cite the source of that analysis.
"I would highly encourage people who are thinking about launch vehicles or people who are already making launch systems to continue to develop their systems," he said, including vehicles with payload capacities as small as 500 kilograms.
Companies like Spaceflight, which arranges launches of satellites as rideshare payloads on a variety of vehicles, are also looking for additional options. "Right now it's a little bit thin. It would be very good to have a lot of folks out there," said Curt Blake in one of his last appearances as CEO of Spaceflight. (The company recently announced he would be stepping down into an advisory role with the hiring of Tiphaine Louradour, former president of International Launch Services, as the new CEO.)
Spaceflight, he said, has tried to support that creation of supply by helping out new launch providers, such as through letters of intent regarding future purchases of launch services. "We can definitively do with more opportunities for launch. We have more demand than we have supply."
If there really is more demand than supply, why are some launch companies struggling? Some suggested that customers, for now, don't value dedicated launches enough to pay a premium for them over rideshare services.
"We don't want to be a low-cost company," said Raúl Verdú, chief business development officer and co-founder of PLD Space, on the panel. His company is developing a small launch vehicle called the Miura 5, with a suborbital demonstrator, Miura 1, set to make its first launch in the next six to eight weeks.
He said his company values reliability over racing to be the first European small launch vehicle developer to reach orbit. "If you fly with PLD Space, you fly with a premium company, because we are investing a lot in product assurance."
In the earlier panel, some launch industry executives said they anticipated demand from more sophisticated commercial customers as well as government customers. Bill Weber, CEO of Firefly Aerospace, said his company's Alpha rocket is attracting interest from customers who don't feel like Transporter missions are a good fit. "They are saying, 'Transporter does not work for our mission set.'"
Potential government demand, Fragnito speculated, is a reason why some companies that entered the market with vehicles capable of placing no more than a few hundred kilograms into orbit are developing larger vehicles. "All these companies are trying to grow their launchers to the sweet spot of one ton, 1.5 tons, because there, there is the government business," he said.
"If you are not preparing for how you're going to launch your product on Starship and how you're going to change your business model to work with Starship, you are going to be in trouble," said Tripathi.
But small launch vehicle developers are not the only ones scaling up. Last Thursday, SpaceX performed its biggest static-fire test of its Starship launch vehicle, firing nearly all the 33 engines in the vehicle's Super Heavy booster on the pad. (One of the engines was shut down just before ignition and a second shut down during the test, CEO Elon Musk tweeted.)
That test is one of the final technical milestones before a first orbital flight test. "It's really the final ground test that we can do before we light 'em up and go," Gwynne Shotwell, president of SpaceX, said the day before at the FAA Commercial Space Transportation Conference in Washington. She predicted that launch could take place in a month, pending final technical work and receipt of an FAA launch license.
During another panel at the SmallSat Symposium, one former SpaceX official predicted that Starship could alter the smallsat launch market again, just as the company has already done with Falcon 9 rideshare missions.
"If you are not preparing for how you're going to launch your product on Starship and how you're going to change your business model to work with Starship, you are going to be in trouble," said Abhishek Tripathi, now at the University of California Berkeley's Space Sciences Laboratory.
Starship, designed to place 100 metric tons or more into low Earth orbit, would seem to be vastly oversized for smallsats, but the low prices it offers could make it attractive to smallsats as rideshares. "If that means that I need to partner with a space tug to get to my final orbit, OK," he said.
For now, launch companies are coming to grips with challenging competition, but also see positives. "I've been in the space business now for almost 30 years," Fragnito said. "I have never seen so much business. I have never seen so much demand for launches."
"I'm much more positive than a few years ago on the fact that more companies can survive," he said. "The ones that will be able to operate successfully a launch system can survive because there is a lot of demand."
---
Note: we are using a new commenting system, which may require you to create a new account.