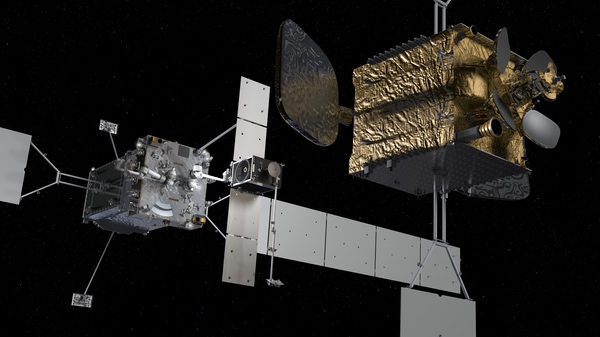 Development of satellite servicing and other advanced services in space requires improved coordination between government and industry. (credit: Northrop Grumman)
How government and industry should reshape the business of space
by Adam Routh and Brett Loubert

Monday, May 8, 2023
America's space industry continues to reach new heights. The public and private sectors are making significant investments in space, and technological innovations are pushing the boundaries of what's possible. But despite recent optimism and momentum, the space industry cannot count solely on new technology to guarantee a bright future. To grow the space industry, government and industry stakeholders must also catalyze the business of the space.
But despite recent optimism and momentum, the space industry cannot count solely on new technology to guarantee a bright future.
If we chart a path from where the space industry is today toward a more exciting space future, it becomes clear that our optimistic expectations of the future are not forgone. Business barriers, like large upfront capital requirements, access to new markets, the supply-vs.-demand (chicken or egg) market paradox, and an often unclear regulatory environment continue to overwhelm even promising new space companies. With increasingly congested Earth orbits, sustaining the space environment itself also becomes a pressing business matter because space sustainability is business sustainability.
Modernizing the business fabric of the space industry will require rethinking the sum of the connections and interdependencies—known as industry architecture—that influence how the space industry operates and organizes. Connections and interdependencies include industry participants, like companies or governments; roles, like service provider or customer; and rules, including laws, standards, and market forces. Although industry architectures routinely change through new innovations and rules, the space industry's architecture hasn't kept pace with its technological advancements. And without a suitable industry architecture, even the space activities with clear value and need will struggle under the weight of familiar business barriers.
Luckily, updating the space industry's architecture doesn't require reinventing the space industry all together. It just requires advancing some familiar activities, including satellite standards, in-space servicing, assembly, and manufacturing (ISAM), and space traffic management (STM). These activities can entice new industry participants and warrant new roles and rules that enable a more collaborative and trusting business ecosystem.
For example, ISAM can move some capital-intensive investment requirements from design, build, and launch phases to operational costs, which can be easier for businesses to accommodate. ISAM can also help companies capture more return on investment and provide the means to remove and reduce space debris. STM can prevent collisions, improve operational planning by reducing uncertainty, and promote safer operations. Satellite standards are necessary for both ISAM and STM because, like for so many other industries, standards create business linkages and efficiencies.
To advance ISAM, STM, and satellite standards, government agencies and industry should:
Create working-level, cross-sector task forces to coordinate, ISAM, STM, and satellite standards policies: Inclusive working groups that bring together stakeholders from industry, government, and academia can more routinely and continuously help develop pragmatic policy recommendations, get new activities off the ground, and evolve standards and policies as activities change.
Develop cross-government funding and investment programs for cross-functional technology gaps: By investing together where technology gaps span industries, like artificial intelligence/machine learning or robotics, investments can provide cross-sector benefits while helping to advance critical space activities.
Formalize inspection and assurance program for satellite standards: We've seen how Classification Societies in shipping can be used to survey and inspect cargo, issue certificates and documents, and perform other tasks. Establishing similar practices in the space industry can help ensure compliance and improve safety.
Establish a cross-industry marketplace for space wayfinding: This can help space and non-space companies explore technology, services, and partnerships to advance ISAM, STM, and satellite standards by addressing business and technology needs.
Given the space industry's track record of taking on near-impossible tasks, it's more than capable of rearchitecting the business of space.
Catalyze innovation by minimizing project demonstration risks: This can be done by underwriting product demonstrations where the cost of failure is marginal to the benefits of success.
Leverage immersive environments and digital engineering to offer less expensive space product demonstrations: Immersive environments supported by digital twins or model-based systems engineering can offer near-real environments to test and evaluate new products and services at a fraction of the cost of demonstrations in orbit.
Develop a network of cross-industry ISAM, STM, and satellite standards champions: These networks can bring together people and ideas to spur bossiness innovation and engage in an ongoing dialogue about strengthening and enhancing ISAM, STM, and satellite standards activities and technologies.
Catalyzing change is never easy but given the space industry's track record of taking on near-impossible tasks, it's more than capable of rearchitecting the business of space.
---
Note: we are using a new commenting system, which may require you to create a new account.