A Crew Dragon spacecraft approaching Haven-1, the space station Vast said last week it could launch as soon as August 2025. (credit: Vast)
A vastly different approach to space stations
by Jeff Foust

Monday, May 15, 2023
Fifty years ago Sunday, NASA launched its first space station, Skylab. In a single Saturn V launch, it placed into orbit a full-fledged space station with everything needed to support three missions by three-man crews, lasting from a month to nearly three months each. No assembly required—or, at least, none intended; damage Skylab suffered during its launch necessitated emergency repairs by the first crew to visit it.
"You can't really go from zero to building a Starship-sized thing that can hold 40 people," said McCaleb.
Within a few years, a space station on a smaller scale could be in orbit on a single launch. Last week, a startup, Vast, announced a contract with SpaceX for the launch of a single-module space station, called Haven-1, on a Falcon 9. It would be visited by at least one Crew Dragon mission, called Vast-1, bringing a four-person crew who would stay up to a month there.
Vast is a newcomer to the field, having announced its existence just last September. At the time, the company seemed focused on long-term efforts, such as a long "spinning stick" space station made of larger modules stacked together that would be spun could create artificial gravity, an initiative that seemed many years in the future.
Haven-1 is far from that concept: it is a module 10.1 meters long and 3.8 meters in diameter, with 70 cubic meters of pressurized volume inside. It is designed to squeeze inside a Falcon 9 payload fairing, deploying solar arrays after reaching orbit that will generate 15 kilowatts of power.
The design is part of a deliberate effort to get spaceflight experience quickly. "You can't really go from zero to building a Starship-sized thing that can hold 40 people," said Jed McCaleb, founder and CEO of Vast, in an interview May 10, the day his company announced plans for Haven-1. "You need to take incremental steps and this is one that seems very doable."
McCaleb has the financial means to develop Haven-1. He is a billionaire from cryptocurrency ventures, with an estimated net worth of $2.4 billion (that is 1,272th place in the world, according to Forbes; Elon Musk and Jeff Bezos are currently in second and third place, trailing Bernard Arnault.) He has previously said he was willing to spend hundreds of millions of his money on Vast.
In February, Vast announced it was acquiring another startup, Launcher. That company had been one of dozens working on a small launch vehicle as well as developing an orbital transfer vehicle called Orbiter that flew for the first time in January on a SpaceX Transporter rideshare mission. The merged company will continue Orbiter but ended work on the launch vehicle.
Launcher's 80 employees joined the 40 at Vast. "We could be a really great option to help them go to the next level," said Max Haot, who was the founder and chief executive of Launcher, at the time the deal was announced.
Haot became president of Vast as part of the acquisition and has been focused on what came Haven-1. That effort prioritizes speed over size. "We believe that it's more important that we demonstrate that we can have the first but also a full space station system in orbit," he said in an interview the day of the announcement.
That means making the module simple. There will be something of a symbiotic relationship between Crew Dragon and Haven-1. The capsule can remain in orbit on its own only for several days, so Haven-1 enables month-long missions. Haven-1, in turn, will rely on some of Crew Dragon's own systems for life support, with Vast and SpaceX working closely together to enable that. "We are divide-and-conquering the life support system between us so that we can do it quickly," he said.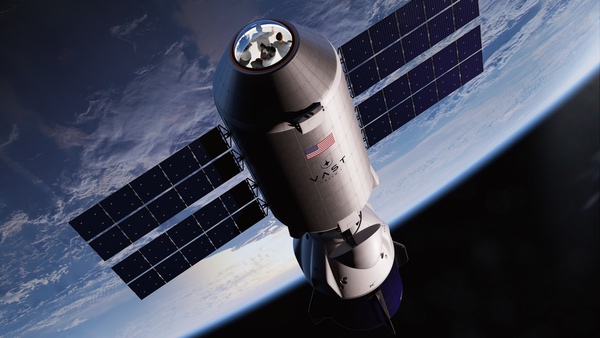 Among the design features of Haven-1 is a large window at one end of the module. (credit: Vast)
Vast has yet to start construction of the module, although it is working on some prototypes in its Long Beach, California, headquarters. The module will make use of versions of avionics and other subsystems developed for Orbiter. While still early in development, Vast thinks that the module could be ready for launch as soon as August 2025, a schedule Haot admitted is ambitious but one that both companies think is feasible.
Vast started receiving inquiries about Haven-1 as soon as it announced it. "There's quite a few in my inbox right now," Haot said hours later.
If Vast can hold that schedule, they will get to orbit ahead of Axiom Space, which is planning to launch its first commercial module for the International Space Station in the fourth quarter of 2025. That will be the first in the series of modules that will detach from the ISS and become a standalone commercial space station just before the ISS is retired around 2030.
So why go to Haven-1 versus a commercial ISS module? Haot said simplicity is one key advantage over the ISS. "These things are very, very complicated and involve a lot of nations and process and certification," he said of ISS activities. He was also skeptical of Axiom's timeline, noting that while the company has modules under construction it has not announced launch arrangements for them.
Vast had not done much marketing for Haven-1 ahead of last week's announcement. "There's quite a few in my inbox right now," he said of inquiries about the module a few hours after the company's announcement.
The company had done research on markets for the module ahead of the announcement, though. It believes the biggest involves national space agencies who want to fly their astronauts to space. A second category involves private astronauts who want to fly for "philanthropy" or research. There are also customers like companies that want to do research or test in-space manufacturing.
"On the ISS there is more demand than they can offer for payloads," he said of the research market. "We are sending a 14-ton station that can be loaded with racks of equipment and payloads ahead, before the astronauts visit."
The Crew Dragon would carry four people to Haven-1, all of whom would be customers. By comparison, NASA now requires private astronaut missions to the ISS to be commanded by a former agency astronaut with flight experience. Vast will rely on SpaceX to handle most of the training for the mission.
While the contract announced last week includes a single Crew Dragon mission to Haven-1, there is an option for a second mission. Haot said the module is designed to support as many as four missions, each lasting up to 30 days.
Vast's plans—and its funding—have the potential to put the company among frontrunners proposing to develop commercial space stations by the end of the decade, a key goal for NASA as it seeks to wind down ISS operations around 2030. Last month, Russia announced it would remain a part of the ISS partnership through at least 2028, after earlier concerns it might pull out as soon as mid-decade. Canada, Europe, and Japan have all agreed to stick with the ISS through 2030.
As part of those ISS transition efforts, NASA selected Axiom in 2020 to have access to an ISS docking port for its commercial modules. In late 2021, it awarded funded Space Act Agreements to three teams, led by Blue Origin, Northrop Grumman, and Voyager Space, to begin design work on commercial space stations, with the goal of having one ready by 2028 to support a two-year transition from the ISS.
Those awards were made nearly a year before Vast announced its space station plans to the world. Haot said it is a priority for the company to participate in the next round of NASA's Commercial LEO Destinations (CLD) program that would fund efforts to certify commercial space stations for NASA astronaut missions.
"We see NASA as our biggest opportunity and our largest customer," he said, with Haven-1 giving it experience ahead of competitors. "It's saying that we're not going to send you renders or prototypes in a warehouse."
"We see NASA as our biggest opportunity and our largest customer," Haot said.
He suggested Vast might reconsider its plans if it is not selected for NASA's CLD program. "It will depend on the state of the low Earth orbit economy," he said. "It's hard to tell at this point, but, for Haven-1, it has no impact on our ability to develop or operate."
The station that Vast will offer to NASA will likely be larger than Haven-1. The company proposes, in a new roadmap on its website, launching the first "Starship-class" large module in 2028, then start aggregating them together into a spinning-stick configuration 100 meters long in the 2030s.
Vast could fly a second Haven module before then, McCaleb said, depending on the demand from customers and progress on both the larger modules and SpaceX's Starship launch system. "If it's ready sooner," he said of Starship, "we will definitely target that."
---
Note: we are using a new commenting system, which may require you to create a new account.