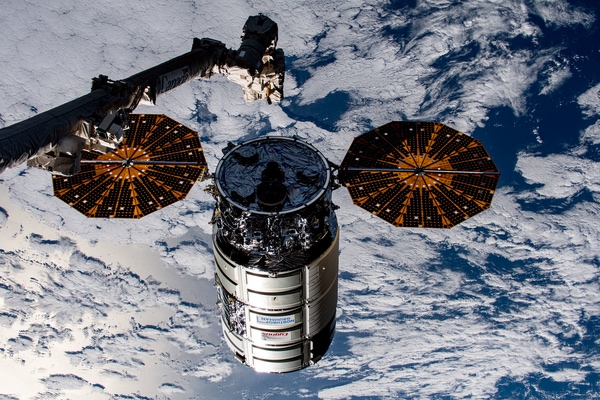 A Cygnus cargo spacecraft arrives at the International Space Station August 4. As the ISS hits its stride in research, concerns about its retirement and transition to commercial stations ar eon the minds of government and industry. (credit: NASA)
Minding the space station gap
by Jeff Foust

Monday, August 7, 2023
Attendees at last week's International Space Station Research and Development Conference in Seattle got a small goodie bag of trinkets: pens, stickers, and notepads. It also included a small tape measure designed to fit on a keychain, one emblazoned with a logo representing plans to operate the ISS through 2030.
"We're not going to slow down and slide into the end of the decade," said NASA's Montalbano of the ISS. "We're running full steam to the end of 2030."
That logo, present elsewhere at the conference, symbolized the commitment by NASA and its international partners to operate the station through the end of the decade. It was only in March that the last Western partner, Canada, formally made its commitment to participate in the station through 2030.
"Our plan is that we're going to go to the end of the decade," said Joel Montalbano, NASA ISS program manager, during a panel that included representatives of Canada, Europe, and Japan. "We're not going to slow down and slide into the end of the decade. We're running full steam to the end of 2030."
Notably absent from the panel was Russia. It was during the same conference a year ago when the new head of Roscosmos, Yuri Borisov, announced—or, at least, seemed to announce—that Russia could depart the ISS partnership after 2024. Such a departure would derail plans to keep the station going until 2030 (see "ISS in the balance", The Space Review, August 1, 2022).
Borisov and other Russian officials walked back those comments in subsequent weeks, noting that "after 2024" did not mean immediately after 2024. By April, Roscosmos announced it backed continued participation in the ISS to 2028, but not 2030.
Montalbano noted on the panel that Roscosmos worked in four-year increments, so that having previously approved ISS plans to 2024, had extended it to 2028. "As we get closer to 2028," he said, "we'll be working together with Roscosmos and all the international partners to see what makes sense."
He and others at the conference emphasized that the station was hitting its stride from a research standpoint. Crew time, which once limited ISS utilization, has eased with four astronauts on the U.S. segment (which includes the other Western partners), and there were growing research capabilities on the station from government and commercial providers.
"The bottleneck was crew time," said Frank De Winne, ISS program manager at the European Space Agency, on the panel. "Stepping up to this fourth crew member doubled, or more than doubled, the amount of crew time that we could have on board the space station. That really helped us a lot."
In many sessions of the conference, researchers discussed the work they were doing on the ISS, from Earth sciences to biomedical, and the potential for future work. But lingering over the conference was uncertainty about just how long the ISS will operate and what will come next.
"Right now, the ISS is budgeted for perfection. The vast majority of the time, that is exactly what we see," said Mulholland.
While station operations are largely going smoothly, such as the installation in spacewalks earlier this summer of new solar arrays to increase power for the ISS as its original arrays age, there are concerns about the sustainability of those operations over the next several years.
"Right now, the ISS is budgeted for perfection. The vast majority of the time, that is exactly what we see," said John Mulholland, vice president and program manager for ISS at Boeing, the station's prime contractor. He advocated, though, for what he called "robustness in funding" to ensure the station can handle any hiccups along the way.
That includes concerns about the robustness of access to the station. During the conference last week, a Northrop Grumman Antares rocket successfully launched a Cygnus cargo spacecraft to the station delivering more than 3,750 kilograms of supplies, experiments, and station hardware. It was the 19th mission under a series of contracts that date back not just to before Northrop's acquisition of Orbital ATK, but the merger of Orbital Sciences with ATK nearly a decade ago.
It was, though, also the last Cygnus launch on the current version of the Antares, called the Antares 230+. Northrop announced a year ago it would retire that version, which uses a first stage built in Ukraine with Russian RD-181 engines, in favor of a domestically produced version in cooperation with Firefly Aerospace. That new Antares 330 rocket, though, won't be ready for its first flight before the middle of 2025, Northrop officials said at a briefing before the launch.
In the interim, Northrop will launch at least three Cygnus missions on SpaceX's Falcon 9. At the same time, NASA is relying on SpaceX to transport astronauts on Crew Dragon while Boeing's CST-100 Starliner suffers more delays: at a briefing Monday, Boeing said the vehicle won't be ready for its first crewed launch until at least next March. While the Falcon 9 has become a workhorse, making more than 50 launches so far this year, a failure or even an anomaly could disrupt NASA's ability to get both crew and cargo to the station.
Besides the need for robustness in the ISS supply chain, Mulholland called for additional funding to pay for a new deorbit vehicle NASA plans to develop, at a potential cost of around $1 billion, to ensure a safe reentry of the ISS at the end of its life. He also advocated for upgrades for one of the biggest, and most expensive, instruments on the station, the Alpha Magnetic Spectrometer that studies cosmic rays. He didn't go into details about that upgrade but said the equipment needed for it would require nearly a dedicated cargo flight.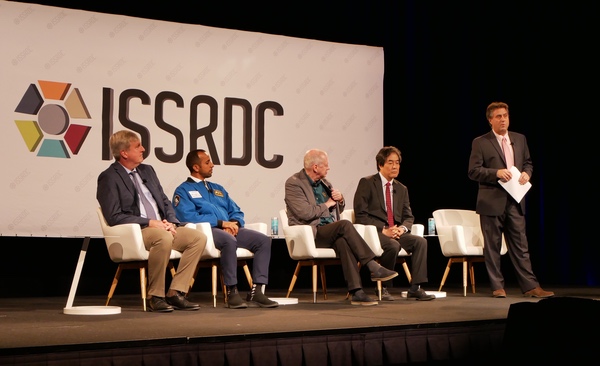 NASA ISS program manager Joel Montalbano (standing) discusses station activities on a panel with representatives from (left to right) Canada, the UAE, ESA and Japan at the ISS Research and Development Conference. (credit: J. Foust)
Overall, he said that ISS would need steady or even slightly increased funding to cover the costs of those upgrades and new hardware, a challenge in an overall fiscal environment where NASA is facing flat or even decreased budgets. He warned specifically about the cost of the deorbit vehicle: "It must come with new funding or it will significantly impact the ability of ISS sustainment and research utilization."
By the time the ISS is slated for retirement in 2030, NASA expects one or more commercial space stations to be up and running. But the process by which NASA makes that handover is uncertain.
"That's a big part of what we're doing in the next few years, trying to look at that transition from the ISS to these commercial LEO destinations," Montalbano said. Robyn Gatens, director of the ISS at NASA Headquarters, has been meeting regularly with the partners on the issue, he noted.
"It's undefined right now," he said about how that handover will work. "We're getting inputs from our partners. We want to figure out what's going to be helpful, what's not going to be helpful."
One topic for the international partners has been how they will pay to use those commercial stations. Some, like Europe, have expressed a reticence to directly pay American companies for accessing a station, but an arrangement like the ISS where partners get access based on the services they provide may not be workable.
"You start to game out the geopolitics. Will the US give up the high ground in space? Highly unlikely," said Tolusic.
Those concerns are eased, though, if companies in ISS partner countries have a stake in those commercial space stations. Last week, Voyager Space, once of the companies with NASA awards to work on commercial stations, announced it was forming a joint venture with Airbus Defence and Space to develop its Starlab station. The US-led joint venture, also called Starlab, will develop and operate the station.
Voyager brought in Airbus early this year to provide technical support for Starlab after Voyager parted ways with Lockheed Martin. Matthew Kuta, president of Voyager Space, said that Airbus will also help the venture win business from ESA and its member naitons.
"We have great relationships with ESA, but clearly Airbus much better relationships," he said. "It allows us to figure out how we can satisfy those customer demands more directly and successfully."
That approach, though, has its limits. "Imagine if you had to have an international partner from every country. It could get messy," said Rick Mastracchio, director of strategy and business development at Northrop Grumman Space Systems, on another conference panel. "We really do need NASA and the government's help on that."
He and other companies on that panel brought up issues like regulation and liability challenges for commercial space stations, as well as how to move other users and their research capabilities from the ISS to commercial stations. However, a bigger issue is getting the stations developed in time for that handover at the end of the decade.
Commercial space station developers have two major challenges, Mulholland said. One is that there is an "unproven market" for such stations from government and commercial users. The other is the technical obstacles to developing and building such stations, with cost and schedule risk associated with them.
"They will get there, but it will not be easy," he said of commercial stations. (Boeing is a partner on the Orbital Reef station concept led by Blue Origin and Sierra Space.) Such stations "are the future of the LEO following the ISS, and we need to allow them to follow their natural development cycle."
""We'll get there, eventually," Mastracchio said, "but my biggest concern is that we have to get there in a reasonable amount of time."
Those challenges and uncertainties also extend to financing such stations, which may cost billions of dollars to build depending on their size and scope. However, some investors speaking on a conference panel played down the concerns, based on the expectation that the government will play a major role in backing and using commercial stations.
"You start to game out the geopolitics. Will the US give up the high ground in space? Highly unlikely," said Mislav Tolusic, co-managing partner and chief investment officer at Marlinspike Partners. "A huge amount of risk with respect to the market has more or less been taken off the table."
Whether all that—policy, technology, and funding—can come together to get one or more commercial stations ready to take over from the ISS by the end of the decade is unclear. Montalbano suggested that the ISS could be extended beyond 2030, if needed.
"We'll be ready to go longer if that's what the different agencies want us to do, but right now we're planning to 2030," he said. "Do we go to 2030 or does it make sense to go longer? If so, we'll work that together with all the different space agencies and their respective governments."
"We'll get there, eventually," Mastracchio said, "but my biggest concern is that we have to get there in a reasonable amount of time. We cannot have a gap in low Earth orbit."
There was a subtle, unintentional reminder of the dangers of such a gap in that keychain that conference attendees received. The first thing people saw when they extended the tape was the trinket's country of manufacture: China.
---
Note: we are using a new commenting system, which may require you to create a new account.