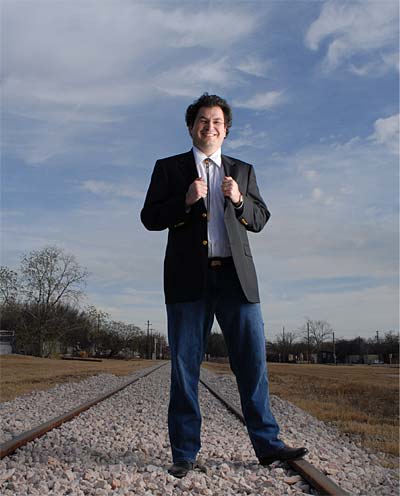 It may be a while before the suborbital spaceflight system has as much traffic and revenue as the railroad, but from humble beginnings frontiers are opened. (credit: Wyatt McSpadden, courtesy of SpaceShot, Inc.)
The journey to spaceflight for people of all means
by Sam Dinkin

Monday, April 3, 2006
Today SpaceShot, Inc. announced the launch of a skill game that will allow people from the middle class to fly to space. You can read about the game in detail at our website, but what follows are some of the challenges in putting this all together in the last year and a half.
Genesis
I founded SpaceShot out of a frustration that the existing companies in the industry were not using the most obvious and historically successful approach to make space accessible. In particular, while games have been used to open frontiers before (see "Virgin lottery territory", The Space Review, May 16, 2005), neither Futron nor anyone else were talking about it or doing it. When Futron released its two-year old survey in October 2004, I knew that the best thinking in the industry completely left out games. I put together an executive summary of the business in these pages (see "Space shot", The Space Review, October 11, 2004).
I started by incorporating and buying two trademarks, buying some business planning software, and writing up a plan. I had some writer's block getting the business plan started, so I did a business plan for someone else's business. I was then able to get up before dawn on my winter vacation for a few days in a row and complete the business plan without disturbing any holiday plans. David Livingston, who graciously agreed to be on my advisory board, gave me some advice to figure out what our firm is not. We determined the following:
We're not a manufacturer
We don't do fulfillment
We're not a tour planner
My excellent advisory board had some good advice for me. The rocket folks told me to worry about the gaming law. The lawyers told me to worry about the safety of the rockets. That kind of cultural barrier was too good to be true.
Gaming law
We talked to regulators in the Isle of Man and Kahnawake Mohawk Territory. Much of my budget would have to go into licensing and hosting in those jurisdictions. Costa Rica seemed promising, but without a strong regulator, there might not be enough trust in the game.
The rocket folks told me to worry about the gaming law. The lawyers told me to worry about the safety of the rockets. That kind of cultural barrier was too good to be true.
To stay on shore, we tried to put together a sweepstakes. We would offer a free method of entry (a stamped, self-addressed envelope) and a pay method of entry. The pay method would be on the web and would only cost $0.25, which would be one-third of the cost of the two stamps to get a free entry. We ran this by a sweepstakes lawyer. He convinced us that no judge would ever agree that this was legal. I tried to argue this was cheaper than sending in the Publisher's Clearinghouse Sweepstakes envelope, but since sweepstakes law is quite vague, standards can change over the years.
Another problem with a sweepstakes is that if you want the prizes to start getting awarded immediately, drawings start taking place as soon as the first entry comes in. An early winner requires cash reserves. We tried getting vendor credit and hole-in-one insurance. The latter turned out to be a very high profit margin venture and the former made the vendor uneasy.
Around May of 2005, we were convinced again this needed to be an off-shore company. At that time, I found out that Virgin Galactic was going to offer a skill game. My gaming lawyer also talked some sense into me. He convinced me that repatriating profits and legal structures were very challenging and completely inconsistent with a public persona. He said, "Why not a shooting gallery game?" Skill games are legal in the US.
I harangued my gaming lawyer about why games with too much skill, like tennis or golf, where the same people win over and over are unsuitable to my business needs. Almost no one outside of Tiger Woods and the other top ten players would ever win a pay-to-play winner-take-all golf tournament. We needed a game where someone of average skill could be competitive in a tournament. People who are good at shooting games tend to know who they are. We want Virgin Galactic Quest to succeed wildly, but many will try their game and give up hope of winning it.
I thought it over and called him back. "What about a competitive weather prediction tournament?" I said. "Weather prediction is a skill that we spend hundreds of millions a year on at the National Weather Service alone." My gaming lawyer said, "You're a genius." He wrote us an opinion letter to match.
Later I got to talk to skill game king, Seth Godin. (He told me to do rock, scissors, paper with chat. He made a good case for why this game, where you can achieve a 50% chance of winning by playing completely randomly, is more easily deemed skill than weather prediction.) Sometimes a game theory Ph.D. drives one to do things for aesthetics or logic when illogic can be more lucrative.
Securing funding
We had determined shopping this business plan would take too long. For the price of a good marketing study or the price of my time to find investors we would be late to market, give up much of the firm to outsiders, and potentially have nothing at all to show for the capital campaign. We decided to develop the business on a shoestring so that we could get by with getting less than 10% of the funds from the outside. We hoped that through a combination of credit card debt, trade credit, vendor financing, and vendor and outside investment we could do SpaceShot as a basement bootstrap startup. We'll see how we did this week.
For this funding strategy, we still needed to get past a tough venture capital board: my wife. Not unlike Carrine Greason, she was initially skeptical of our plans (see "XCOR's most important investor", The Space Review, May 2, 2005). The direct approach was not working.
Luckily, on an airplane trip we took, one of her co-workers whom she trusted was sitting next to me. I gave him the elevator pitch. He bit. He said he'd invest. It was a token amount of money, but it was able to convince my wife that, "There was a there there." But she told me not to quit my day job.
Securing a vendor
When Fun Games changed hands for $400 million dollars with $13 million in revenues and no profits on Thanksgiving weekend in 2005, we decided that maybe we were on the trail of something hot.
There are many space tourism aggregators. It is in the aggregators' interest to offer as many tour packages as possible, other things being equal. Other things are not equal. Some space tourism fulfillment vendors have exclusive relationships with other gaming providers. Some vendors want to offer their own skill games. Some vendors want to protect their brand and charge more if we want to give away their seats as tournament prizes than if I walked up and bought them for personal use.
We were able to negotiate a deal with George French and Chuck Lauer of Rocketplane. I thoroughly checked them out via a series of interviews of their Chief Test Pilot and VP of Flight Operations, John Herrington (Parts 1, 2 and 3), their Vice President and Program Manager, David Urie (Parts 1, 2 and 3) and his predecessor, and their first customer, Reda Anderson, and several others on a series of visits, phone calls, and offsite meetings. They were intrigued with my business model. (Speaking of business models, I am also glad that GM finally got around to selling GMAC as I advised last August. (See "General (Rocket) Motors", The Space Review, August 29, 2005))
Securing the future
There are more stories about R&D, business plan revisions, advisory board members, marketing, logos, art, mottos, intellectual property, grant applications, loan applications, merchant card services applications, contracts, corporate law, trust law, escrow agents, accountants, tax authorities, politics, insurance, servers, hosting, testing, security, compensation policy, personnel, management, investor relations, customer service, pricing, advertising, image, alliances, industry and competition analysis, and media relations that will have to wait for another day.
When Fun Games (the owner of Skill Jam, the operator of Virgin Galactic Quest) changed hands for $400 million dollars with $13 million in revenues and no profits on Thanksgiving weekend in 2005, we decided that maybe we were on the trail of something hot: not only a new way to get to space, but a new industry just getting started in its own right. IGN and Skype getting bought also encouraged us. Those valuations imply that ten seats' worth of revenue could give SpaceShot, Inc. a comparative valuation worth more than the $40 million Rocketplane is spending for their development. Even if we sell fewer seats, our ROI is probably going to be better than Rocketplane's. Our ambition is to sell thousands. Astrae Popularetis—You shall see the Stars belong to the People.
---