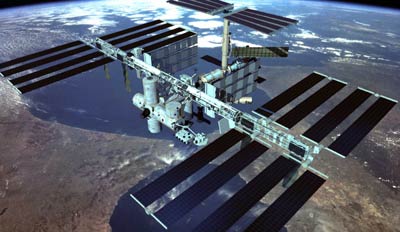 The ISS could become the focus for improved relations among the US, China, and Taiwan. (credit: NASA)
China and Taiwan together on the space station
by Taylor Dinerman

Monday, June 2, 2008
Ever since 1972 US-China relations have been—at least in theory—guided by the principles laid out in the "Shanghai Communiqué", which made it clear that America recognized "One China" and that Beijing would seek reunification by peaceful means. Things have changed a lot in subsequent decades. Taiwan is no longer a one-party state and has become a successful "democracy with Chinese characteristics." The mainland is now a world-class economic powerhouse.
A proposal forboth China and Taiwan to jointly take part in the ISS partnership would be a welcome way to make progress.
Both nations have ambitious space programs, and while Taiwan has not yet chosen to get into the launch vehicle development business they have the capacity to do so if they want. The People's Republic of China (PRC) has a comprehensive space program that has not only built and launched communications, navigation, and remote sensing satellites but has put three "taikonauts" into orbit and plans to fly its first three-man crew later this year and perform its first spacewalk. Their Chang'e Moon probe is the precursor to a comprehensive set of lunar exploration missions that may culminate in a human landing sometime around 2020, about the same time the US plans to return people there.
In recent years China has informally expressed interest in joining the International Space Station (ISS) partnership. Due to political and strategic reasons the US has discouraged this, and it is doubtful that a new administration would want to take the domestic risks involved in taking this step. Space cooperation with China will thus remain limited to a few scientific exchanges mostly having to do with earth science and perhaps with the Alpha Magnetic Spectrometer (AMS), if that instrument is sent up to the ISS on an extra shuttle mission sometime in 2010.
For two powerful nations whose relations are basically non-hostile, though occasionally tense, this situation is simply not satisfactory. China has to show that it can be a constructive member of the international community, and the US has to show that it can accommodate China's legitimate global interests. Without some dramatic development, though, nothing is going to change.
Therefore a proposal forboth China and Taiwan to jointly take part in the ISS partnership would be a welcome way to make progress. It would fit within the framework of the Shanghai Communiqué and would also symbolize the desire of the part of the Beijing and Taipei governments to peacefully work out their differences.
The new government on Taiwan has already shown that it is looking for ways to improve relations with both China and America. Wu Poh-hsiung , the chairman of the Chinese Nationalist Party, the Kuomintang (KMT), visited the mainland last week and said, "We hope this will be the beginning of a new era, when we can reconcile and, be together harmoniously and jointly strive for peace." Proposals have been made for direct flights between Taiwan and various Chinese cities and for better commercial and cultural links, but nothing would capture the world's imaginations better than a joint human space program.
If China and Taiwan were to agree to fly to the ISS together they could take advantage of a series of opportunities, beginning with a possible participation by taikonauts from both nations in the possible final shuttle mission that may carry the AMS to the station. Since the AMS contains parts made in both the PRC and on Taiwan, so this would fit nicely with the mission's objectives.
If China is to become a fully operational member of the informal club of the great powers of the 21st century it will have to show that it can take part in major international scientific and technological activities as a trusted and reliable partner.
Sometime after 2010 it may be possible for China's Shenzhou capsule to connect to the ISS, either via the US Pressurized Mating Adaptor or via the Russian system. It is also possible, though unlikely, that either Taiwan or China may be able to send their people to the ISS using Russia's Soyuz or even as passengers on the SpaceX Dragon capsules when these are certified for human use.
Once onboard the station, Chinese and Taiwanese taikonauts could perform experiments using racks in the US, European, or Japanese labs. In any case, once they were committed members of the partnership they would have to show a far greater degree of transparency than we have seen from China in the recent past. This would in itself be of real value to the US as well as to Japan and Russia.
If China is to become a fully operational member of the informal club of the great powers of the 21st century it will have to show that it can take part in major international scientific and technological activities as a trusted and reliable partner. If the PRC were to offer the Taiwanese government a chance to join the ISS as a equal part of "Team China" it would go a long way towards calming some of the fears and doubts that exist in Asia and on this side of the Pacific about China's "Peaceful Rise."
---