This week in The Space Review…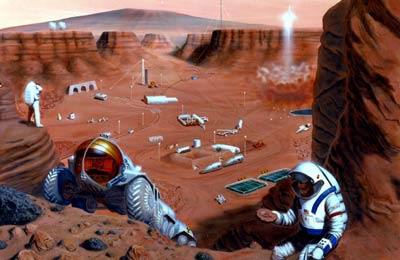 There's growing acceptance that NASA's space exploration program should have the long-term goal of landing humans on Mars, perhaps in the mid-2030s. However, Jeff Foust reports there's less information on exactly how NASA should go about achieving that goal, and whether any NASA strategy is affordable in the long run.
Monday, April 21, 2014
Too often debates about space exploration have focused on destinations, or whether robots or humans should be in the lead. John Strickland offers an integrated approach that maximizes the capabilities of both humans and robots to explore destinations throughout the solar system.
Monday, April 21, 2014
While the capabilities of commercial space ventures continue to grow, those efforts are increasingly being done in cooperation with governments. Anthony Young examines the rise of these public-private partnerships through several recent examples.
Monday, April 21, 2014
NASA first reached the Moon thanks to tremendous resources at its disposal during the Apollo era. Derek Webber argues that for NASA to explore in more fiscally constrained times, it must borrow a page from mountaineering and establish an infrastructure of "base camps" leading into the solar system.
Monday, April 21, 2014
The discovery of the first Earth-sized exoplanet in its star's habitable zone has raised hopes that true Earth-like worlds may be common. Jeff Foust reviews a book where one scientist argues that Earth, in fact, may be a exceptionally rare planet.
Monday, April 21, 2014
---
Previous articles:
The increase in tensions between the US and Russia would appear to provide NASA with a strong case for funding the agency's commercial crew program and thus reducing reliance on Russia for accessing the International Space Station. Jeff Foust reports that while NASA has been making that case, some in Congress are not necessarily receptive to it.
Monday, April 14, 2014
While interest in small satellites is growing, the utility of such small spacecraft remains open to debate. Ethan W. Mattox discusses an effort by one element of the US military to test the feasibility of smallsats to provide communications support for special operations forces.
Monday, April 14, 2014
If reusable launch vehicles can dramatically lower launch prices, as some have argued about SpaceX's efforts to develop a reusable Falcon 9, what markets does such a vehicle enable? Ajay P. Kothari examines the economics of RLVs regarding one well-known potential market, space tourism.
Monday, April 14, 2014
As interest in astrobiology increases along with the prospects of alien life, science fiction often remains rooted in conventional descriptions of what intelligent alien life would be like. John Hickman interviews an author of a new novel that offers a different, and perhaps more credible, view of what they could be like.
Monday, April 14, 2014
Can a relatively ordinary shuttle mission, one without major achievements or problems, make for a compelling book? Jeff Foust reviews a book that profiles one such mission as seen from the vantage point of one of its crewmembers.
Monday, April 14, 2014
While a code of conduct for outer space activities has the backing of governments in the Europe and the US, there's less support of the proposed code among Asian governments. Peter Garretson examines what issues are impeding the code in Asia and how a greater emphasis on space development could garner greater support for it there.
Monday, April 7, 2014
NASA made headlines last week when it announced it was suspending cooperation with Russia, with the notable and very large exception of International Space Station operations. Jeff Foust examines how much of an effect that ban will really have versus its symbolic effect in an era of tense US-Russian relations.
Monday, April 7, 2014
While some people believe that the next destination for humans beyond Earth orbit should be a return to the Moon, NASA is working instead on a human mission to a captured near Earth asteroid. Tom Chinick discusses how advancing capabilities in the commercial sector could allow human exploration and development of both.
Monday, April 7, 2014
Dennis Tito, the former space tourist now backing a proposal for a human Mars flyby mission, recently spoke out in favor of the Space Launch System (SLS) and Orion to carry out that and other missions. Rick Boozer argues that flaws with SLS/Orion could doom its use for Inspiration Mars and more.
Monday, April 7, 2014
NASA's 2015 budget proposal included, for the first time, a small amount of funding to support studies of a proposed mission to Jupiter's icy moon Europa. Jeff Foust reports that while NASA leadership may finally be warming to a mission that already has support among many in the scientific community as well as in Congress, it's also seeking ways to do that mission less expensively.
Monday, April 7, 2014
Last April, NASA unveiled plan to redirect an asteroid into lunar orbit to be visited by astronauts, a plan that was criticized for some for the lack of details. Jeff Foust reports that, nearly a year later, NASA is refining those plans, but still faces critics of the proposed mission on Capitol Hill.
Monday, March 31, 2014
This week marks the 30th anniversary of the first Indian astronaut, Rakesh Sharma. Gurbir Singh examines the prospects for India's own human spaceflight program after many years of waiting for someone to follow Sharma.
Monday, March 31, 2014
In part 2 of his look back at early Soviet planetary missions, Andrew LePage recounts what happened to the fleet of Mars and Venus missions launched by the USSR in the latter half of 1962.
Monday, March 31, 2014
Humanity's first missions to the Moon, 45 years ago, might seem like such a historic milestone that there would be no need for help publicizing it. Jeff Foust reviews a book that explains not only why such publicity efforts were necessary, but how NASA, industry, and the media carried them out.
Monday, March 31, 2014
In recent years, NASA and others have turned their attention on the International Space Station from building and maintaining the facility to making the best possible use of it. Jeff Foust examines some of those government and commercial efforts, from using the ISS as a remote sensing platform to as a launch facility for small satellites.
Monday, March 24, 2014
The early history of Soviet missions to Venus and Mars was filled with failures. Andrew LePage looks back at how Soviet engineers responded to the initial set of failed missions with a spacecraft concept designed for missions to both planets.
Monday, March 24, 2014
While many in the space community are fascinated with SpaceX's experiments with reusability and their implications for launch prices, that excitement doesn't necessarily extend to other companies in the launch industry. Jeff Foust reports on what issues are currently of greater interest and importance to them.
Monday, March 24, 2014
The upcoming reusable Falcon 9 launch is generating some excitement. Sam Dinkin looks at the implications of projected lower launch costs for space settlement.
Monday, March 24, 2014
Today, we take for granted getting live high definition video from the International Space Station, but forty years ago, getting live TV of any kind from orbit involved technical and other problems. Jeff Foust reviews a book that examines the development and use fo live TV on Skylab, Apollo-Soyuz, and the beginning of the Space Shuttle program.
Monday, March 24, 2014
In May of last year, China launched what it said was a high-altitude sounding rocket for research purposes, but what many in the US believe was an ASAT test. In a comprehensive report, Brian Weeden examines the evidence that the launch was an ASAT test, the historical record of such tests by other countries, and its implications for space security.
Monday, March 17, 2014
After nearly two decades of development, the SOFIA airborne observatory is about to formally enter its operational phase. However, Jeff Foust reports, the future of SOFIA is in jeopardy after NASA proposed cutting funding for it in its 2015 budget proposal, a move that could significant scientific and even geopolitical implications.
Monday, March 17, 2014
Last month, the Indian government released its proposed budget for its next fiscal year, including more than $1 billion for the Indian space agency ISRO. Ajey Lele examines the budget and the priorities it assigns to efforts ranging from space science to human spaceflight.
Monday, March 17, 2014
Discussions about a potential International Code of Conduct for space activities have focused on its effects on national governments. Michael Listner examines how it could affect commercial space activities, particularly those regulated by the US, depending on how the code is interpreted.
Monday, March 17, 2014
Tensions between Russia and Ukraine could imperil US-Russian cooperation in space, some fear, including access to the ISS. Jeff Foust reports on the potential threats an intensified crisis could pose, but also the opportunities it could provide.
Monday, March 10, 2014
Last month, Uwingu rolled out a new program to allow people to name craters on a Mars map for a fee. Alan Stern and Mark Sykes discuss the benefits this initiative promises for funding space science efforts, and how some have misunderstood it.
Monday, March 10, 2014
Space has become congested, contested, and competitive, officials have warned in recent years. Now, Thomas "Tav" Taverney argues, military space systems are facing fiscal threats that could imperil plans to protect those systems from other threats.
Monday, March 10, 2014
On Sunday, SpaceX will launch its latest Falcon 9 rocket on another ISS resupply mission, but this time attempt to recover the first stage. Rick Boozer explains how this step towards reusability can change the economics of spaceflight.
Monday, March 10, 2014
Last night the highly anticipated first episode of the remake of Cosmos broadcast on Fox. Jeff Foust checks out the show and examines how it and its host, Neil deGrasse Tyson, compare to the legacy of the original Cosmos and Carl Sagan.
Monday, March 10, 2014
Last week, a Congressional committee held a hearing about whether NASA should adopt a human Mars flyby concept developed last year by Inspiration Mars. Jeff Foust reports on the debate at the hearing about a 2021 Mars flyby mission, and demands from policymakers for more details from NASA about its human space exploration plans in general.
Monday, March 3, 2014
In December, a team of experts convened in Washington to examine how to carry out "affordable" human missions to Mars in the next two to three decades. Harley Thronson and Chris Carberry discuss the background of the workshop and the recommendations they developed to make such missions feasible.
Monday, March 3, 2014
Monday marks the 45th anniversary of the launch of Apollo 9, an Apollo mission that never left Earth orbit yet was a key step in the journey to the Moon. Anthony Young recounts this mission that provided the first opportunity for astronauts to fly the Lunar Module.
Monday, March 3, 2014
Can small launch vehicles disrupt the space industry in the same way that microcomputers did to the computing industry decades ago? Jeff Foust reviews a book that makes that argument, but doesn't necessarily convince the reader.
Monday, March 3, 2014
NewSpace is often aligned in the minds of many with major companies like SpaceX and Virgin Galactic. Yet, as James Careless describes, there is plenty of action among much smaller ventures, where people have to learn to creative with small teams and smaller budgets.
Monday, February 24, 2014
Roughly a quarter of the universe is made of matter whose gravitational effects can be felt, but which can't easily be seen. Jeff Foust reports on efforts in space and underground to try and detect the hypothesized particles believed to comprise dark matter.
Monday, February 24, 2014
Like Robert Heinlein's Delos Harriman, the man in The Man Who Sold the Moon, watching humanity's progress into space can seem like a narrative primarily about one man. Sam Dinkin tracks Elon Musk's progress this year toward settling Mars.
Monday, February 24, 2014
The growing population of orbital debris poses hazards to the satellites that modern society relies upon. However, Al Anzaldua argues that efforts to clean up orbital debris can also develop technologies needed for expanding our economy and our presence into the solar system.
Monday, February 24, 2014
Many in the space community are growing impatient with Virgin Galactic as development of its SpaceShipTwo program encounters extended delays. Jeff Foust reviews a book about Virgin's founder, Sir Richard Branson, that offers a sharply critical look at the company, but one that may also be factually flawed.
Monday, February 24, 2014
The US Air Force announced recently a "bulk buy" of EELV rockets from United Launch Alliance that it claims will save the government billions of dollars. Stewart Money argues that such savings may prove elusive and that the government's EELV strategy should be reconsidered given the rise of new entrants like SpaceX.
Monday, February 17, 2014
For a time last week, Western media widely reported that China's Yutu, or "Jade Rabbit," lunar rover had died, only to have officials sources state that the rover was alive, if not completely well. Jeff Foust examines both the faults in the erroneous media coverage and the lack of official information about the mission.
Monday, February 17, 2014
He may have flown only once in space, but Apollo astronaut Walt Cunningham remains one of the better-known figures of that era and beyond. Shane Hannon interviews Cunningham about both Apollo 7 and more contemporary topics, including his thoughts on the future of human space exploration.
Monday, February 17, 2014
There have been, over the years, many science fiction stories of human Mars mission gone awry. Jeff Foust reviews a new book that offers a different but compelling take on that, a "hard" science fiction story of one astronaut's quest to survive after being left behind on Mars.
Monday, February 17, 2014
Winning broad support for human space exploration efforts, be they to the Moon, asteroids, or Mars, has long been challenging. Matt Greenhouse argues its time for human spaceflight at NASA to adopt the approach for choosing missions that has generated considerable success for the agency's science programs.
Monday, February 10, 2014
As companies develop commercial spacecraft to carry private citizens and NASA astronauts on suborbital and orbital flights, some worry that safety could be sacrificed to lower costs. Jeff Foust reports on the debate regarding NASA's commercial crew effort and a proposal to extend a "learning period" for commercial providers that limits FAA regulation.
Monday, February 10, 2014
In the second part of his examination of the future of lunar exploration, Anthony Young looks at a new NASA initiative to support commercial robotic lunar landers and the role it could play in stimulating later human missions back to the Moon.
Monday, February 10, 2014
This year, rocket-powered winged vehicles will be flying in the skies above the Mojave Desert, as two commercial ventures test their vehicles. Jeff Foust reviews a book that looks back a half century to a time when another rocketplane flew as high, and far faster, in those same skies.
Monday, February 10, 2014
Last summer, NASA announced that the Kepler spacecraft could not continue its mission to look for exoplanets because of failed reaction wheels on the spacecraft. Jeff Foust reports on how the project is trying to bring new life to the spacecraft with an alternative mission, as other spacecraft seek to follow in Kepler's footsteps.
Monday, February 3, 2014
As China's ongoing lunar mission, Chang'e-3, struggled with problems with its rover, it's worth remembering the problems early American lunar missions encountered. Andrew LePage examines the failure of a Ranger mission 50 years ago, and how it paved the way for successful missions that followed.
Monday, February 3, 2014
Four years ago, NASA set aside plans for a human return to the Moon in the foreseeable future in favor of expeditions to asteroids and Mars. In the first of a two-part article, Anthony Young reexamines the potential scientific, geopolitical, and commercial benefits of reconsidering human lunar exploration.
Monday, February 3, 2014
More than a quarter of a century after the loss of the Space Shuttle Challenger, is there anything more that can be written about that fatal accident? Jeff Foust reviews a short ebook that does offer a new perspective from the person who was the voice of launch control.
Monday, February 3, 2014
NASA's commercial crew program is facing an important year in 2014, as it selects one or more companies for the next phase of development. Jeff Foust reports on the budgetary pressures the program is facing and one company's redoubled efforts to remain a part of the program.
Monday, January 27, 2014
In the concluding section of his book excerpt, Charles Miller discusses how competition and public private partnerships, key to early aviation a century ago, can help the US achieve cheap access to space.
Monday, January 27, 2014
Japan is planning to demonstrate in orbit in the coming weeks an electromagnetic tether that could be used to help remove space debris. Michael Listner examines some of the legal and political issues associated with that effort that could pose challenges as great as any technical ones.
Monday, January 27, 2014
This week is a somber one for many in the space community, given the confluence of the Apollo 1, Challenger, and Columbia anniversaries. Ken Murphy describes how the rest the the year offers more upbeat opportunities to commemorate and celebrate spaceflight.
Monday, January 27, 2014
Two and a half years after the end of the last Space Shuttle mission, the program is firmly in NASA's past, even if it still casts a shadow on the agency today. Jeff Foust reviews a book that examines the history of the Shuttle program post-Challenger, with interviews of many of the astronauts who flew on those missions.
Monday, January 27, 2014
Many people agree that low-cost space access is important to the future of spaceflight, but there's no consensus about how to achieve it. In the first of a two-part excerpt from a new book, Charles Miller looks back to the early history of aviation for lessons that can be applied to spaceflight.
Monday, January 20, 2014
As many in the space community celebrated the final 2014 NASA budget last week, they overlooked a very different milestone: the tenth anniversary of the presidential speech announcing the Vision for Space Exploration. Jeff Foust looks back on than anniversary and how some are carrying on a goal that survived the Vision's demise: sending humans to Mars.
Monday, January 20, 2014
To outsiders, those involved with launch campaigns can appeared obsessed with details to the point of paranoia. Wayne Eleazer discusses how this is a normal and even healthy attitude to take, given the hard lessons companies have learned over the years.
Monday, January 20, 2014
NASA officials and others frequently emphasize the priority safety has in human spaceflight. Jeff Foust reviews a book that makes the argument that safety is, in fact, being overemphasized at the expense of making significant progress in space exploration.
Monday, January 20, 2014
Last week, the White House and NASA announced that the US wants to operate the International Space Station to at least 2024, four years later than previously planned. Jeff Foust reports on the reaction to those plans both in the US and among the international partners, who have yet to agree to such an extension.
Monday, January 13, 2014
A recent op-ed criticized space tourism for being environmentally unfriendly, with a carbon footprint per person much larger than for commercial aviation. Joe Mascaro makes the case that environmentalists should actually embrace the growing opportunities of commercial spaceflight.
Monday, January 13, 2014
Much of the criticism regarding the Space Launch System has been about its large size and cost. John Strickland argues that the true root of the SLS's costs is not that it's large, but that it is expendable, and thus unaffordable.
Monday, January 13, 2014
As more nations and companies show an interest in going to the Moon and making use of its resources, a regime to effectively govern access to those resources may be needed. Vid Beldavs discusses a proposal to study those resources and develop technologies to access them within the framework of an existing treaty.
Monday, January 13, 2014
As heads of space agencies meet in Washington this week for a space exploration conference, some in the US call for a change in direction in NASA's human spaceflight program. Jeff Foust reports on several views of what NASA should be doing, as proposed in a new book.
Monday, January 6, 2014
The news media has become one of the major users of imagery from commercial satellites. Dwayne Day interviews one of the pioneers of such use of commercial imagery, offering his perspectives as someone who worked first in the media and then for one of the commercial remote sensing companies.
Monday, January 6, 2014
On Sunday, India launched successfully for the first time a version of its large GSLV rocket with an indigenously-developed cryogenic upper stage. Ajey Lele discusses the significance of this milestone for India's space program and its future plans.
Monday, January 6, 2014
Government agencies and companies have struggled for decades to develop feasible one- or two-stage reusable launch vehicles (RLVs). Ronald Menich describes how a three-stage RLV, while seemingly more complex, could be done today without any major technological breakthroughs.
Monday, January 6, 2014
This is a key year for NASA's commercial crew efforts, and funding decisions in the coming weeks could determine the future of the program. Rick Boozer argues why the program deserves full funding.
Monday, January 6, 2014
A confluence of several events, including activities inside and outside the United States, threatens to reshape national space policy. Roger Handberg argues these events are the latest evidence of a new era in space policy that further distances the country from the Apollo paradigm.
Monday, December 23, 2013
Nearly three months after its release, the film Gravity is collecting accolades and award nominations, but can the movie's success translate to greater interest in the real problem of orbital debris? Jeff Foust reports on a recent panel session that examined how well the movie matched up with reality when it comes to orbital debris.
Monday, December 23, 2013
Some of the most valuable real estate in the solar system beyond Earth may turn out to be peaks in the lunar polar regions that get near-continuous sunlight. Babak Shakouri examines the legal issues associated with access to those regions and proposes a solution to make them as freely available as possible.
Monday, December 23, 2013
The space community frequently focuses only on big-picture issues, from the size of the NASA budget to the direction of its exploration program. Jeff Foust examines several lesser-known policy issues that are also critical to government and commercial space activities.
Monday, December 16, 2013
As China returns to the Moon this month, the US remembers the anniversary of another major milestone in lunar exploration. Anthony Young recounts the first crewed mission to orbit the Moon, which launched 45 years ago this week.
Monday, December 16, 2013
Mars One, the private venture with plans to settle Mars in the 2020s, announced last week plans to develop a precursor robotic mission for launch in 2018. Jeff Foust reports on the announcement and the challenges the venture faces beyond building spacecraft hardware.
Monday, December 16, 2013
The formation of the solar system from a cloud of dust and gas turns out to be far more complicated than what even recent models suggested. Jeff Foust reviews a book that provides a detailed overview of the formation of the planets, moons, and other bodies that comprise the solar system.
Monday, December 16, 2013
China's successful launch of its Chang'e-3 lunar lander mission do more for the country than the science alone the spacecraft will perform. Dwayne Day examines the potential "soft power" benefits of the mission, and its limitations as well.
Monday, December 9, 2013
Blue Origin, the commercial space company funded by Jeff Bezos, has developed a reputation as a secretive company, but even it sometimes wants to share its progress. Jeff Foust reports on the company's announcement of a engine development milestone and what it means for its suborbital and orbital vehicle plans.
Monday, December 9, 2013
The issue of property rights in space remains a major obstacle to commercial development on the Moon and beyond. Vid Beldavs proposes a solution that could promote commercial lunar activities while working within the framework of an existing, and controversial, treaty.
Monday, December 9, 2013
While space-related books follow some familiar themes, there's room for some creativity when talking about history, science, or other topics. Jeff Foust reviews three books that offer a twist on conventional space-related books.
Monday, December 9, 2013
The launch Sunday of China's first lunar lander mission is a setback for the private teams in the Google Lunar X PRIZE competition, who hoped they, and not China, would be the next to land a spacecraft on the surface of the Moon. Jeff Foust reports on how some teams are taking different approaches to continue their efforts to win the prize, as the rules for winning the prize are tweaked again.
Monday, December 2, 2013
As China sends its first lander and rover to the Moon, NASA has no firm plans to carry out a similar mission, although there is no shortage of mission concepts. Dwayne Day examines some of the proposals for networks of landers and sample return missions that are seeking funding from the space agency.
Monday, December 2, 2013
Political gridlock and tight budgets in a tough economy have made it difficult for NASA and other research agencies of the government to win additional funding for their programs. Eric Hedman argues for a combined effort by space advocates and others to win increased R&D funding for NASA and others that, in the long run, will help the economy and national standing.
Monday, December 2, 2013
Astrobiology is a relatively new and diverse field that provides plenty of topics for discussion. Jeff Foust reviews two new books on the topic, one focused on the search for habitable worlds and the other examining the ethical issues of encountering life, primitive or intelligent, elsewhere in the universe.
Monday, December 2, 2013
As NASA works on the initial version of its Space Launch System heavy-lift rocket, companies are working on concepts to increase the SLS's capabilities. Dwayne Day describes one effort that makes use of a version of the F-1 rocket developed for the Saturn V.
Monday, November 25, 2013
When Inspiration Mars first announced their plans for a human Mars flyby mission in February, their plan was to fund it philanthropically. Now, Jeff Foust reports, the foundation is seeking NASA support, and funding, to make the mission a reality, a challenge as daunting as any technical issue their mission faces.
Monday, November 25, 2013
Long-time space settlement advocate Vidvuds Beldavs discusses his history in space advocacy and how a new novel rekindled his vision of humans working and living in space.
Monday, November 25, 2013
The Space Shuttles have been retired, but there remains fascination about how these very capable, but very complex, vehicles flew. Jeff Foust reviews a book that dives deep into the technical details about the shuttles and their operations.
Monday, November 25, 2013
Last week, as NASA celebrated the successful end of its Commercial Orbital Transportation Services (COTS) program, it said it was looking to apply the COTS model to other programs. Jeff Foust reports on those concepts, from the ongoing commercial crew program to one company's proposal to apply COTS to cislunar human spaceflight.
Monday, November 18, 2013
While many of NASA's human spaceflight programs appear to be making good progress, all is not necessarily well. Douglas Messier warns that funding crunches could jeopardize the overall future of NASA's human spaceflight efforts.
Monday, November 18, 2013
NASA's MAVEN Mars mission is scheduled for launch Monday afternoon, weather permitting. Jeff Foust provides an update on launch preparations and how the mission fits into NASA's broader Mars plans.
Monday, November 18, 2013
Space activity in Texas has traditionally been most closely linked to NASA's Johnson Space Center, but commercial space is changing that. Jonathan Coopersmith examines those changes as discussed at a conference in the state last month.
Monday, November 18, 2013
Chris Hadfield became a celebrity during his time on the space station earlier this year, thanks in large part to his use of social media. Jeff Foust reviews Hadfield's switch to conventional media: a book that is as much a memoir as it a guide to helping readers achieve their own goals.
Monday, November 18, 2013
China's upcoming Chang'e-3 mission, besides being that country's first lunar rover, will also make use of radioisotopes for the first time. Dwayne Day examines what's known about Chinese efforts to develop plutonium systems to heat and possibly power spacecraft.
Monday, November 11, 2013
Space science is in a golden age today thanks in large part to the fleet of NASA missions studying the solar system and the universe. However, Jeff Foust reports that NASA budgets, squeezed ever tighter by sequestration and other policy decisions, could force NASA to soon make some tough decisions about what missions it can afford to continue operating.
Monday, November 11, 2013
India's first mission to Mars met with criticism inside and outside of India, as many saw it as a sign of misplaced priorities by the government. Ajey Lele addresses those criticisms and makes the case that India can carry out a space exploration program while improving the quality of life for its citizens.
Monday, November 11, 2013
Last week India successfully launched its first mission to Mars, at a cost a fraction of NASA and other Western efforts. Bee Thakore argues this is evidence of India's innovative approach to spaceflight that can benefit both India and other nations.
Monday, November 11, 2013
Although the search for extraterrestrial intelligence has turned up empty-handed so far, there's been no shortage of speculation, in science and fiction, of what alien civilizations might be like. Jeff Foust reviews a book that looks at how society has perceived what "Aliens" might be like versus the best ideas of science.
Monday, November 11, 2013
Scientists are meeting in California this week for the Second Kepler Science Conference. Jeff Foust reports on some recent discoveries that are bringing astronomers to the goal of the mission: determining how frequent planets like the Earth are in the galaxy.
Monday, November 4, 2013
Most people associate a launch vehicle with a rocket, but that's not necessarily the case. Jeff Foust reports on a new venture that plans high-altitude passenger balloon flights with a system newly classified as a launch vehicle by the FAA.
Monday, November 4, 2013
Robert Kennedy and Dwayne Day investigate several serious cases of plagiarism of space history articles by one writer.
Monday, November 4, 2013
Satellite navigation systems are, today, almost taken for granted as they're incorporated into many aspects of our life. William Mellberg reviews a book that examines the history of the development of the Global Positioning System and its evolution from a secret military initiative to a modern-day public utility.
Monday, November 4, 2013
Visit the Archive for additional articles.