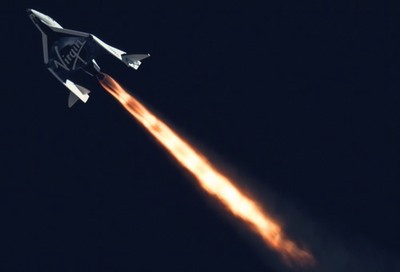 SpaceShipTwo on its second powered test flight September 5. Another test flight is coming up "very soon," a Virgin Galactic official said at ISPCS last week. (credit: MarsScientific.com and Clay Center Observatory)
Commercial spaceflight weathers the shutdown
by Jeff Foust

Monday, October 21, 2013
NASA, along with the rest of the federal government, is returning to normal—or, at least, what passes as normal these days—after a government shutdown lasting over two weeks. During that time, 97 percent of the space agency's workforce was furloughed, leaving just a few hundred at work to for what the government deemed "essential" activities, including operations of the International Space Station and other spacecraft. The main NASA website, NASA TV, and its social media accounts went dark, offering no updates even as the LADEE spacecraft entered lunar orbit and Juno flew past Earth en route to Jupiter.
"This flight was a complete success," Shotwell said of last month's Falcon 9 launch. "We had no mission requirement to do a relight of the second stage, so it was a success."
The shutdown also had significant effects on the private sector. Companies had to replan work when contracts were stopped or facilities at NASA and other government sites were closed, in many cases putting employees temporarily out of work. Even conferences suffered from the shutdown, as government employees could not speak or even attend. Some meetings went ahead with reduced attendance and revised schedules, while some, like the large GEOINT Symposium that was scheduled to take place last week in Tampa, had to postpone or cancel their meetings entirely.
By comparison, another conference scheduled for last week, the International Symposium for Personal and Commercial Spaceflight (ISPCS) in Las Cruces, New Mexico, made it through the shutdown relatively unscathed. Attendance was down by only a handful of people compared to last year as government personnel could not attend, and the schedule of the two-day conference had to be only mildly adjusted to accommodate missing NASA and FAA speakers. There is some logic in that: after all, a conference devoted to commercial spaceflight ought not be dependent on the government, even while the government remains a major customer and partner of many companies in both orbital and suborbital flight.
Falcon, Grasshopper, and other orbital achievements
Just before the government shutdown started, SpaceX successfully launched its first Falcon 9 v1.1 rocket from Vandenberg Air Force Base in California (see "Super space Sunday", The Space Review, September 30, 2013). The rocket placed into orbit the Canadian CASSIOPE satellite and several small secondary payloads. However, after satellite deployment, the rocket's upper stage failed to perform a second burn of its engine to demonstrate its restart capability.
The investigation into that failed relight was wrapping up at the time of the ISPCS, SpaceX president and chief operating officer Gwynne Shotwell said after her keynote speech at the conference on October 16. A report on the incident was scheduled to be completed at the end of the week and handed over to insurers for their review, keeping the company's next launch, of the SES-8 communications satellite, on schedule for November 12.
Shotwell did not go into much detail about the cause of the failed relight, citing, among other issues, export control concerns. "We thought we knew right away," she said. "It was something that we had seen previously on [version] 1.0 and we thought we had gotten completely away from it because, in fact, we obviously relit the second stage a couple of times on 1.0. But in this new configuration there were just a few things that maybe we should have done but didn't."
The company did release some more information about the failed relight in a summary of the launch posted on its website last week. "The engine initiated ignition, with pressure rising in the thrust chamber to about 400 psi, but the flight computer sensed conditions did not meet criteria and it aborted the ignition," the company stated. "SpaceX believes it understands the issue which didn't involve anything fundamental, rather a need to iron out some of the differences between operating the engine on the ground versus in a vacuum."
Shotwell emphasized at ISPCS, though, that the failed relight of the upper stage did not diminish the success of what was effectively the first launch of a new rocket. "This flight was a complete success," she said. "We had no mission requirement to do a relight of the second stage, so it was a success." Performing three successful flights, as determined by meeting all mission requirements, is a milestone required by SpaceX to be certified by the Air Force for future launches of military payloads.
While SpaceX looked into the upper stage issue—and while the government was shut down—the company also performed another test flight of its Grasshopper reusable launch vehicle technology demonstrator. On October 7, the vehicle lifted off from the company's test site near McGregor, Texas and flew to its highest altitude yet—744 meters—before descending and making a powered vertical landing.
That launch, though, Shotwell said, will be the last for Grasshopper. The company is instead moving on to a full Falcon 9-R (pronounced "niner") first stage, with flight-weight, retractable landing legs. Flight tests of the Falcon 9-R are slated to begin in late December from Spaceport America in New Mexico.
Those flights, she said, will also be vertical takeoff and landing, with the landings in particular designed to simulate the return of a first stage to Earth after a launch. "We're trying to make it as flight-like as possible," she said.
SpaceX has no plans for additional tests or, for now, other uses of the Grasshopper vehicle. "We'll do like all SpaceX things: we'll hold on to it," she said. She added she almost regretted still having Grasshopper intact after its series of tests. "In some ways we've kind of failed on the Grasshopper program because we haven't pushed it to its limit," she said. "We haven't broken it."
Grasshopper and the upcoming Falcon 9-R tests are part of SpaceX's effort to develop a reusable version of the Falcon 9 that could further lower launch costs. On the September 29 launch, SpaceX tested the ability to recover the Falcon 9 by firing its engines after stage separation. An initial firing of three engines to slow the stage down for reentry worked well, but shortly before splashdown an effort to fire the stage's central engine failed because the stage spun up too much from aerodynamic forces.
In her ISPCS speech, though, Shotwell showed a photo taken of the first stage when it was just three meters above the ocean, immediately before splashdown. The stage was still "fully intact" at that time, she said, although "it didn't remain intact after it hit the ocean" an instant later.
"We were so jubilant after the last flight" because of how close they came in recovering the first stage intact, she said. "Between the flights that we've been doing with Grasshopper and this demonstration, we're really close to full and rapid reuse of stages."
"No one told me that, in the event of a US government shutdown, that the gates of Edwards Air Force Base would be locked and I can't get to my space vehicle," Sirangelo said.
In addition to its Falcon 9 and Grasshopper work, SpaceX is one of three companies with funded awards from NASA's Commercial Crew Integrated Capability (CCiCap) program. Another company, Boeing, said at ISPCS that it's making good progress on its CST-100 vehicle. "This week, we have kicked off another round of launch abort engine tests," said John Mulholland, vice president and program manager of the CST-100 effort at Boeing, during an ISPCS panel on Thursday. He said the company remains focused on achieving a "robust CDR," or critical design review, in this phase of the program.
Mulholland's boss, Boeing vice president John Elbon, praised the progress he's made on CST-100 on what is, for Boeing, a relatively small team. "His team is only 350 people," Elbon said in a keynote at the conference Thursday. "That is really an innovation compared to the programs I've been involved in in the past. To be able to move a design through the critical design review with that size team is just amazing."
The third CCiCap company, Sierra Nevada Corporation (SNC), did run into a snag related to the shutdown this month. The company had the engineering test article of its Dream Chaser vehicle at NASA's Dryden Flight Research Center in California, preparing it for its first glide test. However, when the shutdown started, SNC was locked out of the center and couldn't even get to its vehicle, let alone test it. "No one told me that, in the event of a US government shutdown, that the gates of Edwards Air Force Base would be locked and I can't get to my space vehicle," SNC vice president Mark Sirangelo said at a US Naval Institute spaceflight symposium October 3 at the US Naval Academy.
With the shutdown over, the company planned to resume those test flight preparations. "We're very, very close to out first drop," Lee Archambault, director of flight operations for the Dream Chaser program at SNC, said in an ISPCS panel session. "We expect we would have had that drop by now had the government shutdown not occurred, but now that it's over with, we're going to try to spin that process up very, very soon."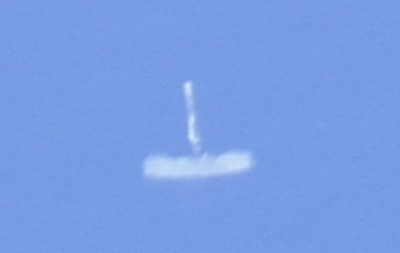 An image released last week by SpaceX of the Falcon 9 v1.1 first stage 3 meters above the ocean, an instant before splashdown after its September 29 launch. (credit: SpaceX)
Three companies' suborbital efforts
Suborbital companies were perhaps even less affected by the shutdown, given that the development of their vehicles is being done entirely privately, unlike the NASA funding that has gone into commercial cargo and crew development efforts. Those companies' development efforts are being vehicles ever closer to operation.
Virgin Galactic, whose SpaceShipTwo vehicle has made two powered test flights to date, most recently on September 5, is planning another such flight very soon. "We have a series of them coming up very shortly," Virgin Galactic president Steve Isakowitz said of upcoming test flights. "We don't normally announce our dates ahead of time, but I can tell you we have one that's very soon that will also, again, incrementally build us up" to the point where SpaceShipTwo can fly into space.
Virgin's efforts have received some scrutiny because of the long gap between the first powered test flight, on April 29, and the second, and the lack of tests since the second flight. There remains an undercurrent of speculation among some in the industry of problems with the company's hybrid rocket engine, although Virgin officials say there are no issues with the engine.
Isakowitz said that company's customer base, now at 650 people, has been patient with the vehicle's development delays. "We've generally found with our customers that they're a heck of a lot more patient than the media or those in the industry," he said. "From our customers, we really haven't had anybody who's said, 'Forget it, you guys are taking too long.' In fact, I don't think we've lost a single person who's said, 'You're simply taking too long.'"
"We've generally found with our customers that they're a heck of a lot more patient than the media or those in the industry," Virgin Galactic's Isakowitz said.
Virgin's neighbor at the Mojave Air and Space Port, XCOR Aerospace, is also working on its prototype Lynx Mark I suborbital spaceplane, although without the same resources—and marketing machine—as Virgin and its founder, Sir Richard Branson. "Our challenge is that we're in an industry that has, arguably, one of the greatest marketers in the business in our competitor," said XCOR COO Andrew Nelson, referring to Branson. "Trying to distinguish yourself from Branson and his brand in a market that is emerging is quite challenging."
XCOR has tried to live up that challenge through some innovative efforts, including a deal it struck with Unilever early this year where Unilever purchased more than 20 flights from XCOR to give away as part of a global promotion for its Axe brand of personal care products. Nelson said that 118 people from 67 countries that won regional and national competitions as part of the "Axe Apollo Space Academy" promotion will be coming to the Orlando area in the first week of December to compete for those flights. "It's going to be very fun and exciting," he said, adding he couldn't divulge the details of that competition.
A third company with suborbital ambitions is taking a very different marketing approach. "We've had a very different strategy, which is don't sell anything and don't talk about it," said Brett Alexander, director of business development and strategy for Blue Origin. "We'll fly when we fly, and you guys will see it."
He did say that he expects all three companies to be performing commercial suborbital flights within the next five years. "I think all three of our companies will be flying people regularly. I think we have different experiences built around the same common offering," he said. He added that he expects the business to be a mix of tourism and research flights. "I think we'll find that there's a lot more things that can be done in suborbital space than we traditionally think of."
Isakowitz, in his ISPCS presentation, drew an unusual, but timely, parallel. He showed what has become an iconic image from game 2 of baseball's American League Championship Series on October 13 in Boston. In the picture, Detroit Tigers outfield Torii Hunter is flipped over the outfield fence, legs in the air. In the background, a Boston police officer has his arms extended, celebrating a game-tying grand slam by the Boston Red Sox that Hunter tried but failed to catch.
"We're that Boston cop," Isakowitz said, referring to the enthusiasm many feel about the potential for suborbital flight. "We are in an industry, and we are now in a sector, an emerging part of that industry, where we feel like that Boston cop."
However, he added a cautionary note. "I'm sure Torii thought he was going to catch the ball. And I think all of here today on this panel, and other who spoke before us, think that we're going to catch the ball," he said. "We're going to have moments where we're going to be slamming into that fence, and the question is, how are we going to be able to get up? Will we be able to do it? To me, that's the really big test."
---