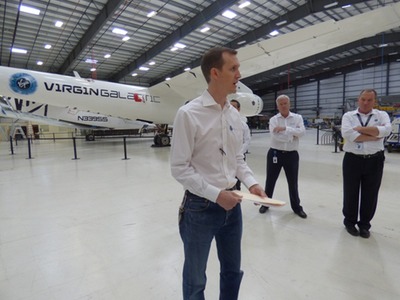 Virgin Galactic CEO George Whitesides and other company officials stand in front of WhiteKnightTwo and SpaceShipTwo as they discuss the vehicles' status on October 4, 2014, in Mojave, California. (credit: J. Foust)
Ten years after the X PRIZE
by Jeff Foust

Monday, October 6, 2014
"It's beautiful weather this morning," remarked a person standing outside Virgin Galactic's Final Assembly, Integration, and Test Hangar, or FAITH, at the Mojave Air and Space Port Saturday morning. It was hard to disagree. The sun had been up long enough to burn away the morning chill in the California high desert, but not long enough to make it uncomfortably hot. Skies were clear and winds were light. It was good weather for flying.
What appeared a decade ago to be the dawn of a new era, one where far more people would fly in space for, if nothing else, the sheer experience of it, has turned out to be maddeningly difficult to actually begin.
What was notable, though, was what wasn't flying. While aircraft ranging from aerobatic planes to business jets took off and landed at the airport, no spaceships were flying in Mojave that day. Exactly ten years earlier, on a day not too different from this one, SpaceShipOne flew to an altitude of more than 100 kilometers on a suborbital spaceflight that allowed it to claim the $10-million Ansari X PRIZE. That flight, at the time, appeared to herald the beginning of a new era in commercial spaceflight. In ten years, one might have thought in 2004, suborbital flights at Mojave might be relatively commonplace.
That flight, though, was the last commercial suborbital human spaceflight to date. What appeared a decade ago to be the dawn of a new era, one where far more people would fly in space for, if nothing else, the sheer experience of it, has turned out to be maddeningly difficult to actually begin. Multiple companies have promised that this future is right around the corner—and, maybe, they're finally right this time, as their vehicles inch closer to flight. Maybe.
That disappointment, though, didn't deter people from coming to Mojave to celebrate the tenth anniversary of SpaceShipOne's final, and prize-winning, flight on Saturday, reminiscing about the past, while the company that emerged from those flights a decade ago talked about the future.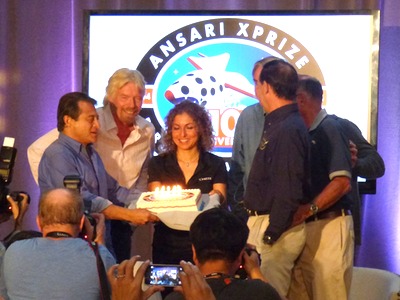 Members of a panel marking the 10th anniversary of the prize, including Peter Diamandis, Sir Richard Branson, and Anousheh Ansari, pose with a cake to mark the event. (credit: J. Foust)
The X PRIZE family reunion
The crowd that attended the anniversary luncheon at the Mojave Air and Space Port's Stuart Witt Event Center—named for the current, but soon to retire, CEO of the airport—was a diverse lot. Some were Virgin Galactic's "future astronauts," as the company calls it customers, while others were part of an "adventure trip" organized by the X PRIZE Foundation at $40,000 per head that included visits to SpaceX and JPL in addition to the anniversary events. Many, though, had actually been involved, in one way or another, with the prize-winning flights a decade ago, giving the event the feel of a big family reunion of sorts.
And, like many family reunions, there was a lot of reminiscing about the past, particularly on the 90-minute panel featuring people involved with, or with ties to, the events of a decade ago. The passage of time made some more willing to discuss the events of the past, including the experiences of the two flights themselves on September 29 and October 4 of 2004.
"It was an awful feeling," Melvill said of the rolling SpaceShipOne experiences on its first prize-qualifying flight. "I have to tell you, I was scared to death."
For example, Mike Melvill, who flew SpaceShipOne on the September 29 flight as well as the vehicle's first suborbital spaceflight three months earlier, recalled the spin that he accidentally put SpaceShipOne into as it headed into space. "I got a little carried away and turned after I lit the motor a little abruptly," he said, explaining that he wanted to use as much of the engine's thrust as possible to go up, to be sure to pass the critical 100-kilometer mark.
That ended up putting the vehicle into a "snap roll", rolling 29 times as it ascended. "It was an awful feeling," he recalled. "I have to tell you, I was scared to death." He noted his hand went to the switches to shut off the motor early, but decided not to do so.
"So what was going through your mind that caused you not to shut it off?" asked Peter Diamandis, the X PRIZE Foundation chairman who led the panel discussion.
"I was a shareholder in Scaled," Melvill responded, a comment that brought the house down in laughter and applause. Melvill's point was that an aborted flight might have prevented Scaled from making another attempt before the end of the year, when the insurance policy that X PRIZE had purchased to pay the prize purse expired.
Brian Binnie, who flew SpaceShipOne on the October 4 flight, had no similar tales from his flight, which went off smoothly and even broke an altitude record set by the X-15 in the 1960s. He recalled, though, getting only a few hours of sleep on the couch with his dog the night before, and getting an unexpected embrace from his mother-in-law shortly before boarding SpaceShipOne—and getting coffee spilled on him in the process. "By the time I got into that small little cockpit, it reeked of French vanilla," he said.
More interestingly, Binnie revealed that during his time working on SpaceShipOne, he kept a detailed journal. "I figured that the real book on SpaceShipOne and how it all played out, who did what, and the drama, would have been here by now," he said, referring to a writer who was embedded into the program to write a book about it, which has yet to be published.
Instead, Binnie said he's written a 405-page book of his insider's account of the program for which he's looking for a publisher. "I knew I could never do anything with this thing, because if I did I was going to get fired. I don't quite have that worry anymore," he said, a reference to his leaving Scaled earlier this year to work for another suborbital vehicle developer, XCOR Aerospace.
"Paul Allen, throughout this whole program, never beat up on us about us spending too much money or about being inefficient," Rutan recalled. "The way that program was funded, and weren't beat up on, meant that the program moved rapidly."
Also like a family reunion were the awkward comments. "I didn't initially respect that you could do this," Burt Rutan said to Diamandis, referring to the origins of the prize, "because things like the Kremer and Orteig [Prizes] were put up by people known to have the money in the bank." The X PRIZE didn't have the $10 million when it announced the prize in 1996, and in fact had to use a donation by the Ansari family to pay for the insurance policy for the prize purse. (XL Insurance, which ultimately paid the $10 million when Scaled won the prize, was absent at the anniversary event.)
Later in the event, Rutan heaped praise on Paul Allen for funding SpaceShipOne's development in a hands-off manner. "Paul Allen, throughout this whole program, never beat up on us about us spending too much money or about being inefficient," he recalled. "The way that program was funded, and weren't beat up on, meant that the program moved rapidly." While those comments were intended to praise Allen—who was not at the event itself, but represented by Vulcan Aerospace Corporation president Chuck Beames—some interpreted his comments as criticism of others, including Virgin Galactic.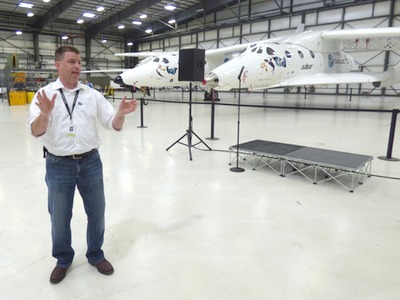 Mike Moses, a former NASA shuttle official who is now the vice president of operations for Virgin Galactic, discusses the current status of SpaceShipTwo on a tour of the company's FAITH facility. (credit: J. Foust)
SpaceShipTwo: "It's been a challenge"
A few hours before the anniversary festivities, Virgin Galactic hosted a tour of its FAITH facility in Mojave for a small group of reporters. The facility is perhaps more aptly named than Virgin might have wanted: a decade after the Ansari X PRIZE, an increasing amount of faith is required to believe that the era of suborbital space tourism promised by the competition is really coming.
Virgin, though, made the case that, after years of waiting, that era was right around the corner. "I think we're on the edge of a fundamental shift" in spaceflight, said Virgin Galactic CEO George Whitesides. "Breaking through that has certainly been a challenge."
Whitesides and other Virgin officials said that, after a long lull in test flights, activity would soon be ramping up again. SpaceShipTwo last flew under rocket power on January 10, although it has performed some glide flights, including one on August 28. Since that last powered flight, Virgin announced it was switching fuels for its hybrid rocket motor, replacing the hydroxyl-terminated polybutadiene, a form of rubber, that had previously been used to a polyamide-based plastic often described as nylon.
Virgin has been performing a series of ground tests of that new motor, including a final series of "qual" tests leading up to the resumption of powered tests. "We have now one more formal qual in our program of qual fires of the plastic motor," Whitesides said. If that final test goes well, powered test flights could resume shortly afterwards.
Those upcoming test flights, like previous ones, will be conducted by Scaled, although with significant participation by Virgin Galactic personnel. Later, Virgin Galactic will formally take possession of SpaceShipTwo and take charge of future test flights from both Mojave and Spaceport America in New Mexico.
"We're on the verge," Branson said, referring to the start of commercial operations. "We're going to start soon, as I've been saying for a few years."
The timing of that handover is a complex one that depends on both the technical milestones achieved on upcoming test flights and regulatory issues. "What we'd like as a minimum is for them to demonstrate supersonic reentry and peak heating" before transitioning SpaceShipTwo, Whitesides said. That could also include a full suborbital spaceflight. "We'd like them to, and that's certainly the plan now," he said, although it's not explicitly required before the handover. "We'll be making that decision as we go through the next month or two."
Previous test flights, and the upcoming ones that Scaled will be responsible for, are done under an experimental permit initially awarded by the FAA's Office of Commercial Space Transportation in May 2012. Virgin Galactic applied for a launch license from the FAA in mid-2013, but asked the FAA to "toll," or suspend consideration of, its application earlier this year until Scaled completes its planned series of test flights.
Under current law, a vehicle can't hold both an experimental permit and a launch license (efforts to amend the law to allow a vehicle to have both have not made it through Congress yet.) Had the FAA awarded Virgin a SpaceShipTwo launch license earlier this year, it would have forced Virgin to take over flight tests before it or Scaled were ready.
"When Scaled and us, and frankly the FAA, feel like we're ready for this big transfer, we will request that the toll be removed," Whitesides said. The FAA has 180 days to rule on a launch license application once it deems it to be "sufficiently complete," and Whitesides said there was less than a month left in that period when Virgin asked for it to be placed on hold.
Even as flight tests of the first SpaceShipTwo, and its WhiteKnightTwo carrier aircraft, continue, Virgin is working on additional vehicles at FAITH. Virgin showed off the wing of the second WhiteKnightTwo, being assembled in the hangar, as well as the fuselage of the second SpaceShipTwo. That vehicle is on track to be delivered to Virgin Galactic in 2016, said Enrico Palermo, the vice president of operations of The Spaceship Company, a wholly-owned subsidiary of Virgin Galactic responsible for manufacturing the vehicles.
The second SpaceShipTwo won't be much different from the first, designated VSS Enterprise. "We're making incremental improvements," he said, such as making the vehicle a little lighter. "Fundamentally it's the same vehicle."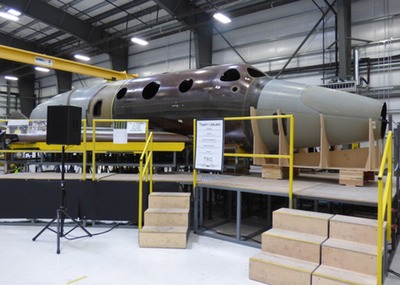 The second SpaceShipTwo vehicle under construction at FAITH, due to be delivered to Virgin Galactic in 2016. (credit: J. Foust)
As they has in the past, Virgin officials have shied away from announcing any specific schedules about when SpaceShipTwo will begin commercial flights, emphasizing instead a focus on achieving milestones. That, though, hasn't stopped the boss from announcing schedules. In television interviews last month, Sir Richard Branson said he was planning to be on that inaugural commercial flight from Spaceport America "in February or March of next year," as he told David Letterman in one such interview.
"We're on the verge," Branson said at the anniversary luncheon, referring to the start of commercial operations. "We're going to start soon, as I've been saying for a few years."
Whitesides, earlier in the day, acknowledged those delays. "We're really at an exciting moment. Now, we've been at that moment for ten years, right?" he said. "Certainly, one of the things about this it that it's been a challenge. I think one of the things that that underlines is difference between building a demonstration prototype and something that can be put into commercial service, day in, day out, at a safety level that is commensurate with expectations. That's been a lot of work."
"I didn't know how long it would take," he said later, "but I did know this: it was going to be hard."
"I didn't know how long it would take," Whitesides said, "but I did know this: it was going to be hard."
At the anniversary luncheon, Vulcan's Beames took the long view about the long wait since SpaceShipOne's final flight for suborbital spaceflight to emerge as a true industry. "A lot of people have been frustrated that there was so much excitement at that moment" ten years ago, he said, "and then there's been this lull."
Beames said that he believed SpaceShipOne's final flight will be seen, in fifty years, as a pivotal moment in history. "And often, after those pivotal moments in history, there is a bit of a lull," he said. Winning the prize "created a sense of confidence" in the industry and a lot of activity outside of public view that will make a difference in the years and decades to come, he argued.
The anniversary luncheon closed out—not unlike some family reunions—with an awkward group hug among the panelists, followed by blowing candles out on a cake to mark the 10th anniversary, before everyone went their separate ways. Unlike ten years ago, there would be no spaceships flying above Mojave that day, but maybe soon enough. Maybe.
---