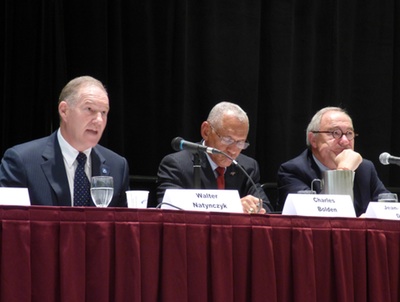 Canadian Space Agency president Walter Natynczyk (left) discusses the state of the Canadian space program at a press conference September 29 in Toronto with NASA administrator Charles Bolden (center) and ESA director-general Jean-Jacques Dordain. (credit: J. Foust)
Canadian space at a crossroads
by Jeff Foust

Monday, October 13, 2014
Two weeks ago, the world's space community converged on Toronto for the 65th International Astronautical Congress. The weeklong conference, organized by the International Astronautical Federation, attracted more than 3,000 participants for sessions on a broad range of civil and commercial space topics.
Hansen and Saint-Jacques weren't simply representing the Canadian astronaut corps: they are the Canadian astronaut corps.
It was also an opportunity for the host city and nation to show off. Delegates filled a theater in downtown Toronto for the opening ceremonies on September 29, a two-hour affair that featured the usual welcoming speeches from organizers and politicians interspersed with performances by members of a Cirque du Soleil troupe and another where figure skaters danced with hockey players on artificial ice (along with "referees" who were wearing uniforms a little more low-cut than standard NHL attire.)
Serving as masters of ceremonies for the event were two members of the Canadian astronaut corps, Jeremy Hansen and David Saint-Jacques. They oversaw the ceremonies in a lighthearted way, pointing out early in the festivities the different types of attendees at the IAC. One of those classes of attendees was "retirees," which they illustrated with a photo of former Canadian astronaut Chris Hadfield. "And boy, do they love to tell you their stories," Hansen quipped, to laughter from the audience.
Hansen and Saint-Jacques were involved in other events associated with the conference, from the unveiling of a coin marking the 25th anniversary of the Canadian Space Agency (CSA) to a social media event called "The Amazing Canadian Space Race," where the two led competing teams through a series of space-themed events around Toronto.
What was less frequently mentioned, though, was that Hansen and Saint-Jacques weren't simply representing the Canadian astronaut corps: they are the Canadian astronaut corps. With Hadfield's retirement last year after his mission to the International Space Station (ISS), the two are the only active Canadian astronauts today. Neither of them has yet to fly to space, and the opportunities for them to do so through the end of the decade are scarce.
At the IAC, Canadian officials played up the country's space efforts. "Canada's space sector is critical to our economic well-being moving forward," said Industry Minister James Moore, whose portfolio includes the CSA, at the opening ceremony. "The industry is vital to our economy, to our security, and, of course, to our well-being."
"We've had a very active and, I think, a very fruitful year at the space agency," said CSA president Walter Natynczyk, a retired general who took over the agency last year, on a panel of space agency leaders later that day. That included the launch, almost exactly one year earlier, of the Cassiope space weather and technology demonstration satellite, and the release in February of a space policy framework.
That framework outlines five key principles for Canadian space activities: placing Canadian interests first, positioning the private sector at the forefront of space activities, making progress through partnerships, supporting excellence in key capabilities like space robotics and remote sensing, and inspiring Canadians.
That framework "kind of lays out the future of our space program from a principles standpoint, but also areas of action," said Natynczyk at a press conference after the space agency leaders panel.
"Right now, our focus is to maximize the use of the International Space Station" before deciding on whether to be a partner beyond 2020, Natynczyk said.
That framework, though, is short on specific strategies. The document discusses a greater role for commercialization, support for research and development activities, and keeping Canada a "sought-after partner in the international space exploration missions that serve Canada's national interests," but offers few other details, or guidance on the CSA's budget.
It's that budget that has caused some concerns among Canadian space advocates. The fiscal year 2014–15 budget gives CSA C$462.4 million (US$411.5 million), up from the C$413.7 million (US$368.2 million) it received in 2013–14. However, that same budget document projects a decline in CSA's budget over the next two fiscal years, to C$360.3 million (US$320.7 million) in 2016–17. By comparison, the United States, with a population nine times that of Canada, funded NASA for fiscal year 2014 at $17.6 billion, or more than 40 times the CSA's 2014–15 budget.
At the IAC press conference, Natynczyk said the budget supports CSA's key areas of investment over the next five years, including the ISS and an instrument that has already been delivered for the James Webb Space Telescope. However, he said no decision had been made yet on whether Canada would participate in any extension of the ISS beyond 2020.
"Right now, our focus is to maximize the use of the International Space Station," he said. "Then we will have a look at the entire value proposition before putting a case before the government of Canada" about any potential extension.
An extension of the ISS is key to giving Hansen and Saint-Jacques more opportunities to fly. The six-person ISS crews are currently split evenly between Russia and the "US Orbital Segment," (USOS) which includes the US, Europe, Japan, and Canada. Typically two of the three USOS crewmembers are from NASA, and the third from another partner. Canada, as the smallest ISS contributor, gets the fewest crew slots: only one Canadian astronaut is slated to fly between now and 2020.
The ISS, though, isn't the only space program where some Canadians would like to see more—or at least a different use of—resources. One such area is Mars exploration, where Canada has contributed instruments for a number of spacecraft, but has yet to fly its own mission.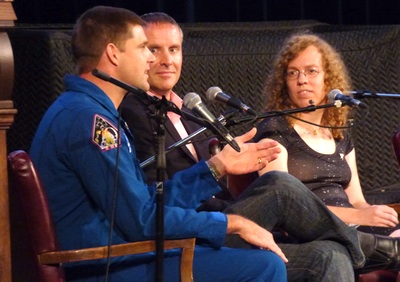 Canadian astronaut Jeremy Hansen (left) discusses his thoughts about the future of the Canadian space program with Gordon Osinski and Elizabeth Howell at the University of Toronto on October 1. (credit: J. Foust)
"When you see a country like India being able to do this," said Gordon Osinski, associate director of the Centre for Planetary Science and Exploration at the University of Western Ontario, referring to India's low-cost Mars Orbiter Mission, "as Canadians, we can do this, and we should be doing it."
"Canada leading a mission to Mars, to an asteroid, or to the Moon would just be fantastic, in my opinion," Osinski said.
That line got cheers from the audience that filled an auditorium on the University of Toronto campus October 1 for an event organized by The Planetary Society titled "We See Thee Rise: The Canadian Space Program Today and Tomorrow." ("We see thee rise" is from a line in the Canadian national anthem, "O Canada.") The biggest draw for the event—and the recipient of the most frequent, and often raucous, cheers—was Planetary Society CEO Bill Nye, who gave an opening monologue and then joined a panel with Osinski, Hansen, and Canadian space journalist Elizabeth Howell.
"I'd to see Canada keep on contributing instruments to missions, but also do a flagship mission beyond low Earth orbit," Osinski said. "Canada leading a mission to Mars, to an asteroid, or to the Moon would just be fantastic, in my opinion."
During a question-and-answer session with the audience, one person asked if Canada should invest in a launch vehicle program. Canada is alone among major space powers without the ability to launch spacecraft, relying instead on other nations. There have been proposals over the years to develop vehicles, as well as launch sites in locations from Cape Breton in Nova Scotia to Vancouver Island in British Columbia, but none have made much progress.
For example, this summer Halifax-based Open Space Orbital ran a crowdfunding campaign on Kickstarter in an attempt to raise $100,000 to start work on a microsatellite launch vehicle. The campaign ended last month with only $5,568 in pledges.
That question brought the panel back to a central issue: should Canada continue to do more of the same in space, or branch out? "We have a small budget. There's only so much we can do," Hansen said. "It makes more sense to me to work on areas that other people are not already working on." Developing launch systems when many other vehicles exist worldwide, he suggested, "doesn't really make sense to me."
One reason to do so, Howell offered, was sovereignty. She noted that earlier in the year, Canada removed a spacecraft called M3MSat that was scheduled to launch this summer on a secondary payload on a Soyuz rocket, citing sanctions against Russia because of the Ukraine crisis. CSA only recently arranged an alternate launch, on an Indian rocket, in 2015. "If we had our own launch capability, it would be easier for us to launch these things" without worrying about such geopolitical issues, she said.
However, she noted taking on new programs was a question of priorities given the flat CSA budget over the last decade, and that Canada should be doing "more of what we're doing" in space currently. "I think we should be broadcasting more widely the accomplishments that we have. We should be proud of what we do," she said. "We're a small community, we're very tightknit, and we're mighty."
For the time being, that appears to be the most likely course of action for the Canadian space program: making the most out of a small budget. "The Canadian Space Agency is notorious for doing more with less," Nye said in opening speech.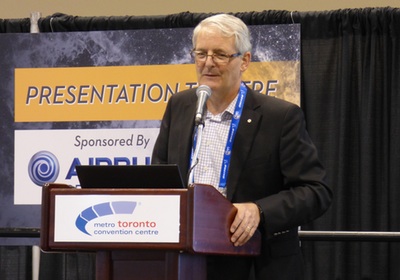 Marc Garneau, the first Canadian in space and a current member of Parliament, promised the Liberal party would take his advice on space policy should they regain power in an upcoming election. (credit: J. Foust)
One person who might feel differently is someone who was largely overlooked at the IAC, but could be in a position in the near future to do something about it. Despite being the first Canadian in space, flying on the space shuttle Challenger 30 years ago this month, Marc Garneau had only a cameo appearance at the conference, making a brief speech in a makeshift lecture area in the back of the exhibit hall that was not widely publicized nor included in the official conference program.
"My fellow caucus members in the Liberal party of Canada know that if we become the government of Canada, they'll never hear me shut up about space," promised Garneau.
Garneau, giving the Peter Glaser Memorial Lecture, talked about his interest in space-based solar power, but the current member of Parliament for the opposition Liberal party couldn't help but mention space policy. "Everybody in my party knows how much I care about space," he said. "Space is an area where Canada has done very well."
"I think we have a distinguished past and a very promising future," he said. "My fellow caucus members in the Liberal party of Canada know that if we become the government of Canada, they'll never hear me shut up about space." Canada is scheduled to hold its next federal election no later than next October.
Hansen, the current Canadian astronaut who may fly later this decade, or may never get a chance, depending on flight schedules, budgets, and the future of the ISS, remained optimistic. "I have significant optimism about where Canada is going with respect to space," he said near the end of The Planetary Society event. "I see everything pointing in the right direction."
"Some day," he added, "somebody's going to come into my office or, more likely, call me and say, 'Hey, it's go time. It's your turn to fly in space.' And that's pretty incredible."
---