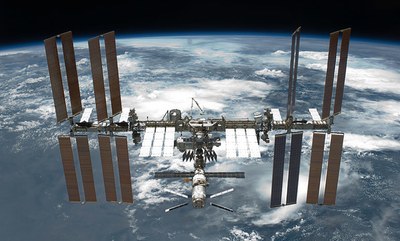 Even with an extension to 2024 in the works, some involved with the space station are seeking greater certainty about its long-term future. (credit: NASA)
What's the long-term future of the ISS?
by Jeff Foust

Monday, July 13, 2015
Much of the recent attention the International Space Station has received is negative. A Falcon 9 launch failure June 28, destroying a Dragon cargo spacecraft, was the third cargo mission to the ISS to fail in eight months. Those string of failures raised questions about the ability to keep the station supplied, something NASA has taken steps to counter by pointing out the backlog of supplies on the station. A successful Progress mission earlier this month also eased those worries.
"Never in my wildest dreams did I imagine we would lose three [cargo vehicles] in eight months," Suffredini said, "but we have to deal with the cards we're dealt with."
Those near-term concerns didn't seem to be on the minds of many attending the ISS Research and Development Conference in Boston last week. The event, held by the American Astronautical Society and the Center for the Advancement of Science In Space (CASIS), attracted more than 700 people, double the turnout of last year's conference in Chicago. A bigger concern among those in attendance was not any short-term interruptions in ISS transportation, but instead the station's long-term future.
Downplaying the cargo failures
In his opening remarks at the beginning of the conference July 7, NASA ISS program manager Michael Suffredini spent the first ten minutes talking about ISS research and other activities before acknowledging the string of failures.
"It's a big impact to us, absolutely. We recognize that," he said. "Never in my wildest dreams did I imagine we would lose three [cargo vehicles] in eight months, but we have to deal with the cards we're dealt with."
Suffredini emphasized the positive about ISS resupply, including the successful Progress mission that docked to the station July 5, and next month's launch of the Japanese HTV cargo vehicle. He was also optimistic about the return of Orbital ATK's Cygnus spacecraft, scheduled to launch in December on an Atlas 5 while the company prepares to return the Antares rocket, with a new main engine, to flight next spring.
As for the most recent failure, the Falcon 9/Dragon accident, he remained upbeat. "Our SpaceX colleagues have an in-depth knowledge of their vehicle," he said, referring to the fact that the company builds most of the components in-house. "So I have high confidence in their ability to recover from this anomaly and get flying in time to continue to support the International Space Station."
Suffredini was then joined on stage by SpaceX CEO Elon Musk, making his first public appearance since the launch failure. Musk didn't have much in the way of new information to share about the failure, which appeared to be puzzling to the company's engineers.
"Whatever happened is clearly not a sort of simple, straightforward thing," he said. "There's still no clear theory that fits with all the data."
Musk reiterated earlier statements he made on Twitter that linked the failure to an "overpressure event" in the liquid oxygen tank in the upper stage of the Falcon 9. But what caused that overpressure event, though, remains uncertain, and Musk suggested it's possible some of the data they have are corrupted or otherwise in error.
In his on-stage interview with Suffredini, Musk still thought that, despite the challenges, the company would soon find the root cause of the failure. "I think we'll be able to say something more definitive towards the end of the week," he said. The company, though, has not disclosed anything more definitive about the failure since his speech.
That failure, though, hasn't publicly worried those who use the ISS or are backing ventures that plan to make use of it. "Right now, it's business as usual," said CASIS president Greg Johnson July 8. There had been on sign of any "pushback" from current or potential users of the ISS since the launch failure.
Amir Blachman, principal of Space Angels Network, said that his group of individual investors that funds early-stage space companies was also not shaken by the failure. "We have 60 investors in our network right now. I did not receive a single phone call or email" after the accident, he said. "No one's talked about pulling funding or getting off of the manifest."
That doesn't mean, though, that the failure came at no cost to NASA or other ISS researchers. "These failures are not without consequences," William Gerstenmaier, NASA associate administrator for human exploration and operations, said at a hearing of the House Science Committee's space subcommittee July 10.
"These failures are not without consequences," Gerstenmaier said.
He said some agency performance goals will not be met because of the lost cargo and a delay in the launch of a new ISS crew because of the April Progress failure, reducing the crew time available for research. He also estimated the value of the NASA cargo lost on the Dragon, including a docking adapter for future commercial crew spacecraft, at $110 million. That will be partially recouped, he said, by withholding the final payment for the mission to SpaceX.
Some others, including both professional researchers and students, suffered a double whammy with the Dragon failure. They had originally built experiments flown—and lost—on last October's Cygnus failure. They rebuilt them and flew them again, only to lose them on the Dragon failure.
Among them was Jud Ready of Georgia Tech, who said July 9 at the conference he lost experiments on both missions. "I hate to say this, but I think we're bad luck for launch providers," he quipped. "Sorry to the next folks that we get assigned to."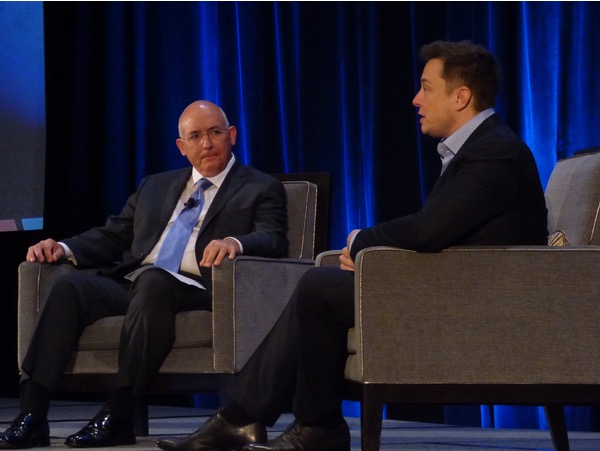 Elon Musk (right) discusses the Falcon 9 failure investigation with NASA's Michael Suffredini at the ISS Research and Development Conference in Boston July 7. (credit: J. Foust)
Station's long-term future
One theme of the conference was an emphasis on all of the research being done on the ISS today—materials science, biomedical, Earth observation, and more—and the steps NASA is taking to make it easier to do research there. One agency effort, called the Revolutionize ISS for Science and Exploration (RISE), seeks to streamline approvals processes for experiments, particularly for more experienced researchers and less complex experiments. That approach also allows researchers to take more risks, so long as their experiments don't jeopardize station safety.
Looming over that discussion of current station science, though, was concern about the station's long-term future. Currently the ISS is only authorizer to operate to 2020, although the US announced early last year it will seek to extend the station at least through 2024. That requires the concurrence of most, if not all, the current partners, a process that is ongoing.
Gerstenmaier, in his congressional testimony, said that only Canada had officially agreed to that 2024 date. While Russian officials endorsed that extension earlier this year, he said formal approval would likely come by the end of the year. The Japanese space agency JAXA will make a decision by the start of their next fiscal year in early 2016, and the European Space Agency in 2017.
Station advocates, though, are holding out hope for station operations beyond 2024, and want clarity on the station's future, and what might replace it, sooner rather than later. "When is ISS going to end? When will it terminate? We don't know, and that's a problem," said John Shannon, Boeing vice president and program manager for the Space Launch System, at the conference July 8.
Shannon, who previously managed Boeing's work as NASA's prime contractor for the station, believes there are two end dates for the station. The first is the official end date, be it 2020, 2024, or later. But he argued there is a second, earlier end date: the date after which potential station users won't have time to build and fly their experiments before station operations end.
"That date is probably three to four years before termination," Shannon said. "It's very good we have 2024 in the mix, but I don't think it's enough."
"Once we end ISS, we have to have something else," said Shannon. "We can't have a gap."
NanoRacks managing director Jeff Manber, sitting on the same conference panel as Shannon, agreed. NanoRacks has been one of the biggest commercial users of the station, but he said his potential customers are starting to ask questions about just how long the station will be around.
"We already had a client who asked us, 'Why should I invest tens of millions of dollars in the ISS if it's only going to be around to 2024?'" he said.
However, there was less agreement on just how long the ISS should remain in operation. Frank Culbertson, president of the space systems group at Orbital ATK, suggested running the station as long as possible. "I do think we should plan on station going as long as we can safely fly it," he said, arguing that the station was "built to last."
"Until we have an alternative, and until commercial investment grows in another facility or a joint facility, I think you need to continue to assume that it's going to go on as long as you can keep it safe," he said.
Manber, though, wanted a more specific date attached to the station's life, in order to drive decisions on commercial investments in both the ISS and a commercial successor. "How do I get my investment money if there's no end date?" he asked.
Shannon suggested that, however long the station lasts, it need not be managed in the same way as it is today. "I think NASA has the opportunity to look at other ways to manage station, now that it is fairly stable," he said. "One model I would suggest is that there are government owned, contractor operated facilities all around the United States, where the government owns the facilities but lets the contractor go in and operate it, generally at very reduced costs."
That approach, he argued, could create cost saving that would allow for up to several more years of operations. However, ultimately NASA expects that a successor to the ISS will be a commercially operated facility. Timing that station extension, and a commercial successor, is critical to avoid losing momentum that has built up in the last few years about doing research on the station.
"Once we know we're done with the station, it's too late," Manber said. "You have to anticipate and you have to be ready."
Shannon, who earlier in his career managed the shuttle program at NASA, also wants to avoid a post-ISS gap. "It was a mistake to retire the shuttle before we had a domestic capability to launch our astronauts," he said, generating an impromptu round of applause from the audience at the Boston conference. "Once we end ISS, we have to have something else. We can't have a gap."
---