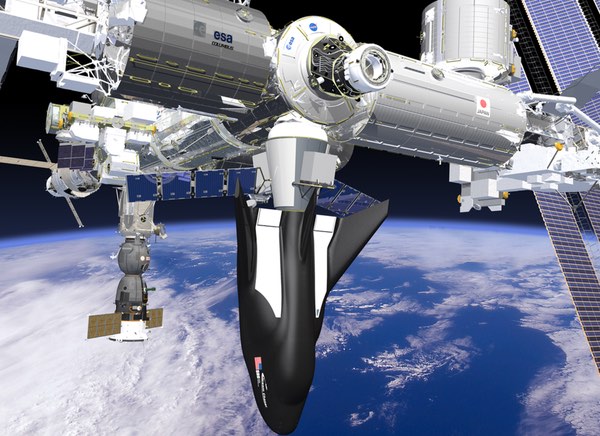 Sierra Nevada says its Dream Chaser cargo vehicle will be ready for missions to the ISS under its NASA CRS-2 contract as soon as the second half of 2019. (credit: Sierra Nevada Corp.)
And then there were three
by Jeff Foust

Monday, January 18, 2016
In December of 2014, several companies submitted proposals to NASA for a new round of contracts to deliver cargo to the International Space Station, known as Commercial Resupply Services 2 (CRS-2). The contracts would serve as follow-ons to the existing CRS contracts, held by Orbital ATK and SpaceX, to transport cargo to the station and remove items from it, either for destructive reentry in the Earth's atmosphere or safe return to the Earth. The companies submitted their proposals and waited. And waited, and waited some more.
"It was very complicated," Shireman said of the lengthy review of the CRS-2 proposals.
Originally, NASA planned to award CRS-2 contracts (at least two, although the agency didn't specify a number) in June. In April, though, NASA delayed the awards to September, saying it needed more time to review the proposals. In August, the agency delayed the awards again, to November. And on the day in November when the awards were to be made, NASA delayed them again, this time to no later than January 30 (oddly enough, a Saturday.)
So what took so long? "It was very complicated," said Kirk Shireman, NASA ISS program manager, at a briefing last Thursday at the Johnson Space Center. The proposals, he said, featured multiple mission types that took NASA more time—much more time, apparently—to evaluate. "The result of us wanting to take the appropriate amount of time to look at all the details and make the right choice, for NASA and for the United States, caused us to delay."
That delay, though, is finally over. NASA used that briefing to announce the winners of the CRS-2 contracts, choosing the companies that will transport cargo to and from the station starting in late 2019 and running through 2024.
At least five companies submitted CRS-2 proposals that NASA spent over a year evaluating. To no one's surprise, Orbital and SpaceX offered to continue their cargo transportation services, using versions of their existing Cygnus and Dragon spacecraft. Boeing, which is developing the CST-100 Starliner vehicle for NASA's commercial crew program, offered a version of that vehicle for cargo-only missions.
The two dark horses were Lockheed Martin and Sierra Nevada Corporation. Lockheed was pitching a system that features a reusable space tug called Jupiter that would move cargo modules dubbed Exoliners to and from the station. Sierra Nevada offered a version of its Dream Chaser lifting body vehicle, previously proposed for NASA commercial crew program only to lose out to Boeing and SpaceX, for cargo missions (see "For commercial cargo, ideas old and new", The Space Review, March 23, 2015).
The two were at a disadvantage because, unlike the other competitors, they would have to develop their vehicles without NASA technical and financial support. The CRS-2 contracts are service contracts for cargo transportation, and don't include the development awards that Orbital and SpaceX had under COTS, or Boeing under commercial crew.
NASA informed Boeing in November that its CST-100-based proposal would no longer be considered for a CRS-2 contract, leaving four major bidders. Orbital and SpaceX, as incumbents, had the inside track for new contracts, despite launch failures on CRS missions both companies experienced. Could either Lockheed or Sierra Nevada edge out one of those companies, or would NASA be willing to give more than two contracts?
"We've been working on this program and had our ups and downs, but are so proud now to be NASA's partner for the long term under this contract," said Sirangelo.
The answer was the latter. NASA announced Thursday that both Orbital and SpaceX would receive CRS-2 contracts for cargo services similar to what they're doing now. Neither NASA nor the companies released many technical details, but the announcement suggested only a few changes. For SpaceX, the major change appeared to be the ability of cargo vehicles to dock with the station, rather than be berthed by the station's robotic arm. Orbital offered the option of launching Cygnus missions on an Atlas V from Cape Canaveral, as it did in December and is scheduled to do again in March, in addition to Antares launches from Virginia.
NASA, though, found room for a third company: Sierra Nevada. The agency awarded the company a CRS-2 contract for cargo transportation to and from the station. Its contract, like those with Orbital and SpaceX, includes a minimum of six flights to the station to deliver cargo and return cargo back to Earth, with options for additional missions.
NASA officials at last week's briefing did not go into great detail about why it selected Sierra Nevada, saying it needed to debrief the companies before releasing a more detailed source selection statement justifying its decision. Those officials, though, suggested one unique attribute of Dream Chaser—its ability to land on a runway—played a role in their selection of the vehicle.
"It lands, and you can get cargo off very, very quickly," Shireman said of Dream Chaser. "It also has a milder return profile, which might also have benefits."
"Right now, we have biology studies that are going on on the space station, and we bring home live organisms," said Julie Robinson, NASA's chief scientist for the station. "When those organisms come home, if they have a really hard landing, a splashdown, and then they're at sea for a couple of days, you've really disrupted that before scientists can take that final set of measurements." SpaceX's Dragon, currently the only means to return significant amounts of cargo from the station, does splash down in the Pacific, although NASA officials said future versions of Dragon under CRS-2 may perform landings on land.
While NASA was reticent to discuss in detail why it awarded a contract to Sierra Nevada, company officials were more than happy to discuss what was perhaps the biggest achievement yet in their long-running efforts to develop Dream Chaser.
"The Dream Chaser effort has been going on for about ten years now," said Mark Sirangelo, corporate vice president of Sierra Nevada Space Systems, in a press conference Friday. "We've been working on this program and had our ups and downs, but are so proud now to be NASA's partner for the long term under this contract."
"We are actually not required to have a first flight test before we do our first mission," said Sirangelo.
The Dream Chaser Cargo System, as the vehicle is formally known, is similar to the crewed version of Dream Chaser that the company had previously been working on for NASA's commercial crew program. The major changes include the addition of a cargo module attached to the aft section of the vehicle and foldable wings, allowing it to fit inside a five-meter payload fairing for launch on an Atlas V from Cape Canaveral.
In that configuration, Dream Chaser will be able to deliver up to 5,500 kilograms to the station, exceeding the requirement NASA established for CRS-2 of delivering 2,500 to 5,000 kilograms to the station. Cargo intended for disposal can be placed in the external cargo module, which is jettisoned after the vehicle leaves the station to burn up in the atmosphere. Recoverable cargo, packed inside Dream Chaser, returns to Earth, with a runway landing currently planned for the Shuttle Landing Facility at the Kennedy Space Center.
While Sierra Nevada has touted the ability of Dream Chaser to land at any number of airports—including supporting studies of landings at Huntsville International Airport in Alabama and Ellington Airport in Houston—landing at KSC makes more operational sense for CRS-2 missions, according to company officials. "Most importantly, it's very close to the researchers" who want fast access to experiments returned from the station, said Steve Lindsey, senior director of programs at the company.
The vehicle will also be processed between missions at the Operations and Checkout Building at KSC. "The ability to land where we launched, do the processing, and then get prepared quickly for reflight on an Atlas for the next mission is really key to our processes," Lindsey said.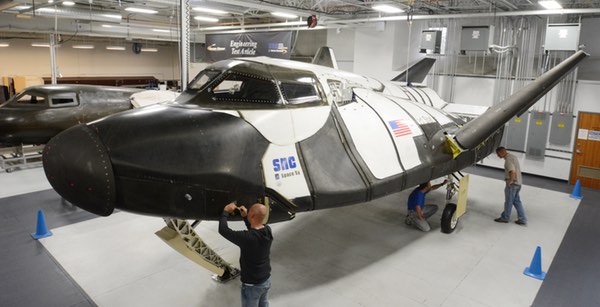 Sierra Nevada plans to perform a series of test flights with this full-sized engineering test article later this year at Edwards Air Force Base in California. (credit: Sierra Nevada Corp.)
For all the benefits Dream Chaser offers, it still has to be built. Sirangelo said the company is proceeding on three different paths for Dream Chaser development. One is working with United Launch Alliance on what's needed to integrate the vehicle on the Atlas V, a process that has been ongoing for some time.
A second effort is atmospheric flight tests of a Dream Chaser engineering test article. Those tests, a milestone from an earlier commercial crew agreement, are scheduled for later this year from Edwards Air Force Base in California, site of the one previous Dream Chaser glide test in October 2013—which went well until a landing gear collapsed on touchdown, causing the vehicle to skid off the runway. Sirangelo said the updated Dream Chaser test article, outfitted with the same software intended for use on the orbital vehicle, would be shipped to California some time in the first half of the year.
The third part of Dream Chaser development is construction of the orbital vehicles themselves. Work on that is already underway in cooperation with Lockheed Martin, Sirangelo said, with current plans calling for the construction of two vehicles, each of which can be flown about 15 times. The first orbital mission, he said, should be ready to go in the second half of 2019, when CRS-2 missions are set to begin.
There was some confusion between NASA and Sierra Nevada, though, about any requirements for a test flight before beginning operational missions to the station. Orbital and SpaceX, under their earlier COTS cargo development awards, had milestones for demonstration flights before their CRS contracts kicked in. Boeing and SpaceX also have requirements for test flights to the station for their crewed vehicles before operational missions start.
"Do I expect Sierra to have test flights? Absolutely," said Shireman at Thursday's briefing, adding that the company will also need the appropriate licenses from the FAA for commercial launch and reentry.
Sirangelo, though, said Sierra Nevada was not planning any dedicated orbital test flights prior to its first CRS-2 mission. "We are actually not required to have a first flight test before we do our first mission," he said, saying NASA may have been referring to the company's atmospheric test flight program. That program and the use of the Atlas V mean "our first operational mission will be the first orbital flight of the vehicle."
"We're pretty confident, to be quite honest, once we have this cargo system flying, everybody is going to be asking us, 'When's the crewed version coming?'" Lindsey said.
That first orbital flight, though, will include a number of test objectives as well. "We will do a much more extensive checkout after we reach orbit, doing a number of things to prove out that everything is ready to go before we go into that first docking or berthing" with the station, said Lindsey.
Sirangelo said the company also had the financial resources to develop Dream Chaser even without the equivalent of a COTS award, thanks to its earlier NASA commercial crew work and other, unspecified funding. "As a private company, together with our partners, we have the resources to be able to produce what's necessary under the contract," he said.
NASA, in last week's announcement, declined to give a dollar value for any of the three CRS-2 contracts. Shireman said that while the maximum combined potential value listed in the CRS-2 request for proposals was $14 billion, "the mix of flights we're looking at is nowhere near that value." The actual value will depend on the choice of flights, and when they're flown, but Shireman declined to give even a minimum value of the contracts. "I could, but I won't," he said, saying it was not "information we could divulge at this time."
Sirangelo also declined to give a specific estimate of the value of Sierra Nevada's contract in Friday's briefing, saying he had been asked by NASA not to divulge that information. However, he estimated in an earlier interview that it was worth at least a billion dollars for the minimum six flights. (Orbital ATK, by contrast, felt no need to be secretive, estimating its contract was worth $1.2–1.5 billion for six flights in a press release.)
As Sierra Nevada moves ahead with the cargo version of Dream Chaser, it has not abandoned the crewed version. "That particular design is very much alive and well," said Lindsey, noting that the crew and cargo versions have "85 percent or so commonality" in their designs.
"We're pretty confident, to be quite honest, once we have this cargo system flying, everybody is going to be asking us, 'When's the crewed version coming?'" Lindsey added. "We think the opportunities for crew in the future are vast."
---