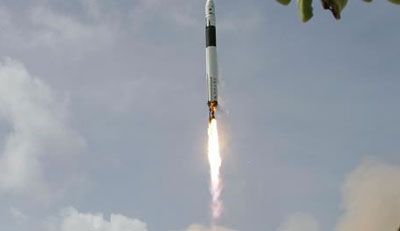 SpaceX's Falcon 1 lifts off at the beginning of its ill-fated mission on Friday. (credit: SpaceX)
Our rockets always blow up
by Dwayne A. Day

Monday, March 27, 2006
Rockets are not like airplanes. They have very small margins: engines operate at high temperatures and high pressures, and even a small failure can be catastrophic. An airplane that has an engine go out can still glide to a landing. A rocket that loses an engine crashes. Structural failure on an airplane is sometimes survivable (witness B-17 bombers returning to base after getting shot full of holes over Germany), but structural failure on a rocket is always fatal. Rockets are also complex devices, where everything has to go right the first time. That's why they call it rocket science—although it is really engineering, not science, that is the real profession.
Because of these factors, there is a common perception that the first time any new rocket is launched, it will fail. When SpaceX's Falcon 1 smashed into the Pacific Ocean on Friday, many people said that although this was disappointing, it was not all that unexpected, after all, most new rockets blow up or crash during their first flights. So Falcon 1 should not be any different, although previously many of these same people had claimed that Falcon 1's strength was that it was different.
It turns out that the perception that most rockets fail during their debut flight is wrong. Most rockets do not blow up or crash during their first flights. If you analyze the first orbital launch attempt of a given launch vehicle family (for instance Thor Able but not Thor Agena or Delta), you come up with twenty-five successes, two partial successes, and twenty-one failures. Not a good success rate, but still more than half.
Success:

Sputnik
Jupiter C
Juno 3
Atlas B
Saturn 1
Titan 2
Kosmos 11K65
Proton
Diamant 1
Saturn 5
Long March 1
Scout D
Ariane 1
Shuttle
Shaviyt
Pegasus
Start-1
H-II
Taurus
Rockot
M-5
Shtil
Minotaur
Atlas 5
Delta 4

Partial:

R-36O (FOBS)
Energiya

Failure:

Vanguard
NOTSNIK
Thor Able
Scout
Kosmos 11K63
Lambda 4S
Europa 1
N-1
Black Arrow
Mu-4S
FB-1
SLV-3
Zenit-2
PSLV
Conestoga 1620
Ariane 5G
VLS-1
Taepodong
KT-1
Delta 3
Athena
The author wishes to thank Jonathan McDowell, probably the most obsessive rocketspotter on the planet. His website, from which this list is derived, is here: http://www.planet4589.org/jsr.html.
---