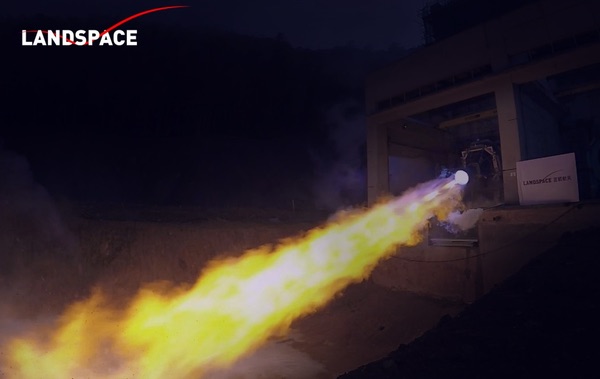 A test of LandSpace's 80-tonne methalox engine TQ-12 on May 17 at LandSpace's test range in the Meinyu Mountains, 20 kilometers from Huzhou. (credit: LandSpace)
Will LandSpace be China's SpaceX?
by Chen Lan and Jacqueline Myrrhe

Tuesday, September 3, 2019
On July 25, a Chinese NewSpace company, Interstellar Glory (also known as i-Space or Space Honor), made a successful orbital launch, sending two smallsats into a 300-kilometer orbit. Before that, two other companies, LandSpace and OneSpace, made similar but unsuccessful attempts in October 2018 and March 2019. Interstellar Glory got the glory by winning the race about the first commercial space launch in China. But this was not end of the race. Instead, it marks beginning of a new race: to launch a liquid-propellant medium-class launcher that is able to meet most of the market demand. A small solid launcher is just a ticket to space, while a medium liquid launcher is the key to win the market.
During a visit to LandSpace's Huzhou facility in March, we have seen more or less the shadow of SpaceX in its early days: dream and passion, failure and success.
Many Chinese NewSpace companies are developing such a capability. Among them, LandSpace is in the leading position. LandSpace has created many "firsts" in China: the first private company to develop space launchers, the first privately funded orbital launch attempt, the first private company to sign a launch agreement with international customers. And on May 17, LandSpace announced that the company's 80-tonne-class methane and liquid oxygen (methalox) engine, TQ-12, has completed successful full-system hot-fire tests. In the week leading up to that announcement, the engine made four successful test firings, with the longest one lasting 20 seconds. The company released photos and videos showing the engine and the impressive firing at a test stand located in a mountainous area.
LandSpace claimed that their new methalox engine ranks number three in the world after SpaceX's Raptor and Blue Origin's BE-4. According to LandSpace, the TQ-12 engine has a sea-level thrust of 67 tonnes and a vacuum thrust of 76 tonnes. A future vacuum model will increase the thrust to 80 tonnes. LandSpace's methalox engine project was kicked off in 2017 with a 10-tonne-class gas generator and thrust chamber test firing at the end of that year and again in March 2018. After that, LandSpace's focus shifted to the 80-tonne engine, and in September 2018 and January 2019 it successfully tested the larger engine's thrust chamber and the gas generator. The fast development led to a semi-system test firing in March 2019, paving the way for the May test firing.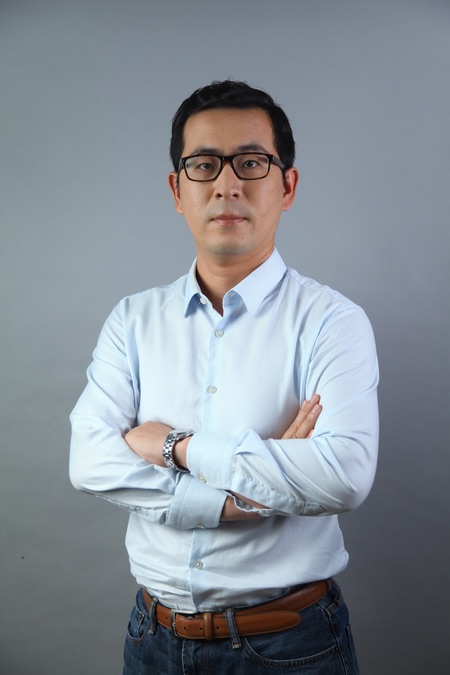 LandSpace CEO Changwu Zhang. (credit: LandSpace)
This was another milestone after the ZQ-1 launch last year, and certainly big news for the Chinese commercial space sector. However, it was very quickly overtaken on Chinese media due to reports on the US ban on Huawei, which happened the day before. At least with the space circle and among space fans, though, the news was quickly spread. LandSpace founder and CEO Changwu Zhang shared the message in WeChat's "Moments" at the first opportunity with only a few words of comment: "80 tonnes, full-system, 20 seconds, world class". Interestingly, Mr. Zhang's WeChat profile photo is an astronaut in spacesuit helmet: Matthew McConaughey, the starring actor of the sci-fi film Interstellar. Does it show LandSpace's interstellar ambition?
LandSpace is often seen as China's counterpart of SpaceX. But it is not the only one. Nearly a dozen private rocket companies have emerged in recent years. For now, most of them are small and unnoticeable. Even leading companies like LandSpace are still at an early stage. While undoubtedly it is too early to compare them with SpaceX, that cannot prevent people from imagining the future. SpaceX was also small and had not launched any real rockets in its first three years. In fact, during a visit to LandSpace's Huzhou facility in March, we have seen more or less the shadow of SpaceX in its early days: dream and passion, failure and success.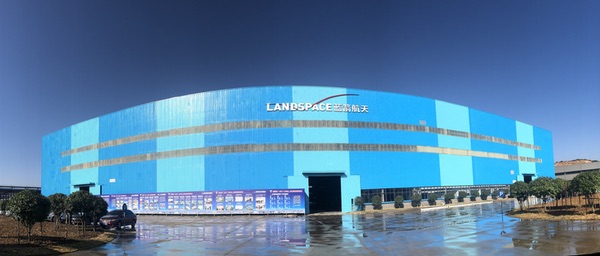 Front view of Landspace's Huzhou manufacturing facility. (credit: LandSpace)
The Huzhou base
The authors have followed LandSpace since its establishment in 2016. In October 2018, one of the authors (Chen Lan) was in Jiuaquan Satellite Launch Centre and witnessed the almost successful LandSpace Zhuque 1 launch (see "A historic day for Chinese NewSpace", The Space Review, November 19, 2018). In Jiuquan, LandSpace people talked about their newly-built manufacturing base in Huzhou, Zhejiang Province, a city very close to Shanghai (LandSpace's headquarters and its R&D team are based in Beijing.) The idea to visit the base was born at that time. In late March 2019, Jacqueline Myrrhe, another author and member of the Go Taikonauts! team, came to Shanghai. It seemed this would be a good opportunity to visit LandSpace's Huzhou Base. Our request through Dr. Shufan Wu, co-founder of LandSpace, was quickly responded to, and the visit was arranged smoothly.
The first sight that greeted us, after we turned into the LandSpace campus, was an impressively huge, strikingly blue factory building that we had never anticipated for such a small startup company.
On March 28, after about two hours of driving from Shanghai in light rain, we arrived in Huzhou. The company is located on a road in the west of the city where few people tread. There, a modern and generously-sized industrial park is taking shape, giving high-tech and other companies favorable conditions for their businesses.
The first sight that greeted us, after we turned into the LandSpace campus, was an impressively huge, strikingly blue factory building that we had never anticipated for such a small startup company. Mr. Du, General Manager of LandSpace's Huzhou Base, welcomed us at the entrance. At first, he brought us to a long billboard on the outside of the building where he—ignoring the rain—unhurriedly briefed us on the base's background and recent development. We noticed that there was a photo of the semi-system test firing just made three days before, which may imply the company's high efficiency.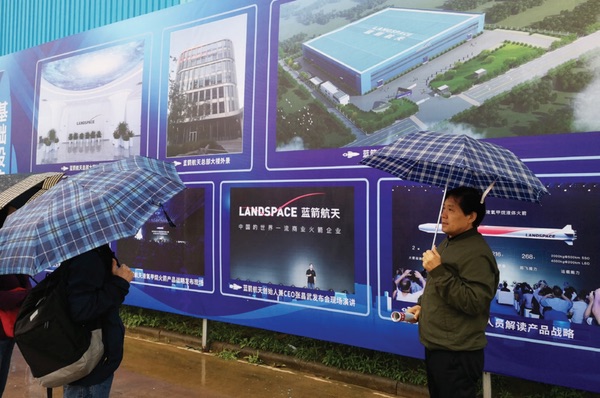 General Manager Du (right) explains LandSpace's portfolio. (credit: Go Taikonauts!)
The inner space of the building was also huge, and to our surprise, mostly empty! The only space related hardware we saw was the Zhuque 1 solid launcher and its launch platform. Mr. Du told us that the rocket is a mockup, but the platform is the actual one used in the launch last October. The building has a covered area of nearly 30,000 square meters. It will be divided into several sections for different functions such as engine assembly, tank manufacture, rocket assembly and testing, and so on. The empty space is reserved for rocket manufacture and assembly, as at the moment there were only activities on engine development. We noticed that at two sides of the building, there are some low partitioned rooms. They later turned out to be offices, conference rooms, workshops, testing rooms, and laboratories. The whole team works under one huge roof.
Mr. Du took us to a conference room and started a well-prepared presentation about the company, the Huzhou Base, and the products they are developing. Du is the type of engineer you would trust straight away, whom you would give without hesitation your best car for repair. His calm charisma, his unruffled way of talking, and his sound explanations are convincing and give him the aura of seniority. Before his move to Huzhou he worked in the Academy of Aerospace Propulsion Technology (The 6th Academy of CASC) in Xi'an and was an engine manufacture expert. He joined LandSpace to lead the team in building the engine and the facility, including the factory building converted from an old one once belonging to a bankrupted heavy industrial machinery company, and a newly built engine test stand in the mountains 20 kilometers away that was claimed to be the first and the only one by a private company in China. The construction work started in March 2018, and in August the stand was put into use. Du was quite proud of making it in such a short time. When asked about the possibility to visit the test stand, Du said it was in refurbishment to prepare the full-system engine test planned in June (in fact it was done ahead of schedule.) He suggested to us to visit it next time as moving around at the construction site would be difficult on a rainy day.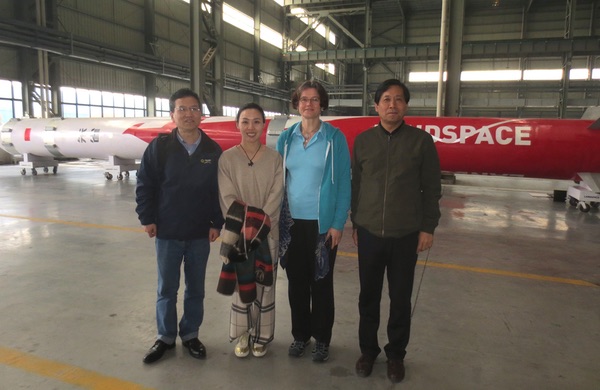 Inside the brand-new manufacturing hall. From the left: Chen Lan, Estella Ding, Jacqueline Myrrhe, Mr. Du. (credit: Qin Chun)
Ambitious plans
On July 5, 2018, LandSpace announced the company's overall strategy and planned products in Beijing. The grand launch event was held in the National Aquatic Center, built for the 2008 Olympics and well known as the Water Cube. The company's strategic product, the Zhuque 2 liquid-fueled launcher, made its first appearance at the event. Zhuque 2 (or ZQ-2) is a medium-class launcher with a length of 48.8 meters, a diameter of 3.35 meters, a launch mass of 216 tonnes, and a lifting thrust of 268 tonnes. Its first stage has four Tianque 12 (TQ-12) methalox engines and the second stage will be equipped with a single vacuum version of TQ-12 together with an 8-tonne-thrust TQ-11 methalox engine as a vernier engine. It is capable of sending 1.8 tonnes of payload into a 500 kilometer Sun-synchronous orbit and four tonnes to a 200-kilometer low Earth orbit. LandSpace has also planned three variants—ZQ-2A, 2B, and 2C—with an additional third stage powered by a TQ-11 and either zero, two, or four strap-on boosters. They have a length of 55.7 meters, a launch mass of 236, 650, and 1030 tonnes, and a geostationary transfer orbit capability of 2.4, 6.7, and 14 tonnes, respectively.
LandSpace also released a conceptual design of a two-stage winged space launcher able to send 10 people to the space station or transport 100 people from and to any place on the Earth within one hour. However, the current focus of the company, and also key to its ambitious planning, is the methalox engine, something that even CASC has not much experience with. The Institute 11 of CALT once developed a prototype based on the cryogenic YF-77 engine with a thrust of 60 tonnes, but never put it into use. To guarantee success within shortest time, LandSpace selected a conservative design using the traditional gas generator cycle with an impressive specific impulse of 350 seconds (vacuum). Bn comparison, SpaceX's first methalox engine Raptor is a cutting-edge full-flow staged combustion cycle engine with specific impulse of 380 seconds (vacuum).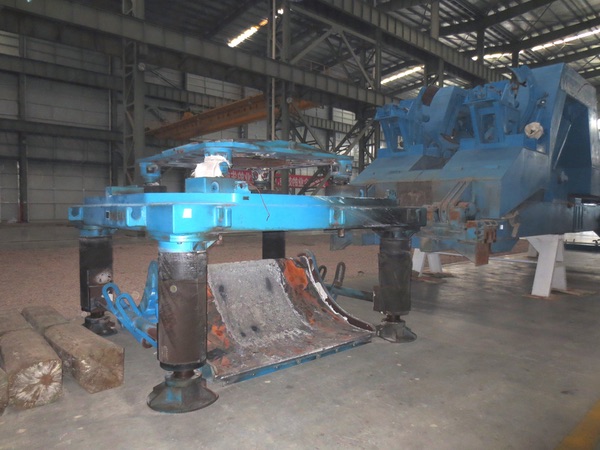 The platform used for the launch of ZQ-1 in October 2018. (credit: LandSpace)
Currently, engine development is also the most important job of the Huzhou Base. Mr. Du showed us the video of the semi-system test firing done three days before. It was a beautiful test firing, though the stand looked simple and preliminary. Since China has, so far, no launch site supporting methane propellant, we asked where LandSpace's methalox rockets will be launched. Du answered that they have already been in discussion with the authority to build new facilities at an existing launch site to support launches of methane-based rockets. Once built, it will be shared by all state-owned and private launcher companies. He was quite confident that there will be no major obstacles.
There was a bit of magic and surrealism hanging in the air when watching the engineers counting the screws, sorting the bolts, and inspecting the engine parts in this over-dimensioned huge hall, which could easily fit a production line.
After the presentation and a casual talk in the conference room, Mr. Du guided us to a few facilities including the component testing room, the fluid flow test bench, and finally a large clean area where the just-tested engine was under the process of disintegration.
There was a bit of magic and surrealism hanging in the air when watching the engineers counting the screws, sorting the bolts, and inspecting the engine parts in this over-dimensioned huge hall, which could easily fit a production line. But for the moment two smaller groups around small tables and a support rack were focused on their precision work. They were not bothered by our visit, did not interrupt their work, or pay any attention to the curious visitors. The one group, busy with the engine casing, was led by a senior engineer assisted by young space experts. The other group, sorting the hardware nuts and bolts, bits, and pieces were young and middle-aged engineers. Watching them as a visitor one could not really get the impression that they felt lost in the enormous space. Rather, they filled the room with dedication and zealous efforts to get the job done.
The base will soon start Phase Two construction. Once it is completed, it is able to produce 200 engines and 15 launchers per year, said Mr. Du.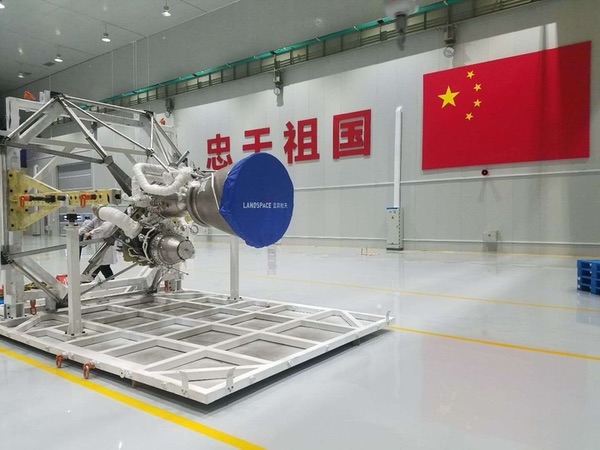 The TQ-12 engine (credit: LandSpace)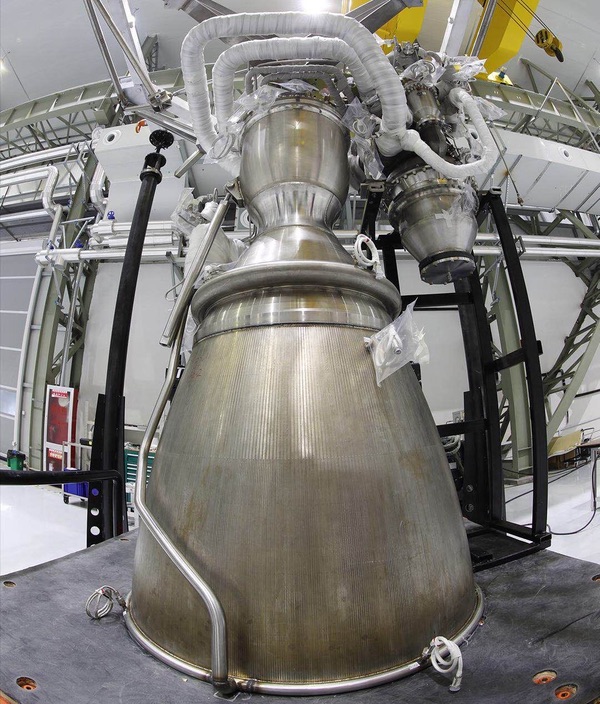 Right time, right place, and right people
The Huzhou Base and LandSpace's fast progress are impressive. It was unimaginable just a few years ago, when people always thought that space is a strictly restricted area by the government, and that space technology is too complex to be achieved by private companies. It has to thank the new policies the Chinese government have launched in recent years, more or less under pressure from Elon Musk. The reason behind the emergence of LandSpace is exactly as a Chinese proverb says: right time, right place, and right people. LandSpace is one of the first space startups in China and it seized the opportunity. This is the right time.
Huzhou City government provided a 200 million RMB (US$27.9 million) fund to support LandSpace's engine and rocket manufacturing plan. It also gave LandSpace free rental of the land and the building, and soon will build an office building and a canteen for Landspace for free use. Zhejiang Province, where Huzhou is located, and adjacent Shanghai, belong to China's most developed economic zone with a mature manufacturing industry chain, which will largely support LandSpace's manufacturing base. This is the right place.
However, Huzhou is only a "small city" for Chinese standards with residential population of three million. It has only two colleges and not many high-tech companies. Fortunately, it has a large enough supply of technical workers, and good policies to attract external talents. In LandSpace's Huzhou Base, most people are from large cities like Beijing and Xi'an. Most people are also from the so-called "national team," that implies state-owned space organizations and companies. Finally, most people are young and have a higher degree. Among them, about ten percent are female, including some in a high technical position, according to Mr. Du.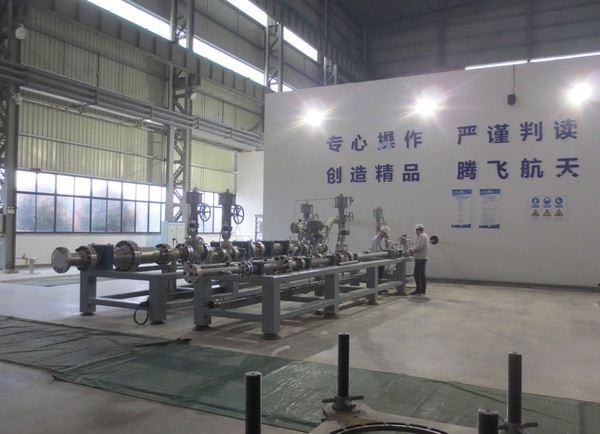 The fluid flow test stand. (credit: Go Taikonauts!)
They mostly come to this small city following their dream. Mr. Du is one of them. As one of the eldest in the team, he admitted that joining LandSpace is an adventure, but he is very optimistic about both LandSpace and Chinese NewSpace. On many occasions, we saw this special expression of passion based on professionalism in Mr. Du's face. He told us that he likes the mix of young and old engineers within the teams. Even more so, he is committed to transfer his experience to the next generation of engineers, "to the rocket scientists of the future," as he stressed. We did not have the chance to talk with young people at the base. They all were absorbed by their work. There was no way to get them away from their activities. But what they have achieved already told us without a big explanation is that these are the right people, the "right stuff."
Interstellar Glory's Hyperbola 1 became the first rocket made by a Chinese private company to reach orbit. Now, who will win the second round of the race?
It seems that the launch failure last October has had no impact on the company. Less than one month after the failure, LandSpace signed the B+ series funding of 300 million RMB (US$41.8 million.) Du said he did not rule out the possibility to try to launch the solid Zhuque 1 again, as long as there are requirements to do so. However, their focus is now on the Zhuque 2. LandSpace has now entered the fast lane. It is definitely the leading private company in China on liquid rocket engine development, and is the one closest to an operational medium launcher. On April 26, it signed 100 million RMB (US$13.9 million) of agreements with UK-based Open Cosmos and Italy-based D-Orbit to launch their cubesats.
LandSpace plans to launch their first Zhuque 2 by the end of 2020. So far, everything seems to be going smoothly. However, it is still a big challenge for the company. There is still a long way to go to catch up with SpaceX.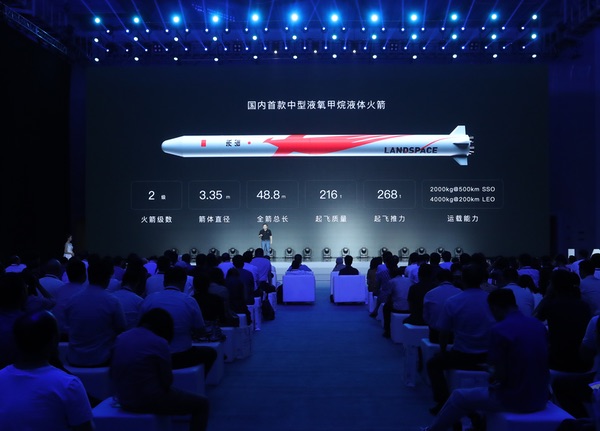 LandSpace announced the ZQ-2 launcher in Beijing. (credit: LandSpace)
A space race that is heating up
LandSpace kicked off China's NewSpace race in last October with its ZQ-1 launch, followed by OneSpace in March this year. Just one day before our visit to Huzhou, OneSpace launched their first orbital rocket, the solid fueled OS-M, from Jiuquan. Unfortunately, it lost attitude after separation of the first stage. The winner was Interstellar Glory. Its Hyperbola 1 became the first rocket made by a Chinese private company to reach orbit. Now, who will win the second round of the race?
LandSpace, OneSpace, and Interstellar Glory are not the only players in this race. Galactic Energy, LinkSpace, Deep Blue Aerospace, Space Trek, and others are all developing their engines/motors and rockets. Most companies start with a smaller solid rocket, but all have plans of liquid engines. For example, Interstellar Glory is developing a 15-tonne-thrust methalox engine that has already completed gas generator and turbopump tests. Galactic Energy is currently developing a high-thrust solid motor, and has also started development of a 40-tonne-thrust (sea level) liquid oxygen and kerosene engine to power their WisdomStart 1 launcher that is within the same class as LandSpace's ZQ-2. JZYJ, a company focused on liquid propulsion instead of launch vehicles, test fired their 10-tonne-class throttleable methalox engine on July 25.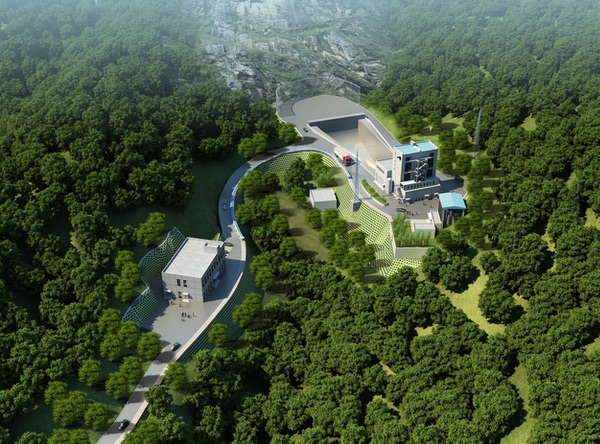 Rendering of the Landspace's Huzhou test range, showing the completed site. (credit: LandSpace)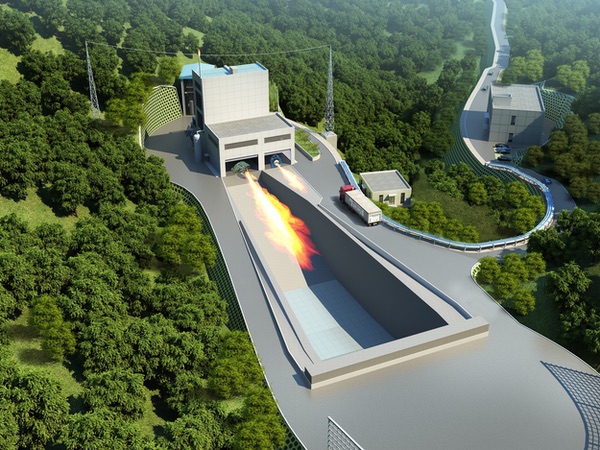 LinkSpace, by contrast, follows a different path. Their efforts are concentrated on a reusable VTVL (vertical takeoff, vertical landing) rocket. On August 10, they successfully launched and recovered their eight-meter-long RLV-T5 prototype. The flight lasted 50 seconds, climbing to a maximum altitude of 300 meters. It was a milestone as this was the first free flight of their "large rocket" (all their previous VTVL rockets are mocked by people as "model rockets.") On the same day, it signed an agreement with JZYJ to use their engine to power the larger T6 VTVL prototype.
LandSpace remains the most promising one. Ironically, its ambition was shown in an April Fool's news report. It said that LandSpace and Taobao, China's largest C2C e-Commerce company, are jointly developing two express delivery rockets: one able to complete an intercontinental flight within one hour, and another for 30 kilometers in 30 seconds.
The race is heating up, not only within China, but also outside the country. LandSpace and its domestic competitors, as followers and challengers of SpaceX, all claim that reusability was in their consideration from the beginning. SpaceX may one day feel pressure from these newcomers when their technologies are matured in a few years, which is certain to happen.
SpaceX may one day feel pressure from these newcomers when their technologies are matured in a few years, which is certain to happen.
From a broader perspective, the race is also part of a much larger race between China and the US. Unfortunately, the Sino-American trade war is now evolving into a tech war that may permanently change the world order. It will deeply influence China's policy and will speed up the development of independent technologies. What will the incoming race bring? We just hope a mutual-beneficial competition and win-win, instead of a conflict, or even a war.
When we walked out of the building, the rain had stopped. And we always believe that the future is bright.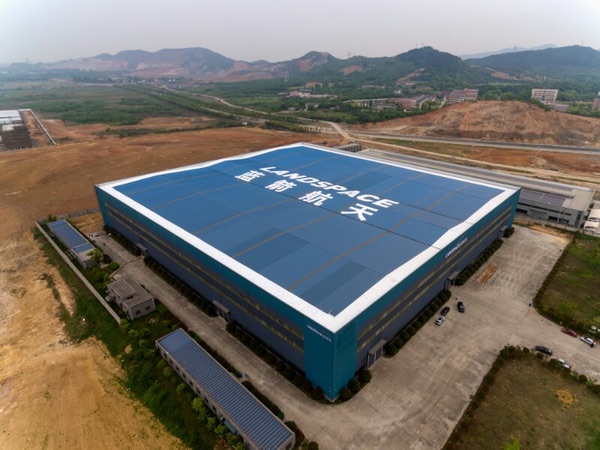 Aerial view of Landspace's Huzhou manufacturing facility. The hall is the biggest manufacturing base for a commercial space company in Asia. (credit: LandSpace)
---
Note: we are temporarily moderating all comments subcommitted to deal with a surge in spam.